Monkeys, crocodiles, beautiful jungle, and huge iguanas! That's only a handful out of so many reasons to visit this beautiful river in the jungle. Keep reading because I saved the best one for the end of the post!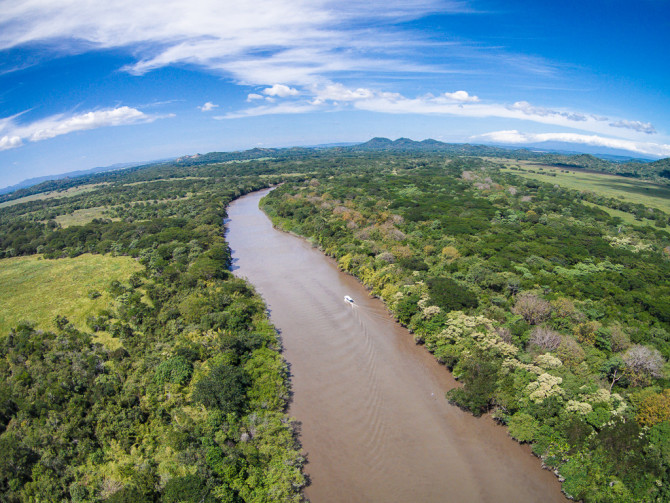 I just love being able to see animals in nature without cages and away from city buildings. The Palo Verde National Park along the Tempisque River is the place to go for these jungle animals!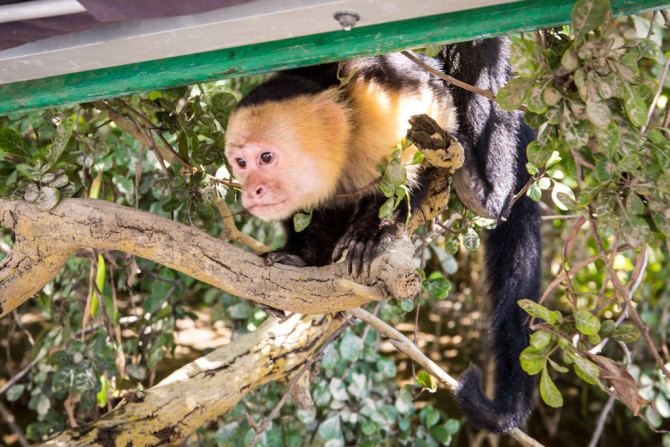 I had my doubts that there would even be anything to see because be drove on dirt roads for miles and miles and only saw farms and a few houses! The only buildings we passes were at the natural reserve entrance gate, but then nothing else until we reached the rickety dock at the river.
It felt like we were sneaking off to go check out the animals on some private land where nobody else was allowed. Especially since I had my quadcopter along to take some aerial pictures and video!
Here's my video with highlights from the day!
Palo Verde National Park River Tour
The friendly boat driver met us at the dock and we hopped into his boat and were off! The boat purred upstream and our tour guide pointed all sorts of animals out to us. There were birds in the trees and flying overhead, and iguanas peeking out at us from the tree branches.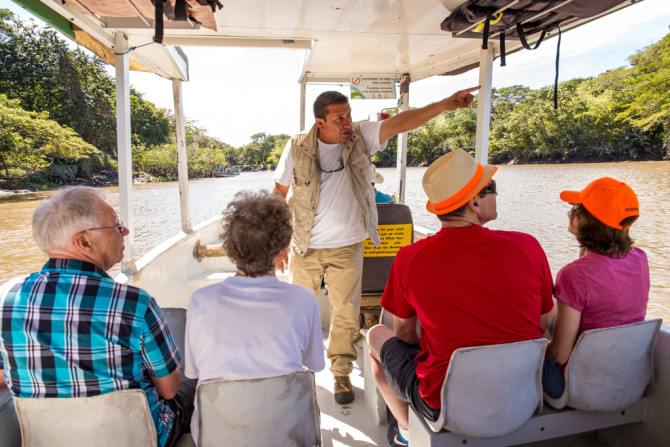 Monkeys Everywhere!
The driver pulled the boat up on to the bank and all of a sudden we were surrounded by monkeys coming to check us out. They were cautious, but really curious, and a few ventured onto the boat, looking for handouts. People who had saved an extra banana in their backpack from breakfast had instant friends!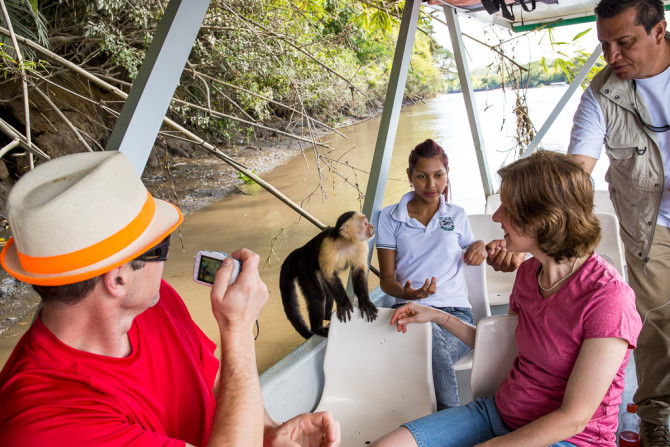 It's not the best idea for monkeys to eat only bananas, like I wrote in this article, but hopefully they get plenty of other food in the trees and exercise running away from iguanas.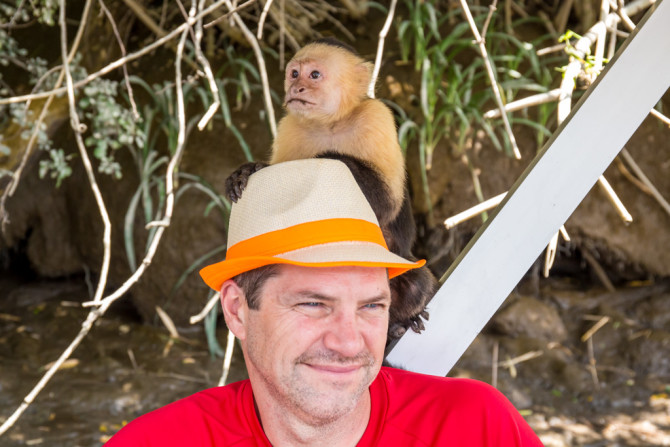 Sneaky Crocodiles
We pulled back into the river and started seeing crocodiles lying on the riverbank warming up. They watched us suspiciously.
We pulled onto the bank a little further along, just a hundred feet away from a crocodile lurking in the water. The tour guide tried bringing him closer to the boat, but he was still eyeing us with his leery eyes. I was taking pictures at the bow of the boat by myself, and kept checking around me to see if one was trying to sneak up on me. They look all calm, but I know they can move fast when they want to!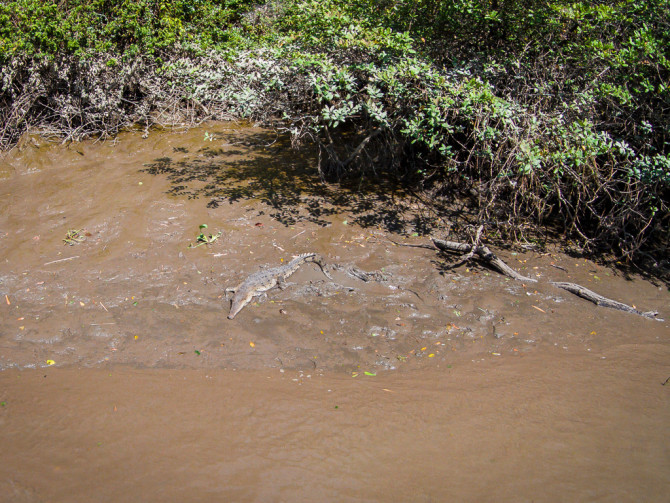 The crocodile wasn't as friendly as the monkeys were, but he was close enough to snap some good pictures of him!
As we headed back to the dock, I got some spectacular footage of the jungle and our boat cruising full speed along the river with my quadcopter
.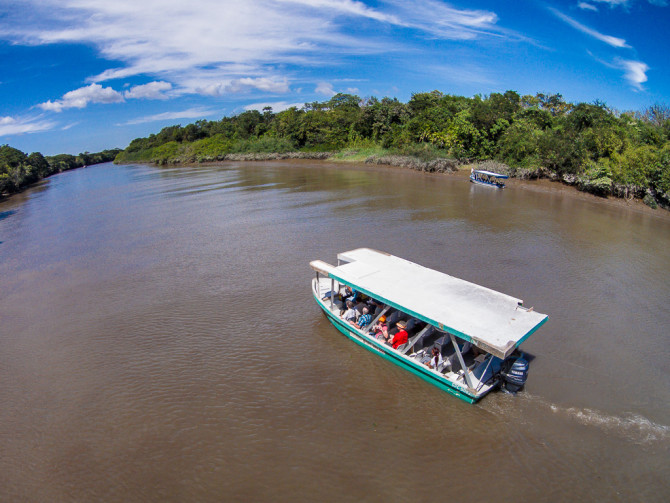 It was a bit windy that day, and I was pretty scared to fly in case it went for a dip in the drink! Especially since it was my first time flying from a moving boat! Yikes!
Thankfully everything went well for the 3 flights from the boat, even though the landings were super tricky with a moving "aircraft carrier!"
Be sure to click on the video and leave a comment if you think it's a neat to see a tour from the air!
Huge Iguanas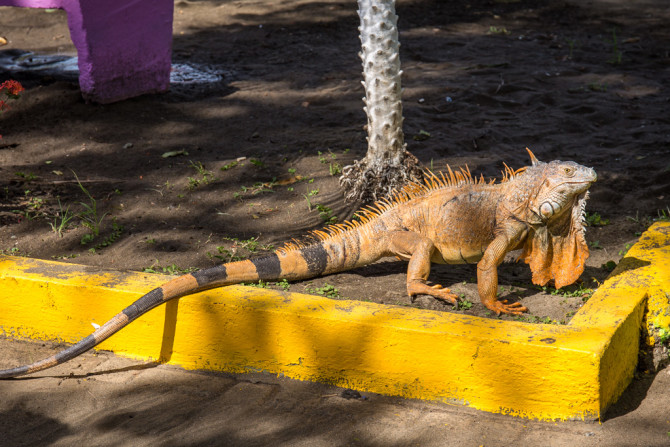 Before we got the river we stopped to see some of the hugest iguanas I've seen in my life! They were all just kicking it at the central park in this little town called Filadelfia (yep) chowing on some lettuce. They were at least 5 feet long with their tail!
A little intense for a mellow park in a tiny town! When I was taking pictures of them, I kept checking my back to make sure their buddies weren't sneaking up on me.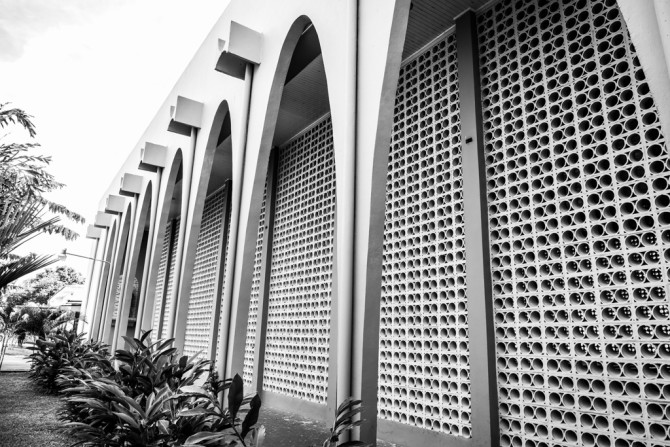 There's a beautiful church right next to the park that's big on the artsy decor and arches.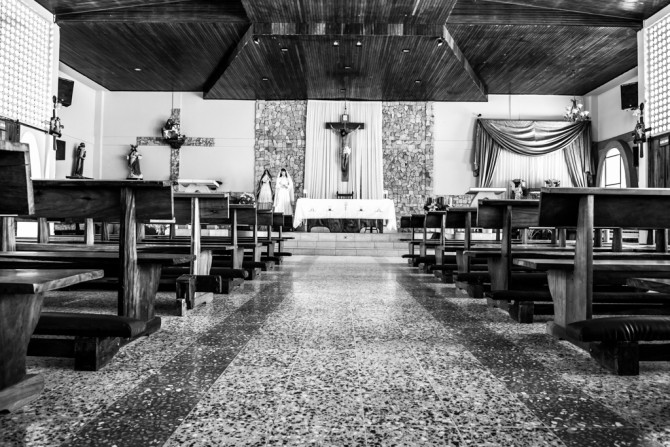 Authentic Costa Rican Pottery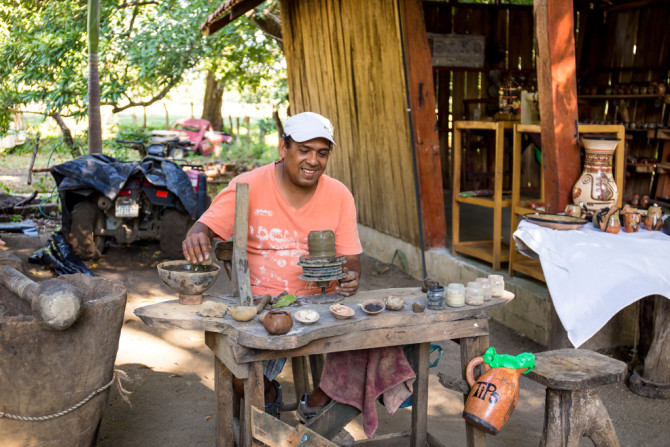 Back to the tour – the beautiful pottery is the 5th reason to visit the Palo Verde National Park. After the boat ride, we headed to a pottery place for lunch, and enjoyed some homemade casados, typical lunches for Costa Ricans.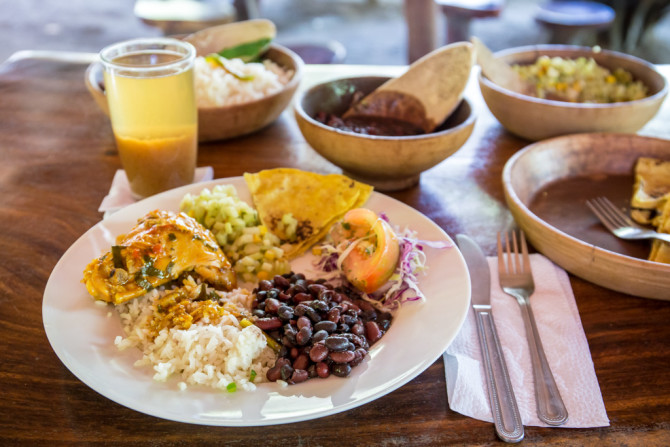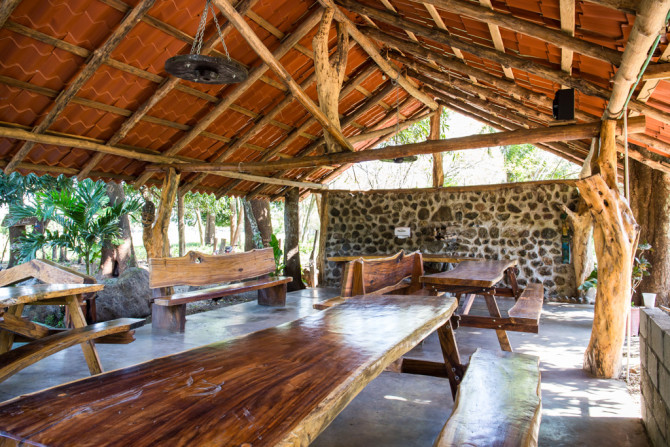 The ambiance was pleasant as the wind I was afraid of earlier whispered through the trees and winked sunlight through the leaves. The place was decorated really well with stucco relief murals and legit wood tables. It was really authentic.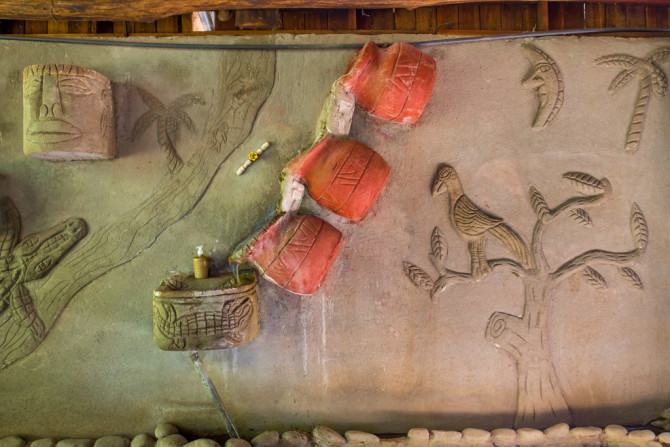 There was a potter making clay pots on his little wheel, and we watched for a few minutes. He showed us how he makes clay pots, from digging up the clay to baking them in the oven. Really fun to learn it from a local!
Here's a video of him describing his process – in Spanish so you get a little practice!
You know a place has style with a bathroom like this!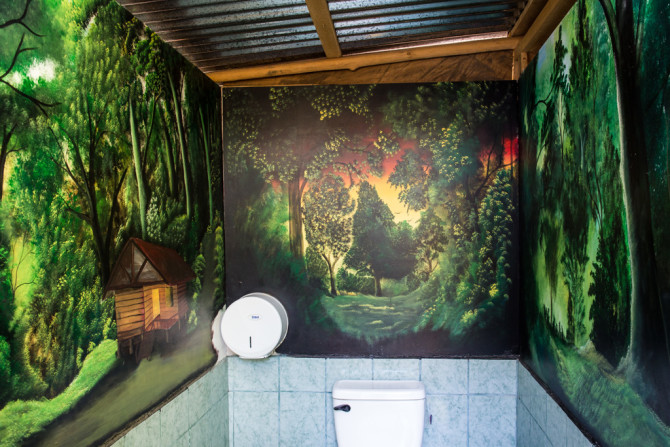 We headed back to Liberia, tired out after a full day of experiencing Costa Rican nature at its finest! I was a guest of Alex on the Beach tours for this trip with Alex himself as the tour guide, but all opinions in this post are my own. But don't just trust me, the river and pottery videos are worth a thousand words! Hopefully you found a few reasons to visit Palo Verde National Park!
If you're staying in the south side of Costa Rica, check out a similar tour near Jacó – the Tárcoles Crocodile Tour.
I was a guest of "Alex on the Beach" Tours for this trip. My thoughts and opinions, as always, are completely my own.
Leave a comment below if you've been to Palo Verde National Park!