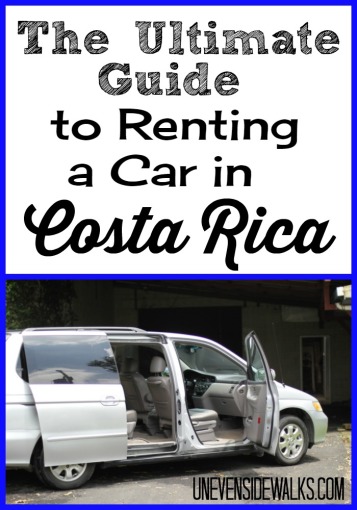 Nearly everyone rents a car when they visit Costa Rica. It's the only way to have freedom to go wherever you want and see the country quickly. Riding buses and taking an all-inclusive tour are other options, but aren't ideal. Before you get carried away and jump at the cheapest rental car you find, take a look at these 7 things you must know before renting a car in Costa Rica.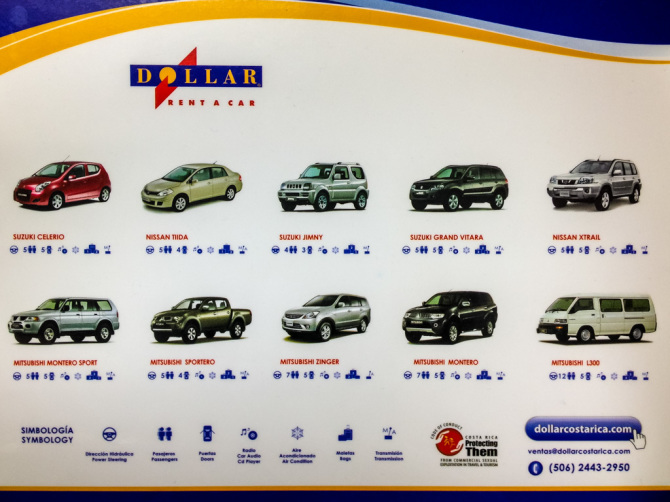 Recommendations
We use VIP Car Rental, a great site that compares the top car rental companies in Costa Rica and gives you the best price for the car you need.
Click here for their website.
Remember Rental Car Insurance
Rental car insurance is the biggest trick the Tico rent-a-car companies have up their sleeves. More often than not, it's the cause of a bad start to a vacation in paradise.
A happy family goes to the car lot to pick up their rental car and are astonished that the "good deal" they found online is only for the "rental portion" of the car. They have to pay a few hundred dollars more for the required insurance and taxes. Dad and mom aren't happy, and their 2 teenager kids are getting grumpier by the minute… Not a great start.
We Americans aren't used to those sorts of tricks because of online purchase laws in the US, but it's a successful racket for these companies in Costa Rica. The required insurance and taxes are rarely included in the online prices, so it's a good idea to email or call them for the additional "insurance" cost and the total amount you'll have to pay.
Surprisingly, the "insurance" portion of the daily price can be anywhere from 70% to 210% of the "rental" portion. That's right, the car insurance can be more than DOUBLE the car rental! That's a lot, but it's much better to plan for the insurance costs rather than being surprised with a huge additional bill when you first arrive on your relaxing vacation. It also helps to be able to compare car rental prices from different companies on an even field.
Basic Insurance or Premium Full Coverage Insurance?
How lucky are ya' feelin'?
The minimum required basic coverage is pretty pitiful.
All it covers is 80% of the physical damage on the OTHER CAR in an accident if you are at fault. It doesn't cover any damages to the rental car you're driving or anybody's medical bills. I wonder who wrote the law that required THAT sort of coverage?
Oops, I forgot to mention that there is a $1500 deposit/deductible they hold up front too.
Premium or Full Coverage varies for each company, but usually covers most of both vehicles in an accident, some sort of medical coverage, vehicle theft, etc. They also drop the deposit/deductible to $300.
I'd recommend the higher coverage because tourists are much more likely to cause an accident in an unfamiliar country with crazy drivers and very few road signs. It's not that much more expensive than the basic required insurance and covers way more!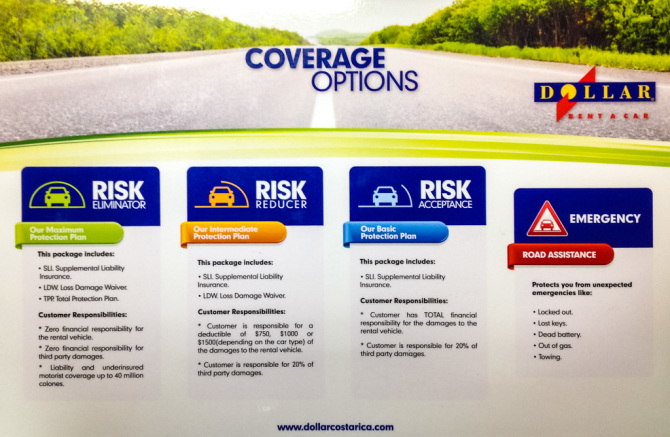 Some companies offer a third option that is in the middle, so be sure to ask about all the options they offer and see what works best for you.
Note: Many credit cards offer full coverage if you use that card to pay for the rental car. This is in addition to the basic Costa Rica required insurance that you'll still have to pay for. It saves you from having to pay for the upgraded insurance, but doesn't cover the entire insurance portion.
Rental Car Deposit
The deposit can be up to $1,500 if you choose the basic insurance, so they'll freeze that amount on your credit or debit card for your trip duration plus a few weeks sometimes. Be sure your credit card has at least that much extra headroom or it'll be useless on your trip.
The same goes for debit cards, except they'll place a hold on that much actual money in your account, and you sure hope you have enough extra to pay for your trip
Research Multiple Rental Companies
Most of the popular car rental companies from the US are available in Costa Rica, and have websites to check prices and make reservations.
Check online for the best prices and then call a few with the lowest prices on the phone using Skype to see if they can offer you a better price or any last minute deals that aren't online. All car rental companies speak English, so don't worry if your Spanish is limited to "baño" and "hola!"
Remember that the online prices usually don't include the required tax and insurance prices unless they specifically say so.
Reserve Your Rental Car Early
Don't wait until the week or day before you leave to reserve your rental car. The prices vary depending on the tourist season and how many cars they have available for when you want it. Prices are guaranteed to be higher during the high season of tourists – from October to March, and they'll also raise them if they only have a few cars left, hoping that someone will be desperate at the last minute and pay top dollar.
Double Check Reservation the Day Before & Confirm Pickup Plans
This one is classic – either you show up and there's no rental car available, or the rental car shuttle is waiting around and their people don't show up because they changed their flight. Save yourself some hassle and call or email them the day before you'll arrive.
Verify the shuttle pick-up time, location, car size, price, and name on the paperwork. It's also helpful to get their local Costa Rican phone number (or better yet, the cell phone of the shuttle driver) so you can call them if plans change or if you can't find them.
Shuttle To and From the Airport
Most rental companies in San Jose offer a FREE shuttle to bring you from the airport to the rental car lot and back. Some will even stay open late if they know your flight will be delayed. Alamo mentioned to us that they do this, so clarify this detail with the company you choose if you get in before 5am or after 9-10pm.
Don't ask them to pick it up at the airport because they'll add a huge surcharge onto the total price – like 10-15%! The same goes for renting it right from the rental desk set up at the airport. You'll pay top dollar if you don't plan ahead.
Inspect It Good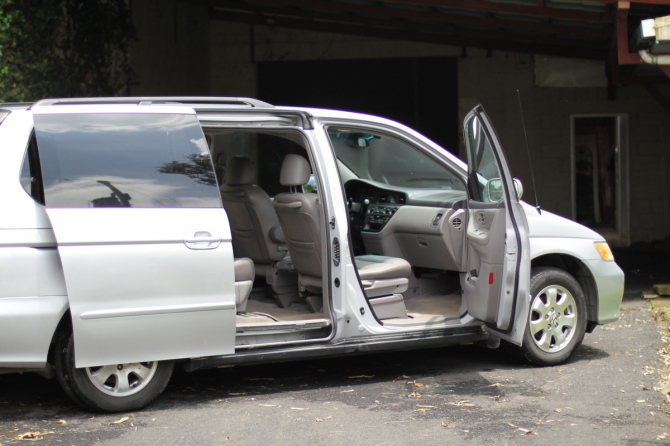 Inspect the car before and after renting it, and take pictures of every bump and scratch to resolve disputes later. They typically don't worry about dings and scratches smaller than a quarter, but pictures are much better than hand-waving and trying to explain that the bumper was loose when you picked it up.
Be sure the tires have air in them right before you leave. This was a popular scam tactic a few years ago where someone would poke a small leak in the rental car tire and follow you until you pulled over to scam you with a fake tire repair or rob your luggage. Unlikely, but keep it in mind.

You can also rent car seats for $5/day. Sure beats hauling your own on the plane for just a short trip.
The road signs are terrible, so think about renting a GPS for $10/day, or download the maps beforehand and use your smartphone.
Don't forget your passport, drivers' license, and credit card to pick up your rental car. You can drive with a foreign license for up to 3 months as a tourist, so no need to get an international drivers' license for a short trip.
The driving laws are similar to most other developed countries, so stay on your guard. The fines are also pretty steep, but rarely enforced. Check out our 1 week itinerary for traveling in Costa Rica!
Have fun exploring Costa Rica! Leave a comment if you have any advice for travelers before renting a car in Costa Rica!