As Americans, we were in a bind when we crossed from Argentina to Bolivia at the La Quiaca/Villazón border crossing. We had to pay the $135 visa fee per person in US dollars, but we had just used all our precious dollars in Argentina. Drat!
Read on to find out the trick to get US dollars from the Bolivian ATM!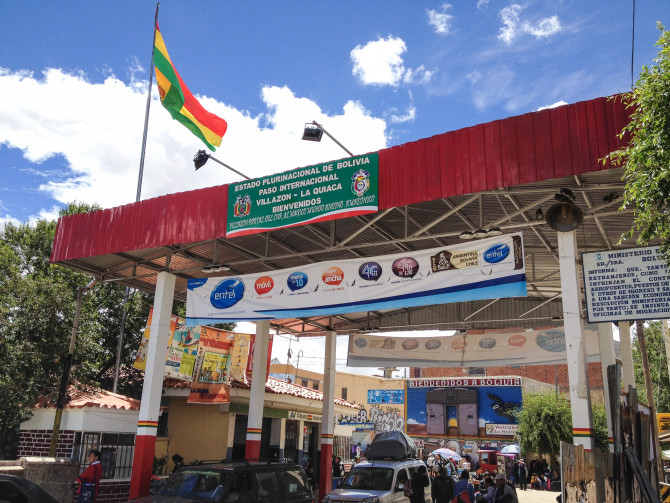 The EASY Way to Get US Dollars From an ATM at the Bolivia Border
I'll tell you what we did in a bit, but here's what we should have done…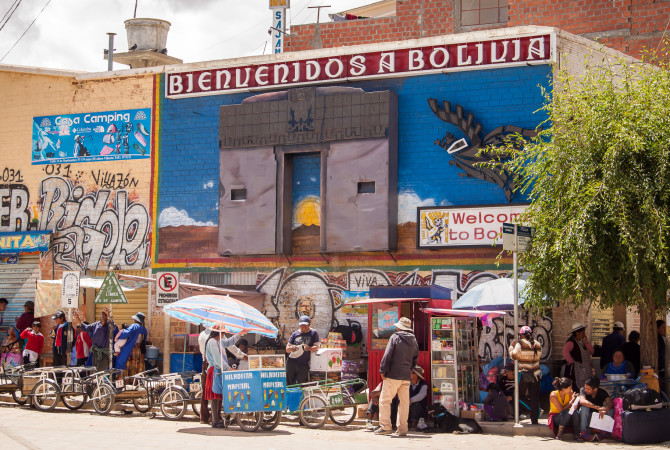 The Bolivians allow anybody to visit their country for a day without passing through any immigrations or customs. So, we should have crossed into the city of Villazón, Bolivia and gotten US dollars from their ATM (within walking distance from the border), had lunch, and then come back to the border crossing to go through immigration and pay our fee.
I know what you're thinking – No way will they just let you saunter across the border without so much as waving your passport at somebody.
We didn't believe it either.
That's why we bought US dollars in Salta, Argentina at a horrible exchange rate, so we would have enough to pay $270 total in border fees. We even tried to sell our laptop for green dollars! We were desperate!
As we were waiting in the border immigration line there was a steady stream of people passing by on our right, of all different nationalities. I asked a few locals what line that was for, and they said the people were just crossing for the day. I even asked the border official and he verified it was true!
Granted, laws and the interpretation of laws change with time, so this isn't a guarantee of an open border. But personally, I'd be confident to chase the Bolivian ATM if we're ever in this predicament again.
So, in retrospect, we could have saved $50 in bad exchange rates if we would have just gotten US dollars at the Bolivia border rather than worrying about being prepared with the cash beforehand. Oh well, it could have been worse…
Non-American Visa Costs
We heard that the Bolivians had a falling-out with the US immigration office when someone important was denied entry a few years ago. As revenge, they slapped $135, the highest visa fee, on American travelers. Good job Bolivia, you just cut your American tourism by 90% …
Some other countries have to pay $52, and others don't need a visa at all. Wikipedia has a good list with Bolivian references – click here.
For more details on the actual border crossing, check out our Master List of Border Crossings.
Argentina US Dollar Runs
Many expats who live in Argentina need to make runs to another country in search of US dollars. They usually head to Colonia de Sacramento in Uruguay, but Bolivia is another option. This border crossing is a bit out of the way, but if you're worried about too many immigration stamps in your passport, it might be worthwhile to just cross over to retrieve US dollars and head back the same day.
Villazón Border Town in Bolivia
Once you make it across the border in Villazón you can walk 7 blocks or take a taxi to the bus station. It´s pretty cheap so we took a taxi. The closest ATM to the bus station is one block to the east and a little more than a block to the south, on the left side of the street. Everyone will know where it is.
We had no problem getting both Bolivianos and Dollars. We got both so we would have local currency to spend and dollars to replenish our emergency stash.
Be sure to check your bills for rips, marks, and fakes (after you take your card and receipt from the ATM, or it'll suck it back in and keep it!).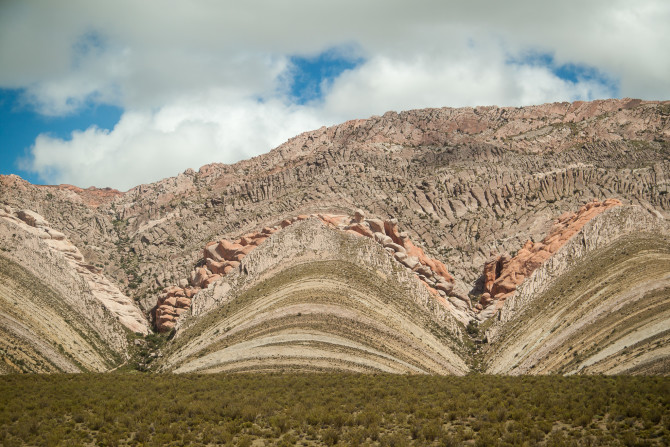 Please leave a comment if you've passed through this La Quiaca/Villazón, Bolivia border crossing recently. Help us keep this information updated!
Return to the Bolivia Itinerary Page