S'mores, charbroiled hamburgers on the campfire, the sound of ocean waves putting you to sleep, checking the surf from your pillow to see it's worth getting up for a dawn patrol, lobster diving… What more could you ask for, besides a longer vacation?
That's what I was asking myself as we were watching the ocean at the Carlsbad state beach campground for the last few minutes before heading off to my day-job. Why does vacation time always go by so quickly!?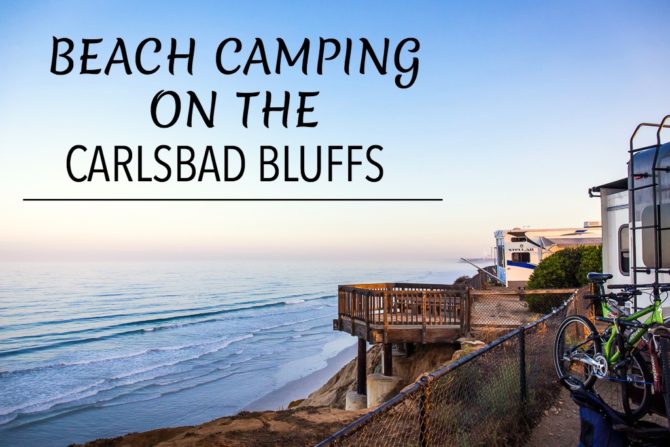 Carlsbad State Beach Campground
This campground is in the perfect spot – right on the bluffs overlooking the ocean, surrounded by prime surfing beaches, and a bit less touristy than somewhere like La Jolla. You'd wonder why there isn't a high-rise hotel there instead!
It has 217 camping spots for RVs or tents and a park store that sells firewood and marshmallows in case you forgot to bring some. There are water and bathrooms every few hundred feet, so everything is nice and close. Some sites have full hook-ups for RVs and others just have trees that divide them from the neighbors.
Carlsbad is in Southern California, 30 minutes north of SeaWorld in San Diego, 15 minutes from the Oceanside pier, and just minutes away from LegoLand. There aren't many campsites in the area, so this fills up quickly during the summer! Click here to check on reservations.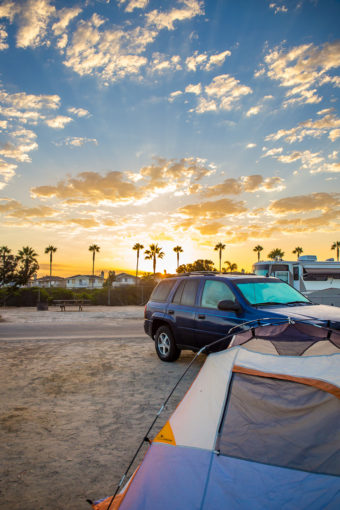 Beach-Camping. Yes!
Alyssa and I were excited to join some friends for a bonfire and a night under the stars at the Carlsbad state beach campground. We grabbed our camping box and a cooler and headed out! We hadn't been camping in a long time and were eager to check out this new place.
The hamburgers were coming off the bonfire just as the sun was going down. Tiny people were catching their last waves down in the surf below. It felt magical looking out over thousands of miles of ocean.
The night was clear and peaceful. No rowdy neighbors, no generators running – just a sky full of stars. We slept like a pair of logs until the sun came out and lit up the sky. It was beautiful! The sun was an orange ball, lighting up the tufts of clouds in the sky, bright against the blue backdrop.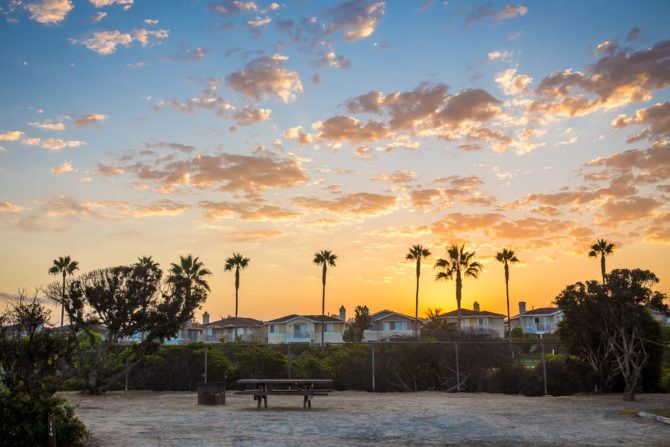 First things first! We headed down the stairs to the ocean to get a bit salty before breakfast. My friend headed for some decent-looking waves with his surfboard and I slipped on my fins and a mask to do some lobster-scouting for later in the year when the season was open. Alyssa decided the ocean water wasn't calling her so she stayed on the beach to watch the seagulls cruise the cliffs looking for fish.
After my buddy got a few nice rides on the waves and I couldn't find the home of the lobsters we headed back up the hill to get breakfast cooking.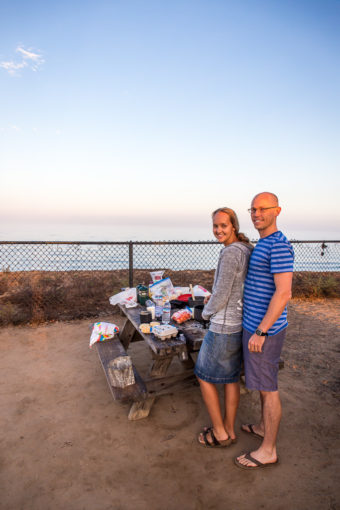 Alyssa whipped up a fancy breakfast of biscuits and gravy going while I got some water boiling with my whisperlite stove for coffee and cocoa. A few minutes later we were sipping hot cocoa and eating a home-cooked breakfast as we watched the waves crash down below.
Next time we go camping at the Carlsbad state beach campground it'll be lobster season and we'll be having a feast of lobster tacos. If… I can hold my breath long enough to find their little hide-outs!