The Ultimate Guide To Packing Light: What's In Our Single 48-Liter Backpack
(Packing For A Couple In One Backpack Edition)

This is our complete packing list of everything we travel with. Alyssa usually carries the Kestrel 48L backpack (and the little Flash 18L daypack if we have extra food, water, or books). And I carry the drone backpack and my Canon 6D camera shoulder bag. Basically, Alyssa has everything we need for traveling and working and I just carry the cameras.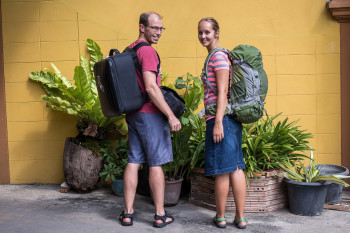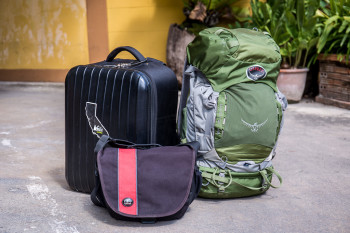 This packing list is for the warm to hot, dry and rainy-season weather of Southeast Asia, so everything has a separate waterproof bag in case we're out when the clouds let loose and dump rain – and they do! Read more about how we manage to pack so light for two people!
Backpacks:
Osprey Kestrel 48-Liter backpack (25 pounds packed)
REI Flash 18-Liter daypack
 
Choosing the right backpack can be very overwhelming! We knew we wanted a small backpack under 50 Liters but didn't want to sacrifice comfort and easy packing. The reasons why we chose the Osprey Kestrel 48L backpack were because of the built-in shelf inside, the padded waist belt, clean outside pockets, multiple tightening straps, and it's compact carry-on size.
The REI Flash 18L is an awesome daypack for short hikes and as an extra for when we're traveling with food or water that doesn't fit in our main bag. It has waist and chest straps, padding for your back, and is super lightweight. Why don't we just get a bigger backpack and put everything inside it? On long bus rides we sometimes put our main backpack down in the luggage area, so we take everything valuable out of it and carry it with us in the REI Flash pack – much better than the plastic grocery bag we upgraded from.
Clothes:
Landon:
My favorite thing on my packing list is my new hybrid board shorts. Super comfortable and versatile. It's always a pain to have to bring along separate swim suit. Hybrid is the answer! They even have an inside drawstring I can use to tighten them when surfing or wakeboarding. So much traveling makes me lose weight sometimes, and I can keep them adjusted just right! Best part – they dry in like 30 minutes!
Also, my Teva Sandals have been a great choice for my only pair of shoes! I'm so glad I chose them over my Keens – much more air and easy to put on.
Alyssa:
Alyssa loves her Sierra Designs rain jacket for our rainy season travels because it actually has the cut of a girl's jacket and isn't huge and baggy. It's very lightweight and folds up into a small little bag. That makes it great for packing! We've found it to be very waterproof and have no problem standing out in the rain with it on! 
A few light t-shirts, that can be equally matched with both skirts, shorts, and pants makes her packing list very versatile and lightweight. We make sure to do laundry often so she doesn't need any more clothes than this. We are packing in a small backpack after all!
Toiletries:
For some reason toiletries are the things that add up quickly for us! It's so easy to think that it's small and won't take up too much room. Wrong! I'm always having to re-evaluate and take some things out!
We started travel with Immodium for calming upset digestive systems after Alyssa had a parasite in Bolivia. It's just easier to have some with us. The same goes for Tylenol. Just one of these small bottles is perfect!
We love our Eagle Creek bags for organizing because they are small and lightweight, but we can fit a lot into them! We use them even when we are not traveling, they are the perfect size and keep us from bringing extra stuff that's not necessary!
Electronics:
Traveling light with electronics sounds contradictory. Admittedly, the electronics are the heaviest weight contributors in our backpacks! However, with our Macbook Pro and Macbook Air we are cutting down on a lot of weight by using fairly small computers for the processing power we need. Since we work while traveling, these are a must for us. We only need to bring one laptop charger along since both laptops use the MagSafe 2 power supply.
We chose to travel with an iPhone 4S because it is outdated enough to be a theft-deterrent if someone would want to steal it, but we can still enjoy the "smartphone" world! Without it we wouldn't be nearly as brave navigating around the world off-the-cuff! The Pocket Earth Maps app is our best friend!
The MyPassport external hard drives we use are a great lightweight option for us. It holds 2 TB and we back-up all our pictures, files, videos, and documents to them both a few times a month. We travel with 2 of these and love having the peace of mind that all our stuff is backed up properly.
We've found one of the best ways to make friends at an airport is to show up at an electrical plug with your three-way splitter. It's a lifesaver for working on the road and we never travel without it!
Miscellaneous:
My favorite item out of this list is the retractable Petzel Headlamp. I've been an avid headlamp user my whole life, but this one is tiny! It has a little retractible strap that fits around my head, wrist, bike handlebars, you name it. It's incredible!
Alyssa uses a small foldable purse that folds up really small and weighs almost nothing. You can find even smaller ones at REI if you are willing to pay a little more. This is great for evenings out, bringing groceries home, and extra snacks for when we are traveling a long distance!
Additional Bags: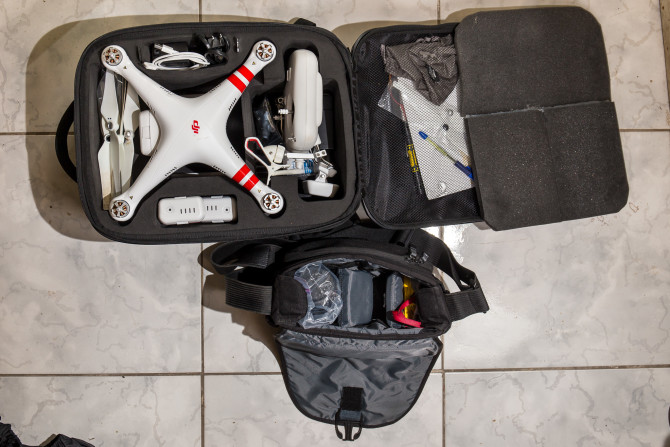 Drone Backpack (12.4 Pounds)
DJI Phantom Vision 2+ drone quadcopter
latest-version remote control
4 batteries
battery charger
This is my favorite part of the whole packing list! Having a drone quadcopter along lets us get amazing views that were impossible to anyone before. On our Zapatillo island tour we couldn't see how clear the water was until we looked from the air, then it was like a whole new world! I've finally found something that I'm truly passionate about – that's why it follows us along on our travels.
Camera Bag (6.8 Pounds)
A few years ago I finally decided to upgrade my camera to the Canon 6D and haven't regretted it once. I love the crisp colors that the 24-70 L lens-combo gives. The super-high useable ISO on the 6D camera and the optical image-stabilization of the lens really sets this pair apart and are perfect for hand-held night shots too. Skip the expensive waterproof bags (unless you really need to shoot mid-thunderstorm without an umbrella) and just use a simple plastic bag.
---
Good luck packing! Hope you found some good ideas from our complete lightweight packing list. Let us know where you are headed on your trip!
Disclosure: We use affiliate links in this post which earn us a small commission if you do your shopping though these links. Using them doesn't cost you a dime extra but helps support this site, after all it isn't free to run! These are products we only recommend because we love them and use them ourselves! In, fact check out other travel products we love and use on the road here!