Everybody who has visited Costa Rica knows about the huge crocodiles under the Tarcoles bridge on the way to Manuel Antonio. Wide-eyed tourists always throw food to them, so the crocs hang around waiting for a big one to fall in. It happens once and awhile, no joke!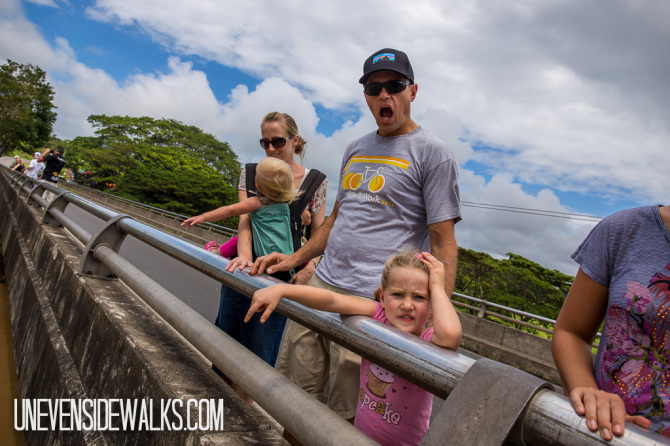 There are usually over 30 of them! And they're big enough to swallow a cow without taking bites!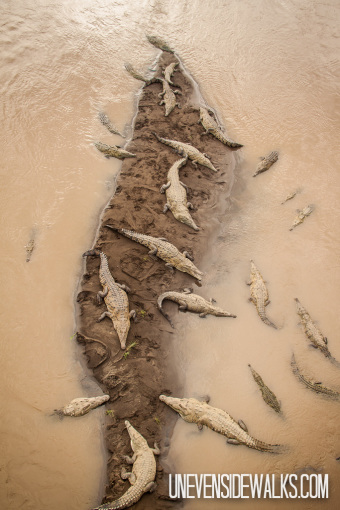 How about getting a little closer than on top a 30 foot bridge?
We felt up to the adventure, and headed to the "Crocodile Man Tour" – sounded pretty legit. Well, we got to meet him – the real Crocodile Man. He was a muscular, short-ish bald guy with blue mirror glasses and a look of confidence about him that you know he got from looking crocodiles in the eye.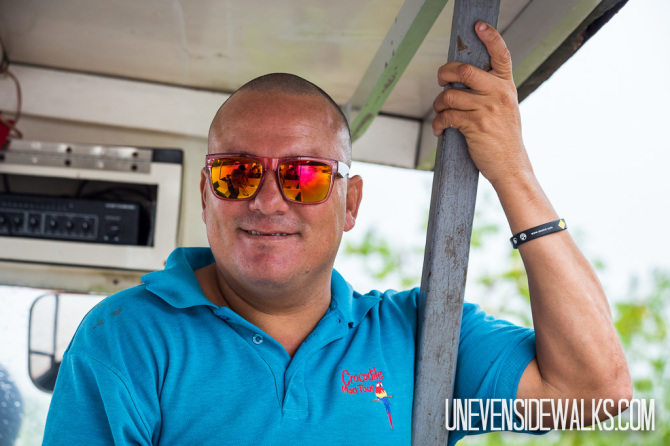 We felt pretty safe with the Croc Man leading our tour, and snapped away with our big zoom cameras and Go Pros at the distant crocs and birds along the river. We thought this was a pretty cool boat ride with a little sense of danger.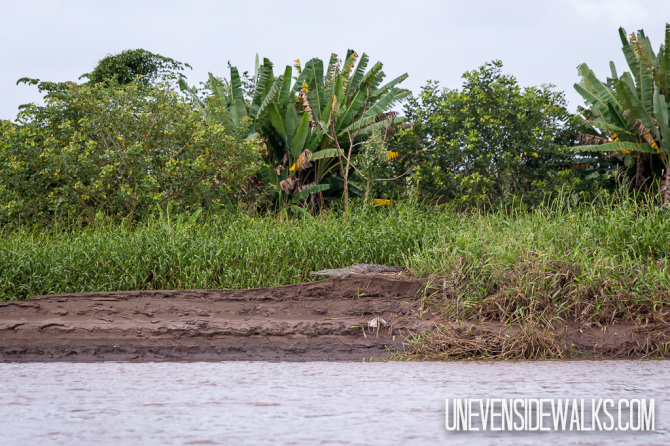 Did you ever pay attention to the warnings at Disneyland "Please keep your hands and feet inside the boat at all times?" Well, this tour guide didn't have to repeat himself, people were more than obedient. Except for those silly Go Pros bobbing around over the water, crocs love the taste of Go Pros.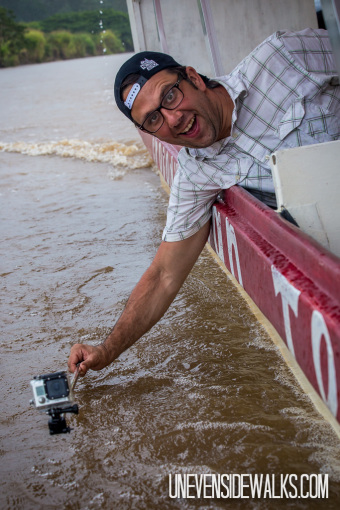 We had a fun ride up the river as blue-sunglasses told us everything about the river, from the names of birds to the names he gave the crocodiles that stake out different territories along the river.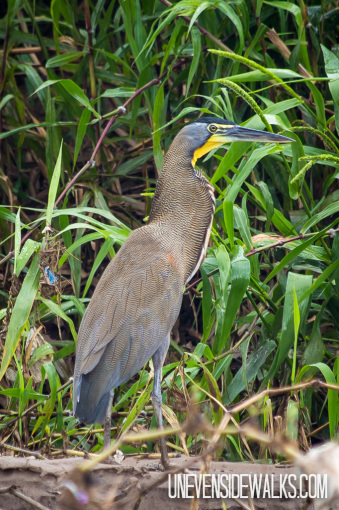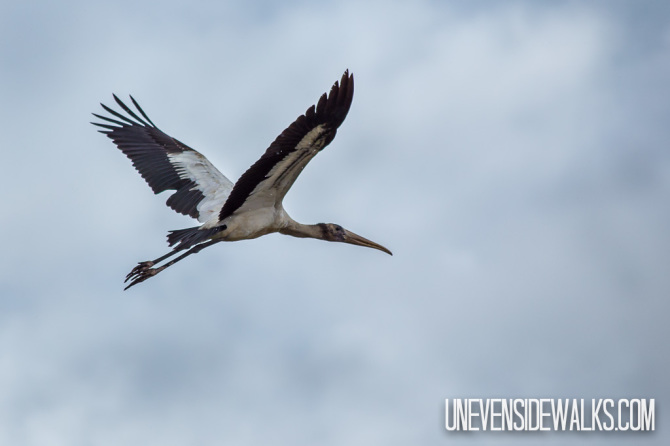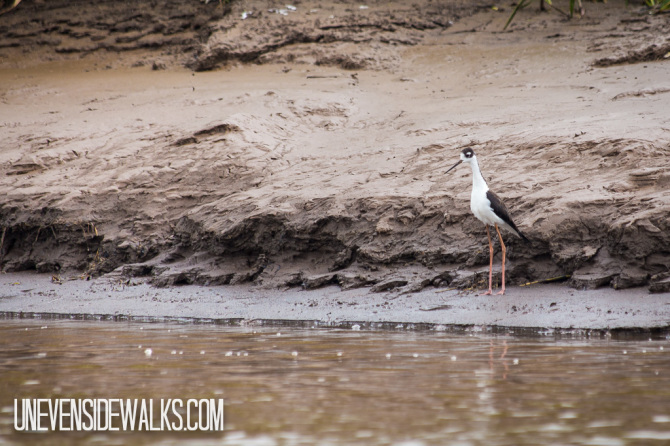 He confirmed that, indeed, a drunk guy from Nicaragua fell or jumped from the bridge to swim with the crocs, and later in the day a few tour groups saw a few pieces of him. Um, "Little Timmy, keep your hands in this boat right now!"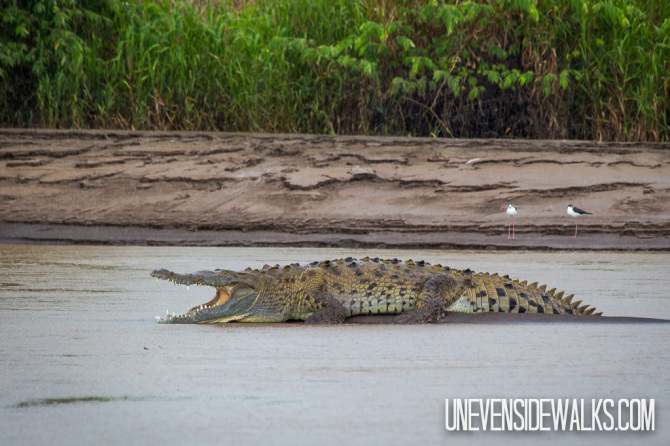 We had a nice time and saw a lot of crocs up close and personal.


Then the captain pulled the boat up along the bank and the Croc Man said they were going to try to call out Madonna. He pointed out her eyes barely visible above the water, just a chicken-leg-toss away. Our hearts beat faster and we got our cameras out.
Then, the captain grabbed a fish from a bag and climbed out of the boat on the muddy shore. He proceeded to slap the water with the fish. Croc Man explained that he was training the captain to perform this part of the show, otherwise he'd be doing it himself.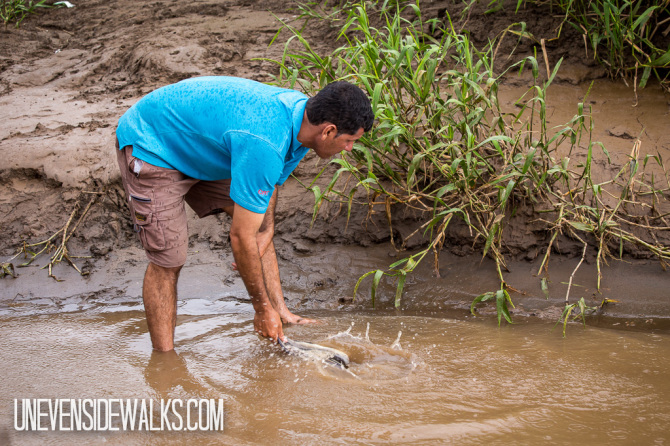 Wow! The captain now got a capital letter in front of his name in my book – Captain Crocodile-Caller.
Captain was looking a bit uneasy as he slapped the water with the fish. We smirked and looked around for crocs. All of us had probably gotten skunked at fishing a time or two in our past, and this guy was going to call in a croc on command, just like that?
A few of us glanced toward the eyes of Madonna we had seen a few minutes ago and to our surprise and fear they were coming closer. Fast. A few parents pulled their kids a little further away from the edge of the boat and we all waited breathless, in silence as Madonna slinked in.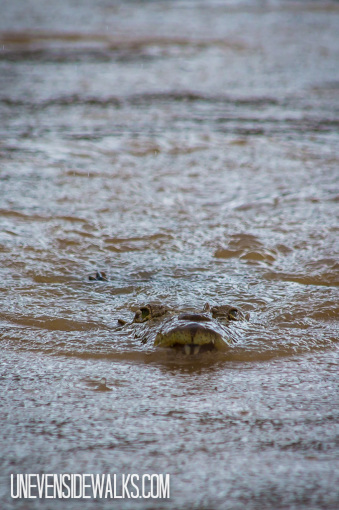 My brain was spinning. "Hmm, Captain must know what he's doing. But, if perchance the fish peace offering isn't big enough today and Madonna chomps him, who's gonna dive in the river and fight for him?" The next thought quickly pushed that question out of the way. "Hey, this boat can't be too hard to drive, right? Someone has to drive the boat."
Madonna silently slid in closer. No swimming, flapping, or wake in the water, just eyes moving past.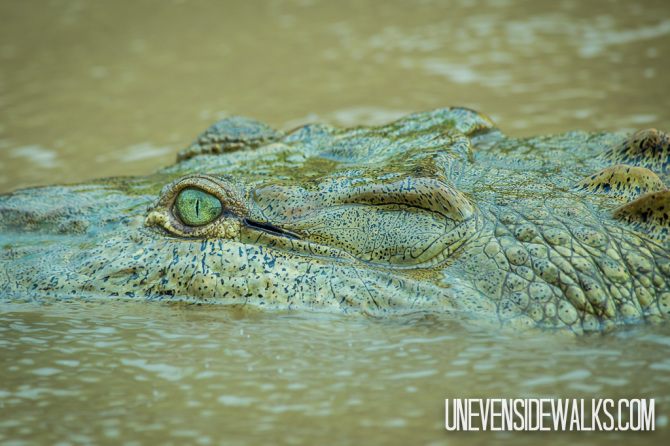 This guy's a goner. Everyone was silent.
A little one year old girl even understood that Captain was in a bad spot and started mumbling "No… no…"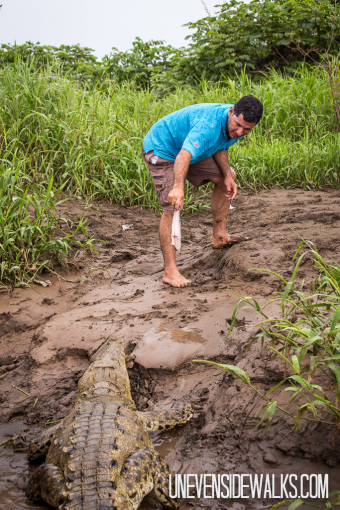 Captain stepped a few feet away from the water and tried to lure Madonna up the bank. She wasn't too keen on it, but let herself be coaxed up onto land. For the fish or his leg, we wondered. He raised the fish and she raised her head off the ground a few feet.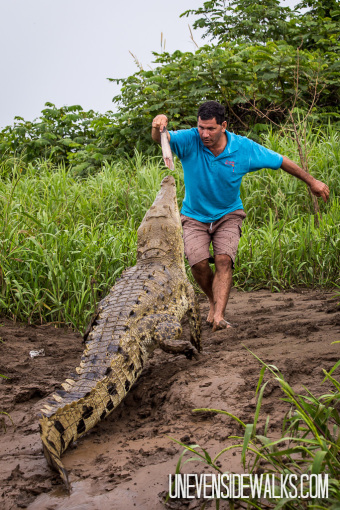 The little girl was certain something bad was going to happen and started shrieking "No! No! No!"
Madonna was all the way up on the bank and raised her snout with all those teeth 4 feet off the ground. Captain looked like he might slip, but quickly tossed the fish at Madonna who gulped it down and wormed her way back into the water.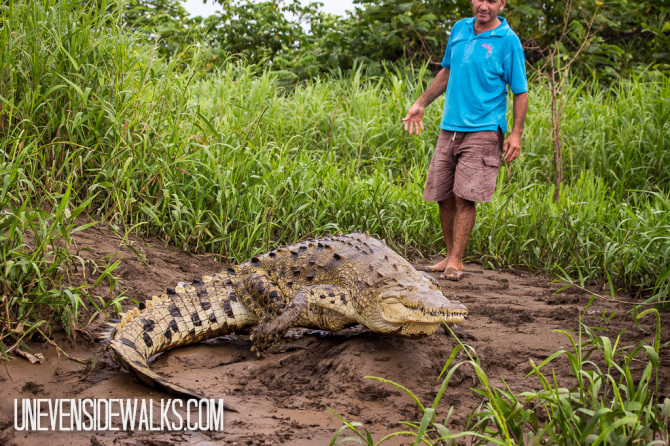 Whew, Captain survived! We welcomed him back on board and he seemed a bit more tense than before. Croc Man was proud of his student.
We headed back to the dock, all of us fully satisfied with the excitement of this tour. The little girl had calmed down but couldn't quite figure out how the guy got away from the big scary crocodile.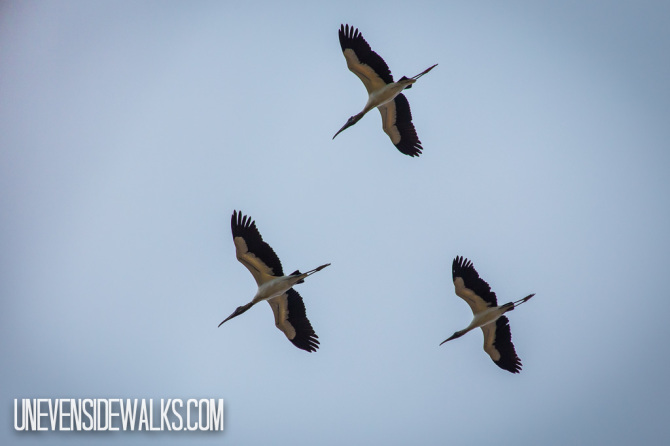 One more. Croc Man said we still had another fish, so he wanted to go rustle up another crocodile, a bigger one. This one was called Tornado. Oh oh…
Captain docked the boat and slogged slowly through the mud to call in Tornado. I was a little more concerned this time because Captain's feet sank into the mud halfway up his shins. He wouldn't be able to run away if he had to! And we didn't see Tornado's eyes yet. How close was he?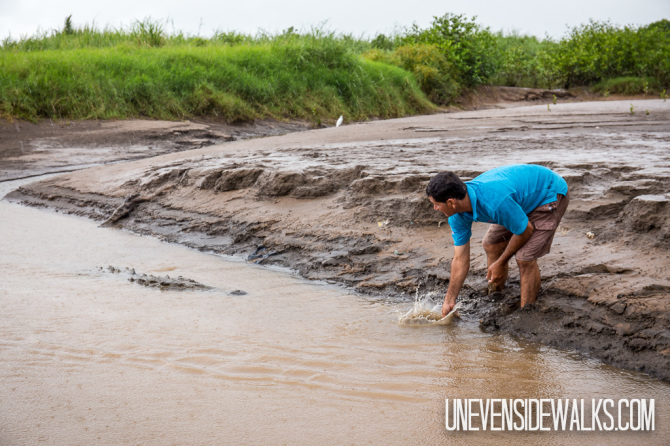 Tornado silently popped up 10 feet away to check out the situation. Eel was on the menu. I hope he liked it raw with no mayo. Small fish or the big guy in the blue shirt, hmmm…
Captain tossed him a freebie a few feet out, but lured him up like the last one. Both his head and tail were sticking out of the water, like he was coiling up to spring at Captain.
The little girl was a bit quieter this time, but still not happy with this crazy guy holding the fish.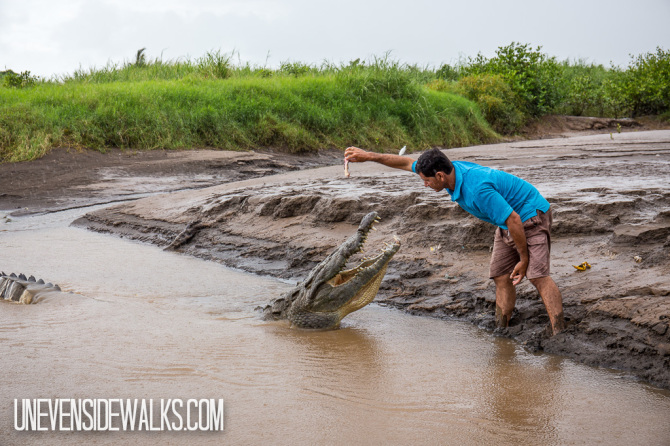 Captain lured Tornado up as high as he could and tossed him the fish. Just as he caught it, Captain put his hand under the crocodile's chin, like he was scratching him like a cat. He slowly pushed him away, and checked off surviving one more crocodile-feeding performance.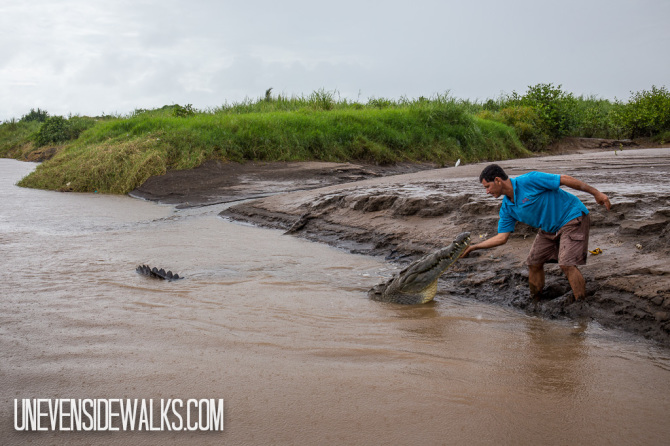 He slogged through the mud back to the boat, and even smiled a little this time, obviously quite relieved. We were all cheering for him as he got back in the boat. Wow, what a rush!
We were all still in shock from everything we'd seen, and couldn't believe the power of these crocodile-charmers. I wondered if I'd be able to do the same thing with a li'l fish and some river slapping… Maaaaybe, but I don't think I'll try it today. I think those guys have a special connection with the crocs on this river.

It started sprinkling as we got off the boat, and it seemed like we'd been exploring the Tarcoles river with the Crocodile Man and Captain all day, not just for a little 2 hour tour.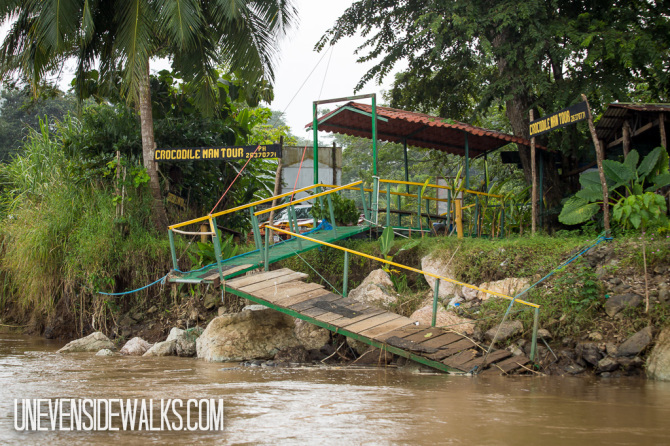 If you get a chance, take this tour before you head down to Manuel Antonio. It's way better than the national park – you won't regret it! Definitely a bucket list experience! The Crocodile Man Tours didn't give me anything to write this post, but I certainly recommend them.
Leave a comment if you've seen the crocodiles at Tarcoles in person!
Don't forget to like UnevenSidewalks on Facebook!