We hope you had a great time in Costa Rica. The last step is departing from the San Jose, Costa Rica airport. Your experience at an airport can make or break your trip! Read more for our tips on how to zip through the lines – specifically for this airport.
The San Jose airport (SJO), near the capital of Costa Rica is a really nice, modern airport, but it's super busy with a lot of lines and thousands of people milling around. It's easy to get frustrated, especially with kids, lots of luggage, and bad weather!
Preparation Before Leaving your Hostel
Grab these things from your hostel or a store before you get to the airport and you'll have less to worry about when you arrive:
Passport – sometimes required to enter the airport terminal
Airplane Ticket – sometimes required to enter the airport terminal
$29 Airport Tax/Fee per Person
At least $100 extra cash
Black/Blue Ink Pen
Water Bottle & Snacks
Be sure you check in online the night before if you can. Spirit airlines requires you print your ticket within 24 hours of your flight, or you can pay $10 at the ticket counter. Sometimes they waive this fee in Costa Rica.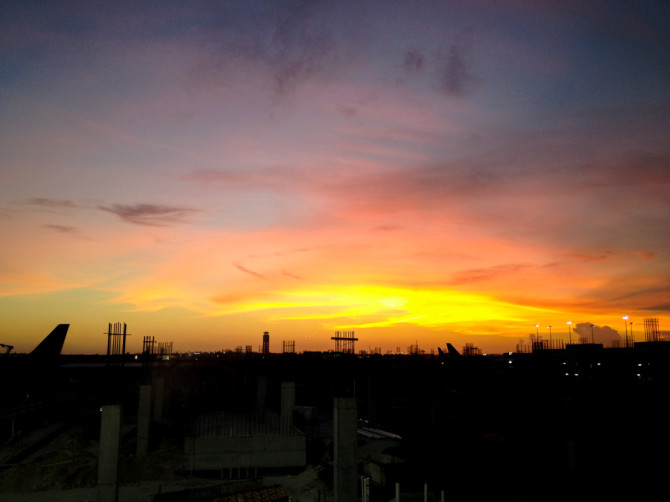 Getting to the San Jose Airport Departure Terminal
The SJO departure terminal is on the top floor. You'll have to walk there if the bus drops you off, and it's easy to find in a car. There's an entrance to the parking lot at both the top and bottom floors, and usually costs only a few dollars to park. There are some screens right at the entrance you can use to check if your flight is on time.
They say that only passengers that show a ticket and/or passport are allowed to enter the terminal, but they don't enforce this much.
Pay the Costa Rica Airport Fee
There are a lot of lines and people milling around, but not many signs to tell you where to go. The first thing you need to do is pay the airport fee to the tune of $29 per person. This can be paid in US dollars, colónes, or by credit card (with a transaction fee). There is an ATM nearby if you only have pocket change left!
Give them your passport and $29 and they'll give you back a piece of paper that you need to fill out, and hopefully return your passport! Next step, find the line for your airline ticket counter. Fill out your $29 fee-paper before you get in line!
Airline Ticket Counter
Nearly all flights leaving Costa Rica require you to check in at the ticket counter. Some airlines are starting to use the self check-in kiosks, but they're not very common. The airline will collect your airport tax slip and print out your tickets. Be sure you fill out a luggage tag for each of your carry-on and check-in bags.
Airport Security Checkpoint
Next, make your way to the opposite end of the building – to the left side if you were entering the airport. The first stop is just to check that you have your ticket and your passport out and ready. The line on the left is for children, minors, and families, and everyone else goes in the right line.
The next stop is the security checkpoint – a less strict than you're used to in the US. They'll want you to take your shoes and belt off, take everything metal out of your pockets, and take your laptops out of your bags. They don't consider liquids to be bombs like they do in the US, so don't worry about that, yet. You may have to show them later on.
They aren't as serious as in the US, so just don't bring any swords or fireworks in your backpack and you should be good.
Waiting Lobbies
Make sure you grab everything from the conveyor belt and head out to the right. There are some screens you can use to double check your flight gate and time. There are many fast food restaurants up the walkway to the left, in a separate dining area. They even have Cinnabon! But also airport prices…
There are a couple snack shacks and fancier restaurants along the walkway in either direction. It's a good idea to bring a snack with you unless $5 for a tiny bag of chips is an okay supper.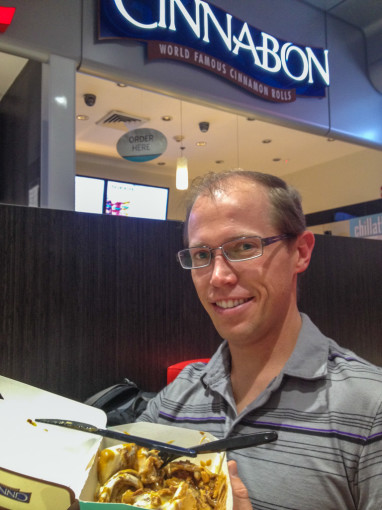 Boarding and Final Security Check
It's smooth sailing from here on out. Since early 2014 they have been doing one last security check before boarding airplanes headed to the US. They warn you about it about 15 times over the loudspeaker, so you'll be prepared. They're checking for large liquid containers and water bottles, which they make you throw away. They aren't super thorough, but they're pretty stiff on the "no water bottle" rule, unless it's empty.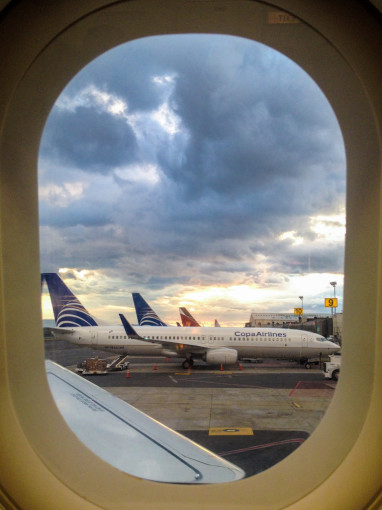 Good luck getting through the San Jose, Costa Rica airport. Leave a comment if you had a good trip and good times at the airport!