The La Paz Waterfall Gardens is my favorite place to see the wildlife of Costa Rica. You'll see by the number of pictures I have in this post! (Be patient while they all load!)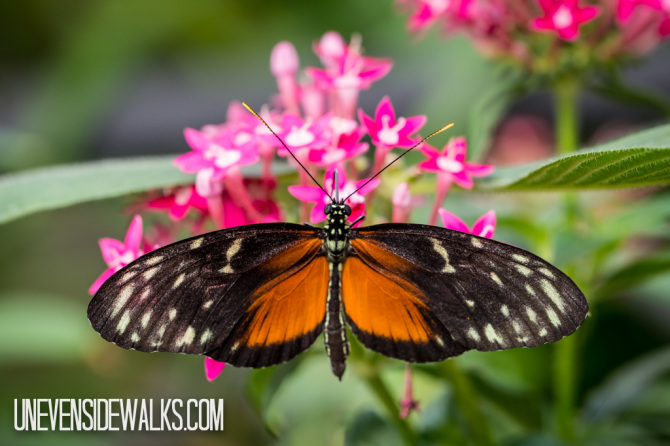 Certainly a Bucket-List Sort of Place!
 It's so up close and personal, and it isn't usually very crowded.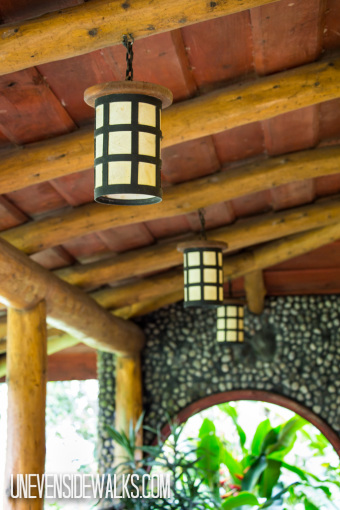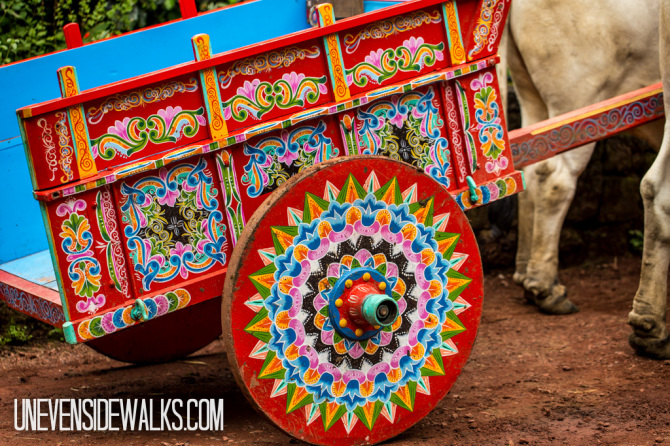 The name sounds pretty boring, but it's an expansive zoo with Costa Rican animals set right near 5 beautiful waterfalls.
They have monkeys, jungle cats, a gigantic 2 story butterfly terrarium, free-roaming hummingbirds, a snake den, a frog habitat (with poisonous frogs!), a trout pond, and the coolest part of it all – a huge bird aviary where they'll let you hold a toucan on your arm!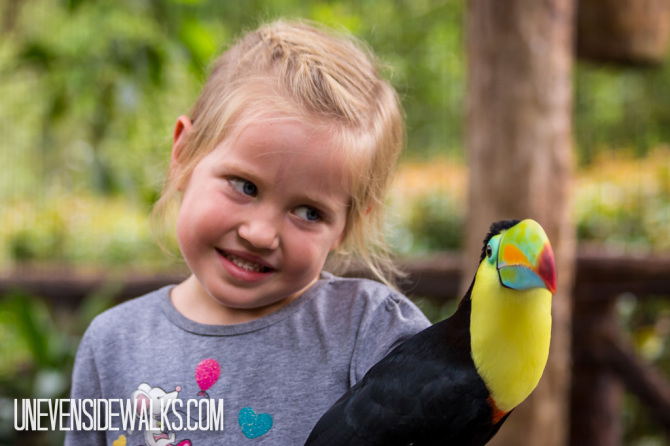 Oh yeah, I forgot to mention there's lots of amazing jungle and orchid gardens (with scientific names, for people who can read them).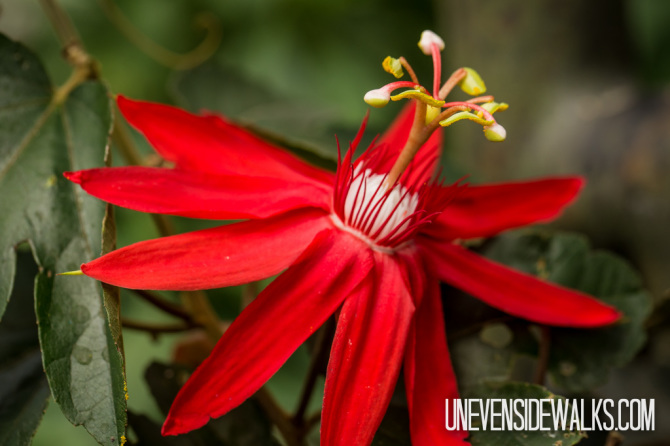 We've been there 4 times so far and it's still as beautiful as the first time. At $38 a pop, it's a bit pricey for repeat-visitors, but for normal tourists it's a bargain. The lunch isn't a steal, but there aren't any other options nearby, and it's a good buffet with American and Tico food.
Monkeys at La Paz Waterfall Gardens
Monkeys are the all-time favorite of people visiting Costa Rica. They are so funny when they look at you and then poke away at sometime with their little human-like fingers!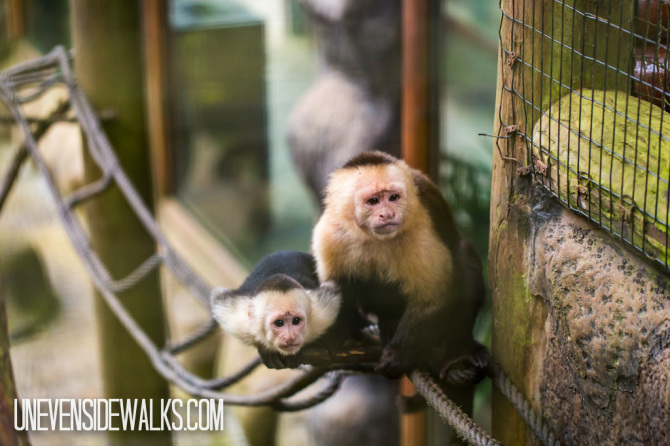 New Jaguar Exhibit
The Jaguar exhibit just got upgraded with a new habitat, so it's a pretty impressive up-close and personal display.
The Ocelots and Margays are my all time favorites, and often they're out packing back and forth on their trees.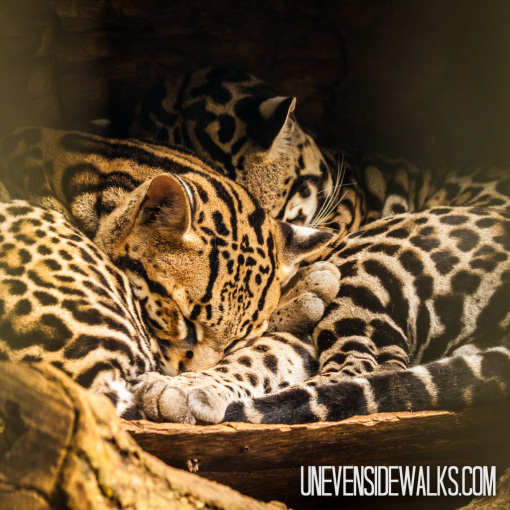 Butterflies at La Paz Waterfall Gardens
I could spend the ENTIRE DAY in the butterfly terrarium! It's a big, airy sky-lit building to keep the butterflies from wandering off.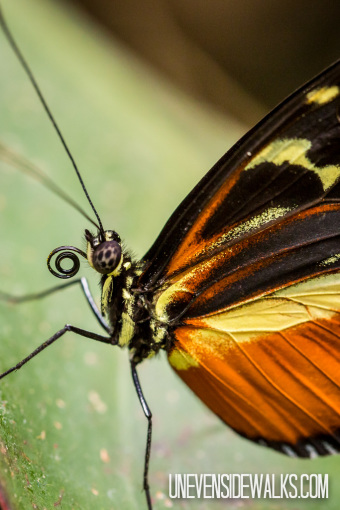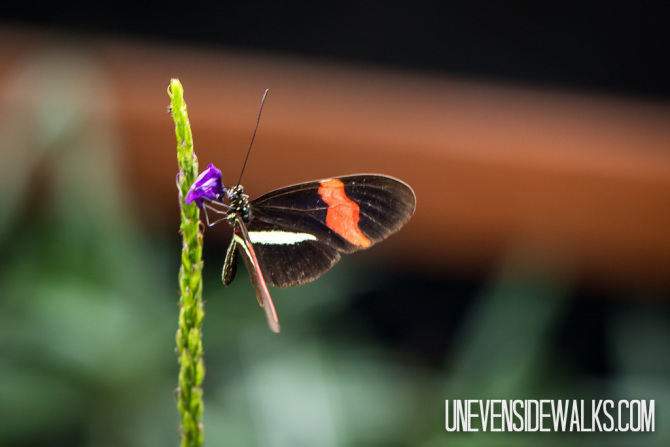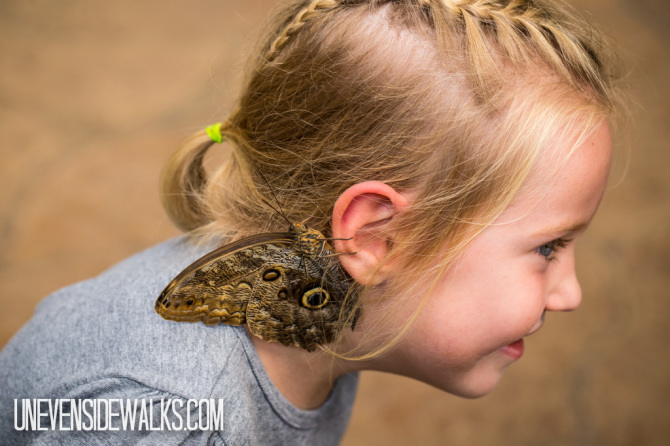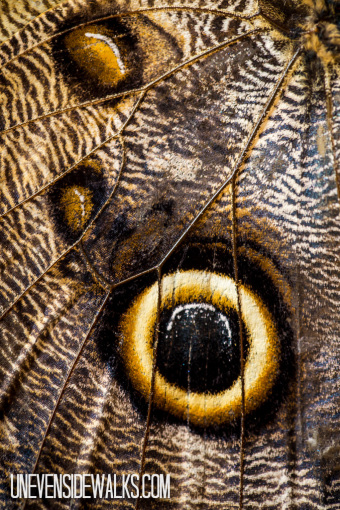 They have the whole butterfly lifecycle – many types of butterflies, beautiful ornate cocoons, crazy-looking caterpillars, and simple small eggs.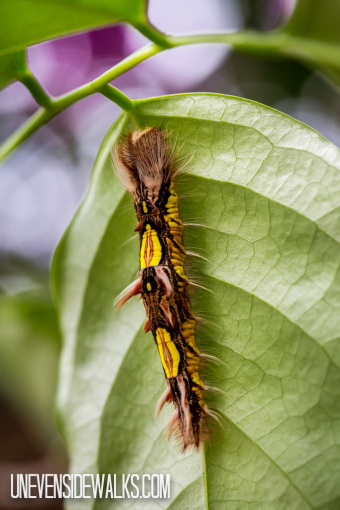 I still can't figure out how the caterpillars turn leaf meals into gold on their cocoons!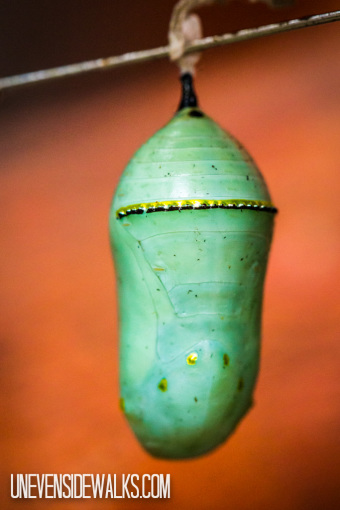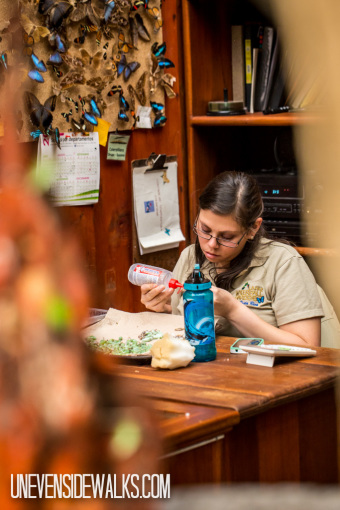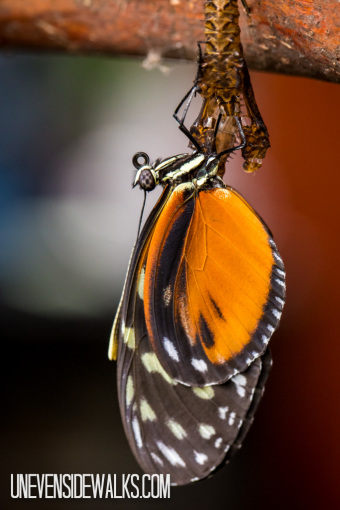 Hummingbirds at La Paz Waterfall Gardens
The hummingbirds always seem so intense at their play-fight games trying to get a turn at the feeder! They've almost run into my head more than a few times!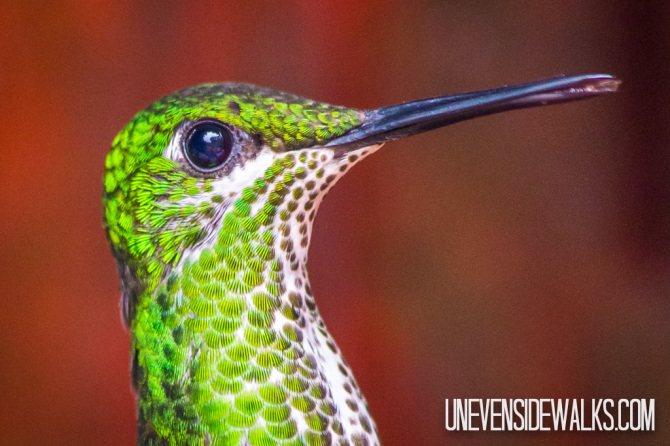 It's such a challenge to photograph these guys! I love it!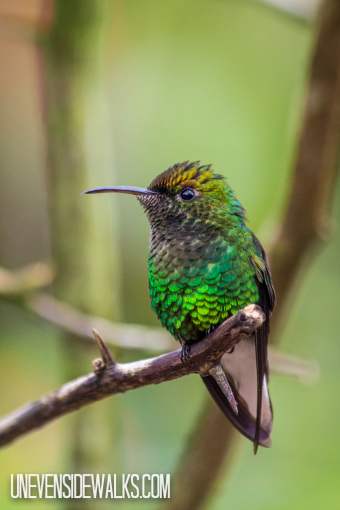 Get Up Close and Personal with the Toucans!
Alyssa's favorite part of the whole place it the bird aviary where you can take your picture with a toucan!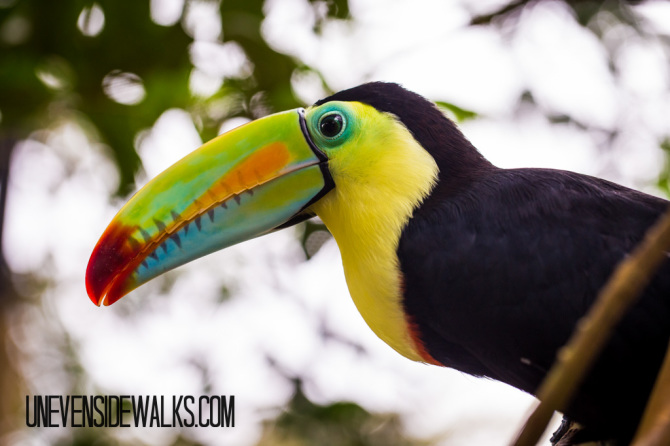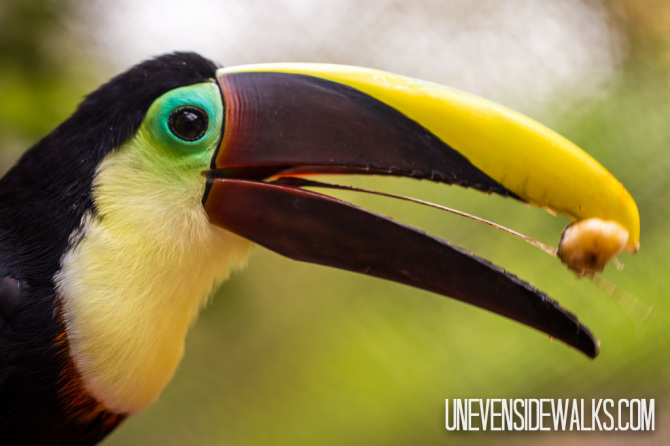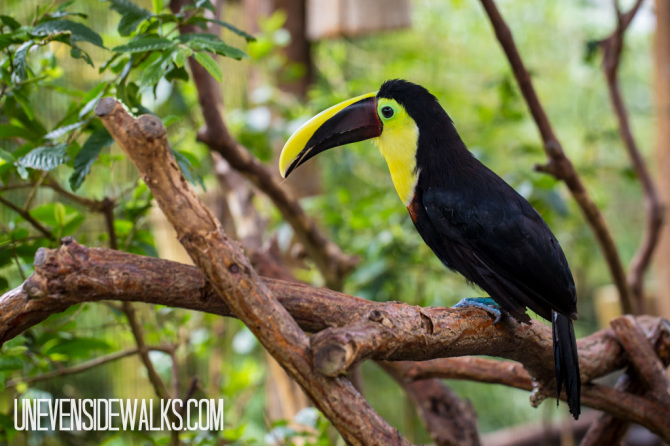 They're curious birds, and remind me of the monkeys checking everyone out.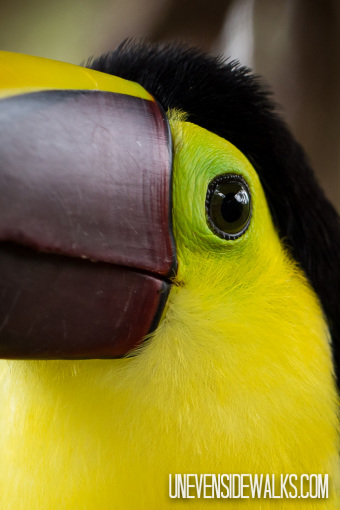 There's plenty of sweet parrots too! You can't miss them. In fact, you might go deaf listening them squawk away.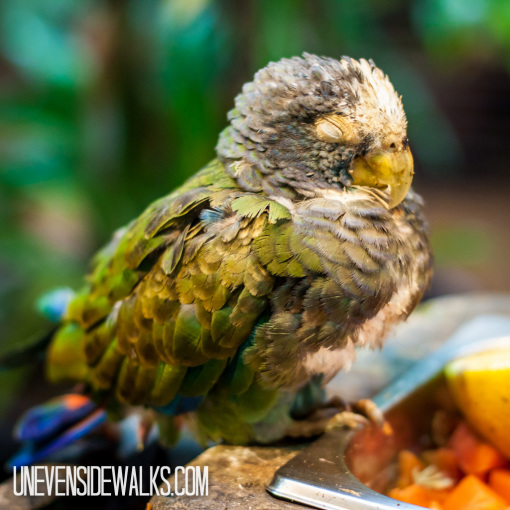 Snake Den in the Jungle
I always wonder what would happen if a little kid dropped his water bottle on the delicate glass of these cages and all of a sudden there was a poisonous snake loose!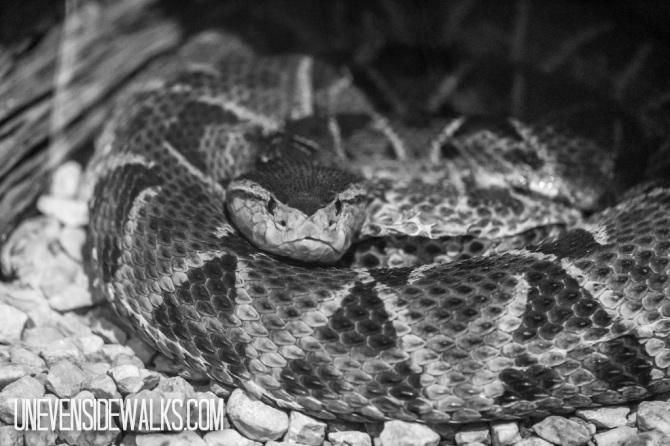 They always seem like they're up to no good – especially the ones that have a sign above them saying "extremely venomous!"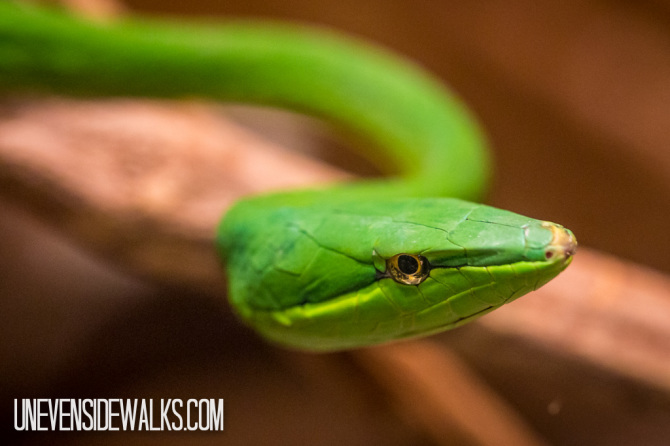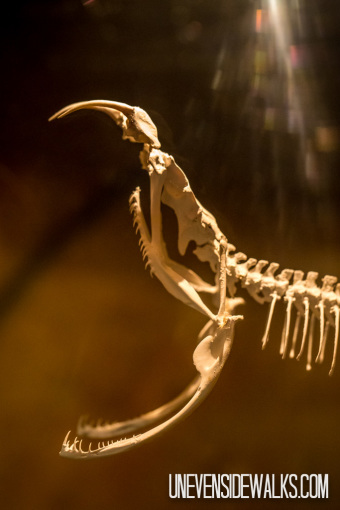 Poisonous Frogs at La Paz Waterfall Gardens
Get as close as you want to the poisonous frogs here! Just don't lick them, I guess… Haha, probably better to just take pictures.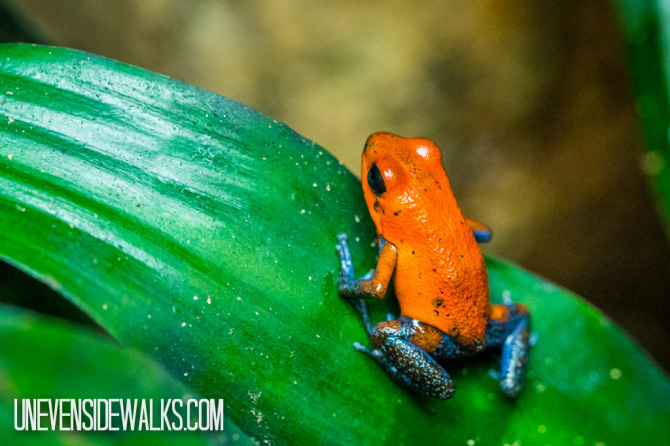 Some of the tree frogs are nocturnal, so they're just hanging out on a leaf, sometimes upside-down.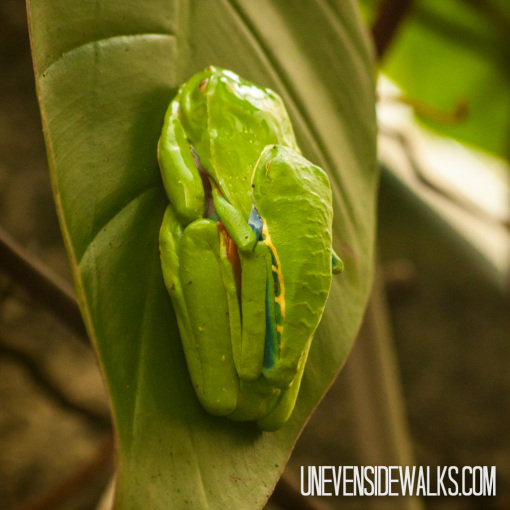 The frog habitat is a little jungle room with a few handy signs clipped to where the frogs are sleeping or normally hang out.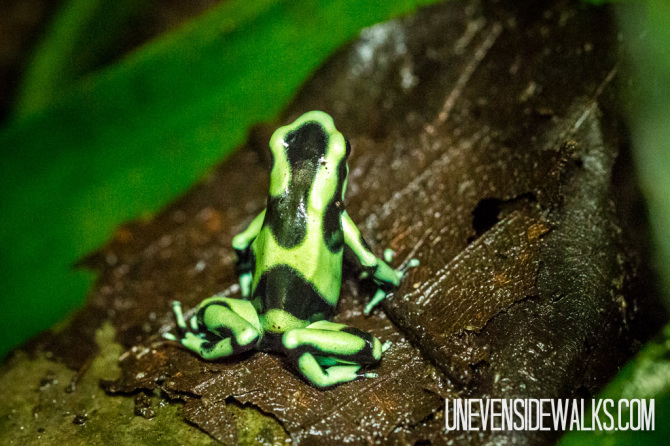 The Grand Finale – The Waterfalls!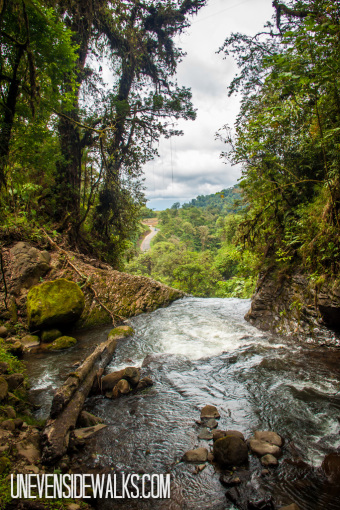 Follow the trail down the hill to see the last attractions, the powerful waterfalls.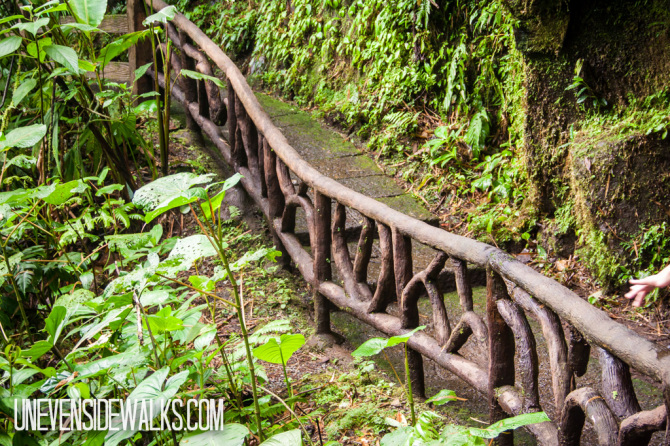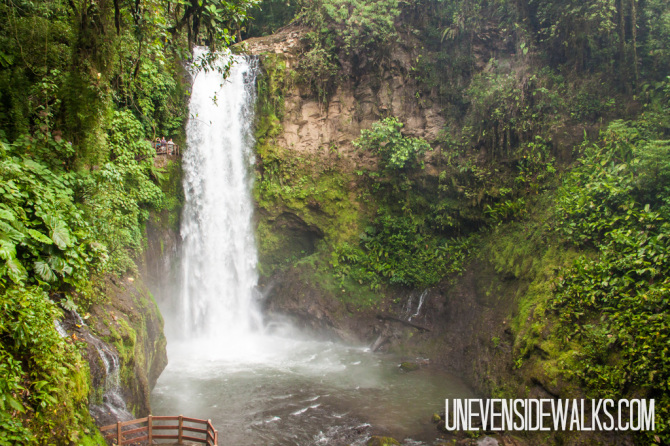 La Paz Waterfalls Gardens Nature Park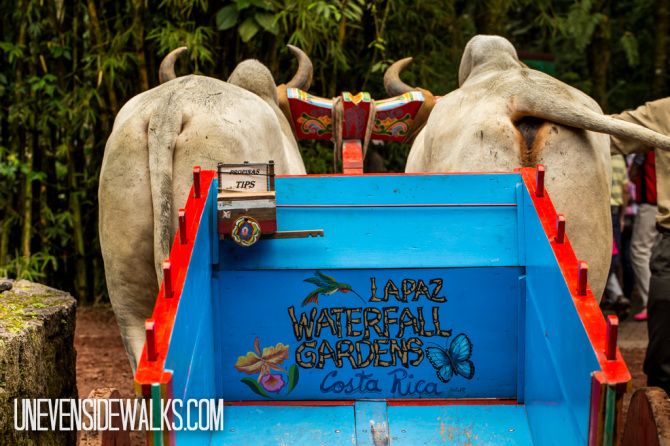 Oh yeah, if you are on your honeymoon, check out their sweet Peace Lodge to stay in!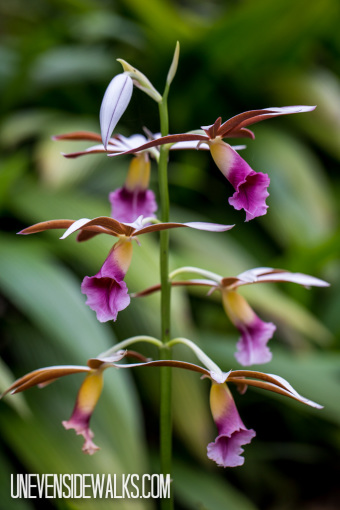 It's only an hour drive out of San Jose, and they're open from 8am to 5pm. There's secure parking, a restaurant, and not one, but 2 gift shops for all your overpriced souvenirs! They even have a shuttle from downtown San Jose, with info on their website about it. If you're anywhere near San Jose, I highly recommend checking out the La Paz Waterfalls Gardens Nature Park!
Back to Costa Rica 201 Travel Guide
Leave a comment below if you've been there!