Hiking the Mae Sa waterfalls trail is a perfect day trip from Chiang Mai, Thailand that's a good adventure, but still easy to get to and find by yourself. The chain of ten waterfalls is 45 minutes out of Chiang Mai, up in the beautiful mountains of San Doi Daen. Bring a picnic lunch and your swimsuit and enjoy a day in nature, away from the business of the city!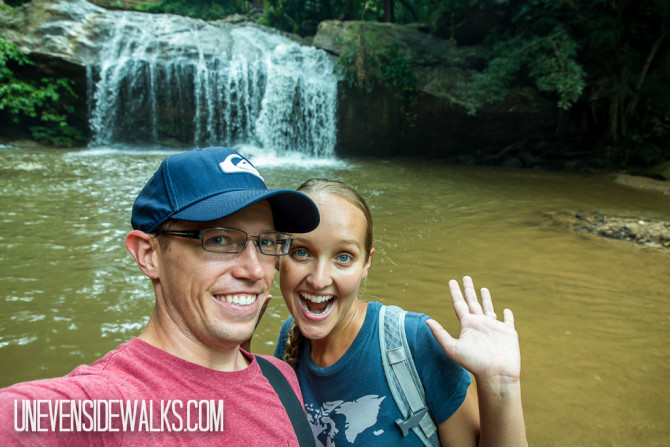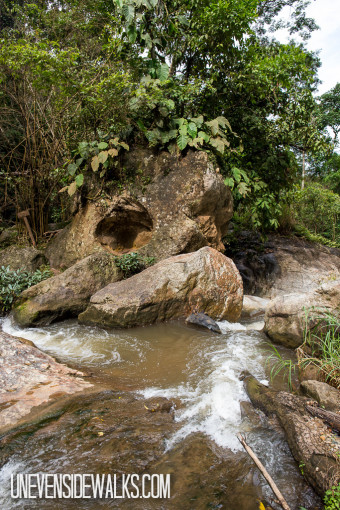 One of our goals when we travel is chasing waterfalls so we couldn't believe there were 10 all lined up in one place! The most we've seen before was 7 at Siete Tazas in Chile. The waterfalls here were nice and spread out, and each has its own personality and separate viewpoint. We could even explore and swim in most of them.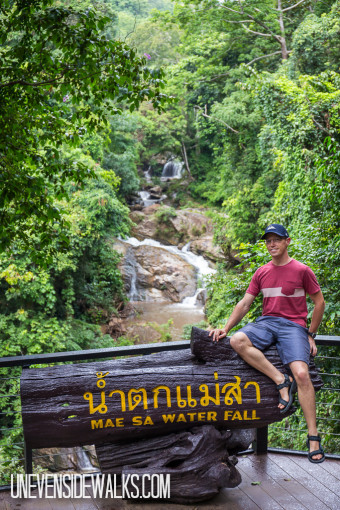 Hiking Trail To See The Chain of Waterfalls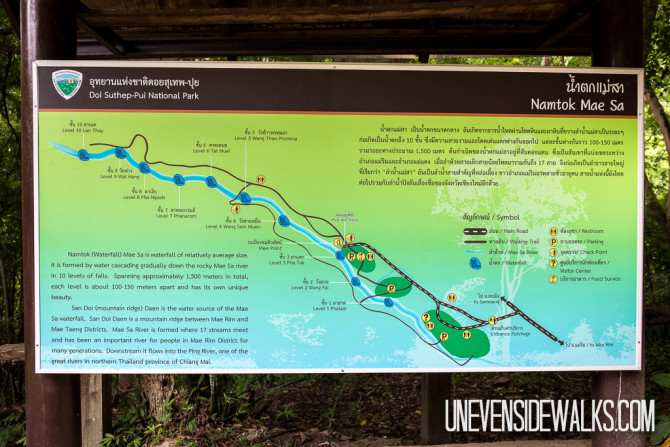 The hiking trail is about a mile long, and mostly paved with nice stairs. There are plenty of swimming areas and viewing platforms to keep a group or family busy for a whole day! The surrounding wilderness of Doi Suthep-Pui national park was beautiful, and felt like we were in the deep jungle (except for the paved path!) exploring these 10 beautiful waterfalls.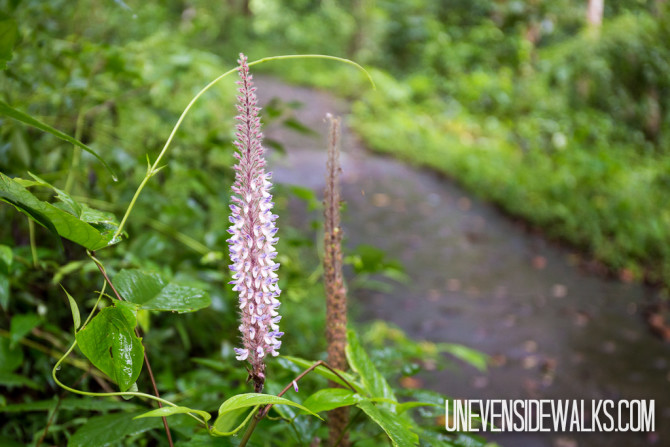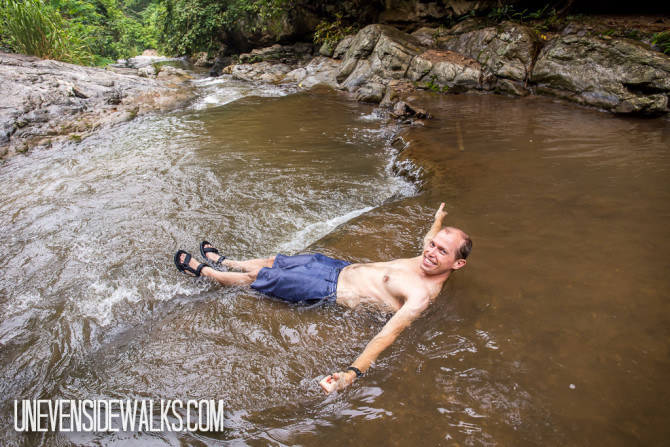 I was glad to have some good hiking sandals for the trail up to the to 10th waterfall. After swimming and getting wet so many times along the way, it was nice to know my shoes wouldn't slip off or float away in the river. My hybrid boardshorts dried quick in-between dunks too!
Eating Lunch At The Mae Sa Waterfalls
It's a perfect place for a picnic if you bring your own food, but you can also buy food and drinks there. Surrounding the main parking area there are many places that sell typical Thai food – BBQ meat and rice, as well as water, drinks, ice cream bars, and souvenirs. There are picnic tables along the entire waterfall trail, and even trash bins to keep everything clean.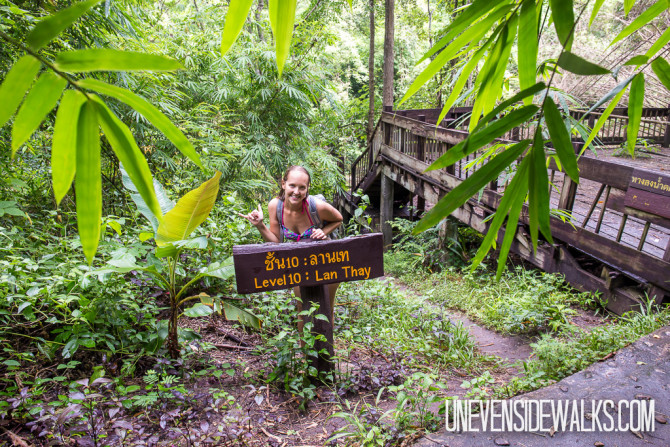 How To Get To The Mae Sa Waterfalls
We highly recommend renting a motorbike and driving to the waterfalls yourself! We rented a motorbike in town and paid only 200 baht for the day and another 30 baht in gas. It even rained on us on our way home, but it was warm and we didn't mind! There are also many tours that will take you out there, or you can even grab a red truck for the round trip.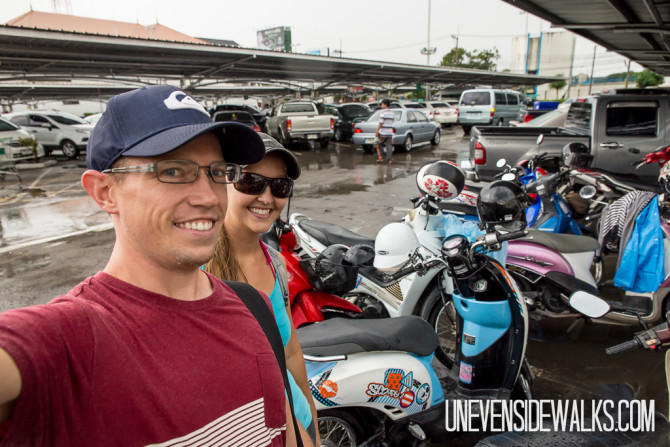 Driving Directions To Mae Sa Waterfalls
To get there, take the 107 highway north from Chiang Mai towards Mae Rim for about 14 km. Turn left on the 1096 road at the Mae Rim intersection. There's a small sign for the waterfalls, but it's hard to see. Continue another 5 km and you'll see a sign for the entrance to the waterfalls on your left. Pay the small entrance fee and continue to the right and up the hill to the main large parking lot, or other lots if it's full.
Park Entrance Fees
100 baht per adult (50 baht per child)
20 baht for a motorcycle
30 baht for a car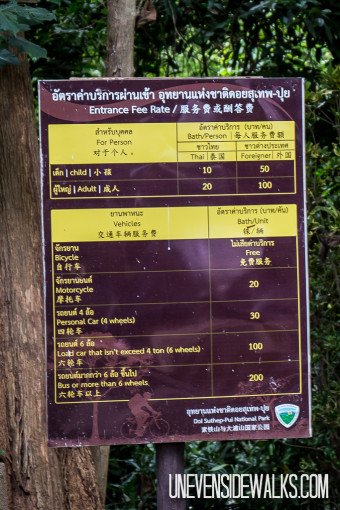 Park Hours: Open from 8 am to 4:30 pm
It can get busy on weekends, but there are many areas to explore and find a quiet spot, especially if you get there early.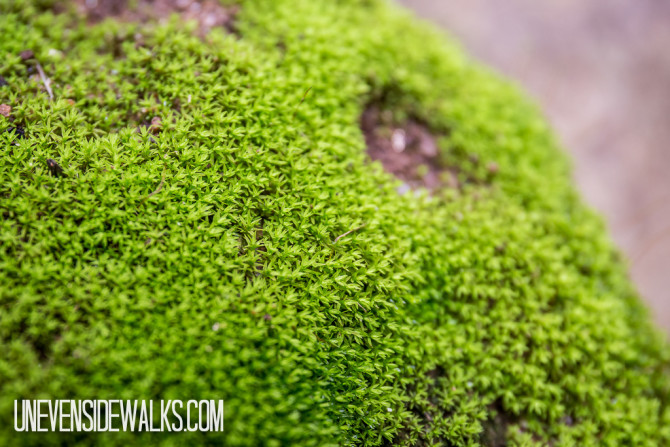 Other Activities Near The Mae Sa Waterfalls
Tiger Attractions
Snake Exhibits
Monkey Zoos
Elephant Encounters
There's so much to see near Mae Rim, definitely plan to spend a few days hiking the Mae Sa waterfalls and exploring this area!