Renewing a tourist visa in Thailand is everyone's favorite pastime, and there always seems to be new rules for playing the game… In the latest one, they moved the immigration office in Chiang Mai – from by the airport to a new location at the Promenada Resort Mall. Alyssa and I just went to the new office to extend our tourist visas, and found it was simple and pretty well-organized.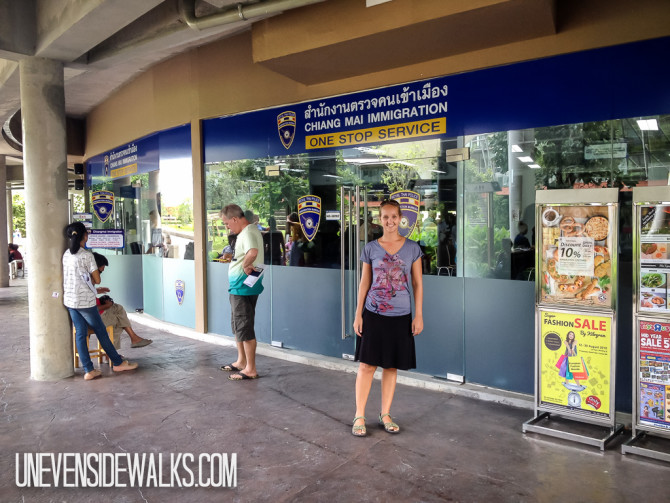 Extend Your Tourist Visa in Chiang Mai, Thailand
A month sure flies by fast! Before we knew it we were coming up on our visa expiration date and had to make sure everything went smoothly the first time so we wouldn't need to come back and waste another day waiting in lines.
Here's some tips that helped us get through quickly and painlessly.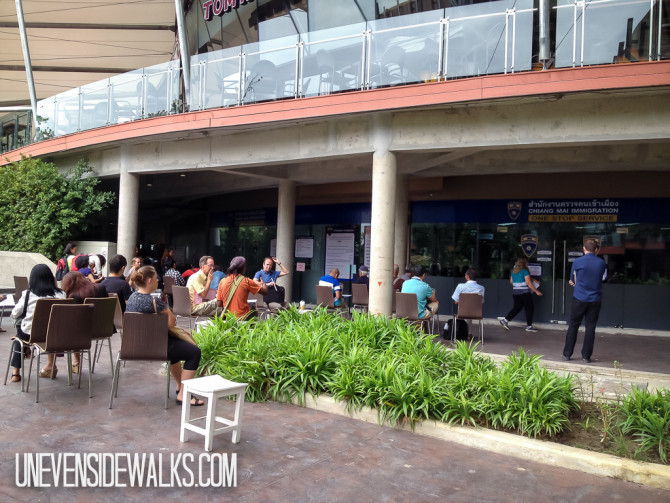 Things to Bring With to the Immigration Office
Be sure to have these ready before you go so you don't get delayed or lose your spot in line. Also, don't try to save paper by printing everything on one page or double-sided. They are pretty strict about wanting each copy on it's own page.
Photocopy of your passport picture page
Photocopy of your current Thailand visa stamp
Photocopy of your departure card
Application form filled out
Complete residence address (include tambon, amphoe (district), province, and postal code)
Recent "passport-style" picture (4 x 6 cm)
Thai baht money for fees. Tourist visa extension is 1,900 baht (they do give change).
Any other proof (medical, retirement, student, etc.) that is required for your specific situation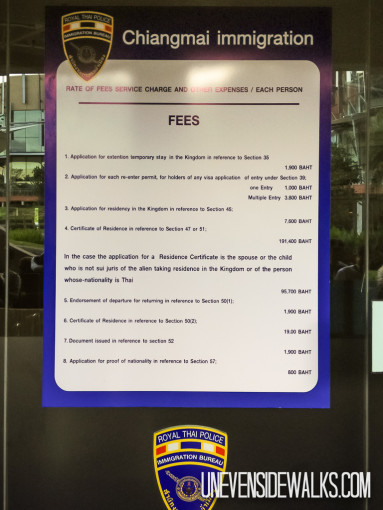 They also told us to sign all the copies of our passport and put our phone number or email address next to the "Address in Thailand" on the back of the form. An immigration lady had a stack of forms in case we didn't print it out before, and even had a glue stick so we could stick our photo to the application form. They'll probably staple it on if you can't find the glue-stick lady.
There is a print shop right next door, so you can make copies of your passport or take your picture if you need it.
Visa Application Forms
(Click on the forms below to preview or print them)
Tourist Visa Extension Application
(Click here for pdf version)
Re-Entry Permit Application
90 Days Notify Application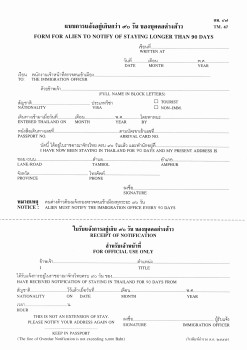 For the latest information and forms, you can also check the Thailand Immigration website.
Getting to the New Immigration Office at the Promenada Mall
The Promenada Mall is about 8 miles to the southeast of the Old Town. It's close to a few major roads so getting to it is quick and easy. Click here to see it on Google Maps.
We rented a motorbike that cost 200 baht for the day – much cheaper for us than taking a songtaew (red truck taxi) there and back, and we could stop at the grocery store on the way home.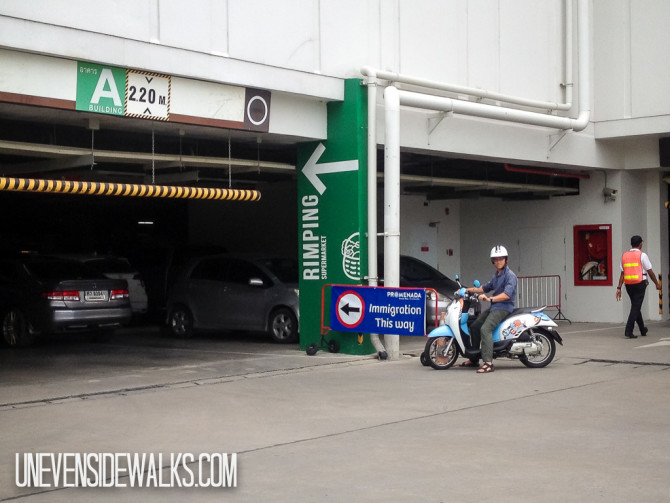 There was no traffic when we left just after 6 in the morning, and made it to the Promenada Mall without a hitch. At the mall, there were "Immigration This Way" signs that directed us to the immigration office. It's right inside the "A Building" parking lot, so don't worry it's not hidden in some dark corner.
I was surprised how simple it was to find! You can even grab a latte from the nearby coffee shop as a reward for finding the place alright!
The old immigration office was by the airport, and was quite a bit smaller than this new place. Be careful if anyone directs you there, because it has definitely moved. They had a free shuttle bus that ran from the old office to the new one, but it only ran for a month so don't count on that.
Which Visa Line to Stand In?
There are lines for renewing a tourist visa (extension), re-entry permit, retirement and medical, and notify 90 days. If it's your first time renewing your visa, you'll probably need to be in the tourist extension line. If you have a different type of visa, then just get in those lines.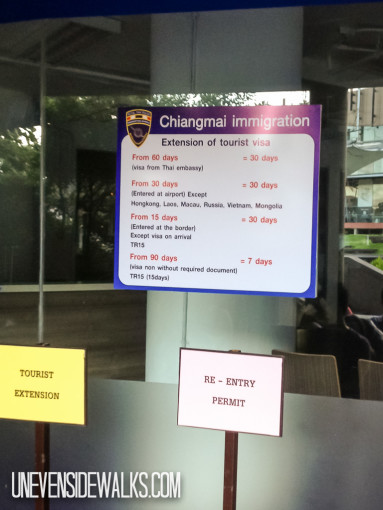 The office opens at 8:30am, but we got there at 6:30am to get a good spot in line because we were up against our expiration date and couldn't chance being delayed. We were 12th in the tourist visa line when we arrived. A few more people came behind us at 7am, and by 8am a big crowd had come, and there were about 50 people in our line. There was a stack of chairs by the door, so the first half had a nice relaxing time waiting. Some were even sleeping!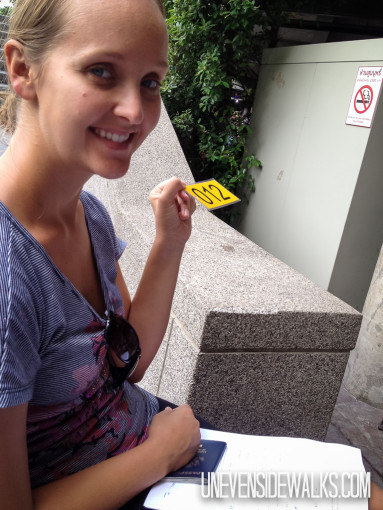 At 8:30am when the office opened, the immigration officials called each line up in order to check our papers and gave us each a colored tag with a number on it. That was our order, and we could go wait anywhere we wanted. Some people with a high number left to do other things in the meantime. There was no other list to put our names on like in the past.
Extending Your Thai Tourist Visa
They constantly called numbers and colors over a loudspeaker (in English) and Alyssa and I went in to the office separately. They wanted my passport, passport copies, application form filled out, picture, and money. They kept everything with them then sent us outside to wait for another half hour until they called our names.
This time, he gave us our papers and told us to stand in a short line to have our picture taken. We already gave them a photo, so I can't understand the reasoning here! They took some of the papers and gave us our passport with a new HUGE visa stamp in it, old departure card, a receipt, and our change.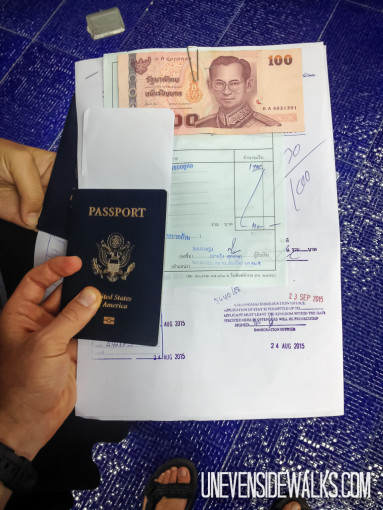 We checked all our papers to make sure we had a new stamp and were off on our motorcycle by 10:30am, 4 hours after we arrived – not bad!
Frequently Asked Questions:
Q. I flew into Bangkok and currently have a 30 day tourist Visa. Is this renewable?
A. Yes, you can renew your 30-day visa for another 30-days at the immigration office for 1900 baht.
Q. What is the difference between single entry, double, and triple entries?
A. A single entry visa is the visa you get when you arrive by airplane valid for 30 days and renewed for 30 more. A double and triple entry is a visa you apply for either before you come or in a neighboring country. It gives you double or triple entires that are renewable every 60 days. For example, if you have a double entry visa you can enter Thailand two times for 60 days each time.
Q. Do I really need to arrive at 6 a.m. to renew my visa? 
A. Most people recommend getting there early. The office is closed for lunch from 12-1 p.m. so if you want to get your paperwork done before then, getting there early is a good idea. Some people arrived around 8 a.m. and had their paperwork done before the lunch break. 
For more questions, please refer to the Thai Embassy or comment below and we will do our best to help you!
Have you been to the new immigration office in Chiang Mai to extend your tourist visa? How was your experience, and do you have any more tips?