Got Plans for 6 am Saturday Morning?
Garage sales are the best place to sell everything you haven't been able to sell for a higher price online earlier using my other guides. I wrote this guide on How to Sell Everything at Garage Sales after my wife and I sold everything we owned to travel around the world.
It is tricky to know how to sell everything at garage sales. They are easy to advertise for, and you will probably get a lot people, assuming you are in a good-sized city and it isn't snowing out. However, they aren't meant as a big display of every single thing you have, hoping to get a high (or even decent) price for it all.
You should wait to have a garage sale until you've sold off most of the high-value things you have. Otherwise people will try to convince you that they're the last buyer in the world and you should sell it to them for a super good deal. First try using Craigslist or eBay to sell at the higher price you really want.
You need price tags on everything so people know what you're asking for everything. You will end up selling 95% of your things for below your listed price. It's good to realize that early on and save yourself the anxiety of all the low-ball bidders at 6am the morning of your sale.
Also, grab $100 in small bills and change the week before your sale, otherwise the first person who whips out a 20-spot to buy a candlestick holder will have you running into your house for your wallet to make change.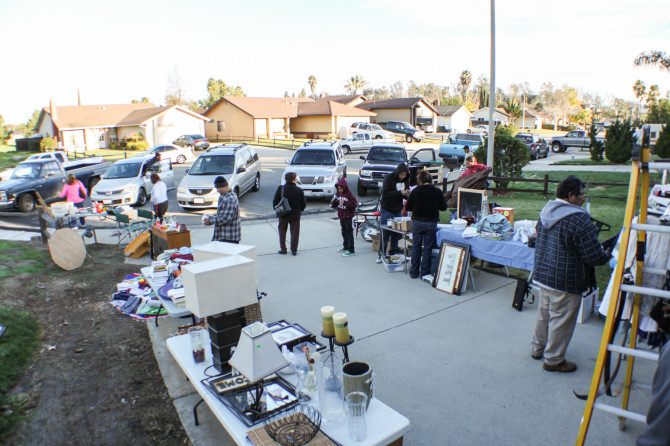 How to Sell Everything at Garage Sales – The Goal is to Get Rid of Stuff
You'll move the most merchandise at your garage sale if you start with a low price and let people talk you down. When someone would ask me if I could take $4 instead of $5 for something, I would always tell them I could give them a better deal if they filled up a box or bag and I'd give them a "group price."
In the end this person would be more likely to buy $20 of stuff at a slightly lower price than you had posted rather than walk away without buying anything. Then they'll call their friends and tell them to come to your garage sale because they think they got a good deal.
That's exactly what you want – lots of people taking boxes of stuff from your garage!
Once you wrap up your first garage sale, you'll be amazed at how relieved you are to have sold so much :) Keep your signs and tables at the ready. You'll probably want to wait at least a week to have another one or two sales and finish off selling everything.
---
How to Sell Everything at Garage Sales – Best for selling:
Things that aren't valuable enough to spend time posting online, clothes, garden tools, extra cans (of paint, oil, and bug spray), extra building materials, household decorations, kitchen utensils, trinkets, books.
Don't try to sell:
Pretty much everything is a go – just be firm on the price of things you know are valuable.
Our best sale:
A bookshelf that Alyssa bought earlier at another garage sale for $1.
Good luck and stick with it! Post a comment if you've had good luck selling things at garage sales and have some tips.