Whose-list?
If you haven't heard of Craigslist you may have been living in a hole for the last 5 years. Or, maybe in some remote place, like a village in Chile, where the idea of taking a 14 hour bus to meet up with someone to buy a used toaster doesn't quite make sense. In populated areas in the US it works wonderfully. I wrote this guide on How to Sell Everything on Craigslist after my wife and I sold everything we owned to travel around the world.
Step One – Create the Posting with a Picture
This is the most important step of selling things on Craigslist before you travel. Craigslist is based on people searching for keywords, so if they can't find your listing they won't be able to buy it from you.
Pick a good, descriptive title. Run a quick search to see what other people have in their title. What would you search for if you wanted to buy what you are selling? Don't use ALL CAPS because this is annoying and desperate.
Pick a Price. Be optimistic. Start a bit higher than you think you can get because 90% of buyers I worked with asked me to lower the price. If you started higher than you expected to get, you can drag your feet a little but eventually give in. The price is the biggest game when selling anything – it's not what it's worth to you, it's what someone will pay you for it.
Write a brief ad listing. Search for what you're selling to get an idea of what sort of things people are looking for in an ad. Mention the same things that others list. You don't need to include every dimension or detail because someone will ask you if they want to know. Describe your item with a positive view, describing it's usefulness. People know it's not new, so don't tell them everything that you would notice when comparing it with something new, like being a little dirty. Focus on selling what you have, not trying to describe its every detail.
Take a picture or two (or 10). A picture with your ad is invaluable, even a quick cell phone picture (try, try again for one that isn't super blurry ;). It'll show the Craigslist shoppers what condition your widget is in and they'll judge for themselves. No need to describe its every flaw.
Wow, my Phone is Blowing Up!
Be prepared to make lots of plans to meet up with a lot of people. Insist on calling them rather than texting back and forth with questions and answers 30 times. Phone calls are usually much more efficient, unless you're working or it's super late. You will probably be in "crunch time" and will have better things to do than send a text to someone describing everything that has ever gone wrong and been fixed on your car in the past 5 years. You may have to deal with a lot of flakes and losers, but on the plus side you can practice your character-reading skills.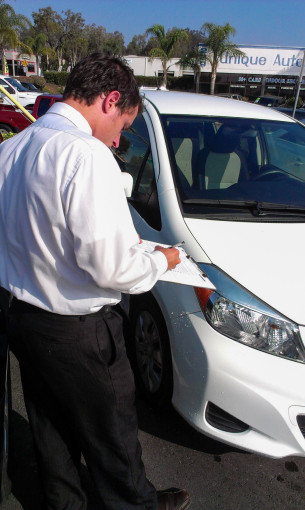 Make appointments based on YOUR schedule and make them travel to YOU. Schedule multiple appointments around the same time if possible – even for the same thing. We were almost done showing our car to a couple when the 2nd guy showed up to look at it. There's nothing like a little pressure on the buyers from someone else who thought the price was good enough to look at it on the same date and time as them. This has worked well for me many times.
Cash is King
Only take cash as payment – the number one rule on Craigslist. (Kind of like – Never put your bag in the overhead storage shelf on buses.) Never take promises, checks, cashier's checks, money orders, monopoly money, check-by-mail, Western Union, or credit cards. Take cash for everything (except maybe your house if it's for sale). Learn how to tell if money is real, buy a money-checking pen, and be smart about when and where you meet people, but ONLY take cash.
People are pretty agreeable to pay in cash, and you can go to their bank if you're selling something expensive like a car. I always tell people I trust them, but this is just my procedure for selling on craigslist. I've never had problems with the bills I've checked or the cash payments I've taken. Maybe I didn't need to be super cautious, but for me a good mix of trust and caution worked out pretty well.
How to Sell Everything on Craigslist – Re-post Your Ad as Often as You Can
The item isn't sold until you have cash in your hand. Don't think that the first person will buy it as that is rarely the case. Keep drumming up interest, re-posting your ad, and making plans to meet other people until something is actually sold and you have cash in your pocket. Then, be nice about it and send a quick message to those who were interested that you just sold it.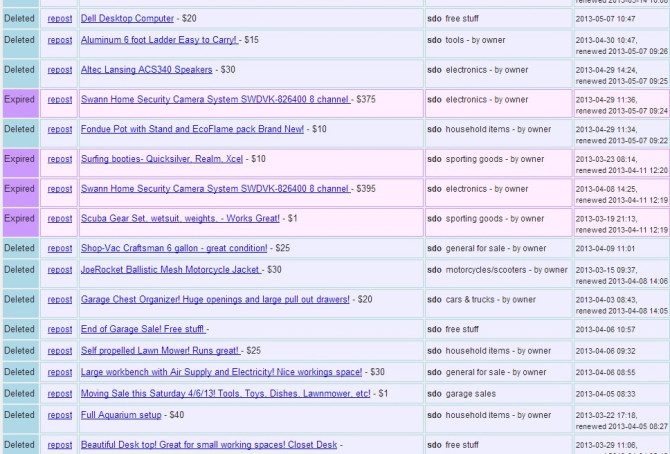 It can get stressful selling a lot of things on craigslist at once, so don't try to sell every little thing with it. Do yourself a favor and set a minimum price limit on anything you post – somewhere between $20 to $50. Anything below this price isn't worth the hassle of: taking pictures, writing an ad, posting it online, responding to 4-8 people per ad, setting up multiple meet-up appointments, showing your item a few times, and finally convincing the person to close on the deal. You'd like to think your time is worth a few dollars an hour – even when selling your things.
Isn't Craigslist Dangerous?
I'd be remiss if I didn't mention the biggest complaint people have against Craigslist. Some people have a bad perception and some places have a bad reputation for craigslist deals, but I've never had a problem with anything I've ever sold. You will get replies asking if you'll accept professional tattoo work for your item. Just ignore them – you won't change anybody with a frustrated ranting email in reply.
To be honest there is always a danger when selling things, when meeting people, or hey even walking across town. I'm not saying there isn't a possibility of dealing with a weirdo, but don't let that deter you from using this awesome website. Use your best judgement based on the city you're in, what you're selling, and the person you're meeting. Always stay on your guard, and bring a friend with when you can.
Tips for Getting the Most from Craigslist
Post pictures! Most Craigslist shoppers won't even click on a listing if it doesn't have a picture. Put the important keywords in the listing, and let them judge the condition by a picture. Sometimes one is good, and sometimes it's a good idea to post 10 pictures – for a car, for example.
Pick a good starting price. There's 2 ways this tree can fall – either you think the shirt you only wore once is still worth $50, or you think that your kids' dusty ice skates hanging in the garage aren't worth your time to haggle so you give them away for $5. The truth is, clothing doesn't sell for much, and sometimes blowing off a layer of dust can increase the value of those garage treasures. The best way to pick a good starting price for not-so-common things is to research what other people are buying them for. Searching Craigslist is a good place for this because everything is out in the open. There is some haggling on the prices that are shown, but usually the postings are a good indicator (unless the same thing is re-posted 5 times at a too-high price!). If you aren't in a super big rush to sell what you have, start high and wait to see if anybody calls you. Be careful though, if people see that you have 10 listings with the price dropping every week they may wait it out because they know they can get it for cheaper later.
Re-Post your ad in nearby areas. If you live in an area that doesn't get much Craigslist use and haven't found much interest in your listings, post your ad on the Craigslist page of a nearby city. For example, in southern California the San Diego Craigslist is more popular than the Orange County listing, even though they are right next to each other. If someone from San Diego reads your post from Orange County and really wants what you have, they may drive an extra half hour to get it from you.
Be positive about your item. It's important to be honest if what you're selling is broken or damaged, but don't make it sound like junk. Describe the usefulness of your widget, don't focus on what makes it "not new." Throw a picture on the ad and they'll judge for themselves. Craigslist shoppers know what they're buying is used, so you don't have to mention that it may be dirty, worn a little, faded, or scratched a little. If it is damaged in a way that affects the use, mention it in the ad – otherwise, let them come by and take a look. They probably won't even notice. The worst they could do is say no or offer you a few dollars less if the condition is "well loved."
---
How to Sell Everything on Craigslist – Best for selling:
Big things – think houses, cars, boats, furniture. Also good for medium-sized things that are hopefully in-season where lots of people are looking for a discount to what is for sale in the stores.
A few of the things we sold using craigslist were: car, truck, piano, cameras & lenses, laptops, smartphones, garage/shop tools, beds, furniture, tables, surfboards, scuba diving gear, and daycare toys & furniture.
Don't try to sell:
Everyday clothes, new things expecting to get what you paid for them, books, old outdated electronics, specialized tools, or scrapbooking accessories.
Our best sale:
Old piano we got for free
The most
powerful

way to use Craigslist:

Create a post titled "FREE STUFF" and list your street or crossroads (no need to list your house number) and leave whatever you need to get rid of outside on the sidewalk with a big FREE sign taped to it. You'll be amazed at how fast people come by to pick it up, even if it isn't in very good condition. Be careful though, everything nearby, or a table you had things on, may assumed free too…
Craigslist-like sites in other countries:
Good luck! Leave a comment if you've had good luck trying to sell everything on Craigslist and have some tips.