Traveling as a couple on a budget doesn't have to be a last resort. It is the perfect way to travel for short month-long trips as well as multi-year tours.
When we first began thinking about traveling and living abroad, we knew we had some serious budgeting to do so we could stay as long as possible. Never before had we kept track of all our expenses or planned for such an open-ended trip.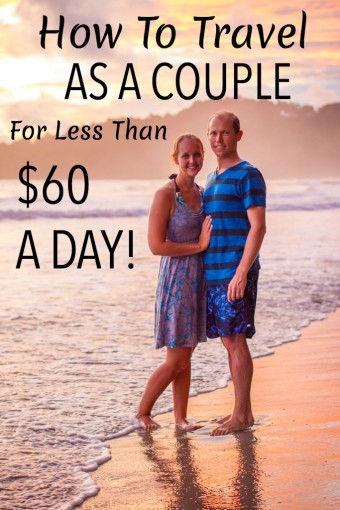 At first, we started off in Costa Rica to get our bearings and work on our Spanish fluency. Once we got the travel bug again, we left to travel in South America for 4 months. Afterwards, we returned to Costa Rica, where we spent the rest of the year living and traveling in the surrounding Central American countries.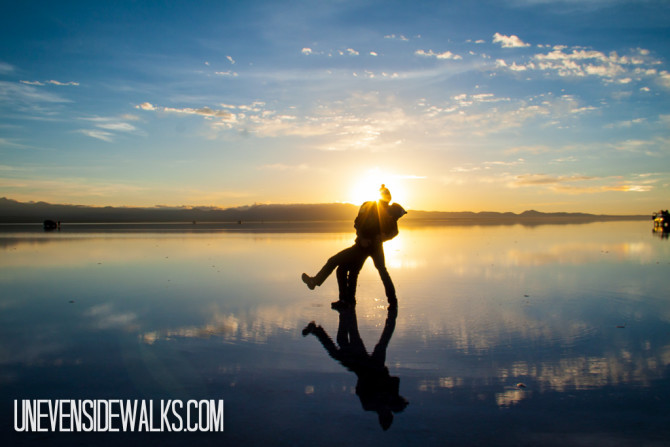 Total Traveling Costs For One Year Abroad
Total amount spent for one year: $10,553 per person (Averaging $28.91/day per person) 
That's less than $60 a day for both of us! ($57.82 to be exact!) We managed to keep a much tighter budget than the typical $50 a day per person traveler. That means as a couple we saved over $40 a day compared to what most budget traveler couples expect to pay!
I'm actually really impressed at how little we spent for an entire year! The rice and beans paid off!
This is a complete total that includes all our flights, hefty South America visa fees, a few pricey tours, new hiking boots for both of us, 2 new laptops, and some "charity" money for meals and things we've bought for other people. Also, traveling in Costa Rica, Chile, and Argentina isn't as cheap as traveling in other South American countries such as Bolivia, Peru and countries in Asia.
Here Are a Few Stats of Our First Year Abroad
Countries Visited: 9
(Costa Rica, Nicaragua, Panama, Chile, Argentina, Uruguay, Bolivia, Peru, USA)
Borders Crossed: 16
Major Cities Visited: 89
Total Distance Traveled: 45,751 miles (73,659 km)
Distance on Planes: 15,971 miles
Distance on Bus/Train/Boat/Foot/Other: 29,780 miles
Number of Planes: 11
Number of Buses: 536
Number of Buses Longer than 8 Hours: 13
Number of Buses Longer than 20 Hours: 3
Number of Boats: 12
Total Cost Breakdown For 1 year Traveling
Time and amount spent for each country (per person cost)
Slow travel in Costa Rica, Nicaragua, and Panama – 4 months: $9.87/day
Traveling in South America: (4 months)
Chile – 4 weeks: $34.36/day
Argentina – 3 weeks: $35.32/day
Uruguay – almost a week: $31.23/day
Bolivia – 4 weeks: $28.05/day
Peru – 2 weeks: $54.91/day
Costa Rica – 2 weeks: $30.61/day
Visit home to the US – 3 weeks: $5.27/day
Slow travel in Costa Rica and Central America- 3 months +: $9.17/day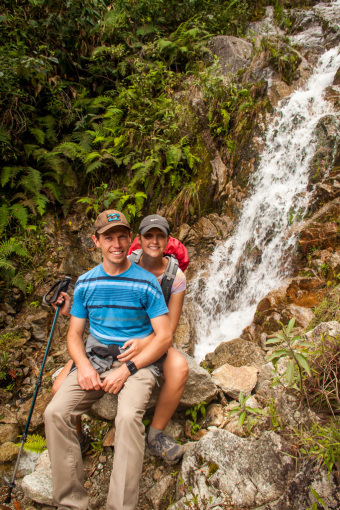 A few of the daily costs are higher than others because they include a few tours like the Inca Trail tour in Machu Picchu and the Salt Flat tour in Bolivia.
Watch Out For Crazy Visa Fees!
The prices above also include the Visa fees for Chile, Argentina, & Bolivia: $495 per person for 3 countries! (Talk. About. Expensive.)
Visa fees are very expensive for Americans in South America because the US charges those same fees to citizens of those countries who want to travel to the US. I'm not a big fan of that, but they're the ones losing American tourists.
How We Do It!
Before we left the US, this skimpy spending would have seemed like a joke to us, but now it's a reality and a goal that we work at every day. It takes a bit of work and more awareness of costs than we were used to, but it's actually really easy!
This is a list of our main spending categories:
Accommodations
Food
Transport
Entertainment
By focusing on categories of spending, we can allocate a certain percent of our budget to each one depending on what type of travelers we are and the costs in a certain country.
We average a pretty even split among those categories, with transport and entertainment usually at the top. But, someone who likes fancy meals would be able to allocate more for food and less for travel, for example. Other people like taking all-inclusive tours to go see the sights, so they may favor the entertainment category and drop their food costs. It's all a balance
Categories also help us focus our spending cuts. If we have been splurging on eating gourmet cuisine, we know we have to eat rice or noodles for a few days to get back on track. If we can cut our spending in each of those categories, we'll see a big cut in our overall spending!
Accommodations
Accommodation is usually the most expensive category for travelers 9 times out of 10. Traveling as a couple is the perfect opportunity to chop this cost in half! Some places still charge per person, but you can save loads of money at most places.
Housesitting
Housesitting is a great way to save money if you have the time to stay in one place for a few weeks or months.
Most of the time we've been in Costa Rica we've been able to work out a house-sitting job. The rent is usually cheap or free, but we pay our own utilities and stay pretty busy with house upkeep and odds-and-ends the owner needs done. And I thought I'd left all my house projects back in California!
Airbnb
Airbnb is a perfect way to stay in a normal house and pay the same price as a cramped hostel room. We've used it on our travels in Costa Rica and Thailand, and have heard great things from many of our friends as well.
Click here to check it out and save $20 on your first stay!
Are We Missing Out?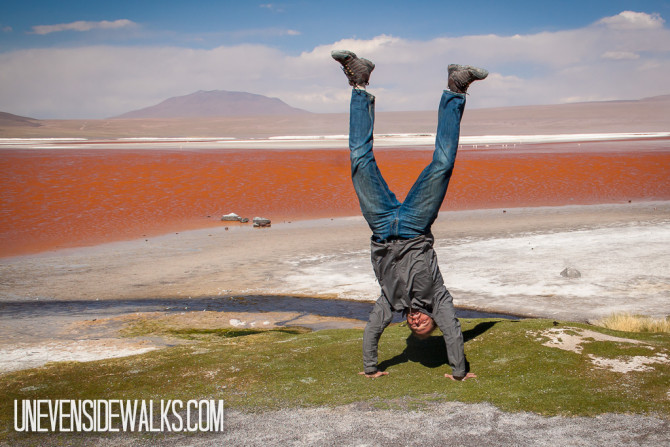 Some of you might think that keeping such a tight budget while traveling must mean we aren't doing everything that other travelers are doing. 
Not True.
We haven't held back from a single trip, tour, or experience because of our budget. The reason we travel is for the amazing sights and experiences, so it wouldn't make sense to skip those things. We've planned and thought it all through so we would be able to splurge and still fit those things into our budget. 
We actually indulge in things we want on a daily basis so we don't get tired of the same routine! The small things that bring happiness are all around us – like a simple ice cream cone. We just know what our budget allows for and learn to say no when we've hit our limit for the week or month.
So, How Do We Pay For it All?
Before we left we saved hard so we could live this dream of ours. It's so much easier to say no to buying things when there is a purpose and a goal to keep us focused. We saved up for over a year before we left, so we've been able to travel for a while without steady income.
Use Cash
Seems simple, but feeling the burn as the money in bills and coins is leaving your hands is a HUGE incentive to buy only what you need! Credit and debit cards make it so easy for consumers to buy more than they need, but it's a hard habit to break. Most countries only deal in cash, so you get practice real fast!
Budget Hard
When we're traveling, we live a simple life with our backpack and don't have much need to buy things unless it replaces something we have that is worn out or broken. It helps traveling as a couple to stay on track also! If I want to splurge on something too big or too often, Alyssa can reign me back in and remind me of our budget.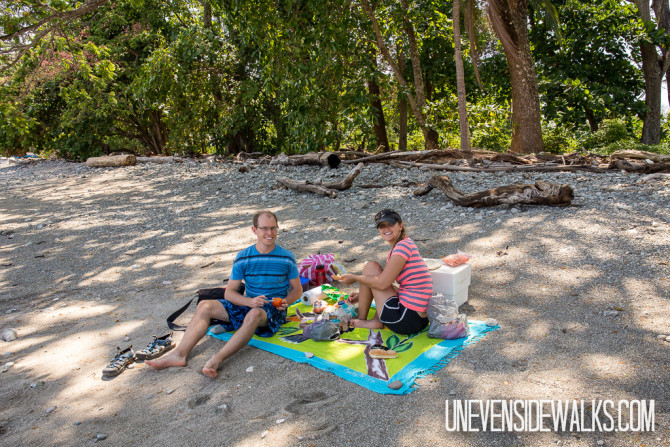 We like to treat ourselves to a dessert or nice meal once and awhile, but we eat simple, local food and drink water. We don't drink alcohol or smoke, so that keeps our spending even lower.
Save Money
Think of prices relative to where you are. It's tempting to think that spending US prices when we're traveling is ok, but that ruins a traveler's budget. Let me explain.
Let's say I'm used to spending $9 for lunch in the US. If I travel to another country and their normal lunch costs $3 or less, I could be tempted to buy that, a drink, a candy bar, and an ice cream – all for less than $9. I may think I'm getting an awesome deal, but I've still spent almost $9!
If I just buy the simple lunch and drink water, I'll only spend the $3, and I'll be able to do that 2 more times before spending the US price. If it's a lot of food, I can share with my wife and make that money go twice as far! With that mentality I can travel 3 times as long as a similar trip in the US. It's even more powerful in places like Thailand where you can find a good meal for less than $1 USD!
Sold Our Stuff
Before leaving San Diego, we sold everything we owned, and were able to put that money right into our savings and investments. It wasn't as hard to part with our things as we originally thought because we knew we would be able to purchase them again. As we always like to say, "We live in a Craigslist generation, just buy it again later!"
We Live More Cheaply Abroad Than At Home!
Living abroad is much cheaper than living our normal lives was back in San Diego, as you can see from our country costs above. And our mortgage is being paid for us while we are gone! Why wouldn't we keep traveling!? I know for certain that our daily budget in the states was not $60 a day!
No Debt
We can travel with a clear mind because we don't have any debt hanging over our heads as we travel. The only thing we use a credit card for is buying flights since we haven't figured out how to buy them ahead of time with cash yet. And we pay the balance in full each month. We do have a home loan back in San Diego that sustains itself with renters, but that's it!
Working Online
Since we've left, we started a few online businesses, including this travel blog, and invested in a few companies. People just like you can support this blog by using our recommended links on this site. We only recommend products and services that we use ourselves and trust completely. Even using our links to purchase from online stores such as Amazon.com is helpful. It doesn't cost you a dime more, and your purchases are completely anonymous.
You Can Travel As A Couple On A Budget of Less Than $60 A Day Too!
Our experience traveling as a couple on a budget has been incredibly invigorating and full of surprises! When we heard of traveling on a budget prior to trying it ourselves, we thought of hitchhiking and hotels full of cockroaches. Our minds were blown when we realized the beautiful places we could visit without having to sacrifice comfort. Our standard of living has not changed that drastically and we didn't even have to take out a loan!
Give it a try! Chances are you will have so much fun and get to know your spouse even better. What do you have to lose?
Let us know your tricks for traveling as a couple on a budget!