The number one question tourists have when they visit Costa Rica is "How can I use my cell phone in Costa Rica?" You want to be sure you don't accidentally use your home cell phone plan and get a bill for $300 in the mail next month! Here's what we've learned and how you can save tons of money using your own cell phone.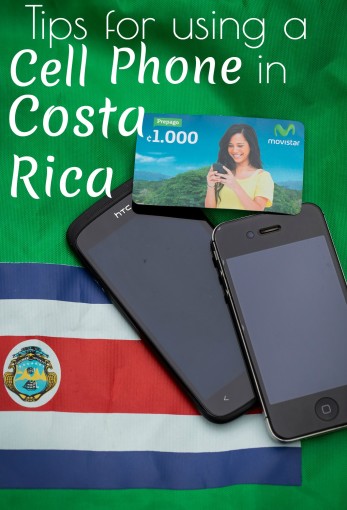 Skip to: Buying a SIM Card
Skip to: The Details About the Local Carriers: Movistar, Kolbi, and Claro
Skip to: Some Spanish Phrases you Might Use
Recommendations for Using a Cell Phone in Costa Rica 
There's a lot of useful stuff in this post, and you'll need to look at it again later, but here's the bare minimum quick start guide to get you going right now.
First off, put your phone on Airplane Mode so it doesn't ring or receive messages in Costa Rica from your number back home. Only turn it back on once you put in a Costa Rican phone chip or get back home.
You can still use your phone's wi-fi and GPS when Airplane Mode is turned on!
Buy a prepaid phone chip at any store with one of these logos outside. (A good place to start is around a bus terminal or any little store selling food.) The top 3 brands in Costa Rica are Movistar, Kolbi, and Claro. They are all about the same, but I prefer Movistar because it's the only one that has service where I live in the mountains of Grecia.
Ask the store if they can set it up for you for a 500 or 1,000 colónes ($1-2) tip. They'll ask you for your name and passport number. Don't worry, it's not identity theft!
Test it out! Try making and receiving a local call with someone else's phone at the store. (Be sure to take your phone off Airplane Mode at this point!)
Buy some saldo or credit for your new chip. 1,000 colónes ($2) should get you a half hour of talk time or 100 texts, and you can always buy more later.
That's it, you're ready to go! Now you can make local calls without a problem!
Click here for some Spanish phrases you might use.
Click here to learn about making international calls with Skype.
Click here to learn how to use the internet with your new phone chip.
Differences With Your New Prepaid Phone Chip
Here's a quick run-down of the differences between the typical AT&T cell phone plan in the US and a pre-paid one in Costa Rica:
You need to buy a SIM card and have money on it before you can use it. You can buy a SIM card in San José or almost any town you'll visit.
You pay for each minute you talk (only when you make the call), every message you send, and each MB (megabyte) of internet.
If you run out of credit "saldo" you have to add more money before you can use your phone again.
All phone numbers are 8-digits long. If you see one with only 7 digits, it's probably an old listing for a landline – put a 2 in front of it and you should be good to go.
If you're staying for longer than a few months you can buy a "post-paid" SIM card, which is more like a contract in the US but more complicated than the pre-paid one.
Cell Phone in Costa Rica – Do I Really Need One?
You may be thinking – "I'm traveling by myself and won't need to call anybody. Why would I need a cell phone?" We've used our cell phones to:
Meet up with friends we've met along the way.
Call hostels, tour companies for reservations, bus companies for schedules.
Call a taxi if you're off the main road and need a ride into town.
Call the police or 911 if you need help or an ambulance to the hospital.
Check your email while on the road if it's important.
Use the internet on the road for calling your families with Skype.
Can You Use Your Own Phone?
Most travelers are probably used to a 2 year contract plan have the auto-pay system so the only need to check on their phone every 2 years. It is a little more involved in Costa Rica and can get frustrating at times, but if you understand the system, it's simple and you can save lots of money.
First off, there's a good chance that your phone from the US will work, even if it's 10 years old. There are two things it needs to be able to work. If it's a "world phone" you're probably in luck!
It needs to work on a GSM network and have a place you can put in a SIM card (sometimes under the battery). Some common carriers in the US that use SIM cards are T-Mobile, AT&T, and a few others. Other carriers use different technology, but you might still be in luck. Check this list to see if your phone uses a SIM card.
Second, your phone needs to be unlocked so you can use it with any carrier. Sometimes you can do this online with your carrier's website, like AT&T, or you have to bring it into the store for them to work on. It doesn't need to be "jailbroken" – that's something completely different.
It doesn't matter if you have an iPhone, Android, Windows, or Blackberry phone. Even the oldie but goodie Nokia dinosaur phones will work if they use a SIM card. Most all iPhones work, you just need to make sure it is unlocked.
Here are a few sites that have more details of each phone and carrier.
List of all GSM Cell Phones
List of all GSM Carriers in the USA
GSM vs. CDMA – What's the Difference?

Step One – Choose a Carrier
The carriers/providers in Costa Rica are Movistar, Kolbi (aka ICE), and Claro. They all work the same and cost about the same. The only difference is some have better coverage in certain areas. I use Movistar because it has coverage in the mountains where we spent a lot of time.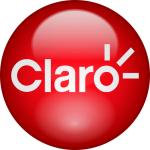 Movistar • Coverage Map
Kolbi • Coverage Map
Claro • Coverage Map
Step Two – Buy a SIM Card & Set it Up
Stop by a store with the logo of the carrier you choose and ask if they carry new SIM cards "chips" you can buy for your phone. It should cost about $2 and come with some credit on it to start you out. You can usually pay the person another dollar or two to set it up on your phone for you. They might have to cut the SIM card if your phone is newer. The next section has more details on SIM card sizes.
They'll ask you for your passport and call a carrier number to set it up. Each SIM card is linked to someone's passport number so don't worry, they're not trying to steal your identity. Once it's ready to go try and make a call with it to the store phone to double check that it works. You might want to put a few dollars more on it so you don't have to worry about it for awhile.
How to Set Up a SIM Card Yourself
If nobody's around to help you set up your new Costa Rica SIM card for the first time, don't worry it's not that hard but you will need to know some Spanish. The first time you try to make a call the phone will tell you an automated message about how to set it up. The carriers are all different, but the idea is the same.
For Movistar chip activation, I had to send a text message to 1693 with this sequence of information: FirstName LastName – 123456789. It might take from 2-15 minutes for you to receive a message saying it was a success. You can always call 1693 with Movistar to get their customer service line. Always try it out and make sure it's working before heading off in the rain!
SIM Card Sizes and a Scissors Lesson
SIM cards come in 3 sizes – mini (normal original size), micro, and nano. Only one size will fit in your phone, but you can cut a normal SIM card to any of the sizes or use an adapter to up-scale. Sometimes it has a cool little pop-out when you buy a new one and it's easy to get the right size. A few stores might have a SIM card cutter, which is ideal.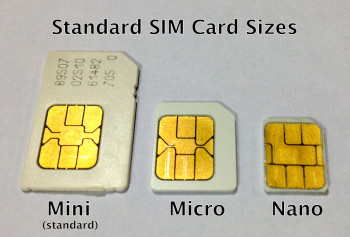 We bought phones (iPhone 4S & HTC One S) that only require the middle-size (micro), which we thought would be a little more popular and easier to cut out. After traveling through a few different countries, I've had to cut about half by hand. It's easy, don't worry. The little card is flexible – you're not going to snap it if you're steady.
How to cut SIM cards:
Step Three – Make a Test Call and Check Your Internet Connection
Test your new phone plan! Make a phone call and connect to the internet if you have a smartphone or iPhone.
Phone calls and texts are the same as you're used to. You don't need any country or area code – it doesn't matter if they are on the opposite side of the country. Just put in 8 digits and hit the green button.
Internet Setup on a Smartphone
The internet is a little more tricky, but not too hard to figure out. You might be able to get someone at any cell phone store or a local branch of the carrier you pick, help you for a small tip.
First, make sure your Access Point Names (APN) settings are correct (iPhone users can skip this step). More details to Configure your APN here.
Turn off Airplane Mode and make sure you have good signal.
Send a text message to your carrier to buy an internet packet (or skip to use it at the most expensive rate). Look below for more packet details.
Wait for their reply that says you're good to go (usually 2 messages).
Turn on your phone's mobile data and you should be ready to surf!
If it doesn't work, here are a few things to check: Is your new SIM card installed and set up? Do you have "saldo?" Can you make a test call? Are your APN's set up (Android)? Is Airplane Mode turned off? Is your mobile data toggled on in your phone settings?
Mobile Data Packets for Internet on Your Cell Phone
If you are using a pre-paid phone SIM card, the best way to pay for using the internet is by buying small packets of data at a time. Imagine it like getting a discount when you buy the internet in bulk. You could just turn on your mobile data and use the internet without worrying about packets, but it'll cost you 5-10 times as much per MB.
How to Buy a Packet of Internet
Send a text message with a code word to a phone number for your carrier. This will tell them that you want to buy a packet of internet and they'll deduct it from your account credit. The code word and number for each carrier are different, so check out below for the exact details.
You can buy a packet for an hour, day, week, or month, depending on how many MB you will want to download and for how long you'll need it. When you use up the data in the packet, you will be charged full price until you buy another packet. Also, once the packet expires, any data left that you didn't use is gone.
This is a great option for tethering your laptop to your cell phone to use internet on the road or away from wi-fi.
Click here for Kolbi's Internet Packet Prices
Click Here for Claro Internet Packet Prices, or Click here for the 2nd version.

A Quick Note About Blackberry Cell Phones
Blackberries are treated a little differently here in Costa Rica because some companies use them for their employees to connect them to the business's email and servers. You can buy the typical internet packets for the phone described above, but they offer a special "Blackberry service" you can sign up for. This will unlock all the features built into the Blackberry OS like maps and some apps you can download.
Tips and Tricks for Pre-Paid Plans Only the Locals Know!
Used up all your "saldo" credit? Here's how you can get a little credit to call someone if you really need to. They call it "Recarga SOS." Sometimes they charge you a ¢30-50 colónes fee the next time you recharge, as well as the SOS amount but that's just a few pennies.
Movistar • Call 611 and they'll lend you ¢100 until you recharge next
Kolbi • Send a text message to 6060 with the code salvame and they'll send you ¢250. Or, Send a text message to 6060 with the code salvame500 and they'll send you ¢500.
Claro • Doesn't have this feature in Costa Rica

A Few Spanish Phrases You Might Use With Your Cell Phone
"Hola, tiene un chip nuevo para Movistar?" • Hi, do you sell SIM cards for Movistar?
"Me puede ayudar para configurar mi chip y teléfono?" • Can you help me configure my SIM card and cell phone?
"Hola, tiene recarga para Movistar?" • Hi, can you add credit to my Movistar account?
You can add as little as ¢500 or ¢1,000 (colónes) at a time
Most times they will sell you a little paper card with a code you scratch off, but sometimes they will recharge it from their computer (easier).
---
Costa Rica Carrier Links for More Information
Movistar
Costs: Talk – ¢34 (colónes)/min, Text Message – ¢3 each
Internet Costs: Send a text message with only the code word "dia" without quotes to 606. This will cost you ¢289 and give you 150 MB to download and last 24 hours. There are different packets available from an hour to a month.
Full Price Internet Costs: ¢8.6/MB
Check your "saldo" credit: Call *650# and it'll display a little message box with your credit in Colónes (about 500 Colónes = $1)
Simple directions to recharge your cell phone credit with a paper card you buy from a store or on the street. Type the following "code" into your phone like you're trying to call someone. Replace all the repeating 1234 numbers with the 16 digit code you find when scratching off the silver from the card: *650*1234123412341234#
Check your voicemail: Call 600
Main Help line: Call 1693
Movistar Coverage Map
Movistar Main Site
Movistar Pre-paid Plan Details
Movistar Contact Page
Movistar Brochure – User Guide for Prepaid Plans
Click on the Brochure pages to read all the details (en Español).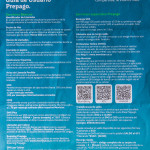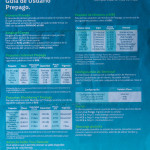 Movistar Brochure – Postpaid (Contract) Plans and Prices

---
Kolbi
Costs: Talk – 34¢/min, Text Message – 3¢ each
Internet Costs: Send a text message with a code word (conecta, navega, descarga, or mes) to 6060 to buy an internet packet. Plans include day and month options. Be careful because all the Kolbi internet packet plans auto-renew.
Click here for details on Kolbi internet packets. or, Click here for the June 2014 Table of Prices for Kolbi.
Full Price Internet Costs: ¢8.6/MB
Check your "saldo" credit: Call *1150#, or send a text message to 1150, or call 1150.
Check your voicemail: Call 1190
Main Help line: Call 1193
Kolbi Coverage Map
Kolbi Main Site
Kolbi Pre-paid Plan Details
Kolbi FAQ Page
Kolbi Contact Number Page
---
Claro
Costs: Talk – 34¢/min, Text Message – 3¢ each
Internet Costs: Send a text message with only the codeword "dia" without quotes to 444 or 555. Their website has conflicting information…
Click Here for Claro Internet Packet Information, or Click here for the 2nd version. The Claro website has 2 versions of the same table and I don't have Claro to be able to check which is the most updated page.
Full Price Internet Costs: ¢8.6/MB
Check your "saldo" credit: Call *30
Check your voicemail: (Check the paperwork that comes with your new SIM card)
Main Help line: Call *10 (or 7002-7002 from any other carrier)
Claro Coverage Map
Claro Main Site
Claro Pre-paid Plan Details
Claro FAQ/Contact Page
Movistar, Kolbi, and Claro are trademarks of their respective companies.
I hope you found the information you need. Leave a comment below if you had success using your cell phone in Costa Rica or if you have any questions!