Ever since we saw a picture of some of our friends at Iguazú Falls we have been dying to go to Argentina! We love waterfalls, as most of you know already, and Iguazú Falls quickly became #1 on our bucket list. We were soooooo excited when we finally got there and realized we made it! It renewed our excitement for our South America trip as well!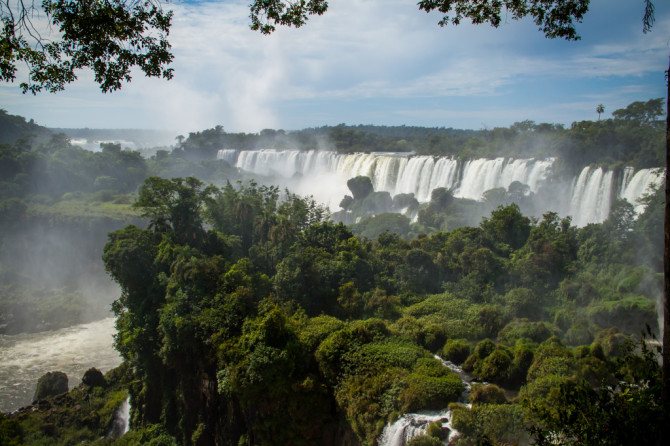 We explored Iguazú Falls only from the Argentinan side since we didn't want to pay American Visa fees for Brazil just to cross over for the day. That worked out great. Besides, Argentina has 80% of the 1.7 miles of waterfalls on their side and Brazil only about 20%.
We are confident that it is just as impressive on the Brazilian side, and heard good things from tourists who went to both. But, to be honest, the time of day you go is probably more important than which country you visit from. Take your time and soak in the beauty from one country. We went back a second day and got half-price tickets! We wished we would have been able to take the helicopter over the falls, but that is only available on the Brazilian side. Next time.
There's always some question about comparing Niagara Falls to Iguazú Falls – "Is it really more awesome?" Everyone who has seen both will say Niagara doesn't hold a candle to these waterfalls! It's like measuring the traffic in Lima, Peru to Los Angeles – no comparison.
Here is a quick rundown of what we did and a few things we learned about Iguazú Falls!
Arriving at the Iguazú Falls Entrance:
When we arrived in the city of Iguazú it was late afternoon but we headed out to the park anyways. We were really excited to see the falls and also wanted to try and get some sunset pictures.
Buses leave from the main terminal every half hour, so it's not usually difficult to get to the park. People will try and sell you packages of activities to do at the falls plus the bus ride, but we just did that all once we got there. All the ticket sellers seem to be around the same price so we did a little bargaining, but you can expect to pay around $7 per person, round trip, for the bus ride.
Once you arrive at the park, find a line and pay for your park entry ticket, about $17 per person. They'll give you a map as you enter, and may even have booths set up to check your blood pressure for free! Argentina is crazy about high blood pressure.
Heads up – Keep your ticket so they can stamp it at the end of the day as you leave. You get half-off the ticket price for the second day, so you save $8.5 per person. Sweet deal! You can't see it all in one day, so it really makes sense to go 2 days if you have the time!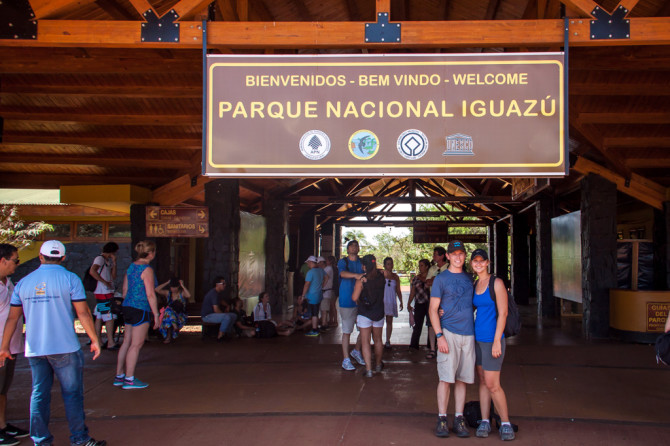 5 Fun Adventures at Iguazú Falls:
1. La Garganta Del Diablo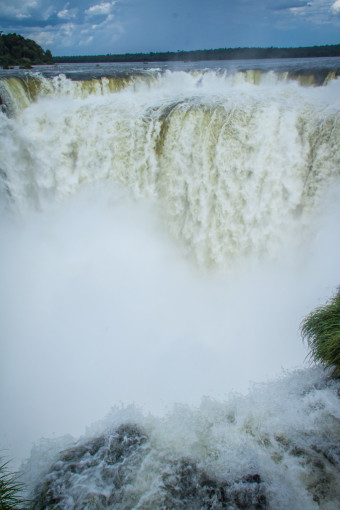 This is one of the most impressive parts to Iguazú Falls, translated as "The Throat of the Devil." Absolutely thundering water cascades down the horseshoe-shaped cliffs. We have never seen water so powerful in all our lives.
It was really fun to take the walkway right out to the edge and feel the roar of the water thundering all around us. Everyone was wet and excited and trying to keep their cameras dry, really fun! It was like seeing the all power behind the entire Iguazú Falls in one spot!
2. Gran Adventura (Boat Ride)
The boat ride is a really fun way to get up close and personal with with falls. We got totally soaked! Everyone did! It was great fun because we could look up the waterfalls from right at the bottom! It gives a whole new meaning to taking a shower.
The boat we were in took us completely under the falls, it was crazy! I felt a thud as the boat bounced off a few rocks as we were getting dumped on, what!? We had our camera with in a waterproof bag but even that didn't keep water out! Waterproof shoes don't help either – water gets poured in from the top!
We took our shoes and socks off to dry after the boat ride and sat on the rocks to eat our lunch and enjoy the view. It's a nice place down by the water because not many people are down by the boat docks, very peaceful!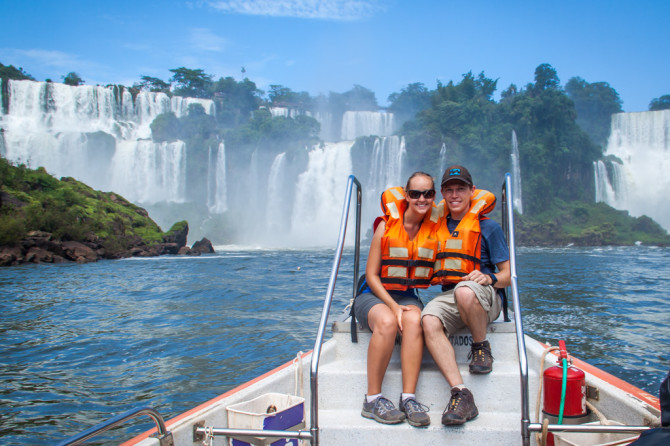 3. Paseo Ecológico (Ecologic Tour/Rafting)
Rafting along the Iguazú River is a really fun activity to do while visiting Iguazú Falls. We took the Ecologic Tour boat ride which went through some really beautiful parts of the river. We had purchased a package for both the boat ride and the rafting trip, and we had a lot of fun doing them both!
The guide took us in a raft that can hold 15 people along a calm part of the river that leads to the top of the falls. My wife was a little nervous that if the guide missed the turn-off we would go down the falls! It was really safe, and the section of river the group takes is really calm!
4. Upper and Lower Trails to View Iguazú Falls
There are two different trails to take when visiting the falls, an upper and lower trail. The lower trail has awesome views of the face of the waterfalls and into the Throat of the Devil channel. You can venture close to the bottoms of some of the waterfalls on walkways and get really wet! The upper trail has great views along the line of waterfalls from the top, and takes you up the edge of a few of them.
The view of the Iguazú waterfalls is best on both of these trails early in the morning when the sun is low. Your pictures will turn out clearer before the sun makes the waterfall mist into a bright haze.
We really loved the views from the lower trail and wished we would have spent more time there. There are really beautiful panoramic views from the lower level, and we could go right down near the water if we wanted. Both trails are awesome so plan plenty of time! We had plenty of time with a day and a half.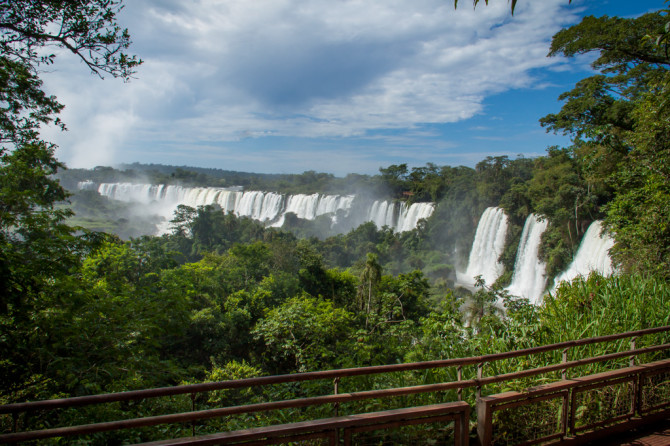 5. Train Ride
Catch a ride! There is a lot of walking if you want to see everything in the national park. Luckily there is a train that runs from the entrance to the furthest point of the trail, and has a stop in a middle point as well. We enjoy walking but with the hot days we took the train without thinking twice! There's plenty of walking once the trail lets you off!
There are trails if you would rather walk or if the line for the train is super long. We did that a few times because there are always chances of seeing monkeys and other animals. We got to see a mother with her baby on her back!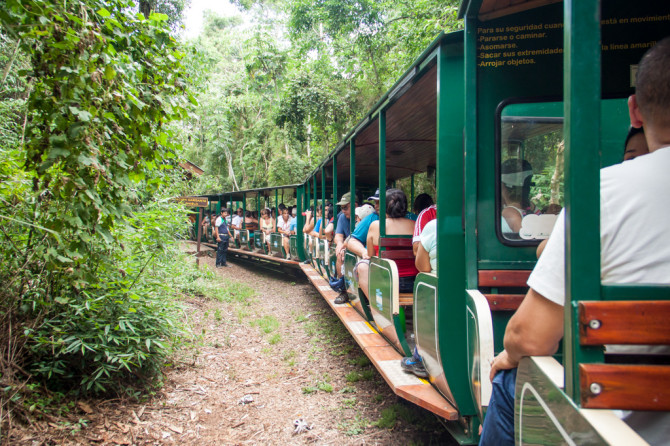 Things We Learned:
---
Get an Early Start!
There is plenty to explore and many miles to walk. We got an early start on our full day there, and were glad we did. We took the first bus and there were still a lot of people ready to go early. When we were leaving in the afternoon it was really crowded!
You'll Get Wet! (only if you want to)
Wear or bring your swimsuit and wear shoes that are comfortable when walking around wet. We thought we would just get a little wet, but especially if you do the boat ride, you'll get soaked! Our hiking boots were great to have because there is a lot of walking. But then they got completely drenched and we had to walk around in soggy shoes all day. Being waterproof doesn't really help either.
Drink Lots of Water
Bring more water than you think! It was so hot when we were there we drank a few liters each. We filled up our bottles at our hostel, but didn't find any drinking fountains in the park. If you are watching your budget, buying 3-4 water bottles per person can add up!
Pack a Lunch
Another easy budget-saver. There are plenty of tables to sit down and eat at, but watch out for the Coatis and monkeys – they're aggressive food stealers! Whatever you do, DON'T FEED THEM!

Buy an Ice Cream!
All that budget-saving made me hungry! There are a few small ice cream bars with chocolate that go a long way to make a happy wife/spouse/family. It made us happier (especially my wife) and is a great way to cool down!
Check some more pictures from Iguazú Falls here! Enjoy your time exploring Iguazu Falls! Leave a comment below if it's on your bucket list!