When it comes to Scuba Diving, I've always been the odd one out.
"When are you going to get certified?"
"Just do it, it's a whole new world, you'll fall in love with it!"
As soon as the ferry bounced off the pier in Koh Phi Phi, I knew that this would be the time I would get convinced to go scuba diving. The super white sandy beaches, turquoise water, and schools of fish visible from the surface did the quick convincing. So beautiful!
Scuba Diving in Koh Phi Phi, Thailand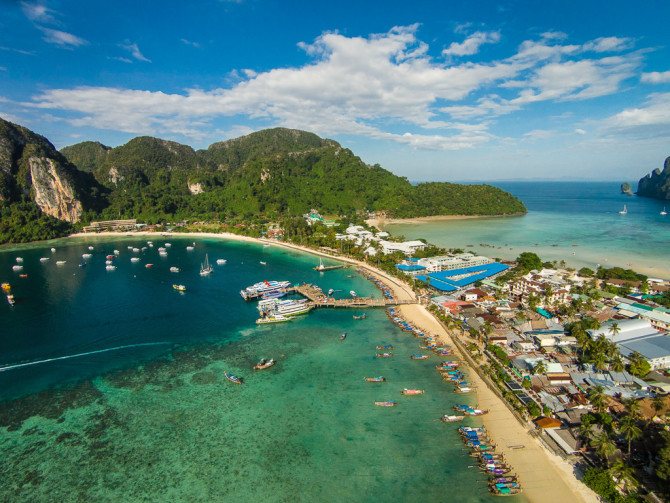 Koh Phi Phi, is in fact, all of the perfect conditions for scuba diving rolled into one breath-taking island! How could I not give it a go?
Warm water? Check!
High visibility? Check!
Incredible sea life and corals? Check!
Funny, patient, understanding, helpful, hold my hand or else I'm going to die divemaster? Umm… how do you find one of those? I'm not going to just jump in the water with anyone!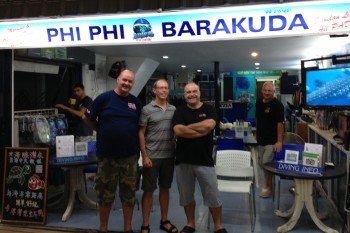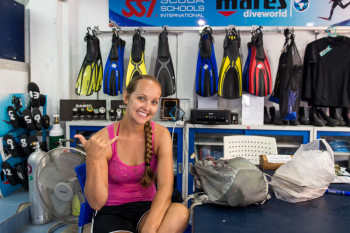 It's actually easier than you might think. Just head over to Phi Phi Barakuda Dive Centre. I still can't believe we got lucky enough to find someone who knew exactly how to help keep the nervous flitters at bay. Peter, the divemaster we arranged the trip with the night before was so calm. I'm extra nervous if someone makes me feel rushed while I'm trying to process what is going to happen so I was glad to be put at ease.
Peter explained everything about the trip so well! Out of all the dive shops we visited, these guys really had their act together. Once I understood what an exploratory dive entailed, I signed all the papers and headed back to our hotel with butterflies in my stomach!
I was going on my very FIRST DIVE!!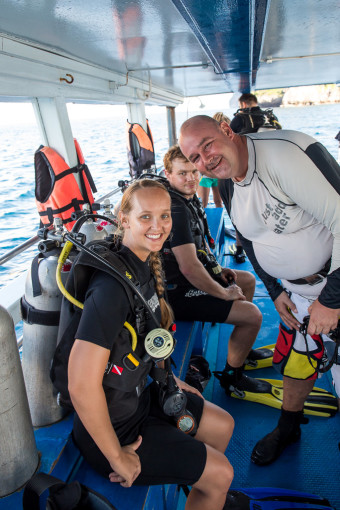 Taking the Plunge
The next morning at the dive shop, I met the other guy who was doing the exploratory dive at the same time as me, just the two of us for one instructor! Landon was busy getting his gear all ready for going on a different boat and I was gone before we could even say "Adios." It was probably for the better, I just had to get out there and do it! Koh Bida Nai – first up!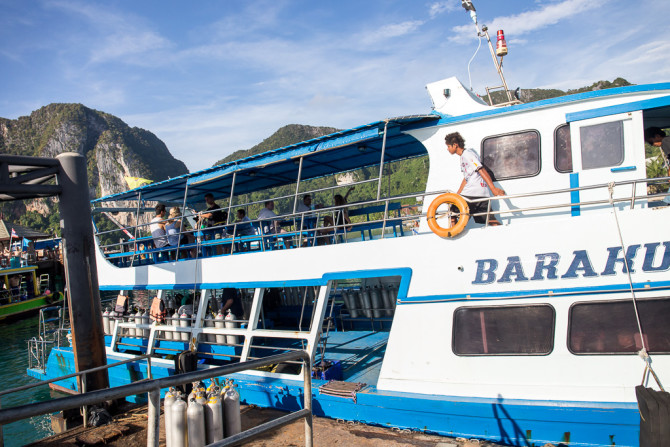 Once on the boat, Peter explained exactly what we were going to do in the water. He showed us the regulator, breathing techniques, and explained the underwater hand signals. I thought it all sounded pretty easy on-board the boat. Then the boat stopped and I realized I was going to have to actually jump in the water and do it.
I'm not usually such a scaredy-cat but something about the ocean just makes me a bundle of nerves. After I was all strapped in with my tank on, Peter walked with me slowly out to the edge of the boat, held my hand, and on the count of three, we jumped in.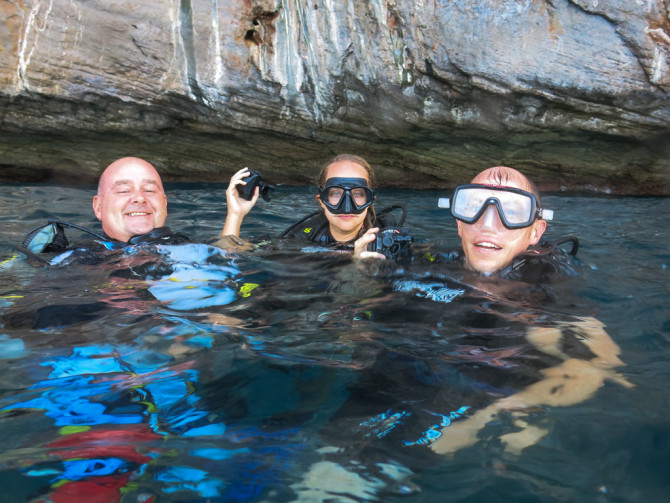 And bobbed right back up! I could hardly feel that there was a tank on my back! 
Scuba Training in the Water
We began our training with the regulator, first at the surface and then a few feet underwater. I put the regulator in my mouth and practiced my breathing. I took the regulator out of my mouth and practiced putting it back in underwater. We practiced clearing the regulator and finding it again if it were to get kicked out of your mouth.
I felt very comfortable after going over these steps. Once I got used to the loud noise of bubbles coming out every time I exhaled, I felt like I was ready for the dive!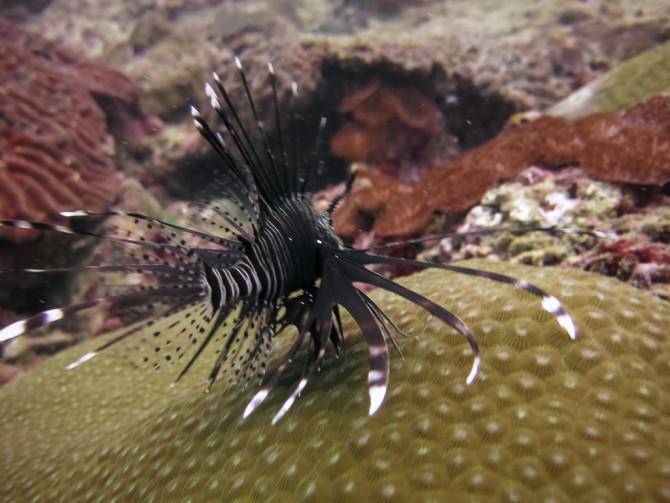 First Coral Reef Dive
I know I would have been much more nervous if it wasn't for Peter holding my hand the whole time. We began swimming and he would point out things that we were seeing. One of the first things we saw that I really liked was a lion fish. They have so many ruffles and are so intricate! The next highlight was a sea turtle who was just munching away on the grass! The beautiful colored fish and soft coral was like nothing I'd ever seen before! 
Towards the end of the first dive, we headed closer to the island cliff to surface. There was just something about going from sunlight into the shadows of the cliff underwater that made me feel jumpy. I felt myself starting to breathe hard and knew I would need to come up. Little did I know, it was the end of the dive and we were coming up anyway. As soon as we surfaced, I was so overcome with emotion, I started to cry. It was exciting, scary, and beautiful all at the same time. It's just a matter of getting used to the water and what things look like. For my first dive, it was a perfect experience! 
Once we were all on the boat again, we headed over to Maya Bay where the boat parked for lunch and we waited for Landon's group to meet up with us on their longtail boat coming from the wreck dive. We all enjoyed a nice lunch together with delicious cashew chicken and fruit! It was fun to share our stories about what we had seen and how we enjoyed it. 
Landon went on a 35 meter deep dive to a ship wreck! Check back later on the blog to read about his dive experience!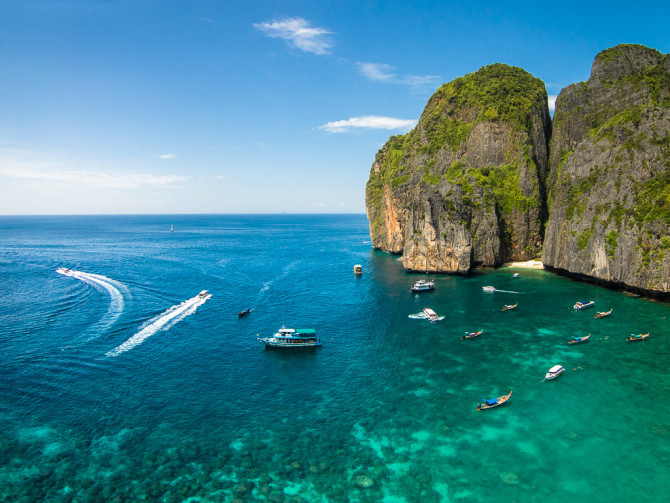 Second Dive at Malong Bay
After lunch, the dive boat drove out to Malong Bay, the second dive spot on the trip. I almost talked myself out of going because I had gotten myself worked up but I just jumped in and gave it a go. I was actually much more comfortable the second time!
It's all a mental thing – sheesh!
We saw two more sea turtles and one came right up to our faces! He was trying to give Peter a lick on the head! The underwater walls were stunning! They were filled with beautiful colored corals, sea fans, and fish. I've always heard about the fascination with walls but never understood it until now!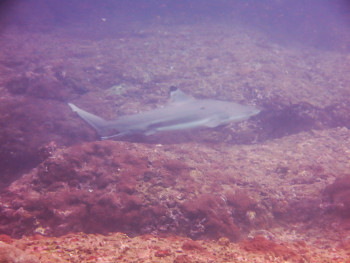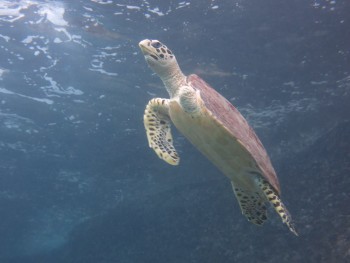 The second dive was a total of 46 minutes underwater. Time goes so fast when you are exploring, it only seemed like 15! Toward the end of the dive I got pretty excited when we saw two sharks swimming by! They were about 4 feet long and swam pretty fast! I wasn't nervous in the least and thought it was really neat! They were just minding their own business and didn't hardly pay us any attention! That was a great diving highlight!
At the end of the trip, we were tired out and excited from all the beautiful things we had seen! Most of all, I couldn't get over how well the visibility was! Compared to San Diego's ocean waters, this place is amazing!
I couldn't have had a more perfect diving experience! With such an amazing divemaster and crew by my side I felt so comfortable and was able to enjoy the views!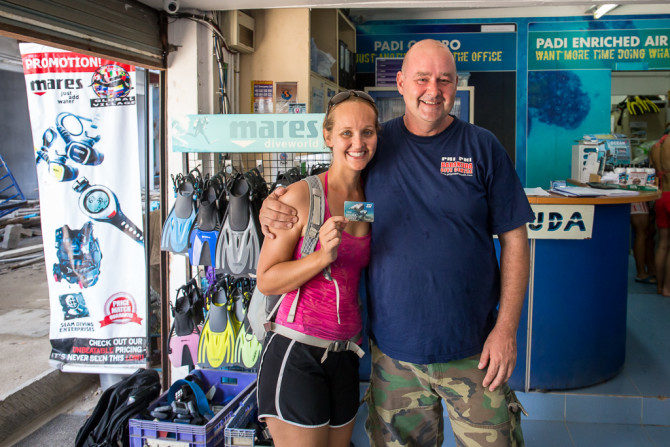 I totally recommend doing an exploratory dive if you're curious about diving. Even if you aren't sure, it's the best way to get up close to some of the most beautiful ocean life in the world! If you want some of the best diving conditions, head to Koh Phi Phi Island in Thailand. Your very first dive can make it or break it for you, so choose wisely!
You can find more information about the types of dives, fish, conditions, and prices by visiting PhiPhi Barakuda Dive Centre online.
A special thanks to Eddy, Peter, Colin, and all the crew at Phi Phi Barakuda Dive Center for this amazing experience and great underwater pictures!