It is so exciting to meet new people who share the same passion as we do! We've been chatting with a few of our most favorite bloggers and are delighted to share some of it with you, our fellow readers! Kach, from the Philippines, and Jon from the U.K are traveling the world and teaching yoga! They hope to one day have their own yoga retreat!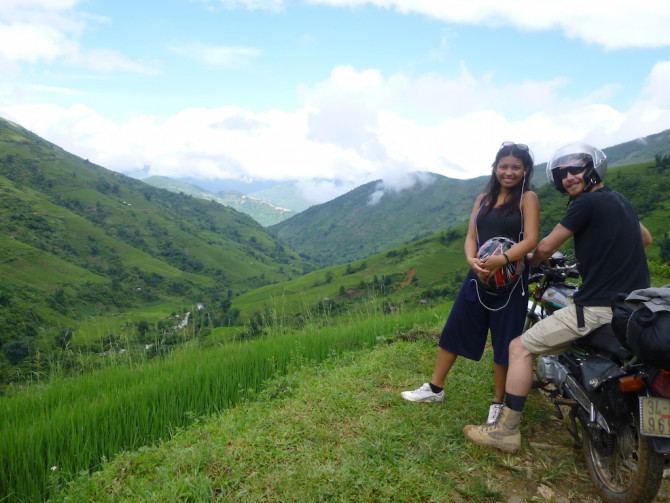 Let's get to know Kach & Jon a little behind the scenes of their travel blog, Two Monkeys Travel.
1. What inspired the monkey theme of your website?
We had been riding our 100cc motorbike through the north of Vietnam for just 2 days when we met Hai, a local from Sapa, who insisted that he show us the best trails in the area; places that only a few locals know about! The trails were little more than goat tracks covered in rocks and thick deep mud, the younger children in the small villages we passed had yet to leave the mountain, so had never seen a foreigner (the adults had, of course), especially a white one with hairy arms like mine. So they pointed, chanting white monkey in Vietnamese, which was eventually the inspiration for the name of our travel blog, Two Monkeys Travel. (I'm the brown monkey!)
2. What is your best traveling quality that keeps things running smoothly between you and Jon?
It's funny to admit but I'm totally organized while Jonathan is free flowing, it's great because we balance each other. Also, the best is that we're supportive at each other's plans and interests. Jonathan is very patient as well and always encouraging me to try new stuff!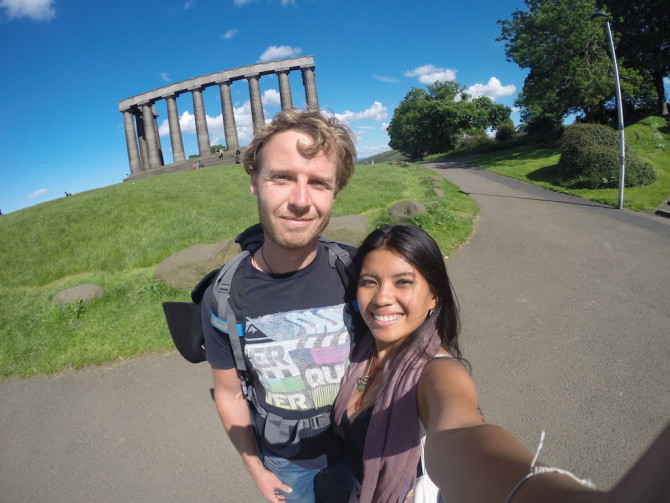 3. What is the funniest incident you've had while traveling?
I just find it funny whenever people try to guess where I'm from – they thought I'm Indian, Peruvian, Nicaraguan or even Thai but never a Filipino. Whenever I tell them that I'm from the Philippines, they'll do a boxing pose and tell me "Ah, Manny Pacquiao!"
4. How has traveling changed your life?
It changed for the better, I've learned a lot of things that I think I will never learn nor experience if I'm still stuck in the corporate world of the Middle East.
5. What has been your most stressful Visa experience to enter a country?
Nicaragua, I entered the country via land border crossing from Costa Rica! What I've read online was that I can get free visa on arrival but didn't know I had to pay extra $50 for a visa stamp at the border which actually cost me some trouble because the Immigration officials weren't familiar with it. After more than an hour of delay and crying, I made it and was able to explore Nicaragua for 2 weeks!
6. What are your budgeting techniques while traveling and how do you keep track of your spending?
When it comes to money, Jonathan always let me handle it. I track our income and expenses, I have a planner and I write how much we spend daily – from food, tips and even taxis. Whenever we have income – it's divided to savings, travel expenses/ bills and have another envelope for leisure – luxury, party and clothes
7. How did you get involved in Yoga and how has it influenced your travels?
I've been doing yoga since 2012 while living and working in Kuwait. I started doing it after a workout in my gym then eventually experiences a great effect on my health and mood! I then started planning to quit my job to go on a 3 months yoga retreat in India but decided to move to Iraq to work for my career. Then while backpacking in South East Asia, I was able to go on a month-long yoga retreat and eventually able to get our yoga certification
8. We love reading about the Filipina side of your travels. What is the #1 place you would recommend for someone visit on another continent?
For me it's Peru, aside from the fact that Filipinos can get 183 days free visa on arrival, the culture of Peru is similar in the Philippines! "Same same but different", as what they say in Asia. I've travelled almost all over Asia but the looks, culture and food are completely different, however when we arrived in Peru last year, I really felt at home and I enjoyed it!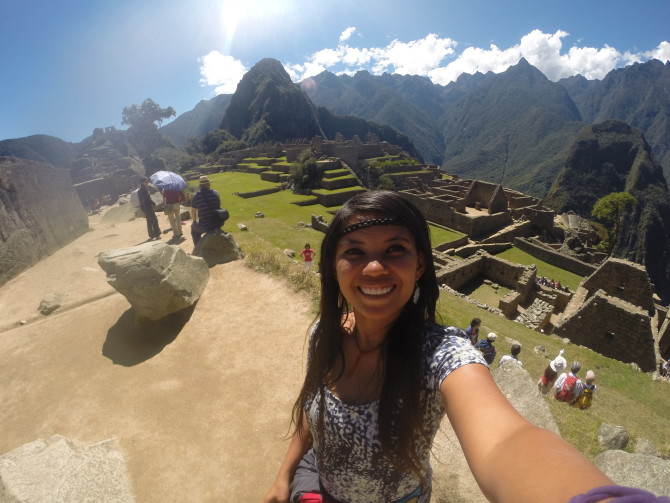 9. Have you ever had any regrets about your new life on the road?
Regrets? I think the only regret I have is neglecting on learning languages. I had the best opportunity to learn Arabic during my 4 years in the Middle East and Spanish for a year now here in Latin America. We still have time and there are more advance technology app!
10. How do you maintain a good balance between travel, work, family, and friends?
The great thing about traveling with your life partner is that you work together, you're the travel buddies and best friends! Our family is scattered around the world and we're just thankful there's skype, viber and facebook that keeps us in contact!
Thanks so much to Kach & Jon for their time, and be sure to stop by and say hi to them at Two Monkeys Travel! You can also find them on Facebook, Twitter, and Instagram!