We arrived in Argentina, and were excited to see the Perito Moreno Glacier we'd heard so much about! We got in to El Calafate, a small town in southern Argentina, late in the evening and were feeling really tired and sore from our Torres del Paine hike. The Argentina part of our trip was finally here!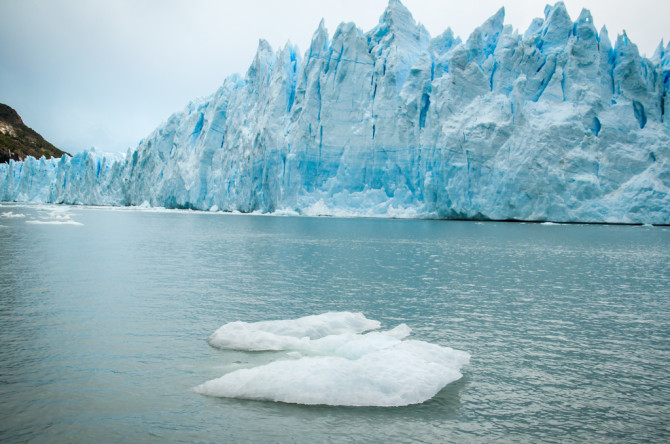 Bus Ride from El Calafate, Argentina
We found an awesome hostel called Los Manos on the north side of town. We were pretty lucky to find anywhere to stay because everywhere else was totally booked! We'd definitely recommend booking in advance for El Calafate (and most other touristy cities in southern Argentina) during the peak tourist season – December to February. It was a nice hostel with breakfast included (a bit skimpy like all Argentine breakfasts but better than nothing). They have a ton of rooms and beds so it seems like they would always have space.
We walked from the hostel to the bus station for the early bus trip out to the Perito Moreno Glacier. It cost us each $20 for the round trip bus ride. There is a morning and afternoon trip, but everyone recommended the morning for the best weather, and it was great! The bus looked like a normal bus in the terminal but it was more like a tour bus. The driver explained a few things along the way and waited for us at stops along the trip.

Boat Ride to Touch the Perito Moreno Glacier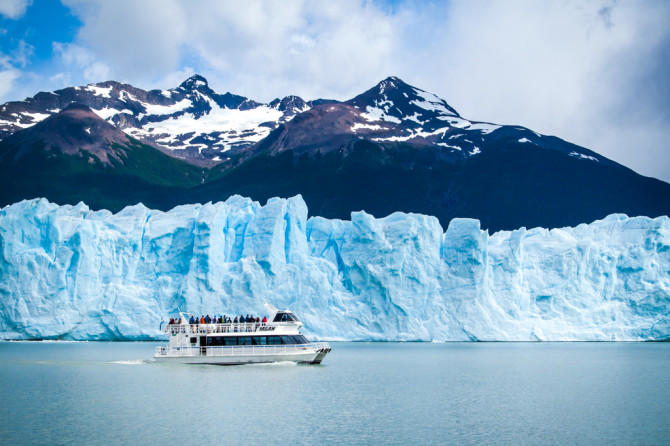 The bus stopped to let everyone off at the boat dock for an up-close look of the glacier. It is optional and costs extra but it's so worth it to go! I wanted to touch the glacier, buuut, when we saw a few icebergs the size of our boat calve off and make a mini-tidal wave I decided to agree with the boat captain that it was wiser to stay a safe distance off!
Next time… In a kayak…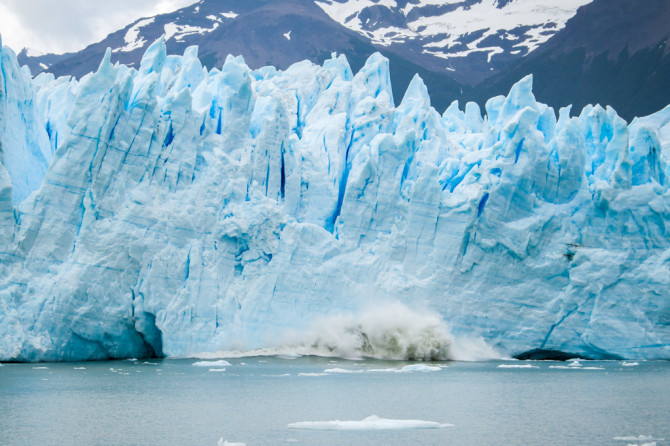 The glacier is a HUGE wall of ice in the water, it just seems surreal!
We were a little disappointed at first because it was rainy and cloudy and the glaciers looked a bit gray. But, in true Patagonia style the weather changed in 2 minutes as we were leaving and there were sunny blue skies and beautiful glistening glaciers! The deep electric blue color of the glacier is something we'll never forget!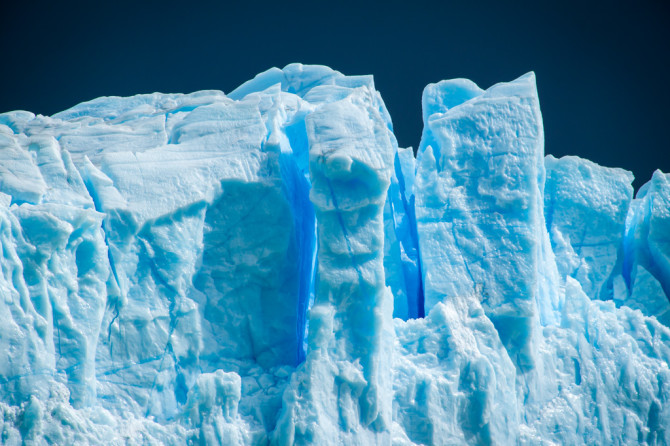 Taking the boat ride was such a thrilling experience – bucket list for sure!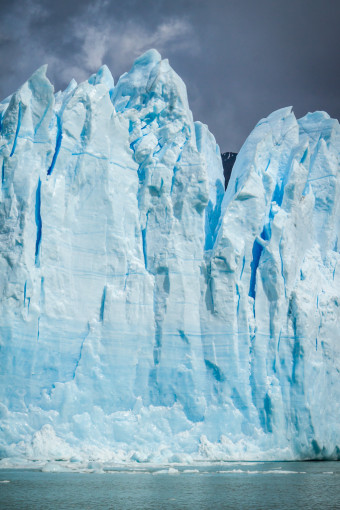 Fees: They charge about 65 pesos (~$6 when we were there) each to enter the national park, but if you only have dollars they'll charge you $13 US (about double the price in pesos). The boat ride was only about $10, and everyone from our bus went on it.
Our bus driver wasn't super clear in explaining what was next, but the bus waited for everyone until the boat ride was over. Some people even left their bags on the bus.
Perito Moreno Glacier Trail Tour
After the boat ride, the bus took us to the actual Perito Moreno Glacier reserve where you can hike around different paths to see both sides of the glacier. It was a really pristine place, and had elevated walkways to keep the crowds of people from destroying the forest.
There are a few miles of walkways that lead down to the glacier and give a magnificent view of it up close. Our tour guide suggested to start on the right side of the trail and walk to the left so we could see the glacier if front of us as we walked along. Good idea.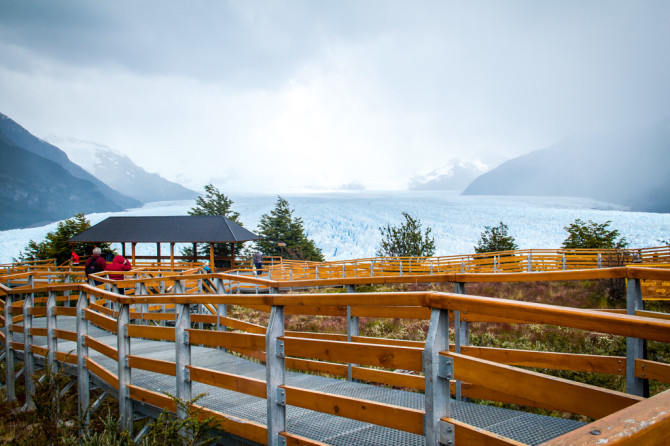 This glacier is the largest ice field we have ever seen! It takes a few hours of just looking at the glacier to comprehend how enormous and alive it is! The slow moving giant is built up with snow on the top, miles uphill, and constantly moves downhill, eventually breaking off into the lake. Every few minutes we would hear a loud "crack!" and a piece of the glacier would calve off and splash into the water. It's amazing to see, but impossible to capture with photos!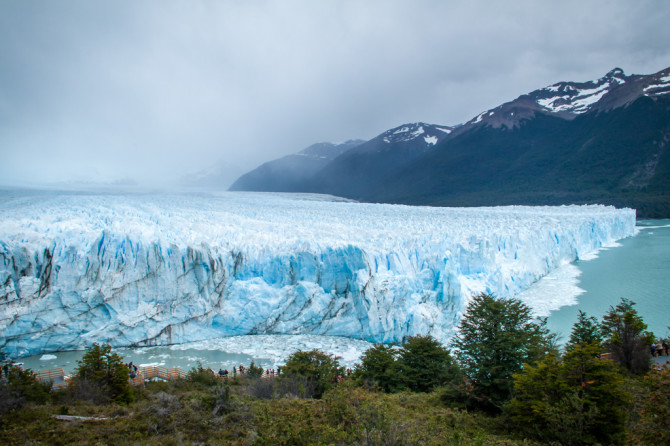 At the entrance of trails there is a big cafeteria, gift shop, and bathrooms. There are a few tours available to go ice trekking on the ice field. We didn't have time for that but it would have been a really fun adventure!
Our bus was waiting for us after 2-3 hours of hiking around and we headed back to town. We enjoyed a nice pizza for supper at "La Lechuza" on the main road back in El Calafate.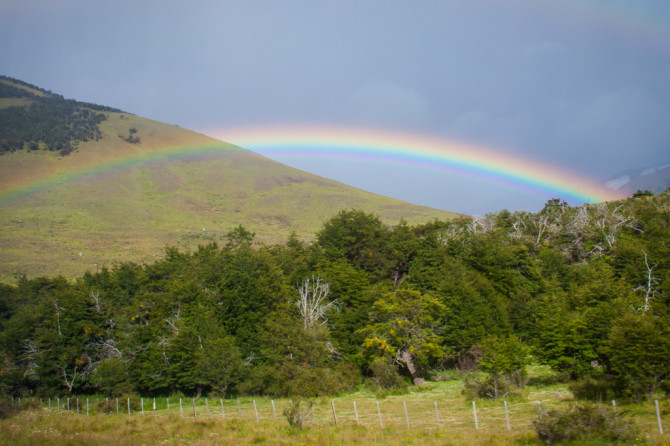 Leave a comment if you've been to the Perito Moreno Glacier in El Calafate, Argentina, or are planning to go there soon!