We showed up in Sucre with no plans, no hostel picked out, and no schedule. Yes, I love that! This was the least-planned stop we've had in a while and we were keen on finding some adventure.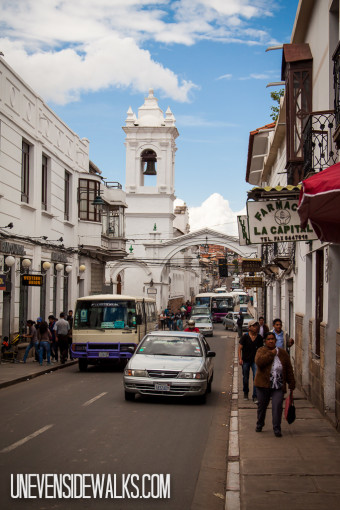 We had just come over from Potosí, and were still groggy from our bumpy nap on the bus as we tried to find a place to drop our backpacks and spend the night. The hostels were surprisingly full, even the one our friends had apparently booked and paid for already. Whoops! We made our way to a cheap one right across from the central market, near the park Plaza 25 de Mayo. It wasn't that great, but the internet was the best we'd found in awhile!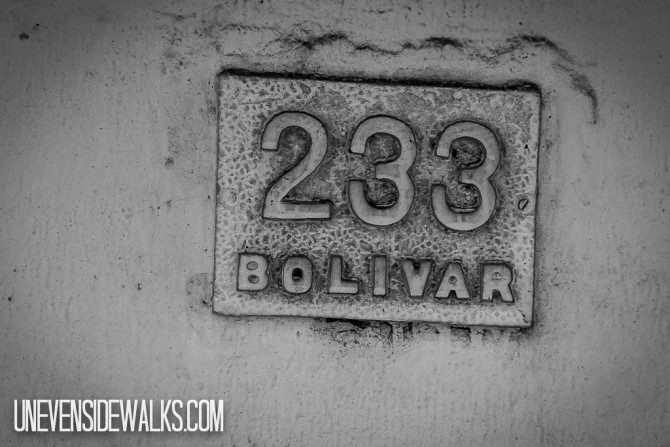 The market was a bustling place where we had a scrumptious breakfast of homemade donuts and a hot chicha-style corn drink.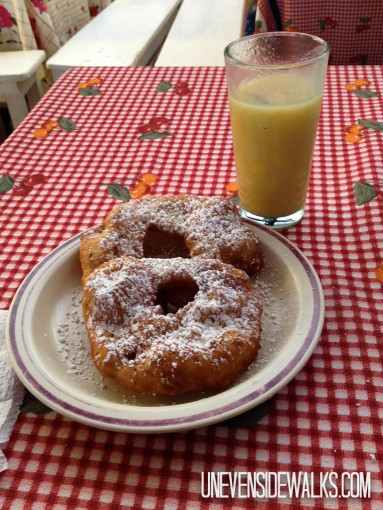 I never could get used to the warm yogurt-in-a-bag, though. Yecch!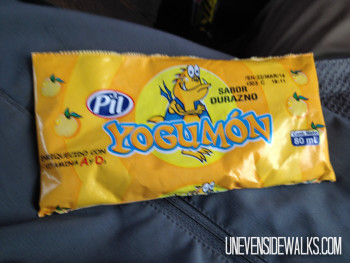 Everything was displayed so neatly I was amazed. I wonder what it would take to get the basket off the top of the stack!
The annual carnival festivities were kicking off here as well, but weren't quite as wet as what we'd found in Potosí. We followed an energetic band as they tromped around town, through buildings, and across busy roads. As they came along, someone would light off some mortar rocket explosions to let everyone know they were coming. They were loud enough to get everyone's attention for a mile!
I almost burst out laughing when I saw the police force in the area – 3 girls wearing bulletproof vests and heels. Wow!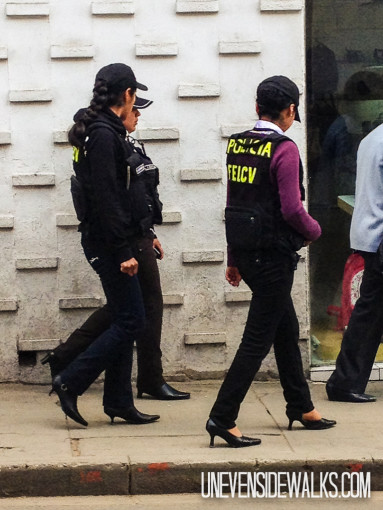 You could even donate blood if you were in a particularly generous, happy mood.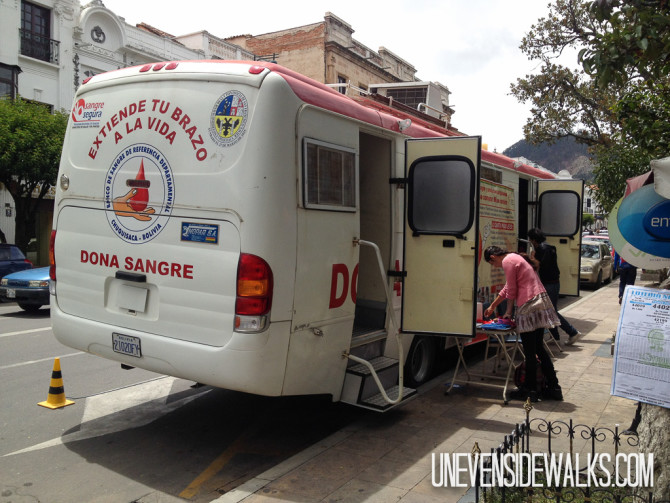 Things to Do in Sucre, Bolivia
We heard there was a cool dinosaur museum just outside town, so we booked a tour and hopped on an open-air double-decker bus right next to the main park. It was a pretty eventful ride and there was so much to see. Someone lobbed a water balloon into the bus and soaked a few rows of people just behind us!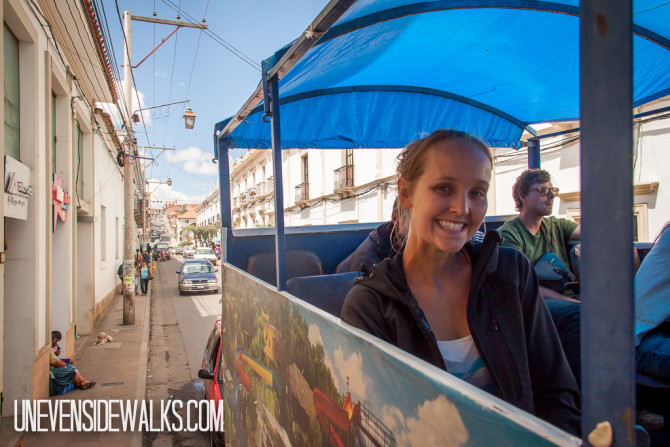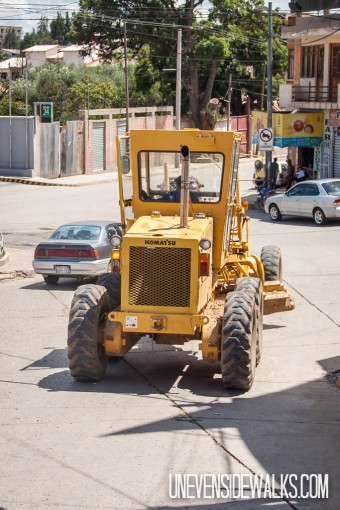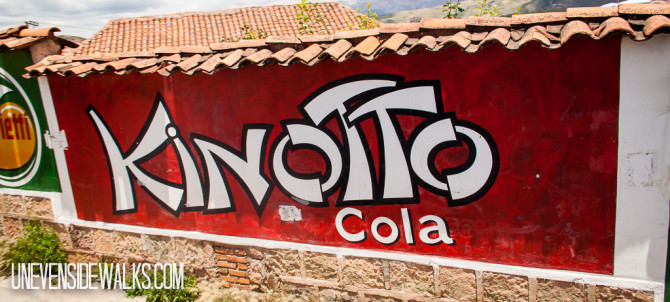 Dinosaur Park in Sucre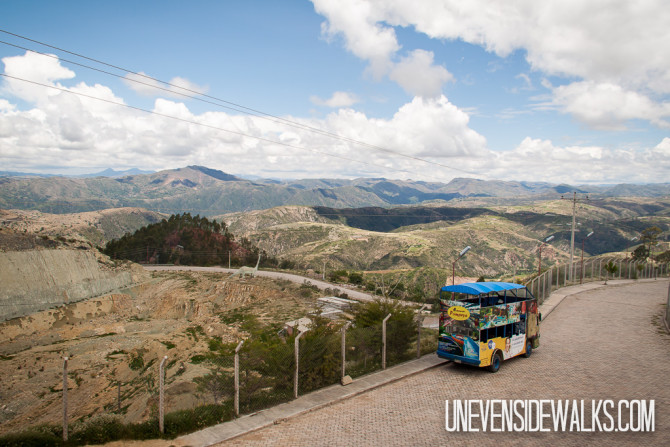 It even looked like there could be dinosaurs roaming around the hills here!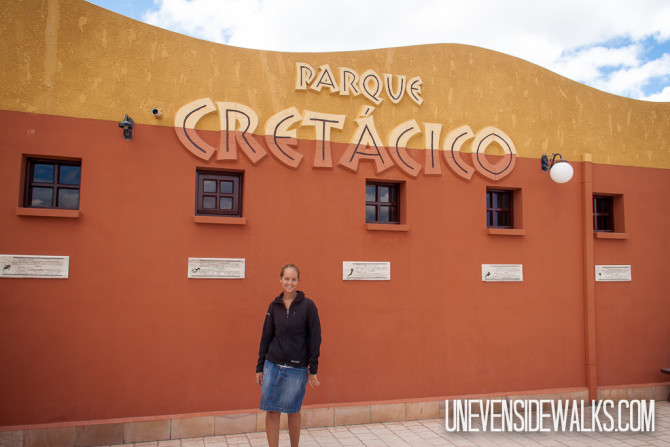 We never thought we'd find dinosaurs Bolivia! It was a really cool place, even for someone who doesn't know much about dinosaurs. Our English tour guide explained way more about the dinosaurs they had than I could ever hope to remember.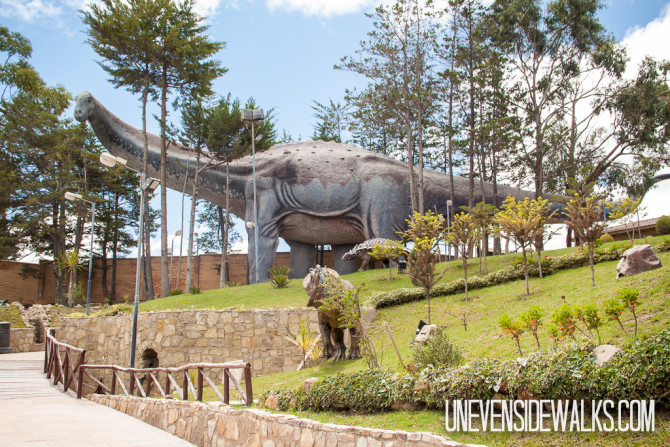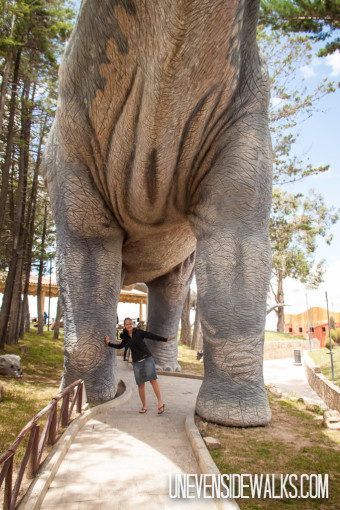 Their claim to fame is this huge wall of dinosaur footprints. They think the dinosaurs were walking by this place on their way to find food or water, and their footprints solidified in the mud. Later, the earthquakes moved the earth around and pushed it up vertical.
One day the concrete company next door found strange prints when they were digging away at the mountain. It turned out to be from a dinosaur, and today they've unearthed thousands on the whole hill.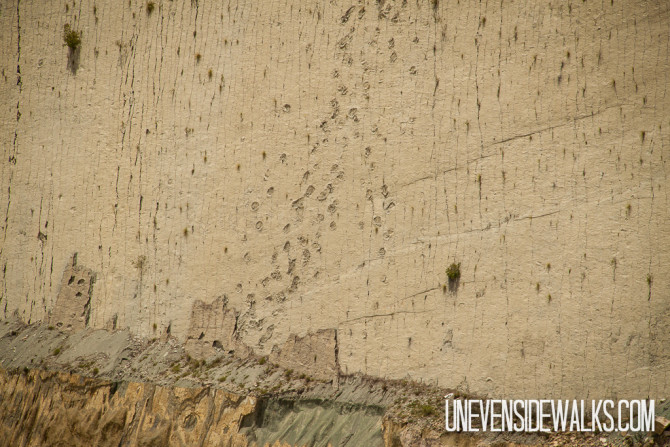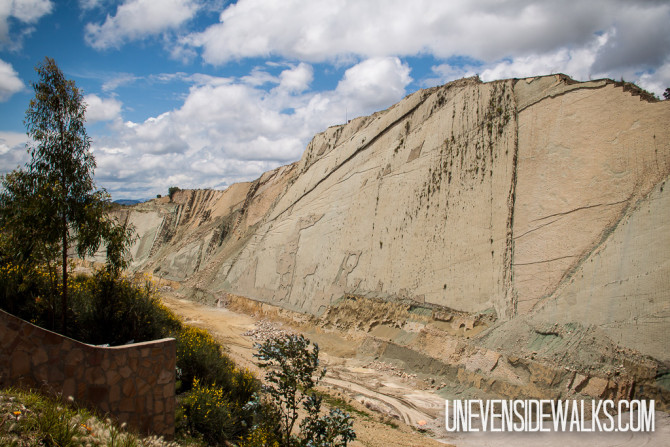 It's pretty impressive how huge everything is!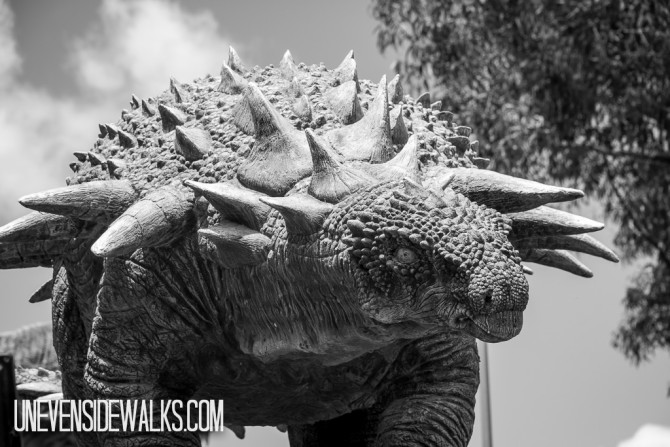 There must have been LOTS of dinosaurs roaming around to get this many footprints in one area!
Joy Ride Café
Randomly enough we found a restaurant called Joy Ride Café that was showing the film "The Devil's Miner," a documentary about a young boy that worked in the Potosí silver mines. We had been looking for this ever since we toured the Potosí mines, and now we could watch it at this cool little restaurant.
Flying On to Santa Cruz
Our next stop was Santa Cruz, and we had to fly because the roads were washed out from flooding and mudslides. Good thing we found that out before we left on a bus and got stuck for a day! The airport was pretty chill, and we were flying on our way even before the scheduled departure time – how strange!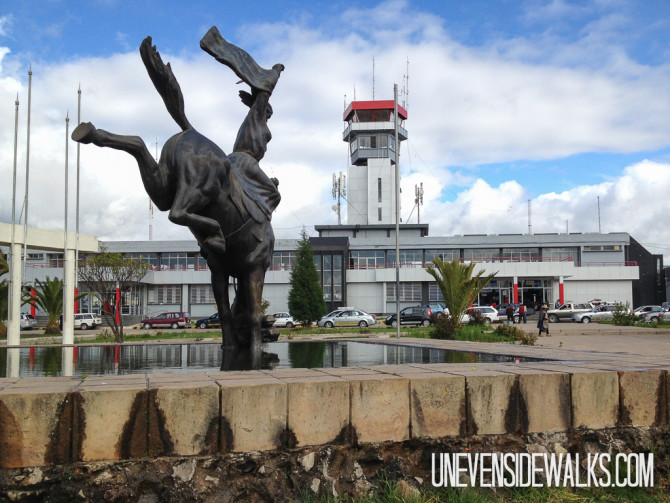 I really liked the laid-back feel of Sucre, Bolivia. They had a sense of humor and the police didn't care that they were lighting off mortar bombs all over the city!
Back to Bolivia