We have a love for waterfalls so going to see Siete Tazas Waterfalls was a must for us! The details on exactly what sort of waterfall it was and how to get there were a little vague, so we came expecting an adventure.
Siete Tazas • The Real Waterfall Chase
It is always interesting how sometimes the locals seems to know nothing about a cool place like this… Some people we talked to were familiar with it, but it certainly wasn't Disneyland! We had seen it in Lonely Planet so we were determined to find it! The first mini bus was easy to find – from Curicó to Molina. Molina has a bus station specifically for Siete Tazas but we were two weeks too early before the buses started running for tourist season. There were no buses, and everyone looked surprised that we were there. We learned that anytime before January first, there are no buses to Siete Tazas!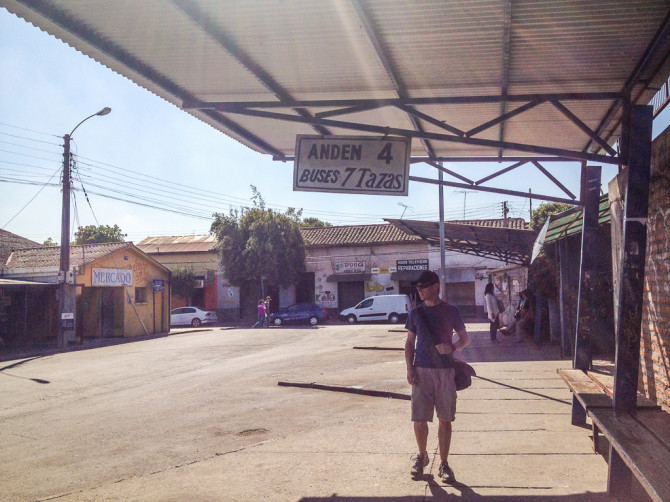 The man in the restaurant across the street showed us a bus we could catch out to the main highway and from there we hitchhiked. It was a very fun experience! We hitchhiked a total of 120km with about 8 different cars there and back! We even considered riding along on a road grader, but it was going slower than we were walking. There was a flatbed truck filled with cement bags that was going all the way out to the park so we were lucky to hop in the back and ride it most of the way. The road was mostly a bumpy dirt road, but some of it was being paved so getting there should be easier next time!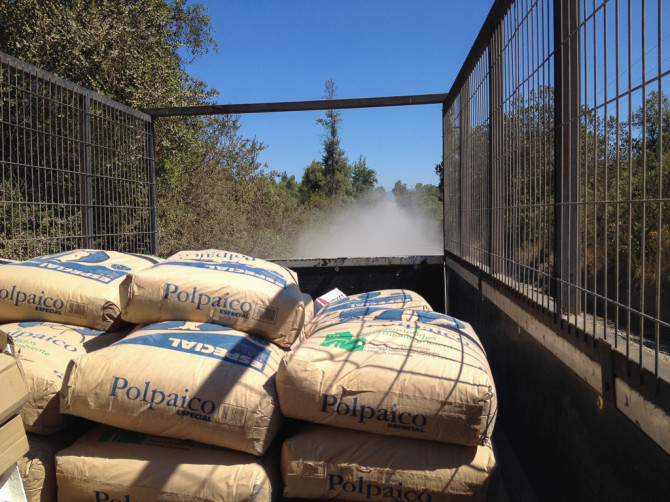 We were a little nervous about hitchhiking since it is not something we normally do but we were so surprised at what a wonderful experience it was. We met so many nice people and literally everyone went out of their way just to help us. We loved knowing that people in Chile are some of the nicest people we have ever met!
We Made it to Siete Tazas Waterfalls
When we finally got there we weren't disappointed. The Radal Siete Tazas National Park was absolutely amazing! It got it's name from having seven magnificent pools of water that are connected by waterfalls – really seven "cups" in Spanish. There were also other larger waterfalls that were so breathtaking: Salto Velo de la Novia (Bridal Veil Waterfall) and Salta de la Leona (Lioness Waterfall). We felt like we really knew what chasing waterfalls was like after this! They charge a decent entry fee, so bring some cash and plan to stay a few hours!
There were quite a few trails and nice picnic areas between all the waterfalls, and we could have stayed there all day. We had brought our lunch (but if you are going to hitchhike bring dinner too!) and enjoyed a nice lunch by the falls.
If you're prepared, they have a campground right next to the entrance to the national park. This is the way to really experience the full beauty there. We also saw a few hostels along the road out there, so there are a few options for visitors.
There were a few cool geocaches we found in and around the park, so be sure to check them out too!
After this journey we looked at the map again and decided in order to see the National Parks in Chile it is really best with a car. There were few bus routes off the main highway and we were off-season to use them anyways. Luckily we had some friends who we met up with who had a car and we got to see quite a few more parks. Without them, we probably would've hitchhiked another few hundred kilometers!
We are so glad we didn't miss out on Siete Tazas Waterfalls because it was absolutely breathtaking and a real waterfall chase for us!