No trip to southeast Asia would be complete without spending a few weeks in the beautiful country of Vietnam. It's an easy country to travel in, but requires an pre-approved visa before entering. Here's how we got our simple Vietnam tourist visa on arrival.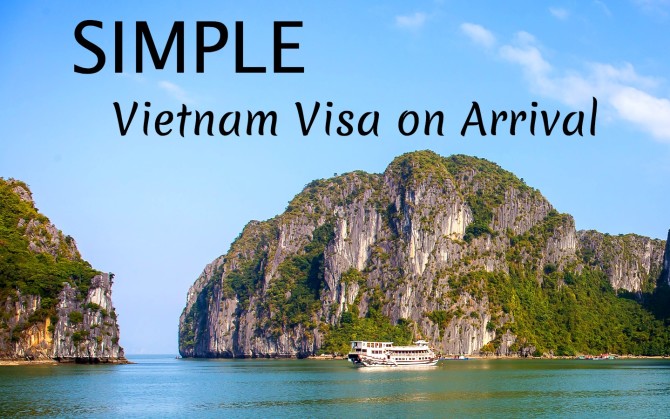 As soon as we made plans and bought plane tickets to Vietnam we started our visa pre-approval paperwork. It's a bit unique, but pretty straightforward and stress-free if you've got at least a few days before your flight. If you're leaving today, don't worry, there's a rush service too!
As long as you've got an approval letter printed out before arriving at the 3 major international airports in Vietnam, immigration will issue you a visa on arrival. Land borders and ocean port of entries require a completed visa that the processing agency can help you with as well, or you can to go to your nearest Vietnamese embassy to get it in person.
Vietnam Visa On Arrival Processing Agency
We used an online visa processing agency that had good reviews and it took only a few minutes to submit our travel dates and passport details on their website. Their normal processing time is 2 working days and they have different fees for a variety of visa durations and number of entries they offer. If you need it right away they have a "super urgent" service that takes just a few hours. I'm not sure everything they check out on a person, but it seems like you're paying someone to run your passport number and check if you're a wanted fugitive or have plans for a Coup against the Vietnamese government.
Visa Processing Fees
It took me a while to understand their fees, but it's pretty straightforward. We paid one fee to the processing agency when we submitted our details – the "service fee." The second fee we paid at the airport to the Visa On Arrival office – the "stamping fee." One payment won't cover both of them, and yes, it'll set you back a couple Starbucks, but it's simple and worth it.
A few days later we got our pre-approval letter by email and printed it out so we were ready for immigration. The letter had a lot of other people's names on it as well – probably to save money somehow since they process so many. It never caused anyone to raise their eyebrows, but we circled our names just in case!
*Update (Oct 2016) The Vietnam Immigration Department will ONLY issue one year multiple entry Vietnam visa (maximum 90 days stay/entry) for US citizens and the cost has increased to US$ 135 for the stamping fee at a Vietnam Airport. 3 month single entry visa's are no longer available. 
Arrival to Ho Chi Minh Airport (SGN)
When we arrived at the big immigration "cattle corral" area in Ho Chi Minh City (Saigon) we went to the far wall (on the left side) right away to take care of getting our visa before getting into the main immigration line. I grabbed an application form for Alyssa and I and we filled it out away from the chaos of all the people. Then, once we had everything listed below ready, we gave it to the people behind the window and waited in the chairs for them to print out our visa and call our name and return our passport with a huge visa sticker in it.
Items Required for Visa Stamping Office
Visa pre-approval letter printed out
Passport, valid for at least 6 months, w/ 2 blank pages
2 recent photos 4 cm x 6 cm (can have them taken at airport for a fee)
Stamping fee – $25 USD cash each (for US citizens)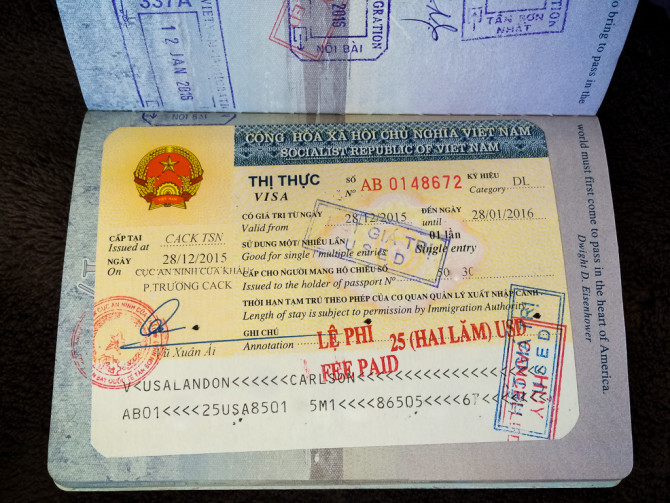 Once ours were finished getting processed we went to the main immigration queue and went through the system as normal. (If you already have a visa from a Vietnamese embassy you still need to get your visa stamped and pay the stamping fee before proceeding through immigration.)
Even though there is pre-approval paperwork, it's still a Visa On Arrival (VOA) because you still have to wait to get your visa at the airport. Keep in mind this is only available at the 3 international airports listed below. All other borders on land and water require an actual visa in your passport.
Visa on Arrival Airports
Hanoi/Noi Bai airport (HAN)
Ho Chi Minh City (Saigon)/Tan Son Nhat airport (SGN)
Danang airport (DAD)
List of Various Stamping/Issuing Fees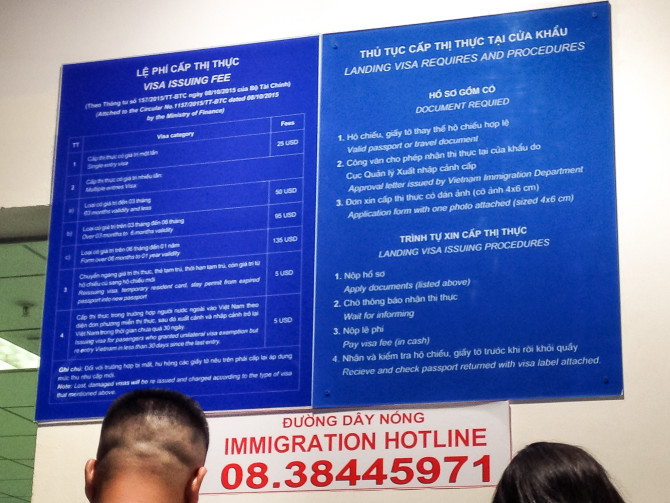 If you have a question about your specific situation the visa processing company we used has a ton of details on their website that might answer it. They're very straightforward about their fees, and pleasant to work with.
I hope this article helps simplify the Vietnam visa on arrival process or even motivates you to visit there on your next vacation!