You've started off on your beautiful vacation. You've made all the preparations to leave for a week, or a month, and are ready to enjoy some peaceful paradise in Costa Rica. You've planned it all out, what could go wrong? Not so fast! You still have to get there! Jumping through all the hoops at an airport is never an easy task, especially in a foreign country, speaking another language! This quick guide, written specifically for this airport, can help you have a smooth, stress-free arrival to the San Jose airport in Costa Rica!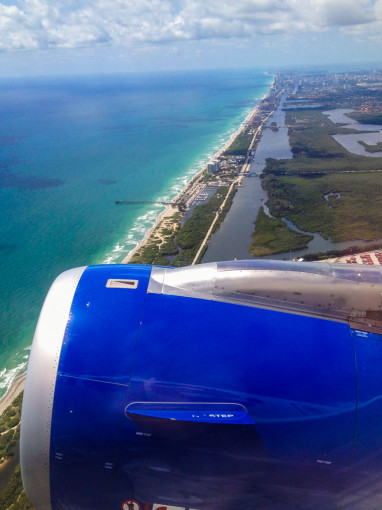 There are always hiccups in every plan and changes along the way, but being prepared and familiar is the best you can do, and it certainly helps!
Preparation Before you Leave Home
Be sure you bring these with you from home and you'll have less to worry about when you get to the airport:
Passport
Airplane Ticket & Check-in Online beforehand
Onward Travel Ticket (if using a one-way or round-the-world ticket)
Money – At least $100 cash & an ATM debit card
Black/Blue Ink Pen
Water Bottle & Snacks
Arriving at the San Jose, Costa Rica Airport
On the airplane they should give you 2 forms to fill out. Click the links below to see an example of the forms.
An Immigration Form needs to be filled out for each person. It's pretty straightforward, but here are a few things that are sometimes confusing:
Only fill out the top part of the form.
You probably have an "ORD" ordinary passport.
Your Nationality, Country of birth, and Country of residence are likely all the same. No, it's not a trick question. If they aren't the same, you'd know!
The Foreseen address is just your hotel, hostel, or even a popular city like Manuel Antonio. They're not too picky – they don't look it up on google maps ;)
Departure country is where you came from and Destination country is Costa Rica, Yipee!
Only one Immigration Form needs to be filled out for a family, so you may only need one. It has a lot of the same questions as the Immigration form, but here are a few points to watch out for:
Number of people traveling with you: Your family headcount minus one (you).
Read through the English translation of each question and answer them. Here's an example of what we normally put:
Visited farms – No
Carrying animals – No
Bringing chemicals – No
Bringing more than $10,000 – No
Tax/tribute relief in the past 6 months – No
Remained outside country for 3 days? – YES <— This is important, don't miss it!
Bringing merchandise – No
Sign and Date it!!!! <— This is important, don't miss it!
The back side of the form is good practice for your Spanish (it also has English), but you don't need to fill anything out on it. It just says what they consider personal luggage versus merchandise, etc.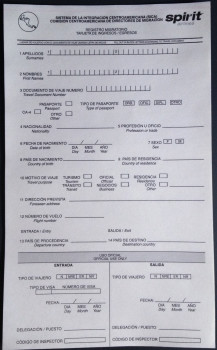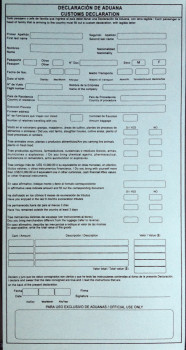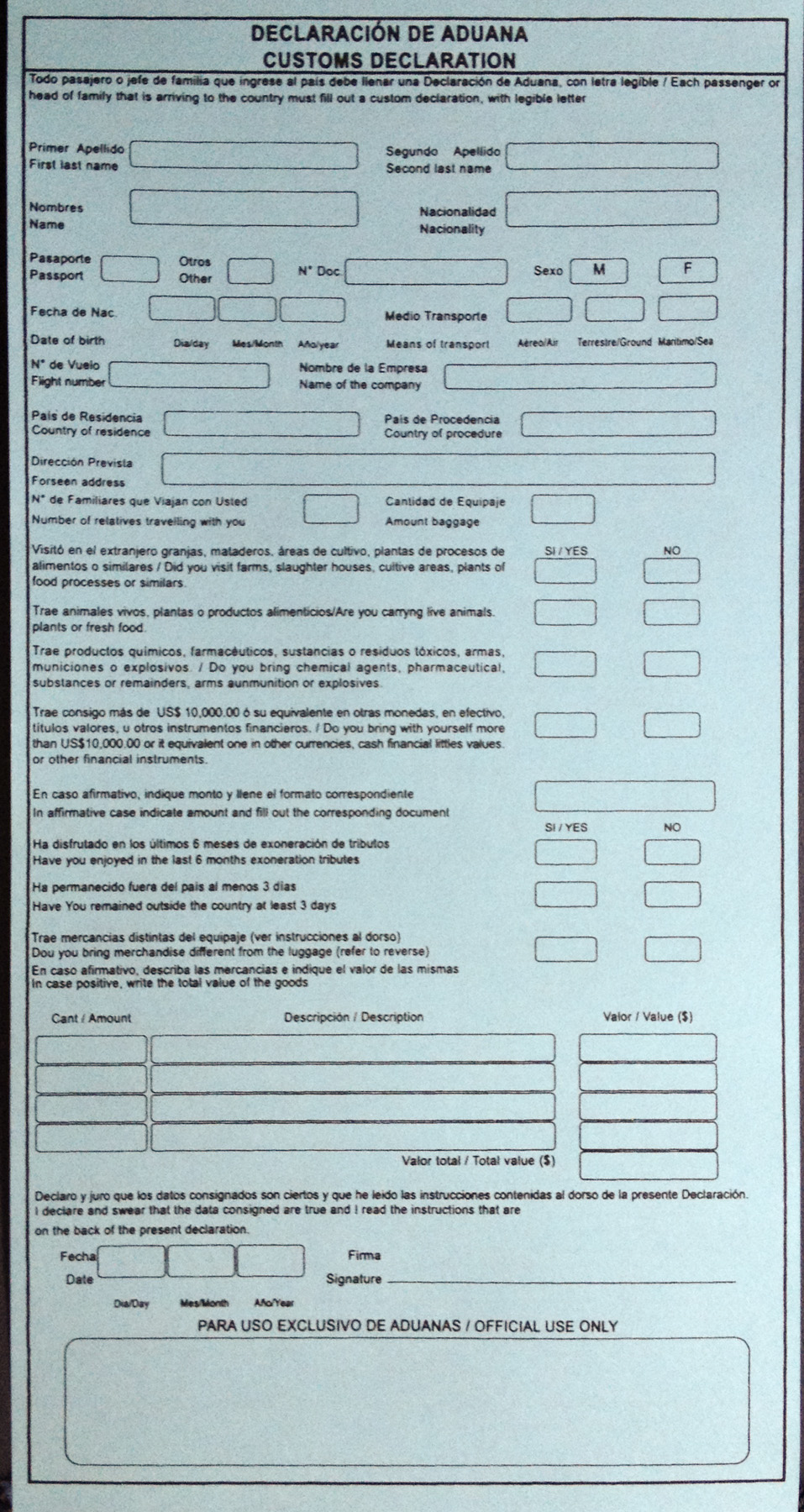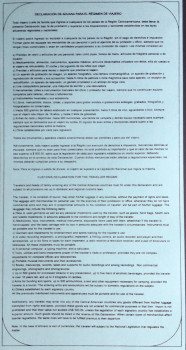 When you first arrive at the airport, it'll be the same drill as normal to get off the plane and head down the never ending corridors. Don't dawdle or you'll end up at the end of the line!
Airport Immigration
The first place you'll get to is the Immigration booths. The left side is for residents and the right side is for foreigners. This line is usually fairly quick, but can take up to an hour if the lobby is full.
The immigration agents usually speak English since most of the country's tourist don't speak Spanish. Usually they are pretty brief and don't ask too many questions. Here are a few tips from our Border Crossings & Fees Guide:
Have your passport out and your immigration form filled out and ready to go.
Have your return ticket or "onward travel" ticket ready to show them.
Answer their questions briefly. Don't tell them everything you know or they may ask for more paperwork from you and make things more complicated.
Ask for a 90 day visa stamp, even if you're not planning on staying that long. You could change your mind and decide to stay longer, or you might get lost in the jungle or get hurt and be in a hospital. It doesn't cost extra or require any extra paperwork, so you may as well ask for it.
Costa Rica doesn't charge any reciprocity or visa fees to US citizens (and most others), so nobody should be asking you for any money anywhere in the airport, especially at the Immigration and Customs checkpoints. We've never been asked to pay extra fees, thankfully.
Baggage Claim Area at the San Jose Airport
After leaving the Immigration area, there are a few luggage carousels where you can wait for your checked baggage to arrive from the airplane. On the right side is a counter with agents from all the different airlines if you have any questions about missing or oversized luggage.
Never leave anything unattended, even for 5 seconds. You'll be reminded many times to be careful with your bags. I like to be either touching or directly watching my baggage at all times.
San Jose Airport Car Rentals
If you're looking at renting a car, I'd recommend to rent it online beforehand or travel to a local hub to rent a car. Renting a car at the airport is probably the most expensive way to go, but certainly the quickest and most convenient.
ATMs & Currency Exchange Office
There is at least one ATM in the baggage-claim area of the airport. Do try to be discreet as you inspect your wad of strange-looking cash that just came out! Count it later.
Hope you have a debit card with no international fees!
The Currency Exchange office near the baggage claim area gives terrible rates for exchanging money, but they are fairly safe. Only exchange a small amount of money with them so you have some local currency to get to your hostel and only brought cash with you. You can exchange your money later at all major banks.
Kolbi Phone Chip Booth
You can buy a SIM card "chip" here to use with your unlocked cell phone, if you brought one with you. They'll try to sell you a big data plan for $20 with international calling and all the bells and whistles, but you won't need that. I've never bought a phone chip at the airport, but it's probably ok if you're desperate to get a local phone number right away. If you go for it, make sure they don't charge you any fees to activate the chip there. Otherwise, I'd wait and pick one up in town later on.
Read more about using your cell phone in Costa Rica.
Airport Customs – Luggage Scan
Last stop! You're almost out of the San Jose Airport! Give your Customs Declaration form to the guy waiting and toss all your luggage on the x-ray conveyor belt. No need to take anything out of your bags. I think they're looking for fruits and drugs, but you hopefully won't spend more than 30 seconds here.
Fresh Air at Last!
You've passed all the tests, one way or another! Now to push through the taxi crowd and find your way to your first destination or your hostel. The crowd of people waiting at the airport exit is certainly intimidating, but if you just focus on where you're going you'll be in good shape. Again, watch your bags…
It works well for us to just say Gracias amigo, or Thanks friend, and just ignore them. If you perk up when they say "San Jose" or "Jacó" they'll be more persistent with you.
Bus Stop at the San Jose Airport
Taking the bus is much cheaper than a taxi, but they may be difficult to figure out if you're not going to downtown San Jose or Alajuela. The bus stop is easy to find, and only a 2 minute walk out of the airport. To find it, walk across the airport pick-up lanes and head left, around the parking structure. Turn right at the main road and you'll see buses and people waiting.
Anyone waiting for a bus is usually friendly enough to help you find the right bus to get on (usually in Spanish). They all know how to get to San Jose. The bus driver will probably take US dollars, but will only give you a 500 colónes exchange rate. Double check with him that he'll take you where you want to go (gestures and a city name usually work fine for people who don't know a lick of Spanish).
Taking a Taxi From the San Jose Airport
Sometimes it makes sense to spend the extra money and take a taxi, especially if you have heavy luggage, kids, or you're in a hurry. There'll be plenty of people right outside the airport offering to hail a taxi for you.
The official taxis are always red with a yellow triangle sign on both sides that matches the license plate. The airport taxies are orange with a wing/circle on the side – these are the most legit/expensive. There are also cheaper taxis with a blue circle sticker on the door, but you'll have to go out to the main road or have someone wave one in for you. There's always a lot going on, but make sure the driver starts his meter right away.
Where in San Jose is the Airport?
The name sure makes it sound like it's right in downtown, but it's actually a short drive away. The main airport in San Jose, aka, San Juan Santamaría International Airport (SJO), is actually in the city of Alajuela, about 20 minutes west of downtown San Jose. It is a short bus or taxi ride into the city or to the "Coca Cola" bus terminal to head out the beaches.
Click here for a schedule of all the buses from San Jose and where their terminals are located.
History note: There used to be an airport right in the center of the city, where the "La Sabana" park is located today. But, with the growing demand in tourism they moved it outside the growing city in the 1950's. Now, the San Jose airport is the 2nd busiest airport in Central America and has over 4 million passengers per year traveling through it each year.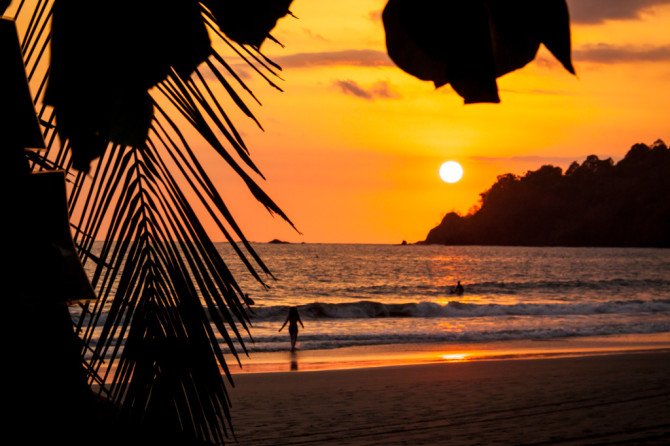 Leave a comment if you have a funny story or any updated information about arriving into the San Jose, Costa Rica airport!
Click here to Read About Crossing into Costa Rica by Bus.