Many people come to Chiang Mai, Thailand and stay a lot longer than they expected. We had heard that before we came here but never thought it would happen to us too! Chiang Mai is very expat-friendly and appealing to slow travelers. The community of down-to-earth people is huge and soon you'll find yourself with lots of new friends, new plans, and in need of a place to stay! Here is a list of tips for finding an apartment in Chiang Mai that we found helpful during our search.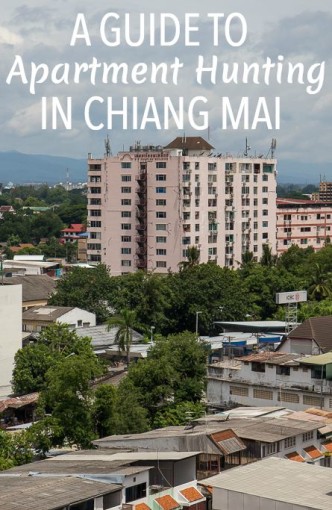 Choosing a Location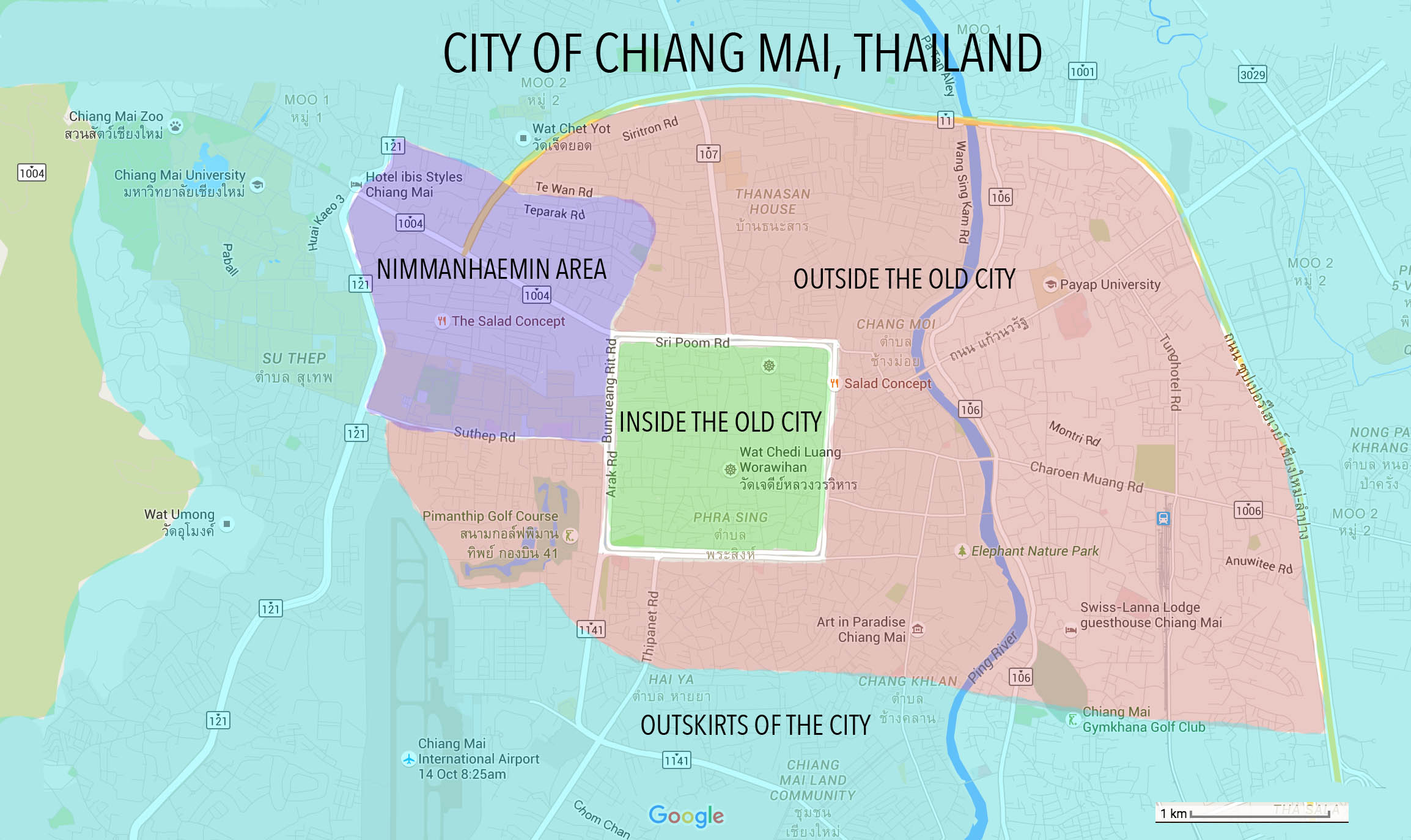 Chiang Mai can be divided up into 4 different areas:
Inside the Old City (or Wall)
Outside the Old City
Nimmanhaemin Area
Outskirts of the City
Once you get on a motorbike and start exploring the city you'll realize it's pretty big, but this is just a simple overview to get you started. The area you choose will depend on the type of crowd and environment you are looking to be around. Our first apartment was outside the moat near the railway station. It was an awesome place with a huge room, pool, gym, and breakfast! We were surrounded by locals and their little shops. We moved to the other side of town after a month to check out the Nimmanhaemin area. Since we are working online and are in need of good internet, good coffee, and networking, this proved to be a much better option! 
Tips for Finding an Apartment in Chiang Mai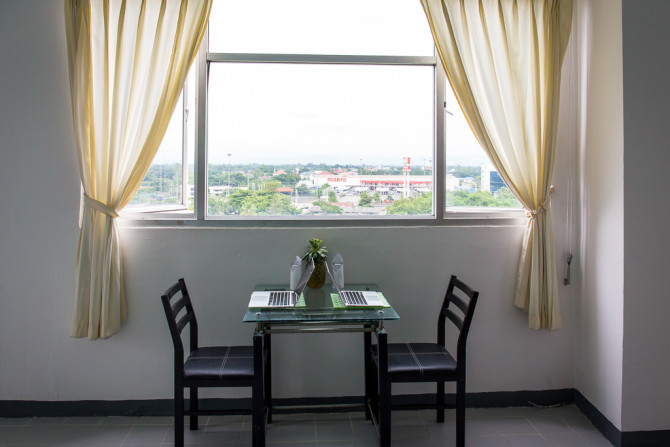 Airbnb
Airbnb is a great choice to get an idea of the areas you are looking for and what type of condos you can find. We found that we could sometimes get about half of the price they were asking online. When we inquired about our first apartment on Airbnb, the manager picked us up and took us to look at the apartment. It was really simple and stress-free.
ThaiApartments.net
We checked out a few places online from the website Chiang Mai Thai Apartments. Once we had a general idea of what the condos were like, we wrote down a few and drove by to check them out in person. Also, Chiang Mai Buddy is a great online place to look as well.
Ask Other Travelers You Meet
The best way to get good ideas is to meet other travelers and ask them about their accommodations. Likely they will have gone through the same search you are in right now and can point you in the right direction. We know a few couples who rented a house and room together so they can share the cost. It never hurts to ask on Facebook Groups in the area if anyone is looking for roommates or if they know a good cheap place to rent.
Local Facebook Groups
Facebook is so great for connecting with other people and Chiang Mai is no exception. There are tons of FB groups with lots of people willing to share their experiences. Often someone will have already asked the question you have and all you have to do is read the answers! It's a great way to connect with other travelers and become part of the community too!
Some of the FB Groups we belong to:
Chiang Mai Digital Nomads
The Break Room by Chiang Mai Digital Nomads
Chiang Mai Buy, Sell, Swap (great for buying things you need for your new apartment!)
Chiang Mai Foodies
Chiang Mai Events
Ride Around On a Scooter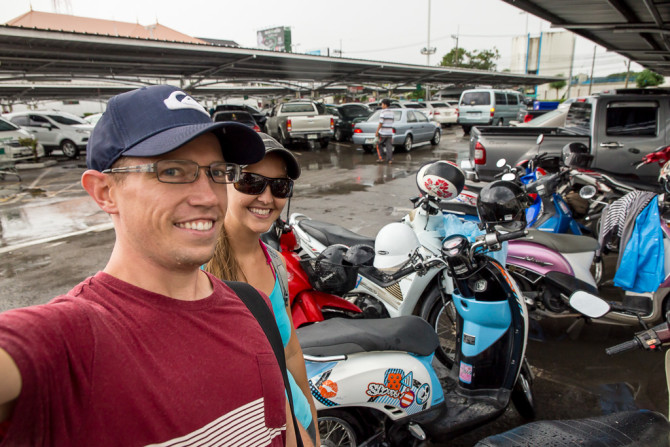 Often the "super killer deals" don't have a website. You can research all you want but until you go visit a few by driving around you won't find the deal you are looking for. We had a lot of places picked out from our research online but one day we came to the Nimmanhaemin area and drove around until we found something that fit everything we were looking for.
Most places have huge advertisements on the front of the buildings which makes it much easier to know what's for rent! Renting a scooter for the day is easy and a fast way to get around!
How Much Does An Apartment in Chiang Mai Cost?
As always, you pay for location. If you are looking for just a simple room (hotel style) you can expect to pay anywhere from 4,500 – 6,500 baht ($128-$185) a month. You can find these prices around the Old City and in the Outskirts.
If you are looking for a bit nicer place where you have access to a pool, gym, kitchen, etc. you can expect to pay anywhere from 8,000 – 20,000 baht ($228-$571) a month depending on your style and level of luxury. This would be typical for a place in the Nimmanhaemin area and inside the Old City.
Most places don't include costs for electricity, water, or internet, so make sure you ask what their rates are.
Pro Tip – Apartments usually offer discounts for leases of at least 3-6 months, so be sure to plan ahead if you think you'll be in Chiang Mai awhile.
Our Apartment Costs in Chiang Mai:
Apartment outside the Old City on the east side of town (SR Complex) cost 8,000 baht ($228) a month with pool, gym, microwave, TV, hot water, refrigerator, breakfast, living area, balcony, air-con, and king-size bed.
Apartment by the University (Silverpark Mansion) cost 4,500 baht ($128) a month plus ~1,000 baht ($29) extra for utilities. It's a hotel-style room with a king-sized bed, balcony, air-con, TV, hot water, and refrigerator.
Apartments To Consider While Searching:
This residence appealed to us the most since we were interested in a decent sized place with a gym. However, they required a 3 month contract and seemed to nickel and dime you for every extra thing (including the gym) so we lost interest. If you know you are staying 3 months, this is a great option for a simple room with pool and gym access close-by. We didn't choose them since we weren't ready to commit to a long lease right away.
A little bit more on the luxury side but a good choice in the Nimmanhaemin area. We were quoted 10,000 baht ($286) a month and were not too interested since we were coming from SR Complex where we knew we had a much larger place for cheaper. The rooms are 27 sq. meters. No gym either, which we were really wanting. However, it is a very clean complex with a really nice working area and coffee shop on the bottom floor. Worth looking at, especially if you want to be close to the mall area.
A quaint hotel with lots of frill but close to the action in Nimmanhaemin as well. They have options for larger rooms here which is nice. If you have a higher budget you can choose a Deluxe Room or even a Standard that comes with full cooking supplies and kitchen. Prices are around 5,000-20,000 baht ($143-$571) a month depending on the room. They require a 3 month contract but you can stay only 1 month for an extra 1,000 baht ($29).
Siriruk Apartment (sometimes spelled Sirisuk)
A simple hotel-style room with no kitchen, just a refrigerator. They have an older building and a newer building that is very nice. The rooms are simple, but for as low as 3,000 to 5,000 baht ($86-$143) and close to the action in Nimmanhaemin, it's a great deal! A friend of ours stayed there so that's how we found it. A lot of other travelers stay there so sometimes they can be booked full!
Simple hotel-style rooms with a nice view of the Wat Suan Dok temple. It is the same price for 1-3 months, and a discount for a 6 month contract. We chose to stay at this complex because it was nearby where a friend of ours lived. Although we really wanted a place with gym access we decided it was a great budget option to settle down and work. There is a great coffee shop right outside the complex (Uncle Coffee) so that makes for some productive work days! Prices around 4,500-5,500 baht a month for a room with A/C.
P.T. Residence at Nimman
A nice luxury apartment with a gym and larger rooms. If you are looking for a very comfortable apartment, this is a great choice for a pretty decent price! Around 7,500 to 30,000 baht ($214-$857) a month this is a super deal for what you get. Right along the main road with lots of massage shops, yoga studios, and healthy restaurants nearby.
SR Complex
If you don't mind being away from the main attractions in town, this is a great budget option for a huge room, pool, and gym! This apartment complex is close by to a lot of TEFL schools so often you will find lots of students staying here. It is a great place for connections if you are teaching English.
Around the Maya Mall Area
Head to the other side of the Nimmanhaemin area to check out some apartments near the Maya Mall. We weren't interested in that area since it was far from where we wanted to be, but know several other people who stay there. The Maya Mall has an awesome work space as well as being close to Tom Tom Coffee Shop which is open 24 hours. If you are looking to network, hang out, and meet new people, this is a great place to be located.
Questions to Ask
These are some great questions to ask the front desk when inquiring about monthly rentals.
Do you rent by the month? Are there a minimum number of months required?
Is water, electricity, and wi-fi included?
If not, how much do each of those cost and how much does a typical person usually spend in a month for utilities?
Is there air conditioning, microwave, and refrigerator?
Do you have a pool or gym?
Do you require a deposit?
Is room service included? How often a month?
Is the room fully furnished? Is bedding included?
Is the wi-fi fast/reliable?
Finding an apartment can be a huge task because there are SO many to choose from! We hope these tips for finding an apartment in Chiang Mai helps you get some ideas and prepares you for your scouting!
Let us know your favorite apartment find! Hopefully others will share their ideas/finds here to help out those of you coming to Chiang Mai for the first time! Good luck!
Check Out These Posts Next!