We finally made it to Bolivia! Rejuvenated from our search for US dollars to leave Argentina, we were anxious to see what Bolivia had to offer to us. We found Tupiza to be the perfect jumping-off point for our journey through Bolivia.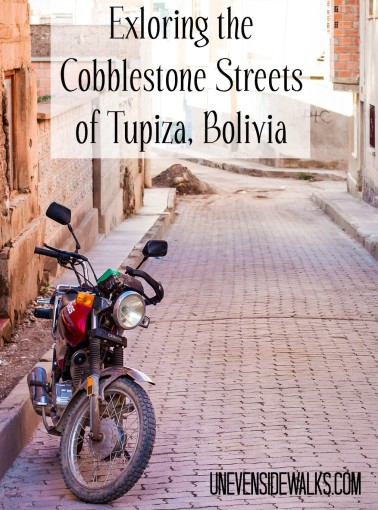 Tupiza, Bolivia – A Perfect Jumping-Off Point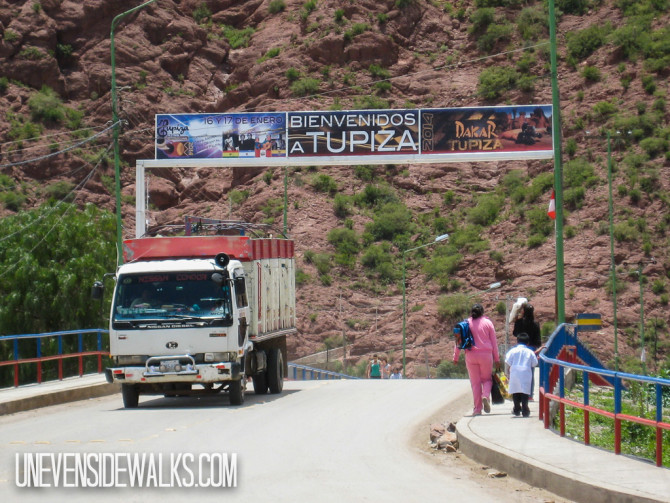 Tupiza is a friendly, bustling city of 25,000 people, but still keeps close ties to its indigenous roots. Most of the women still wear traditional dresses and colors, and everybody chews coca leaves. The majority of people either work in tourism or in the mines nearby.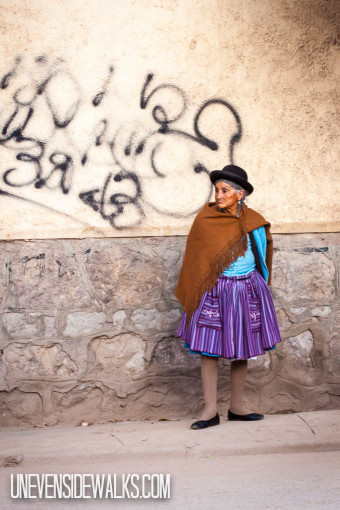 The city was very safe during the daytime and easy to find our way around town. We even checked out the big market a few blocks north of the main park to find a sewing place to fix some clothes and reattach Alyssa's backpack strap that had broken off.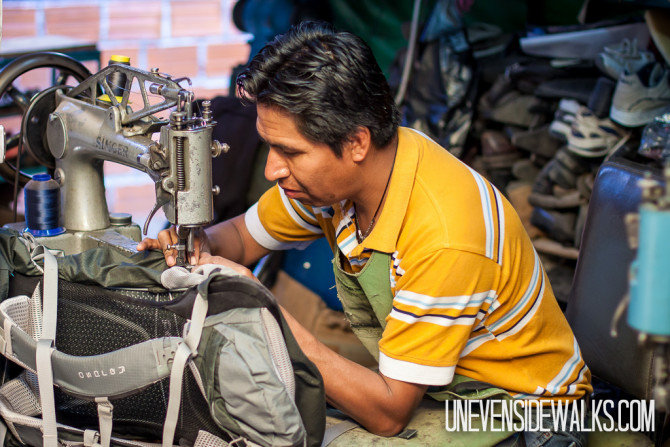 They use cactus wood to make cool looking furniture and intricate carved animals.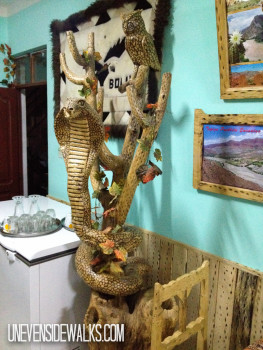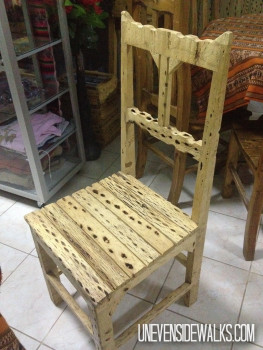 And, we had the first of many amazing pizzas during our time in Bolivia! Bolivia has some gooood pizza!
Important ATM Tricks for Tupiza!
We saw at least 3 ATMs around the park that will shell out dollars or bolivianos. There are 2 tricks you need to watch out for! (Also keep an eye out for some good ice cream places!)
Trick #1 – "Chip" ATM Cards
Some ATMs have a note saying that if your ATM card doesn't have a "chip" imbedded into it, the ATM will eat your card. Game over. The ATM on the west side of the park had this sign, but a few others worked fine with my non-chip debit card from the US.
Trick #2 – Choose Spanish as the ATM Language
If choose Spanish, it'll let you pull out the normal ATM limit of $300-$700 (or more?), but if you choose English, it'll limit your withdrawal to about $70 (500 bolivianos).
I didn't believe it when the tour guy told me this, so being an engineer I had to test it out. I tried pulling out $300 in bolivianos using English and it declined my card. Then, I tried the same thing in Spanish and it worked fine! Imagine all the $3 bank fees adding up as someone pulls out $1000, $70 at a time! That's 5 times more bank fees that this Bolivian bank gets to collect. Tricky!
It didn't bother me because my international debit card doesn't charge me a fee anywhere I travel, but I wanted to test it out to have accurate info for my readers.
Tupiza Tours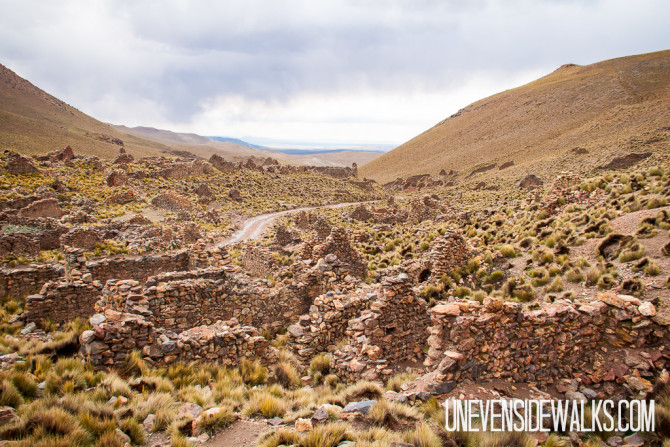 There are tours for almost everything you can think of leaving from Tupiza. The tour companies offer everything from hiking and horseback riding day trips to week-long jeep tours.
The Salar de Uyuni (Uyuni Salt Flat) Tour is by far the most popular, followed by horseback riding and trekking. Close to Tupiza, the best places to see are: Puerta del Diablo, Valle de los Machos, Cerro Elefante, and Cerro Cruz.
They take people on jeep tours all through the mountains, and even up to Potosí and cities way in the north. Their culture breeds exploration, so I'm sure they have hundreds of places to see within a day's drive of Tupiza.
Salar de Uyuni Tour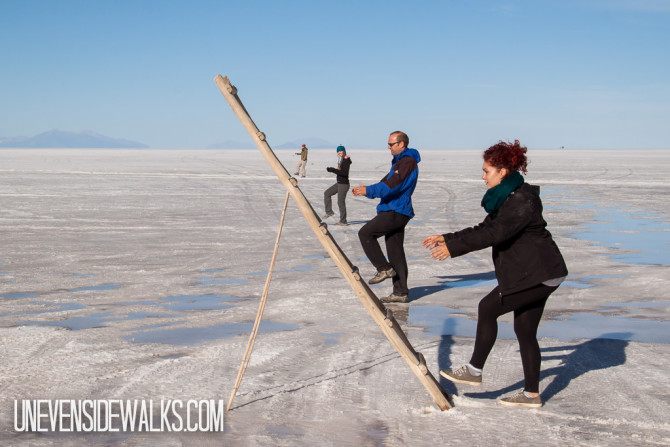 The Uyuni Salt Flat Tour was one we knew we wanted to do, and decided to go "backwards" on the route, leaving from Tupiza. It was amazing!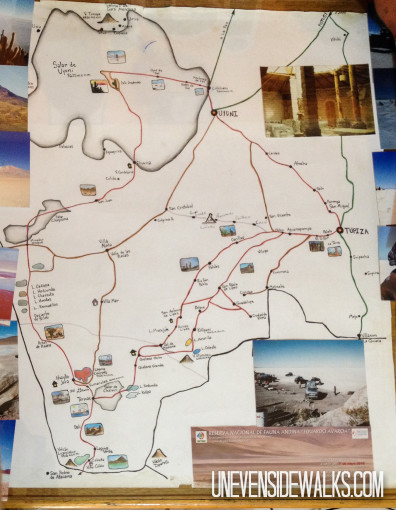 We visited just a few tour places before we realized that they all had the same story, same route, same trucks, and similar prices. We decided to go with the popular opinions from TripAdvisor and chose Torre Tours.
Read more about how we chose our tour company here.
Horseback Riding Tour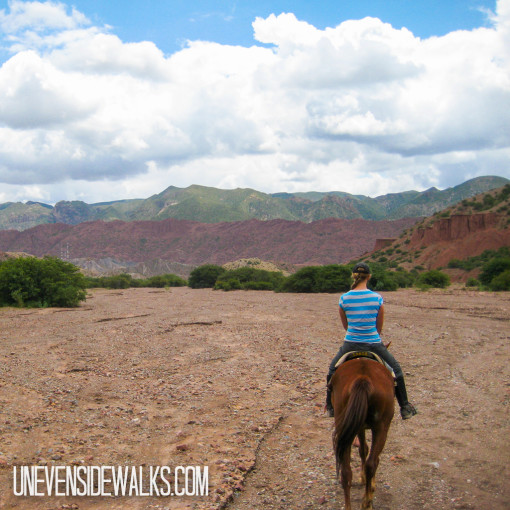 We needed to wait a day or two to acclimate at the elevation, so we went on a horse riding tour up a beautiful canyon to see the Puerta del Diablo. It cost about $30 per person, and we even got chaps and a helmet to wear!
(Our guide got too many red X's when he made us walk a mile back to town after the tour, so we don't have anybody to recommend for this tour.)
Mirador Cristo Hike
We walked across town and up the hill to see the Jesus statue that overlooks the city. It gives a stunning 360 degree view of the colorful red hills surrounding the town. The sounds from the city wafted up the hill and from the top we could hear kids practicing in a band for the upcoming carnival.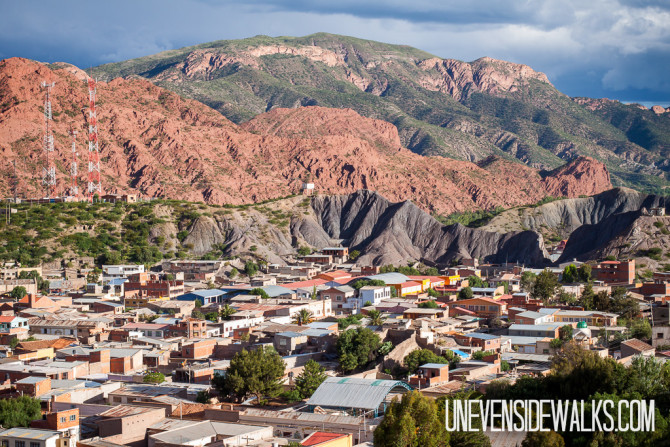 The route to walk there goes down some lonely alleys, so don't go alone or at dusk. Take your time walking up the hill – the elevation makes everyone a bit more wheezy!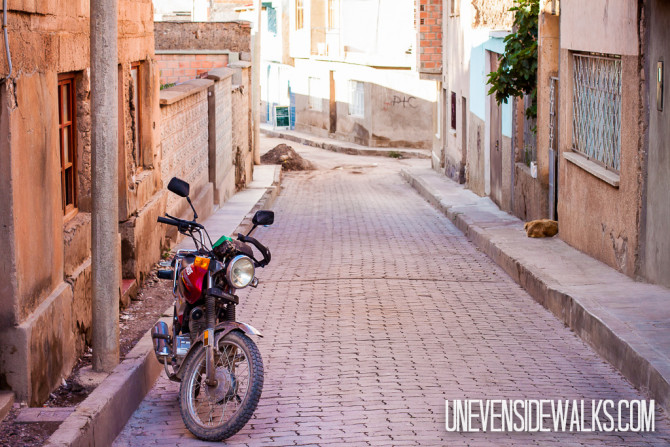 Tupiza Elevation – The Hardest Part
The toughest part of traveling through southern Bolivia is the super high elevation. It affects everybody differently, from being light headed and dizzy to getting bad altitude sickness – blowing chunks and not being able to move. Quick travelers don't have enough time to get accustomed to the thin air and often get altitude sickness the worst! You feel invincible until your head starts spinning…
Tupiza is at 9,500 feet, and it goes up from there! We even spent a few days acclimating, and Alyssa still had a pretty rough first day on our Salt Flat Tour.
Adjust to the Food
Also, it's a good idea to get used to the food for a few days before heading out on a multi-day tour because there aren't many bathrooms out there!
The first day we arrived, we saw a cow get unloaded from the back of a pickup – we sort of had to accept that meat arrives in a restaurant or market after being carried on some guy's shoulder a few times. Oh well… It works for them, so it can't be too bad for us.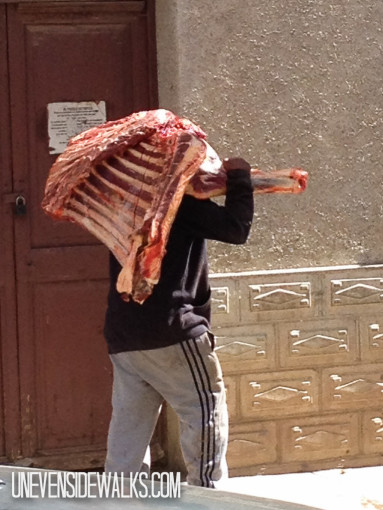 Getting to Tupiza from the Argentina Border
Most tourists stop at Tupiza on their way through Bolivia, so everyone will point you in the right direction. From the Villazón border crossing, Tupiza is the first major city – about 2-3 hours by bus to the north.
We thought about taking the cheaper train so we could see more of the countryside, but everyone said it took twice as long and the track was really bumpy. Let's just say the train track was so bumpy and deformed I thought it was abandoned – until I saw a train clunk by on it!
Take it easy a few days in Tupiza to adjust to the altitude, then head for the hills!
Leave a comment if you passed through Tupiza!
Return to the Bolivia Itinerary Page