Walking up to a place where you immediately hear things like "Are you feeling nervous?" "I'm kind of scared." "I hope I don't get eaten!", should put up warning signs. That's not the typical eavesdropping conversations you hear among other travelers.
Unless you are in Chiang Mai, Thailand visiting the Tiger Kingdom.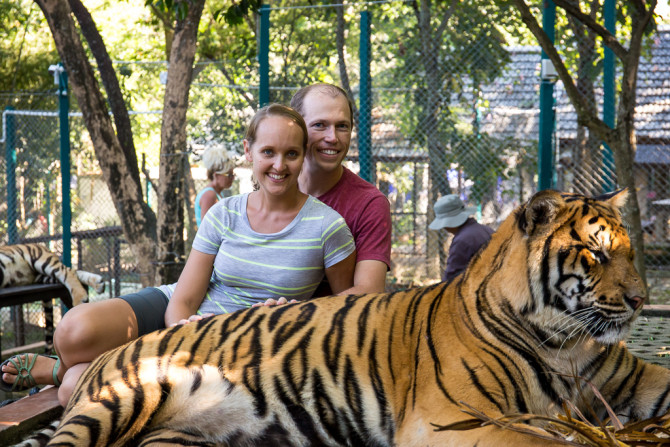 What is Tiger Kingdom?
Tiger Kingdom is an animal encounter experience, similar to a zoo where tourists can get up close to huge tigers to take photographs, pet, and interact with them. The idea of playing with tigers makes this place a number one activity for many tourists! The Tiger Kingdom is also controversial attraction because of accusations of drugging the tigers and concerns for their overall welfare.
Making the decision to visit Tiger Kingdom was out of curiosity. I mean first of all, getting up close to a tiger and petting it, How cool! We're all human here – being able to do something like that is obviously a once in a lifetime experience! Second of all, we wanted to see for ourselves. Are these tigers mistreated? Many people tend to blow things out of proportion and we felt we should find out what we could from our own experience. How else can we inform people on our blog if we can't make our own conclusions?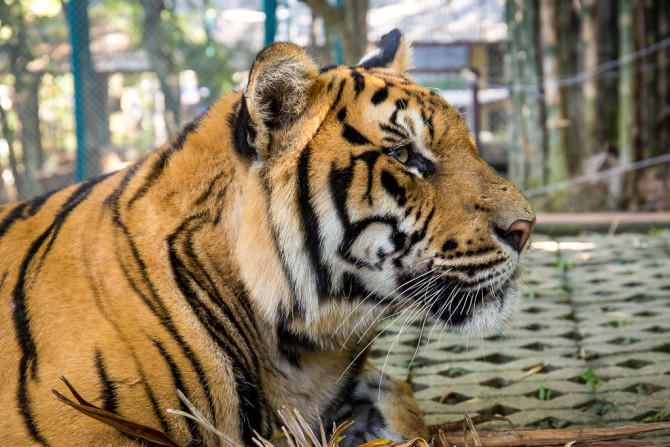 Since this is sometimes a controversial topic, I'm not going to delve into the depths of both sides. It's like anything in life, people are always going to have their own opinions and do whatever they want. I do believe that a supportive thing we can do is to shed some light on these types of activities to help promote safe and responsible tourism. Obviously, if an animal is in danger or harm I will encourage people to not support that company by going there, but that's not what we observed during our visit. Here's our experience at the Tiger Kingdom.
Getting to Tiger Kingdom
Some friends of ours were visiting us in Chiang Mai and wanted to see the tigers so we decided it would be a good time for us to go too. Knowing that baby tigers were there was an easy way to convince me!
We rented motorbikes for the day and headed out early in the morning to see Mae Sa Waterfalls, a 10 level waterfall, deep in the jungle. It was the perfect morning. There are so many attractions in the Mae Sa area and we soon found ourselves wandering around the hill tribe villages, getting kissed by cobra snakes, and making Elephant Poo-Poo Paper! It seemed like a really full day but we were all so curious about meeting the tigers that we knew our day wasn't half-way over!
Directions
To get to the Tiger Kingdom head north on Hwy 107 until you reach the 1096 and turn left. You should see big signs for it right away. Turn right along the canal road and you'll see Tiger Kingdom on the left. Also, if you're not keen on driving yourself, any red truck taxi in town will take you there.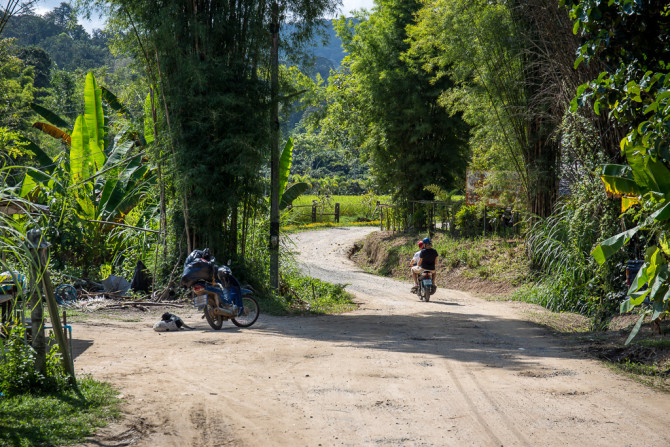 When we arrived, we had to decide which tigers we wanted to visit. You can choose the smallest, small, medium, and big tigers or a combination of a few to visit. Each individual tiger encounter costs around 500-700 baht ($14-$20) or a combo package to visit three different sized tigers costs around 1,500 baht ($43). You can pay extra for a photographer but if you have friends with you, that's fine too!
It's one of the more expensive things to do in Thailand besides an elephant encounter but no one seemed to mind because the place was packed!
Tiger Encounter
Once we entered the park, we were stopped in our tracks by the three adorable baby tigers running around and tackling each other. They were nipping on each others ears and hiding behind walls to jump out and scare the other ones. I think we stood there for a good 30 minutes watching them play. It was precious! Their enclosure was so big, I was very impressed! They even had a huge swimming pool to get wet in! It was adorable to watch the keeper try and put one in the water. He sure didn't want his little paws wet.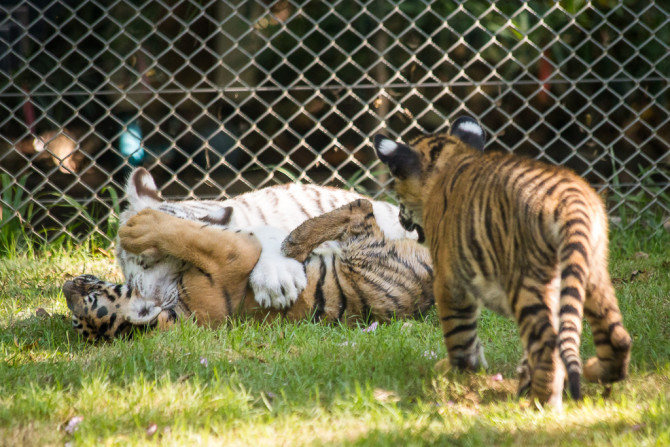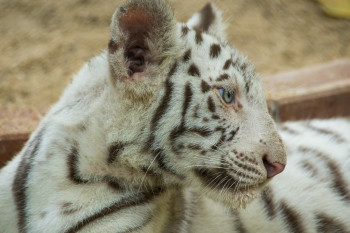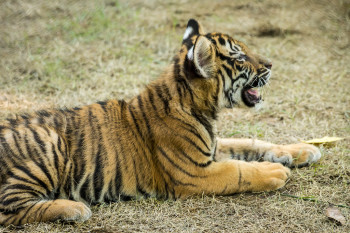 Then we arrived at the big tiger's enclosure. We waited our turn and then nervously smiled at each other before stepping inside. Inside were three big tigers. One tiger was walking around the other group of visitors showing off his beautiful fur. The other tiger was trying to catch the bamboo leaves the keeper was teasing him with. The last tiger was sleeping away with an occasional yawn. 
Once we got comfortable enough to approach the tigers, it was amazing how big they were! The tail alone weighed so much! The fur was gorgeous and surprisingly really rough to the touch. Their huge paw pads felt like leather and were so smooth!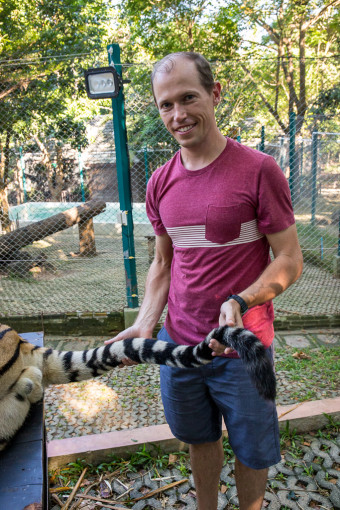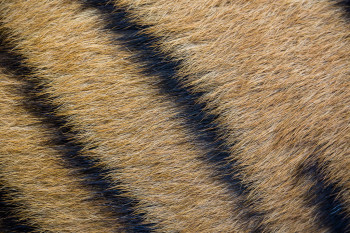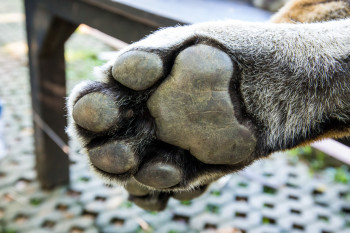 The keeper was always close-by making sure we didn't touch the tiger on the head or put our hands in front of him. We petted them, took pictures, and marveled at their muscles we could feel as we petted them. At one point, the big sleepy tiger gave a huge yawn showing off all his sharp teeth. Yikes!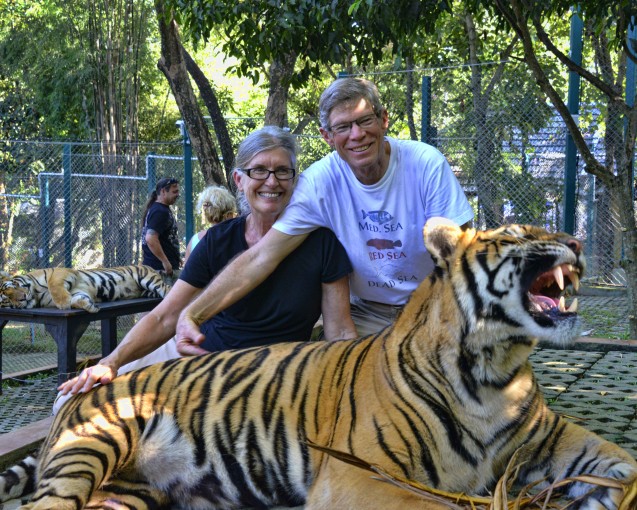 Tiger Welfare
Now does that picture above look like a drugged tiger? When you are that close taking the picture, no way José! 
Tiger Kingdom denies all of the drugging claims and researching online didn't make it seem that anyone has direct evidence that the tigers are being drugged. We were keeping a close eye out for anything that seemed out of the ordinary but overall we were pleased. Most of the tigers were active, playful, and seemed content. 
I haven't ever been to a zoo where the tigers were "active". Really, thinking back on my previous zoo experiences, most of the animals are usually sleeping, laying down, or resting. So for me, this didn't seem any different. The enclosures are really big. Bigger than any other zoo I've seen. They have big pools of water to swim in, big open areas to run around, and belly rubs all day long!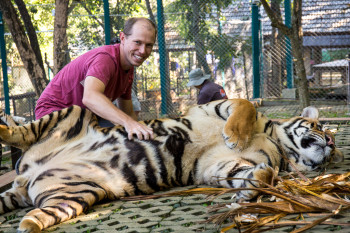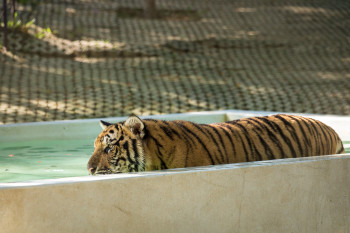 I can't say 100% that the tigers were not drugged but there was nothing there to confirm or deny that. I didn't leave here feeling any different than I do after visiting a normal zoo. Just a bit more excited because we were actually able to touch the tiger!
I encourage you to go and see for yourself. For us, it seemed like the tigers were well cared for, well fed, and not abused in any way. I respect the opinions and decisions others make regarding a visit to the Tiger Kingdom but I was glad to have the first hand experience to make my own opinion.
Have you been to the Tiger Kingdom? What did you think?
A special thanks to Tiger Kingdom Chiang Mai for this unique experience!