It's here!
Well? How do you like our new website design!?
I'm really loving the fun feel to our new site! Our team has been working hard on this long overdue design the last few months. It's much easier to navigate and has all the most popular pages right up front. Our designer did a great job with the color schemes and styling!
And to kick it off, we are offering an awesome giveaway for our readers!! A 18×24 Vintage World Travel Map! 
Just look at this adorable map that could be all yours if you win!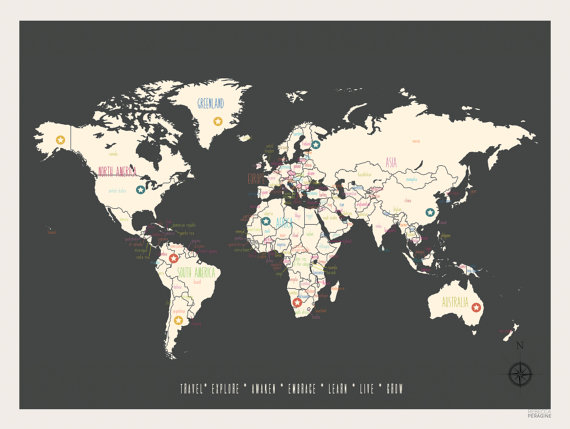 Anna and Rebecca are two friends who love to travel so they created an ADORABLE little Etsy shop together and website. We feel extra special because Anna lives in Costa Rica just like us! (Or I guess did but it's still so new it hasn't felt like we've left yet!)
It's amazing to see how teeny tiny Costa Rica is on the map. Once you look, you realize what a huge world we live in! I love world maps to help remind me how much is out there still waiting for me to explore it!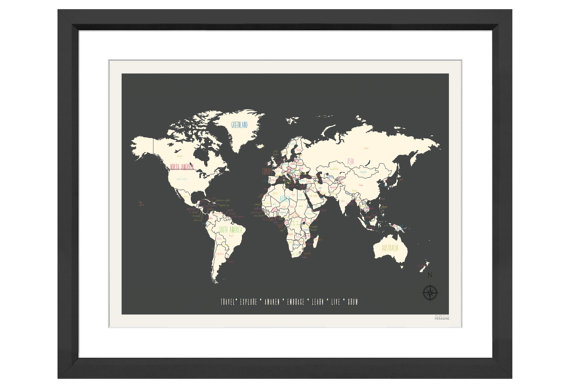 Kindred Sol Collective is the name of Anna and Rebecca's Etsy Shop where they specialize in all kinds of global art, typography prints, and handmade textiles. It's so addicting looking at all their crafts – beware! Their website Children Inspire Design is just as adorable! What a great idea to encourage global thinking even for kids! I can just imagine our next home (when we stop moving around so much!) will have so much global art. We both just LOVE it! You can also check our their things on Instagram @childreninspiredesign
Enter Here for Your Chance to Win!! Good Luck!
A special thanks to Anna & Rebecca at Children Inspire Design & Kindred Sol Collective for this great giveaway opportunity! As always, all thoughts and opinions are my own.