Tourists, expats, and entrepreneurs living in Chiang Mai, Thailand with a tourist visa have to leave the country every few months to renew their Thai visa. The cheapest and easiest way to do this is to take a trip to Laos, the friendly neighbor to the North. We just returned to Chiang Mai after a bus trip to Vientiane, Laos to get our new Thailand tourist visa, and wanted to share a few details of our experience for people considering choosing this route.
Getting a New Thailand Tourist Visa in Laos – Summary
Cost: We spent $157 per person – includes all transportation, a $35 Laos visa, and a $57 Thailand double-entry visa. During our 4 day stay, we spent another $19 each on food, entertainment, and transportation. Our accommodation was with friends.
Difficulty: Easy, but with a lot of bus/taxi connections
Time: It took us 4 days, 3 nights by bus. Can be done by bus in 3 days, 2 nights with better advance planning (from this post!). To go even faster, take an airplane from Chiang Mai to Udon Thani to cut out that bus leg and save a few hours each way.
Summary List of Events:
Take an overnight bus from Chiang Mai to Nong Khai

or fly to Udon Thani and take a bus to Nong Khai

Tuk-tuk from Nong Khai bus station to Friendship bridge
Go through Thai border exit lines and get stamp
Take local bus across the bridge
Fill out Laos Visa Application and Pay for Visa
Taxi/bus to Thai Embassy in Vientiane
Grab a queue card first (application drop-off between 8:30-11:30am)
Fill out application and submit your passport and all papers/copies
Return the following day (from 1:30-3:30pm) to pay and pick up passport with new Thai Visa
Taxi/bus back to Thai border
Exit Laos and receive "USED" stamp on your visa
Take bus across Friendship Bridge to Thailand immigration
Enter Thailand and receive stamp activating your new Visa
Taxi from Thai border to Nong Khai
Overnight bus back to Chiang Mai or fly from Udon Thani
Leaving Chiang Mai by Bus to Laos
We started on the Nimmenhaimen side of Chiang Mai and paid 80 baht ($2) for a red truck to bring us to the arcade terminal #2 on the other side of town. There's two terminals right across from each other, so this one is on the north side of the road (left side if you're coming from the old city).
We got an overnight bus ticket from ticket office #14 for Udon Thani. (We read some incorrect info online that said to take a bus to Udon Thani and then a separate bus to the border town – Nong Khai. We should have just gotten a ticket all the way to Nong Khai to start with.) It cost 750 baht per person and left at 7:30pm (19:30) to arrive at 8:00am the next day. There were many more departure times throughout the day as well.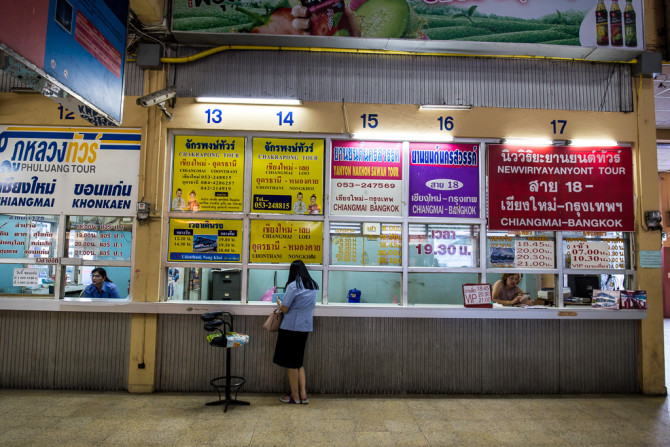 It was a pretty fancy bus with only 3 seats to a row – 2 on one side and only one on the other. The seats leaned way back and we even got a blanket that smelled like soap. You needed it because they cranked the air! WOW, bring ear muffs and socks! What I want to know is how you get enough matching Tom & Jerry blankets to fill an entire bus!?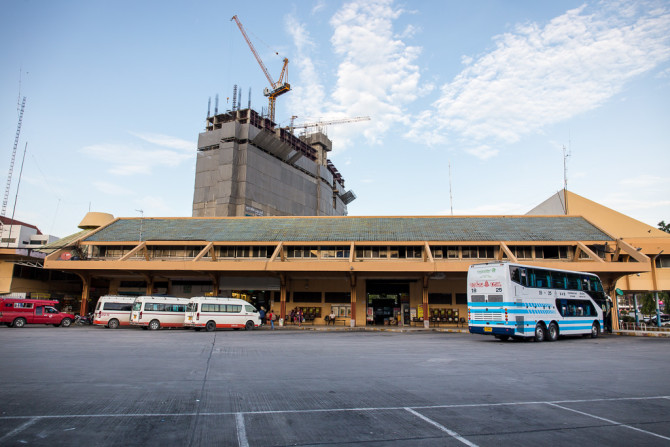 Alyssa was pretty pumped for this bus ride. Here's how one of our conversations went:
A: (humming along to a country song on the bus) I wish they made a thing you could put over your mouth that muted your voice so you could sing as loud as you wanted and nobody would hear you.
Me: They already have that, it's called a pumpkin.
A: What?
Me: Yeah, you cut the top off and scoop all the seeds out. Then you put it over your head and sing your heart out. I've even seen a picture of it!
A: Are you sure, that sounds kind of weird.
Me: It even has surround-sound acoustics for your own little concert.
Sounds like a winner for me, but she's still doubtful…
Bus Ride from Chiang Mai to Udon Thani/Nong Khai – Details
The bus attendant passed out supper at 8:45pm – rice with chicken sauce, a bread roll, room temperature soy milk, and a bottle of water. Shucks, we were already full from some amazing grilled pork-on-a-stick before the bus left! The food can be spicy, so bring your own if you think 12 hours on a bus after a fiery meal isn't a good idea.
The bus stopped at a few bus terminals in different cities after leaving Chiang Mai- the close ones were Lamphun at 8:15pm and Lampang at 9:50pm. We got to Udon Thani around 8am and figured out that the bus was continuing on to Nong Khai, so we stayed on and saved ourselves a bit of hassle, arriving there at 9:15am.
Thailand – Laos Border
Leaving Thailand – Immigration Paperwork
We arrived at Nongkhai 9:15 am, took a tuk-tuk to the Friendship Bridge to fill out Thailand exit immigration paperwork. It was simple enough, just give them your passport and your departure card that you received when you arrived in Thailand. You'll get your passport back with an exit stamp in it and a "USED" stamp over your old visa depending on which type you have.
Before going into the building, we paid someone in a little sales booth 100 baht ($3) each for 8 passport photos. It was quick and the photos were clear enough, though a bit drab looking. We had brought a couple photos with us, but it was a good time for some extras. We ended up needing 3 pictures each on this trip.
After finishing Immigration on the Thai side, we paid 15 baht ($0.43) each for a bus to cross the bridge and bring us to the Laos immigration office. You can also walk, but it's almost a mile.
Entering Laos – Immigration Office
We got a visa form at window #2 (not #1 like the sign says) and it was the longest form I think I've ever had to fill out! Some guy (who we eventually got a ride into town from) started offering advice on how to fill it out the form and explaining which parts we didn't need to worry about. He was super friendly and helpful, but don't trust people like that too much. He ripped us off an hour later…
We stood in line at window #1 to give them our (mostly) completed visa forms, one passport photo, our passports, and the $35 (or 1,500 baht) visa fee each. Then, we waited around the corner on the right and they gave it back in 5 minutes with a glamorous full-page visa sticker. Thanks for helping me fill up my passport, dudes!
We would have paid the "bridge toll" at the little booth you first come to, but the taxi guy led us past all the lines, through the toll gates, and off to his truck. He had offered us a good price of 200 baht to take us all the way into Vientiane and drop us off at the Thai embassy. We later got scammed when he claimed it was per person. Mental note – always clarify twice if it's for both people (or for an entire group), which currency the price is in, and exactly where you'll be dropped off at. Oh well, we had to pay an extra 200 baht ($6) – better than an extra $60!
There are buses and other taxis waiting outside the immigration area, so choose one that fits your budget and time frame.
Applying For a Double-Entry Visa in Vientiane Laos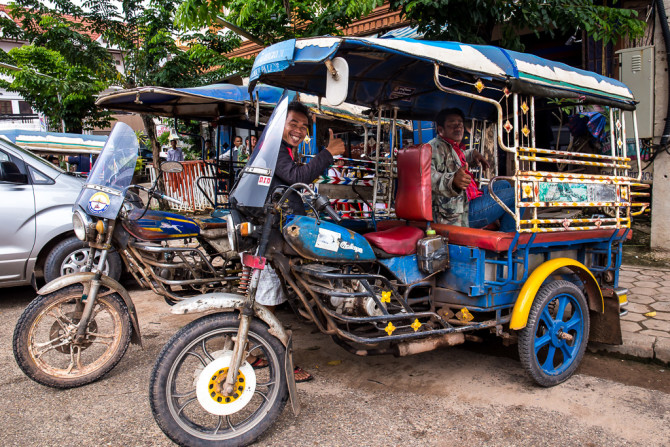 Turning In Visa Paperwork for Tourist Visa Renewal
Most Important Thing: Drop-off time is 8:30 – 11:30am. Get there before 11:15am at the absolute latest and stand in line for a queue card or you won't be able to drop off your paperwork that day. We messed that up.
Our taxi driver dropped us off at the correct "Thai Consumer/Consular" embassy in Vientiane, which is a few blocks away from the normal "Royal" Thai embassy, so double-check your map if there's nobody else around. There'll be people at the entrance will be offering to make copies or print a passport photo for you so you'll know you're in the right place. They're probably ok, but we had our copies made inside the embassy gates, up the stairs to the left for a few baht.
We had gotten there at 11:10am and saw a sign near the entrance that said we could turn the application in from 8:30am to 12:00 noon. Wrong. There were other signs around the main waiting area that listed 11:30am as the end time for handing in paperwork. We filled everything out by 11:35am and missed getting a queue card, so we had to come back the next day to submit our paperwork.
Lesson learned – don't believe every sign you read. 
So, we turned our paperwork in the next day. It's best to get there right when they open so yours is at the top of the pile when they return them the next day. Also, it's important to note that you really have to be there in person to pick it up the next day. If you aren't there then everything gets canceled, including the visa fee, and you have to start all over from the beginning.
Note: For your own record, take a picture of your passport, current Laos visa sticker and stamp – you won't get a receipt when you turn in your passport until you pay the following day. It's a good idea to have something to show in case your passport comes up missing or you get pulled over by police. 
UPDATE: Since mid-November 2015, Thailand has started rolling out a new 6-month visa that can only be purchased in your home country. They have discontinued the double-entry visa, so only the single entry visa is available at all Thai embassies. This is currently evolving, so check for the latest rules that are in effect.
"Photo tour" of the Immigration Area
This is what the immigration area looks like from the front. It gets pretty chaotic when all the seats are filled and a hundred people are standing around. The drop-off line actually winds through the seats, but they call numbers for picking up your visa.
There are forms sitting on a stand near the entrance for you to fill out, and even glue sticks for attaching your 2 passport photos to the application.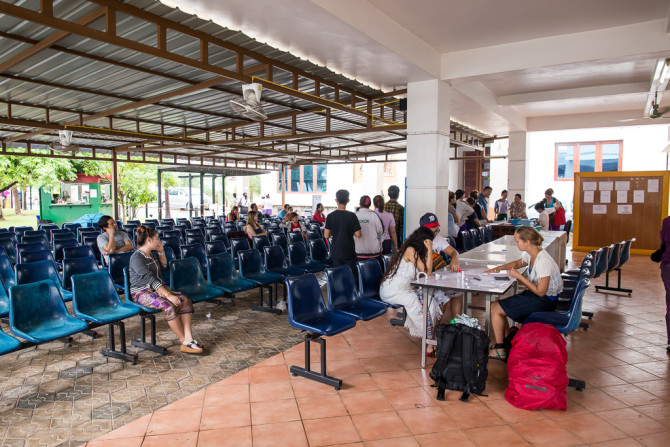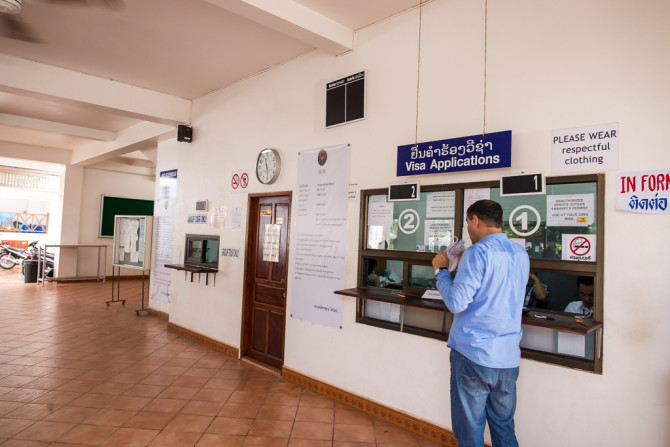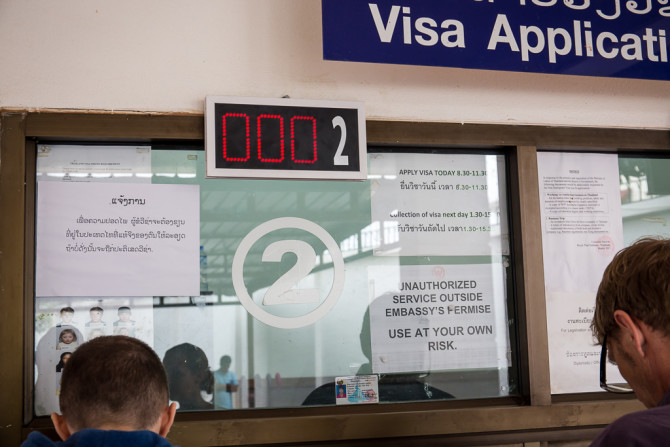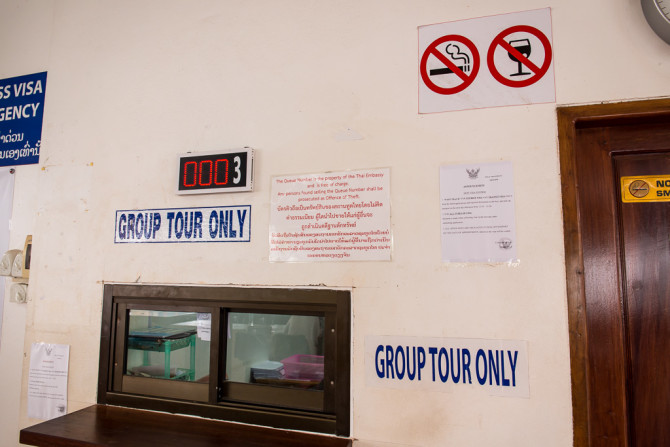 List of Documents For Thai Tourist Visa Application:
Application form
2 color photos (3.5 x 4.5 cm) attached to application
2 copies of passport photo page (signed)
Copy of passport page with Laos visa (signed)
Copy of passport page with Laos entry stamp and Thai stamp (signed)
1,000 baht for single entry visa (2,000 baht for double-entry) paid when picking up completed visa
Blank Thai Visa Form:
Click on the photos to see them full-size.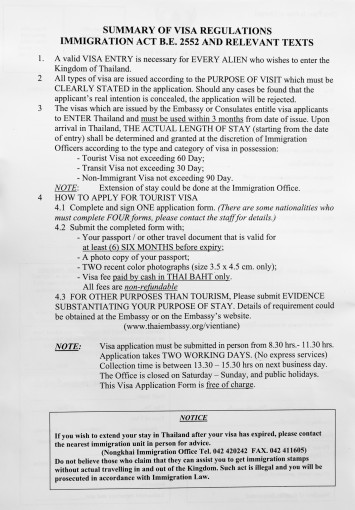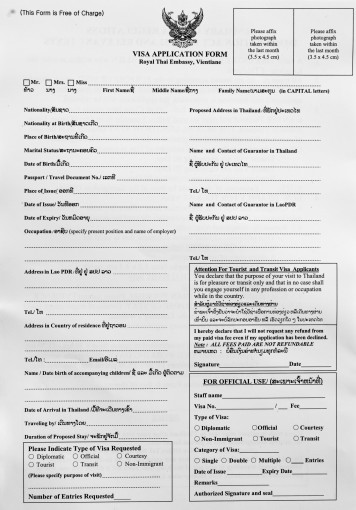 (Visa form may be different since the visa changes in Nov 2015, but most of the information should be similar.)
Visa Signs Around Thai Embassy
There seemed to be a hundred signs along the walls and taped in random places. Take a look – they might answer some specific questions you might have, especially different rules for citizens of different countries.
Click on the photos to see them full-size.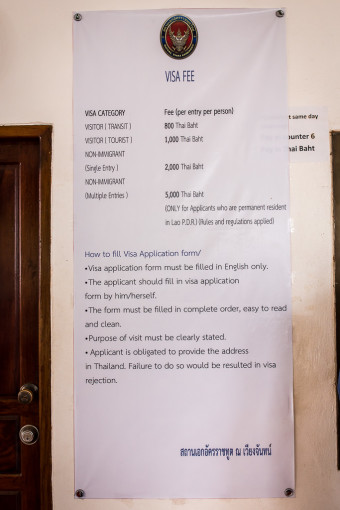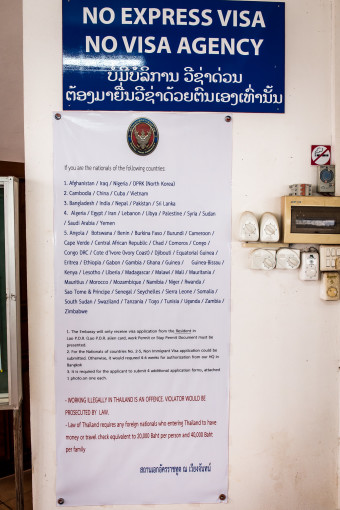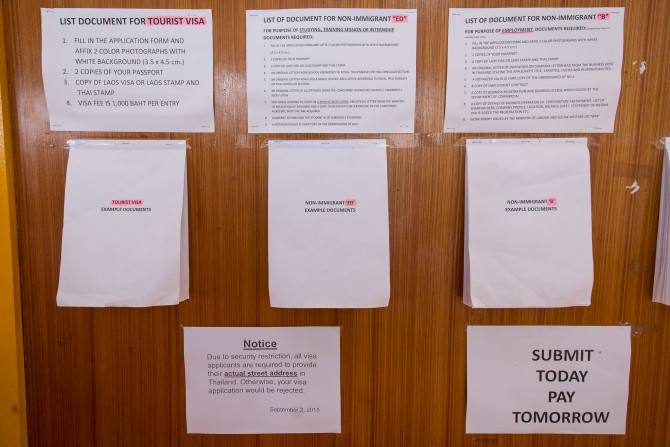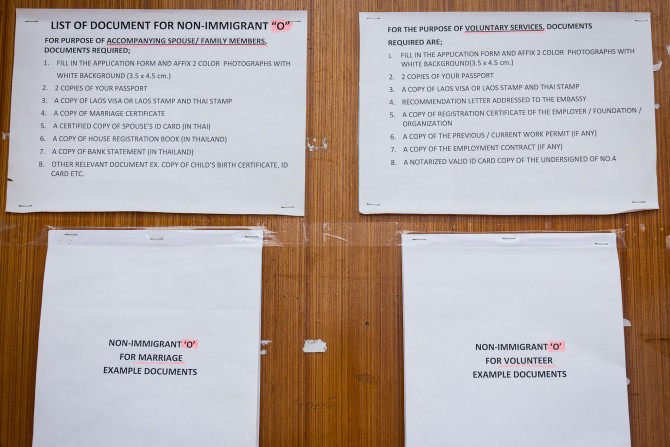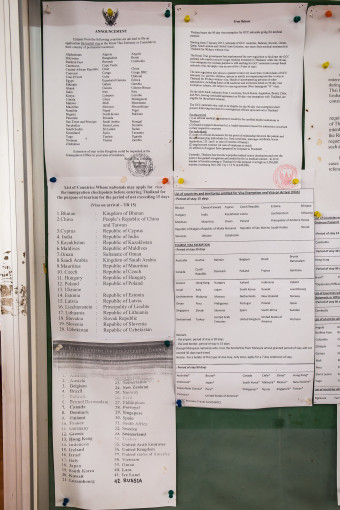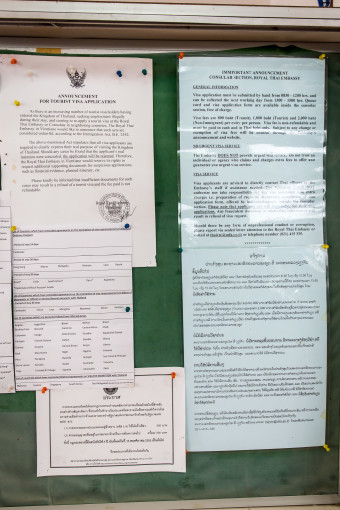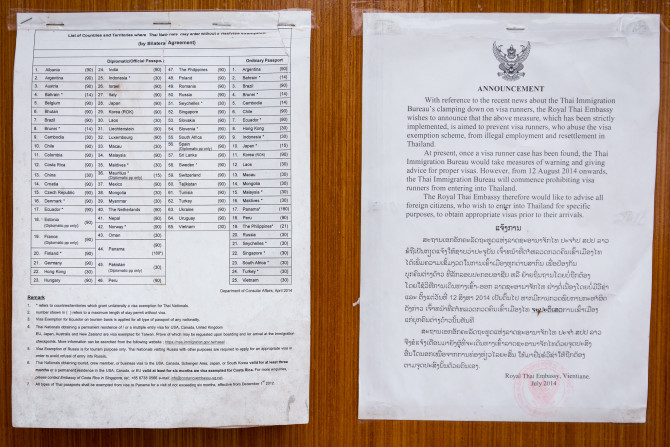 Picking Up Completed Visa Paperwork at Thai Embassy
Most Important Thing: Pick-up time: 1:30 – 3:30pm (but sometimes goes later). They call the visa applications from the prior day in the order in which they were dropped off. (No need to get in line.)
When we showed up, we realized how many hundred people were hoping to get a new visa that day! I thought it might be a first come, first pick-up deal, but nope, they started calling the visas in the order they were dropped off the prior day. We were number 230-something, and it took all the way until exactly 3:30pm (and we missed our bus across the border).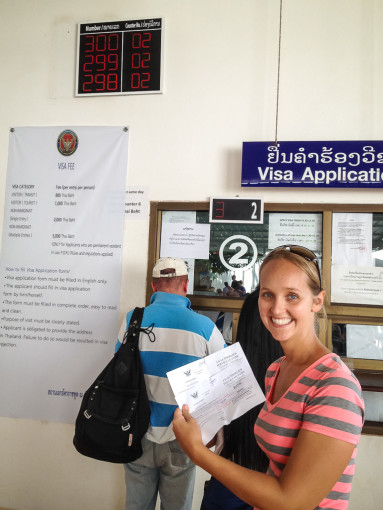 They called our number and we went up to the window on the right side. We showed him our queue paper and paid the 2,000 baht and got our passport with a shiny new new visa in it. (A single entry visa costs only 1,000 baht.) Whew, what a process, but done at last!
Returning to Thailand From Laos
From Vientiane, there are private minibuses as well as regular big buses back to Thailand. We had bought a ticket (15,000 kip/$2) for the regular bus that we ended up not using, bummer but not that bad. So, right after we got our visa, a driver offered us a ride to the border for 100 baht ($3) – each this time.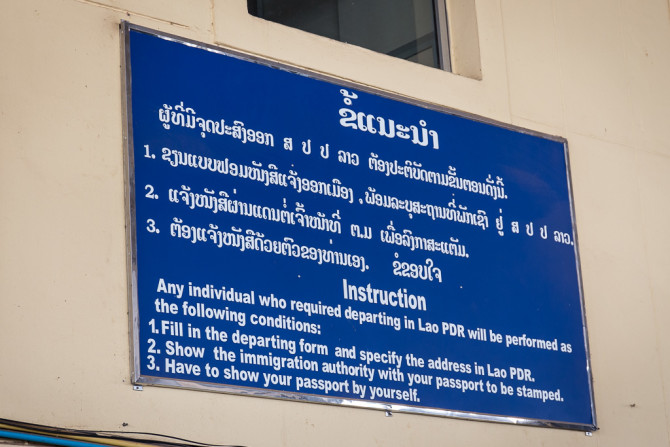 Leaving Laos, we had to fill out a form and they just stamped the visa in our passport "USED." We paid the bridge fee this time and also the bus to cross the bridge. Entering Thailand, we filled out a form, and gave them our passport that already had the new visa in it and got an entry stamp. From there we took a tuk-tuk to the bus station in Nong Khai and got a ticket for the 7:00pm bus for 750 baht each.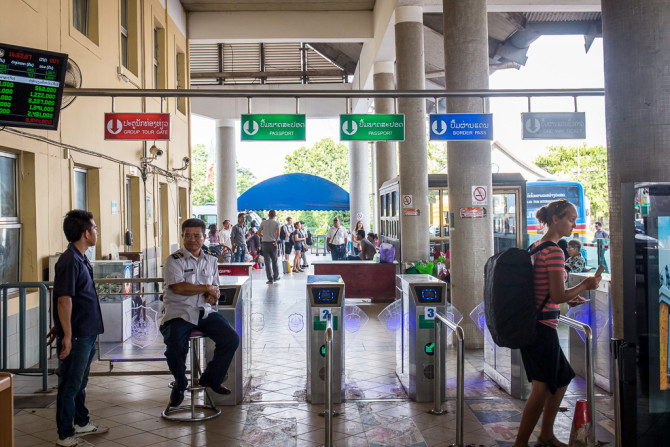 Bus Ride From Nong Khai Back To Chiang Mai:
We left Nongkhai at 7pm. Got supper at 8:30pm on the bus – same food as last time but no milk, really spicy this time though – and that's saying something from me! Arrived in Chiang Mai at 6:45am, and made it back home just in time for breakfast!
It was quite the trip! Fun, but a bit stressful trying to figure out all the border and visa games. Next time we might try to see more of Laos to make the trip more worthwhile.
Good luck with your Thai tourist visa trip to Vientiane, Laos! Let us know how it goes in the comments below or if you learn anything new that could help other travelers!