1. Sunrise at Cape Promthep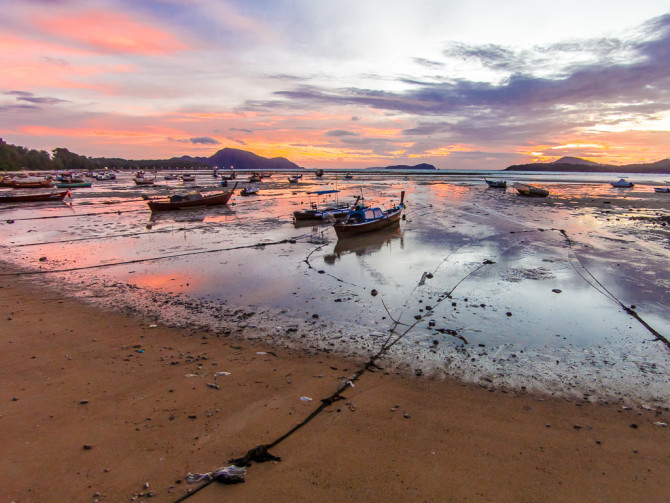 If you rent a motorbike the night you arrive, you'll be all ready to head out early to catch the sunrise the next morning! We stayed at Karon Beach on the sunset side, so we had to drive down to the Cape Promthep to be able to see the sunrise. It was well worth it! If you have time to hike out to the Cape, it would be a fabulous sunrise view! We actually caught the sunrise at Rawai Beach just a bit further down because we were short on time. It was just as nice! Later we hiked out to the Cape and the views were incredible! Don't forget to check out the geocache there.
2. Wat Chalong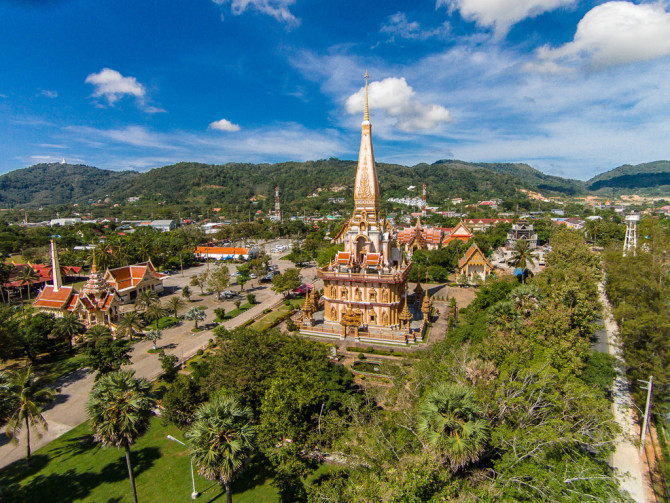 One of the most important Buddhist temples in the Phuket province is Wat Chalong. It's worth a visit to see the unique structure of this temple! It's the first we've seen with such a tall steeple! 
3. Big Buddha for Amazing Views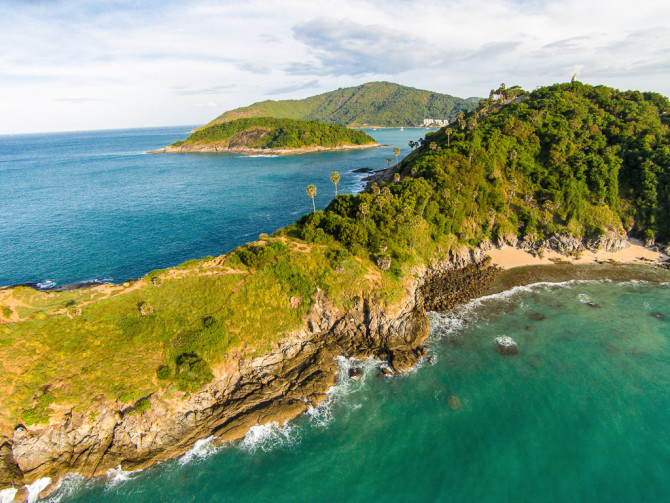 From almost anywhere on the island, you can spot the huge white Buddha sitting on top of the hill. If you make the trip to the top where the Buddha statue is, you can see amazing views of Phuket. The hill going up is steep so make sure you get a decent sized motorbike!
4. Spend the Day at Kata Beach Relaxing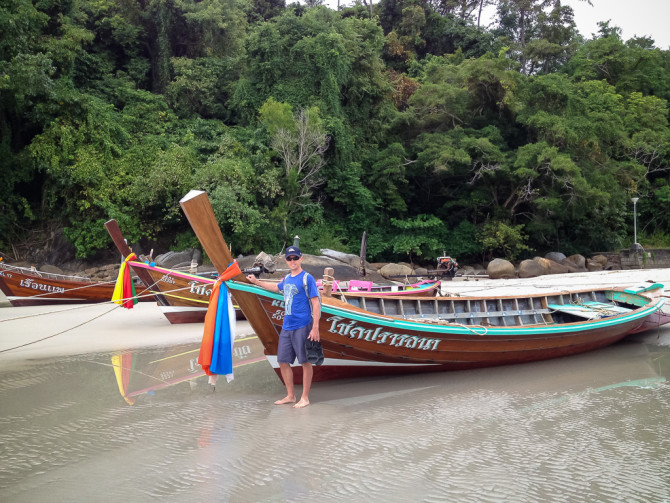 There are so many beaches on the island of Phuket. Where to head to enjoy a day relaxing and snorkeling? Kata Beach. We found it to be the most enjoyable with plenty of snorkeling, white sandy beaches, and a plethora of food stalls to grab some lunch or a smoothie.
5. Karon Beach Viewpoint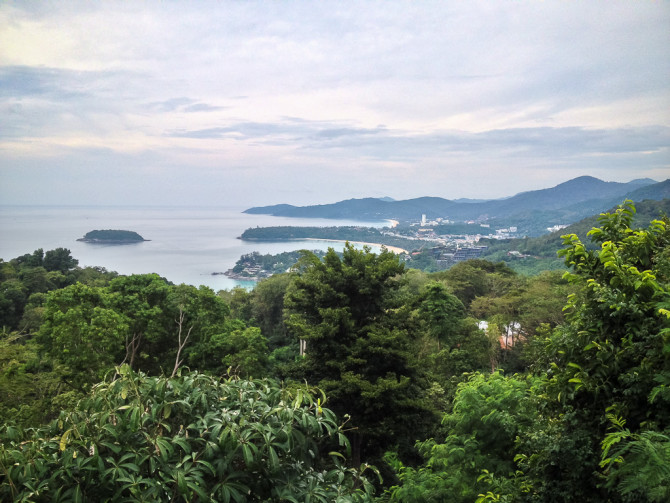 Make your way up the mountain to the Karon Beach Viewpoint with your motorbike. At the top you can see incredible views of all three beaches – Karon Beach, Kata Beach, and Kata Noi Beach. Really stunning!
6. Dinner at the Elephant Cafe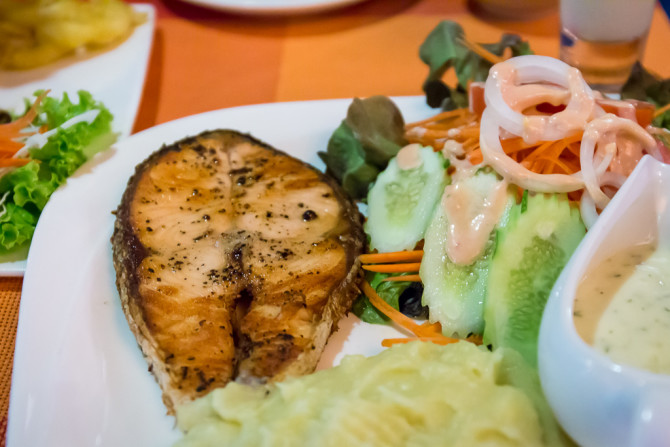 For some delicious sea food, check out the Elephant Cafe in Karon Beach. We had salmon and calamari, both very delicious! We really enjoyed the food and atmosphere. This place was packed so you might need to wait for a table, but it's worth it!
7. Day Trip to Similan Islands or Phi Phi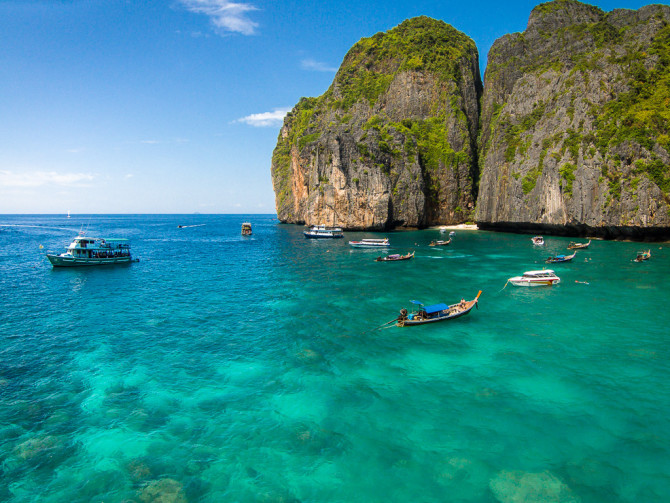 One of the most popular day trips you can go on from Phuket is to the Similan or Phi Phi Islands. While most choose to go to Phi Phi to see the tall limestone cliffs, Similan is also one of the top diving spots in the world which makes for some unforgettable snorkeling as well!
8. Sunset at Karon Beach (+ Geocaching)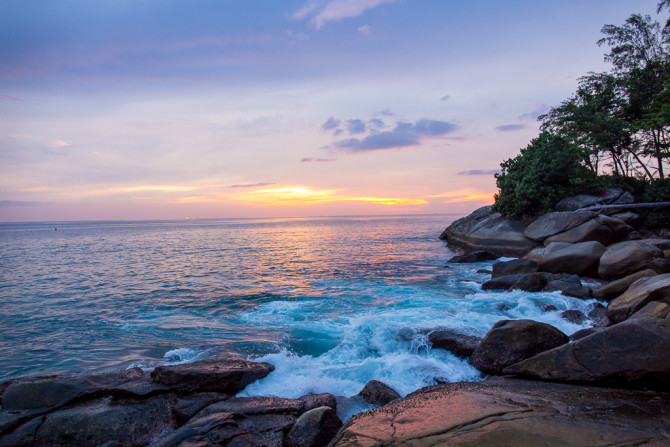 On a mission to find a geocache, we headed to the north side of Karon Beach around sunset. We discovered an off the beaten path leading to the rocky point of the beach. It was the most incredible sunset we'd seen in a long time and we had the whole area to ourselves! Make sure you check out this geocache around sunset!
9. Foot Massage
A foot massage is a great choice no matter where you are! Although, an hour long massage with an included mini shoulder massage for only 300 baht is hard to find in other places of the world! Get your massages while you can!
Where to Stay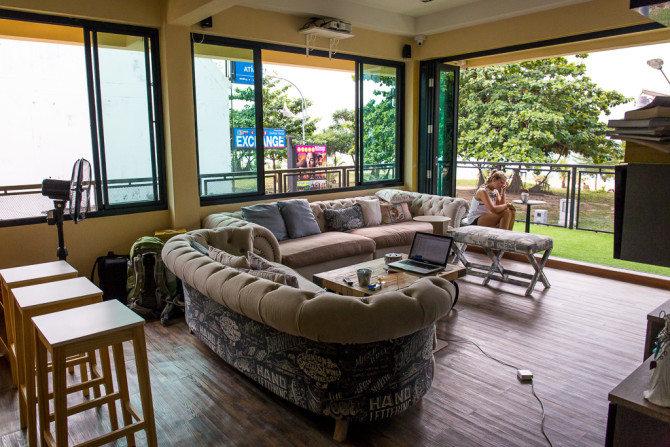 Doolay Hostel
Dooley Hostel in Karon Beach is a brand new hostel with top of the line bedding and common area. We had such a lovely stay there for 3 nights! The decorations are so adorable it makes you feel like you are at home! Each bed in the dorm has a plug-in, shelf, and hooks. Lockers are right next to every bed and the shower is hot! The best key feature about this hostel is it's beachfront location and walking distance to downtown Karon Beach. The owner is very friendly – Make sure you stop by!
Karon Beach is a great place to stay in Phuket because it's only a short drive away from the main action but set away enough to feel more like a homey beach atmosphere. We recommend booking your accommodation in Karon Beach.
Transport
Mini Bus From the Airport:
If you are arriving to Phuket by plane, you can find a mini-bus transfer at the airport to many beaches such as Patong, Phuket City, Kata, & Karon. We took a mini-bus to Patong Beach where we then rented a motorbike. The mini-bus leaves from the airport about every 10-20 minutes and costs 180 baht per person.
Rent a Motorbike to Explore the Island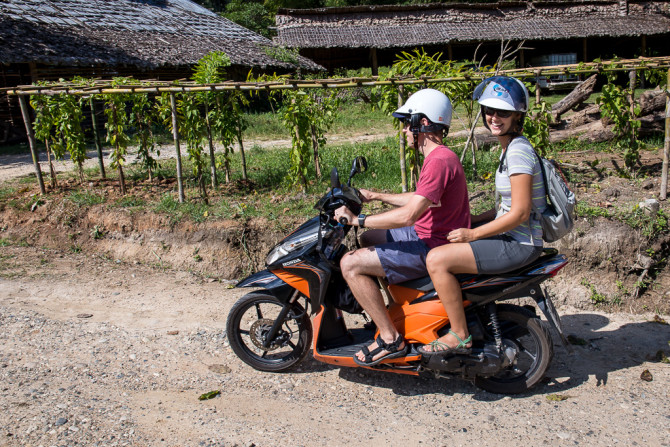 Renting a motorbike was the best decision we made. We could explore the island all over on our own without paying so much for the buses or tuk-tuks. We are not drinkers so this wasn't a problem for us. If you know you are going to be drinking then a red tuk-tuk is a good options for transportation. We drove to our hostel in Karon Beach and then returned the motorbike to Patong Beach. You can expect to pay around 300 baht a day for a nice motorbike.
Taxi
We were able to catch a taxi from Patong Beach to the Pier in Phuket City for 500 baht. The taxi took us all the way to the boat dock. It was just in time for the ferry that was leaving within that hour. The more official looking the taxi, the more expensive it will be. We found one that looked just like an older car for a much better price.
Ferry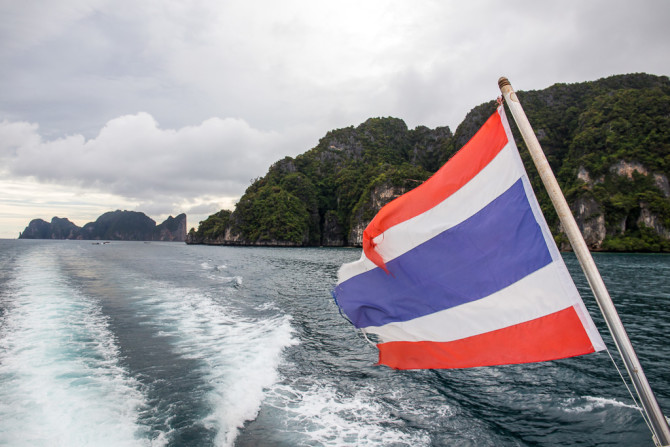 The ferry leaves from Phuket City Pier about 4 times a day depending on the season. You can check online at Go Koh Phi Phi to see the time schedule. You can take the ferry to many different islands including Krabi and Koh Phi Phi Island. The price is around 400-600 baht each. We left on the 2:30pm ferry from Phuket and arrived in Phi Phi around 4:30pm.
We hope this mini-guide to Phuket gives you a good idea of what to see and do while in Phuket! Leave a comment below if you have any questions or just want to say hi! We love your comments!