Not far off the coast of mainland Malaysia lies a cluster of over 100 islands. These beautiful islands known as Langkawi, are stunning limestone mountain islands with white sandy beaches and tons of caves to explore! A trip to the island of Langkawi is perfect for adventure, relaxing, exploring, and fun! One week in Langkawi is the perfect amount of time to see the island and enjoy some activities. Here is a sample itinerary of what we did during our one week in Langkawi! Get ready to plan for the trip of a lifetime with some of these ideas!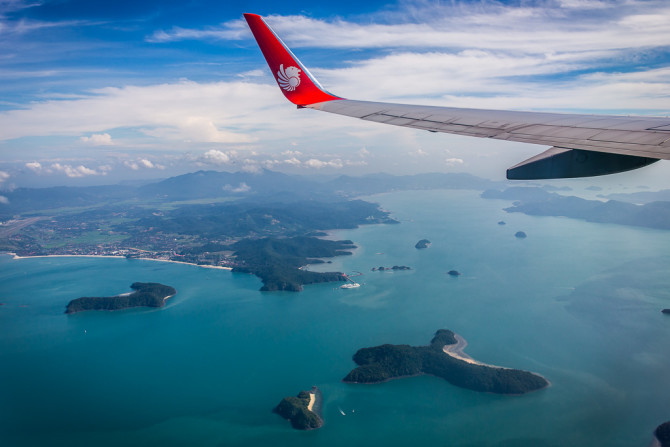 Day 1 in Langkawi – Arrive and Explore
Langkawi has an international airport with flights coming in from all over. Domestic or international, this airport is perfect to get to the islands! If you are coming from mainland Malaysia, you can find some very cheap flights into Langkawi for as little as $20! If you are coming from Thailand, you can ride the ferry from Koh Lanta, Koh Lipe, or any other close surrounding islands.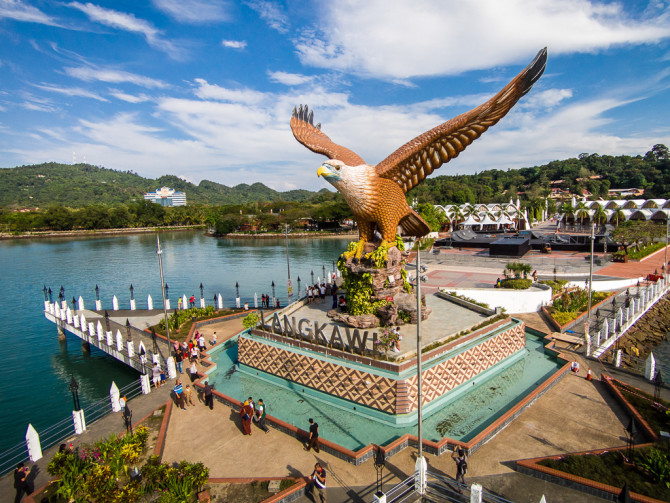 Day 2 in Langkawi – Relax and Shop
Usually, Day 2 is great to get used to your surroundings. Take a little walk and explore the nearby restaurants and local shops. Take advantage of the hotel pool or even get a massage! It's much easier to enjoy the remaining days if you are well rested after your trip over! There are lots of shopping stalls along Jalan Pantai Road near Cenang Beach. Don't miss the night market too! It's a great way to try lots of different local foods and buy some handmade crafts!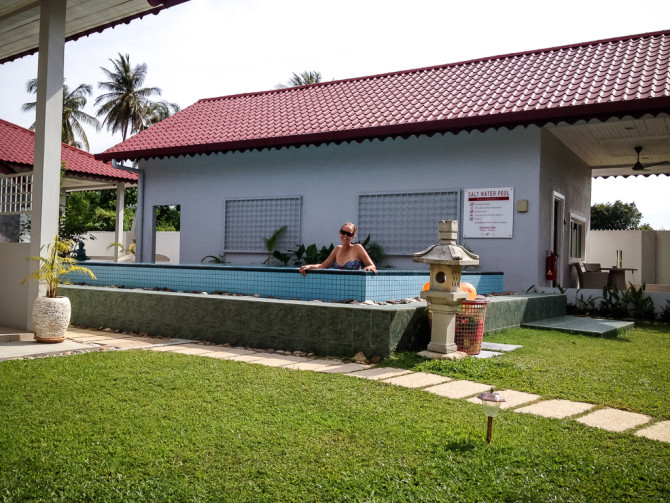 Day 3 in Langkawi – Skybridge Cable Car and Sunset Dinner Cruise
The cable car and Skybridge in Langkawi is a UNESCO Geopark. It's something you can't miss! 360º views of the whole island and the surrounding cluster of tiny islands! It's truly the Langkawi experience! The cable car itself is a really fun experience. It's the steepest cable car ride on earth and takes you up 708m above sea level to the second highest peak in Langkawi, Mt. Machinchang. The all-glass cable car gives you a panorama view the whole way up. Don't look down if you're scared of heights!
At the top, there's a really neat Sky Bridge with glass floor sections where you can look down to the canyon below and see across the ocean all the way to Thailand. It really makes you feel like you are floating on top of the world! Make sure to go early in the morning to get clear views before the clouds and crowds roll in!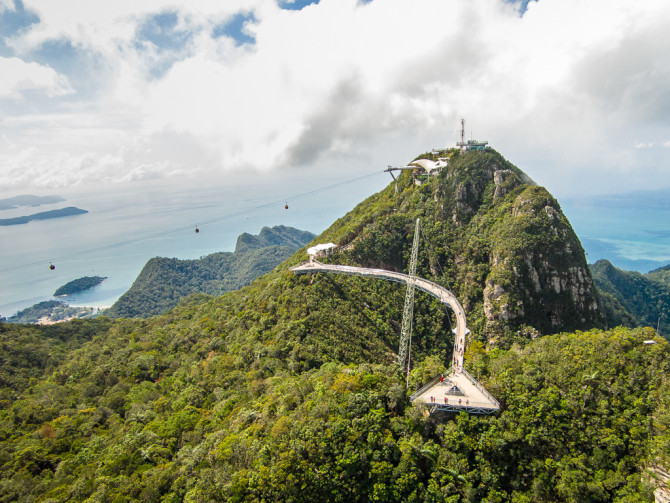 After the cable car, indulge in a delicious lunch right on the harbor at The Loaf – Bakery & Bistro. We had an incredible Malaysian meal with delicious fish and chicken! Landon was too distracted looking at all the yachts out the window to say much. We love trying the local food and this was a perfect introduction!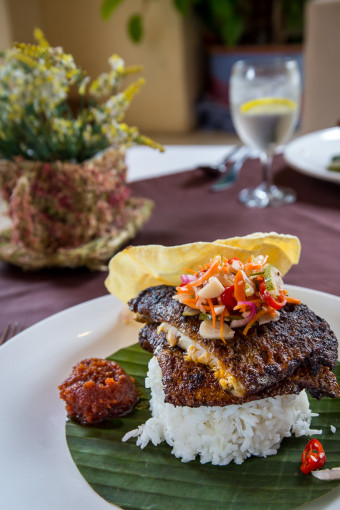 For the evening, make sure to plan on a sunset dinner cruise. It's such a relaxing way to see the islands, enjoy a romantic night, and indulge in some delicious food. Naam Sunset Cruises have some of the best boats with friendly staff, making it a really fun evening! We even stopped to swim in the warm ocean and the boat provided a safe swimming area with a net to keep the possible jellyfish away! It was loads of fun and a perfect way to end the day!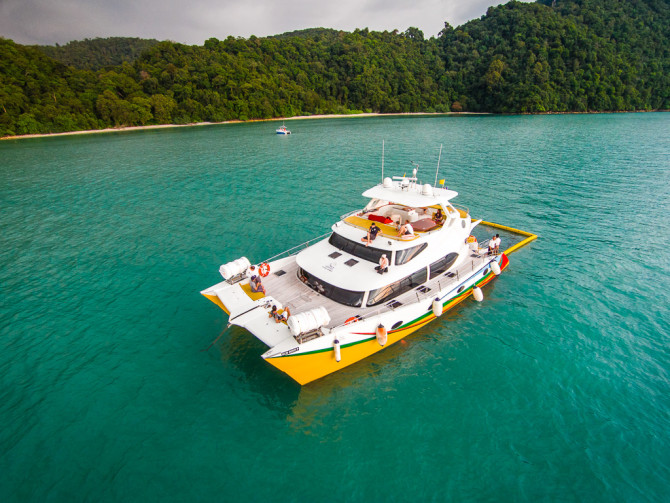 Day 4 in Langkawi – Mangrove Tour & SkyTrek Through the Trees
Langkawi is home to 3 beautiful UNESCO Geoforest Parks, and the Kilim Geoforest Park is one of the best! Home to a mangrove forest covering over 100 sq km, wildlife is abundant here. We saw tons of monkeys from our boat – the highlight of our tour! They were everywhere trying to get to the fresh water from all the tourists. Another highlight of the trip is the eagles hunting for fish. It's incredible to see the wingspan on some of those birds! The tour is delightfully peaceful and picture-perfect with all the wildlife! Check out our video about the tour here!
Skytrex Challenge Course
If you have been dying to feel like Tarzan and swing through the trees, don't miss the Langkawi Skytrex Adventure in the jungle! It's great exercise and a really fun way to spend the afternoon finding your way through a tropical ropes challenge course. There are tons of different obstacles and some are very challenging! I liked how it was a self-paced course rather than waiting for each person to do the same obstacle. We made our way safely across the 20 or 30 obstacles using 2 fail-safe rope clips to catch us in case we slipped.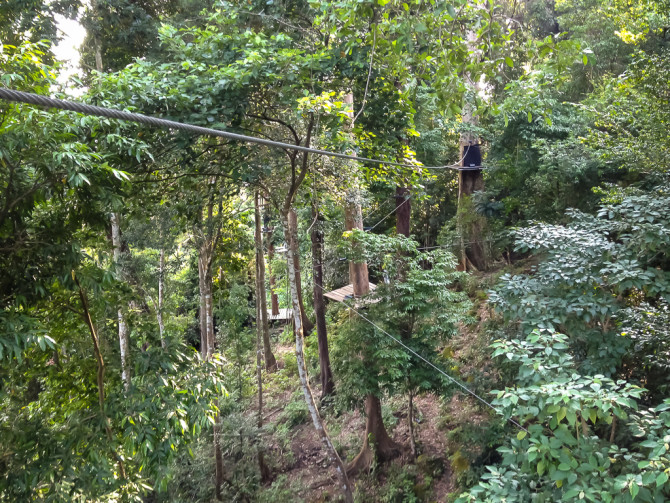 Day 5 in Langkawi – Beach Day
There are so many beautiful beaches in Langkawi, it's hard to go wrong. The most popular beach down by the tourist strip is Cenang Beach. It's huge with a ton and lots of boating activities to do. If it's close to your hotel, this is a fun place to walk to. Don't just stop there though, explore some of the other island beaches such as Tanjung Rhu Beach and Pantai Tengah. Nothing beats fun day in the sun and Langkawi has tons to offer in beaches!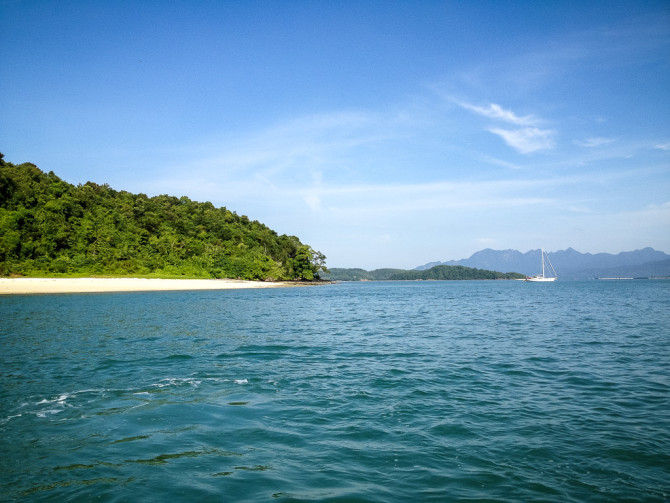 Day 6 in Langkawi – Jet Ski Island Exploring
By far, the most exhilarating trip on the island – Jet ski Island hopping is one is the best ways to see Langkawi! With so many islands, there is no way to see them up close except by boat or jet ski. It's so much fun being able to fly around on the water exploring! The limestone cliff islands erode from the ocean waves so there are tons of water-level caves to explore. We even drove through some of the caves on the jetski! We had so much fun and will always hands-down recommend this tour to everyone! Read more about our fun trip here!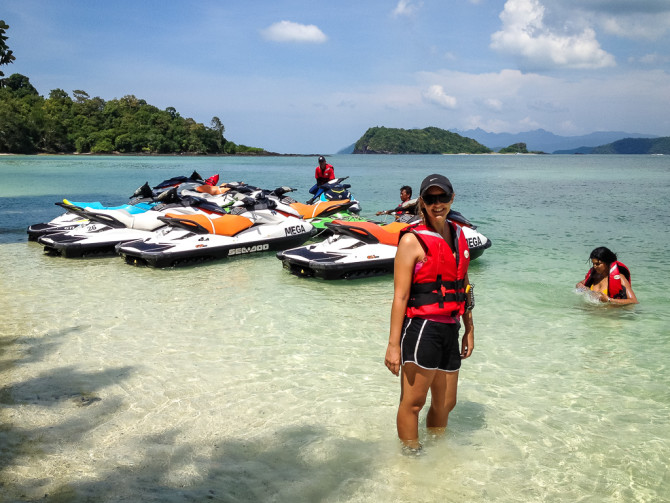 Day 7 in Langkawi – Departure or Half-Day 3D Art Museum 
Now it's time to leave the beautiful Langkawi. Depending on your flight or ferry departure, you may need to pack up right away or you may even have time for a last-minute tour at the 3D Art Museum. It's a really fun way to get some creative photos and just spend the day goofing off! We were really impressed with how big the place is! You can easily spend over 3 hours in there, taking hundreds of pictures! Once you've done all of these things you'll feel like you've seen and experienced all that Langkawi has to offer!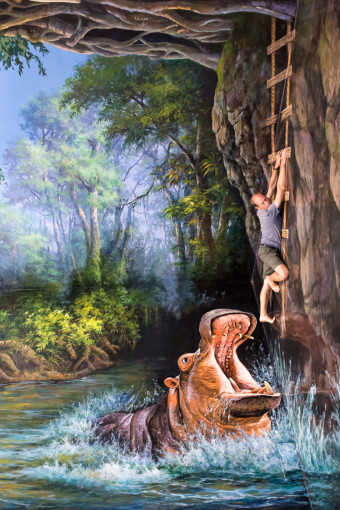 Tips for One Week in Langkawi
Transportation in Langkawi
Depending on the level of comfort you prefer while traveling, there are many options for transportation in Langkawi. If you like comfortable and convenient, renting a car is the way to go. The island is pretty big, so in order to really be able to explore the different beaches this is the way to go.
If you like affordable and adventure, renting a motorbike is for you. It's fast to get around and with the wind in your hair, you feel like you're on the adventure of a lifetime.
If you don't like to worry about directions and driving in another country, having a personal driver is another great choice. GC Butler is a great choice for luxury stress-free transportation!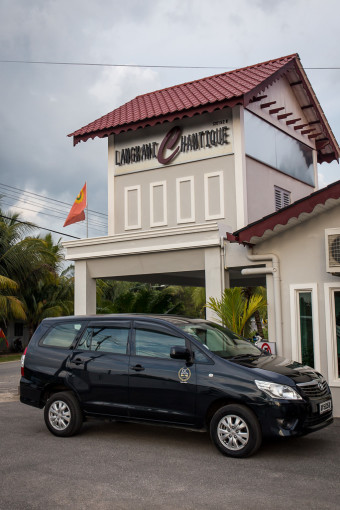 Accommodation in Langkawi
There are so many places in Langkawi to stay, how do you choose? Agoda.com is a great way to look for accommodation offering rooms for sometimes 50% off! We stayed at Chantique Resort, a nice 3 star hotel that had an incredible breakfast and comfortable lounge chairs around the pool! We really liked the location, close to the beach but far enough away from all the loud noise of downtown. This hotel is really worth checking out!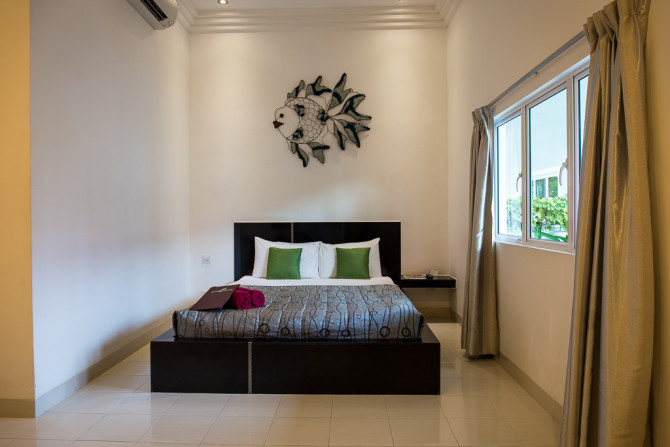 Places to Eat in Langkawi
When we first arrived in Malaysia, we kept hearing, "Malaysia is really a food lover's country." They weren't kidding! There are so many delicious restaurants in Langkawi, we made sure to try out quite a few delicious ones!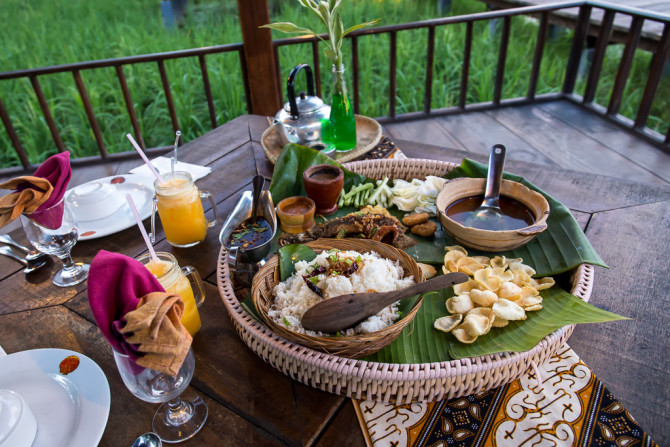 The Loaf – a great choice for traditional Malaysian food or Western food. Right on the harbor, this makes for a great view while enjoying your meal!
The Gemalai Village – a romantic, traditional meal over a rice patty field. The best way to experience the local cuisine in an intimate setting. 
Chicken Shwarma – Along the Cenang Beach is a delicious Syrian chicken shwarma booth with some of the best quick wraps ever!
The Night Market – Make sure to try some of the food for sale along the stalls at the night market. Lots of goodies to try!
Good luck planning your Langkawi trip! Leave a comment below if you have any questions!
*This trip was made possible by Naturally Langkawi but as always, all opinions are our own.