If you are planning a trip to visit Costa Rica, no doubt you do not want to miss the gorgeous beaches lining the coasts. If you are into surfing, sunset walks, dinner on the sand, or just a fun-filled day at the beach, Costa Rica's beaches will leave you breathless and and a memory card full of beautiful pictures!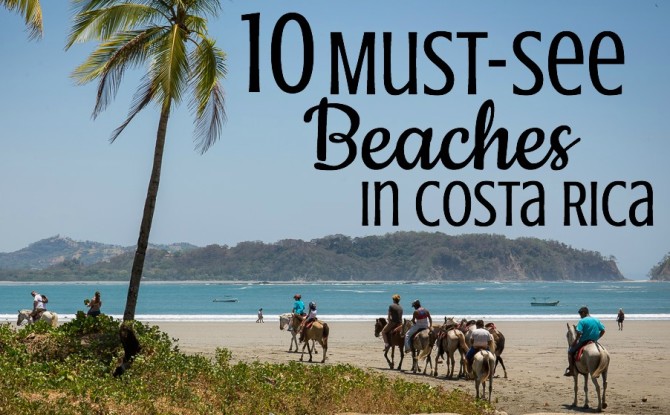 #1 Playa Junquillal
Playa Junquillal is a gorgeous beach along the Nicoya Peninsula. With a small cliff lining the coast line, it is a beach that gives you privacy as you are walking along the sand and stunning views from up high. There are amazing resorts along this beach but overall it's pretty quiet. We stayed in a water front camp site that was just incredible!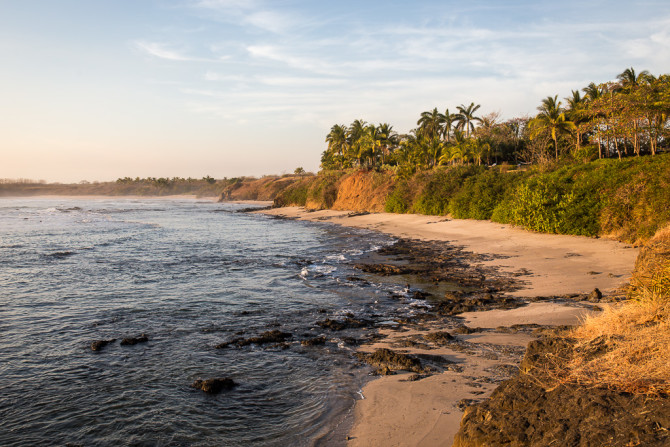 #2 Manuel Antonio Beach
Considered the #1 beach to visit in Costa Rica, Manuel Antonio earned its reputation for obvious reasons. With gorgeous islands just off the beach, the photo opportunities are endless. Close to the Natural Preserve of Manuel Antonio, this beach area has a lot of activities and chances to see wildlife. Even though there are many tourists, this is one of our favorite beaches!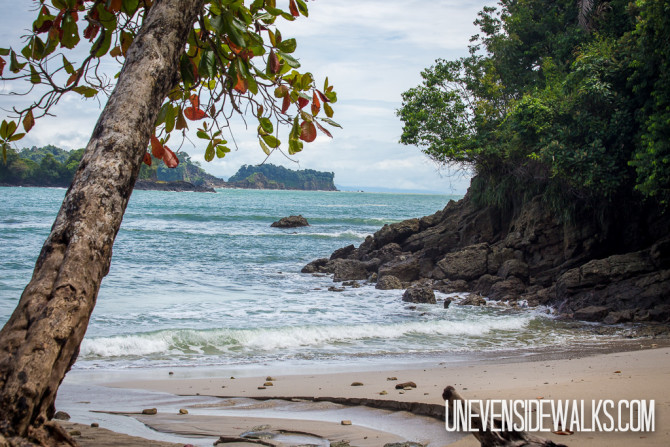 #3 Playa Uvita
Just a short distance south from Manuel Antonio is Playa Uvita. We had never seen a rock formation quite like this one and with the waves pounding on it, we were amazed by how pretty the beach was! There was a really fun geocache at the top of the little island just a few feet from the beach sand. We waded out there and got to the top for some really great views! We were glad the tide wasn't coming in too fast or we could have gotten stranded out there! If you like a little less touristy place close to Manuel Antonio, this is a great beach to check out!
#4 Playa Samara 
Playa Samara during the dry season can seem like a really hot and dry desert place. The dust is no help either! But this beach is among one of the beauties in Costa Rica. It's hot sandy beaches contrast so well to the cool blue water making you want to jump right in! It's the place for horseback riding along the beach and suntans!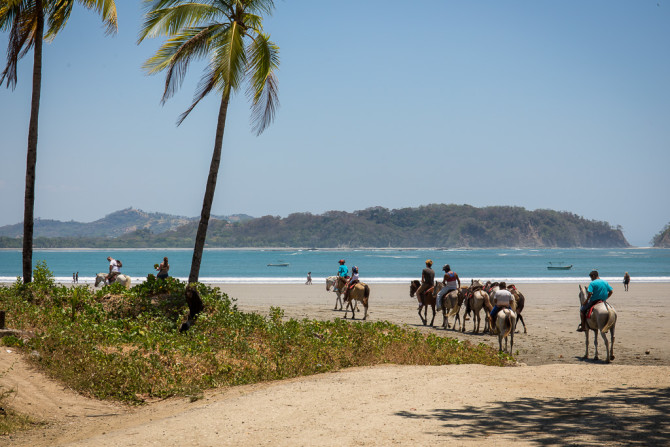 #5 Playa Pan Dulce
One of the most tropical and "hidden" beaches we ever discovered was an adorable beach called Playa Pan Dulce in the Osa Peninsula. If you asked around, it's likely that no one would know what you are talking about. It's no wonder this place has stayed a secret, it's too beautiful to share! I could have stayed at this beach forever. It gives the true meaning to what a secluded beach should be like! To find this beach, use your map (we use Pocket Earth) and follow it toPlaya Pan Dulce just south of Playa Carbonara. It's pretty hidden along a dirt road but once you find it, you'll know without a doubt!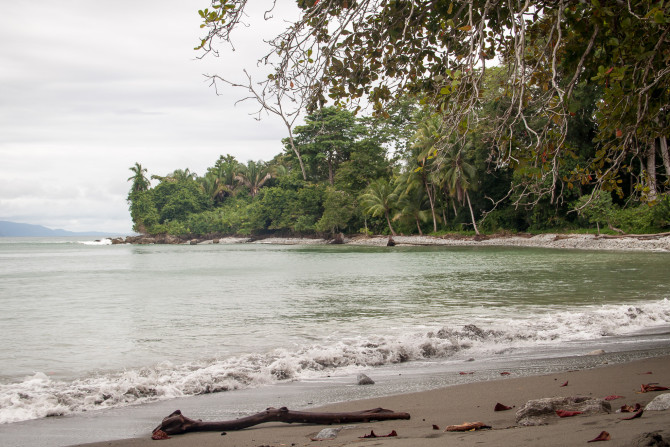 #6 Playa Tamarindo
Also along the Nicoya Peninsula, is Playa Tamarindo. One of the more popular and developed beaches along the coastline but with a really fun laid-back feel. Spend your days getting massages on the beach, walking along the adorable shops, trying new foods, and catching amazing sunsets like this one! If you come in the rainy season, you'll find the beaches empty like it shows here but in the dry season, you'll be searching for a spot on the beach.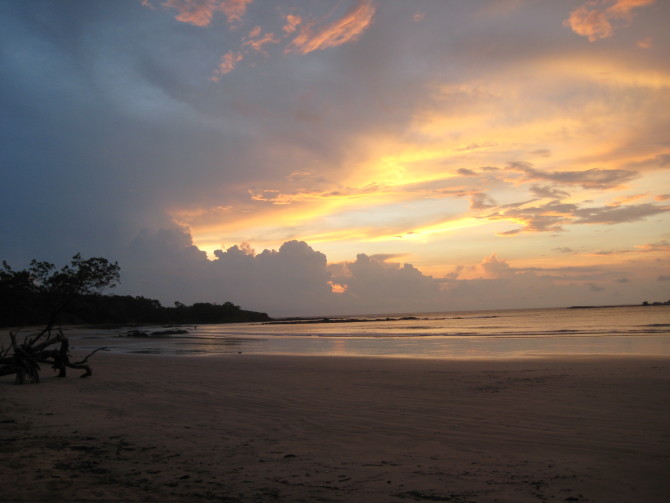 #7 Punta Manzanillo
To get an unforgettable glimpse of the Carribbean side of Costa Rica, head over to Puerto Viejo de Limon and make your way down the coast to Manzanilllo. Easily, one of the most breathtaking beaches we have been to was a small little hike out to Punta Manzanillo. With trails filled with mud in the rainy season, it makes for a fun adventure to get to the point. The beaches along here are a great place to spend the whole day. They are really tropical!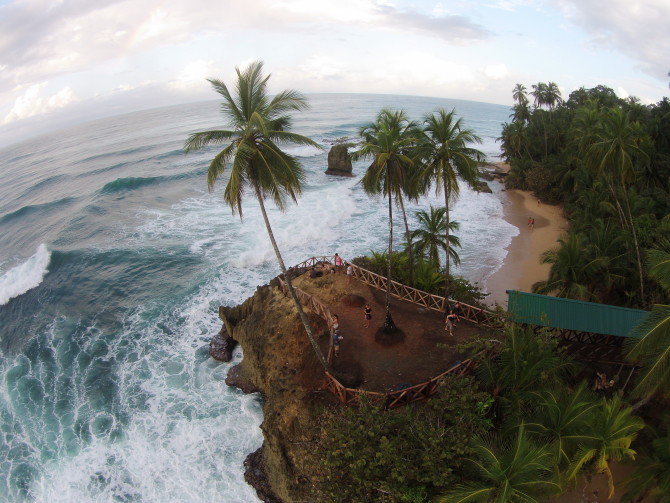 #8 Jaco Beach
The party beach of Costa Rica hasn't lost it's beauty despite it's heavy tourist trail and party animals. With resorts and casinos popping up all along the beach, Jaco is making a name for itself. Learn how to surf in these perfect beginner waves and fall in love with the warm ocean waters. Just a short drive up the hill is a perfect viewpoint overlooking Jaco that is just incredible at sunset time!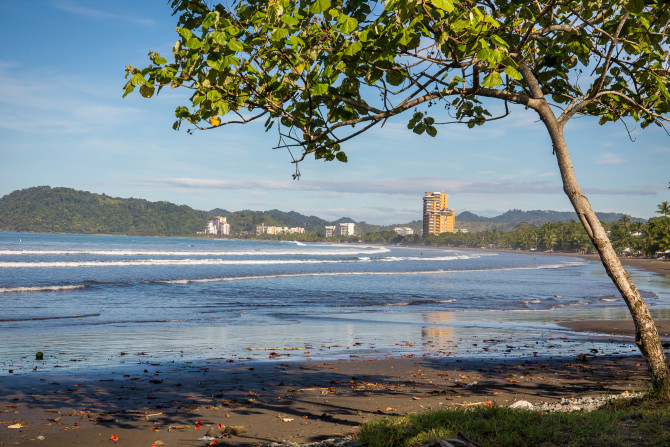 #9 Playa Cocolito 
At the very tip of the Nicoya Peninsula is Montezuma. A beautiful beach in itself but just a 2 hour walk along Montezuma Beach you arrive to Cocolito Falls. A beach that has Montezuma beat by just a tad! Cocolito Beach is very unique because of the fresh water waterfall that runs off the cliff and into the ocean. It's a very rare find, a great walk, and stunning views! Easily one of our favorite beaches for all the fun exploring and swimming places!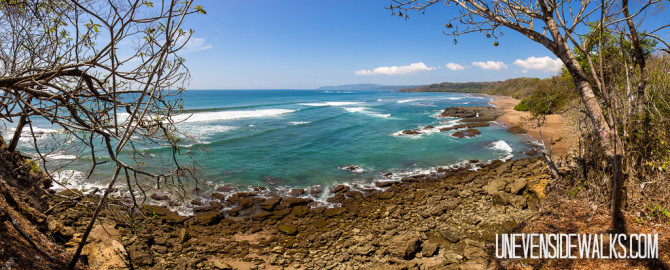 #10 Playa San Miguel
An off-the-beaten-trail type of beach, Playa San Miguel is long stretch of gorgeous sand with sand dollars galore! There are no hotels or resorts nearby but lots of amazing homes with ocean views. Check Airbnb for house rentals in this area. You'll be among some of the best beaches for sure! This is the perfect beach to head off for long walks and just enjoy the sound of the waves crashing. We stopped for a quick swim here and I was so impressed we stayed the whole afternoon!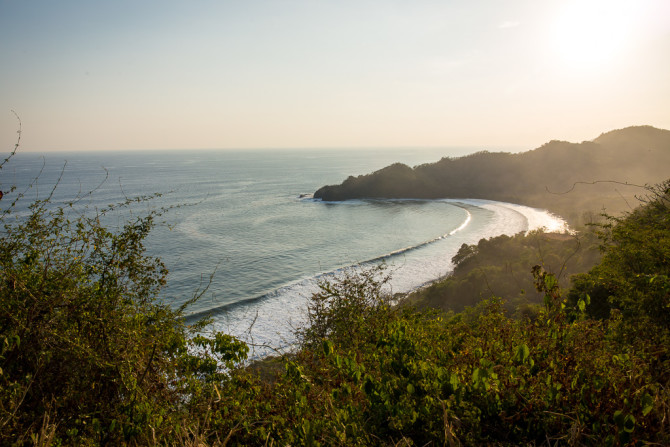 What beach is your favorite in Costa Rica?