Only 2 days left until Valentine's Day! Time to show your loved one that he or she's still the number one! It's not as easy to do that though when you're traveling or living abroad. Traveling non-stop for more than a few weeks or living in another country can take a toll on a healthy relationship.
As travelers, we're always seeing and experiencing new and amazing things, but we're always a little out of our comfort zone. We're always staying in a new place, learning new cities, meeting random people, and unsure about our next destination. My wife and I have been traveling for a year and a half and we are always looking for new ways to stay close to each other.
Here's a list of 14 ways to keep the spark of love while traveling as a couple!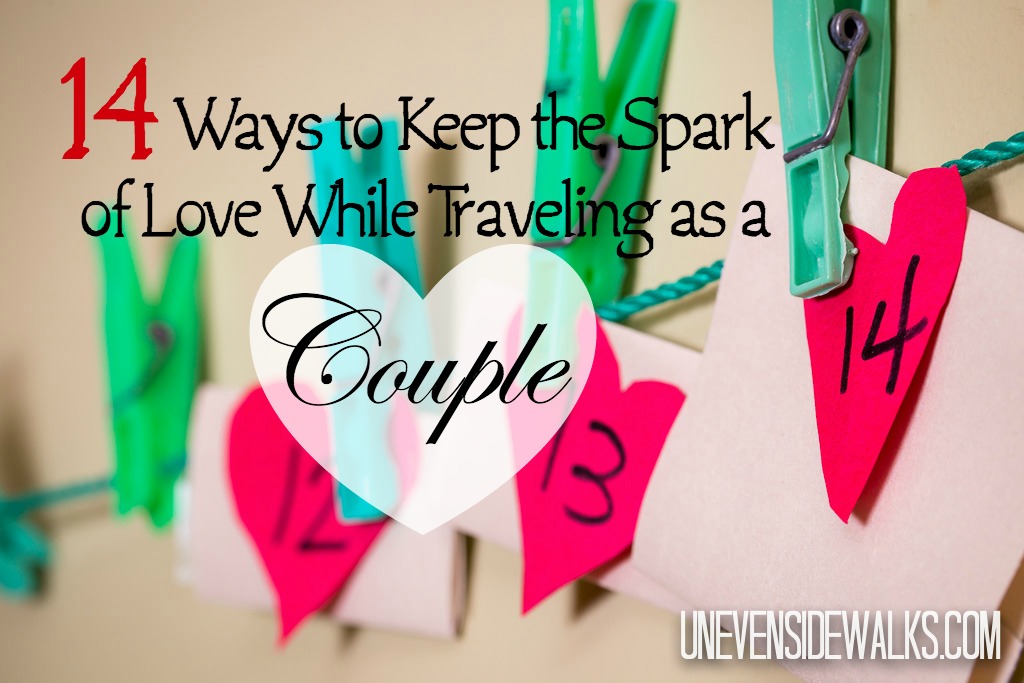 1. Pick a Wildflower
The simplest things are sometimes the most romantic because they come from your heart. You don't always need to buy an expensive gift or huge bouquet of roses to impress your wife. Oftentimes gifts that are common in the US are very expensive or rare in other countries. I can only think of 2 places in Costa Rica where I can buy flowers, but wildflowers are all over the place!
2. Go on a Picnic
Don't always head to a fancy restaurant. Grab a blanket and a backpack with food and go on a hike with a pretty view. We feel a lot closer bond when we're doing something together. It's hard to talk about anything meaningful, much less romantic in a restaurant.
If you are traveling in the tropics, be sure to bring your bug spray with! Nothing ruins a picnic faster than mosquitos – except maybe a loose bear or two.
3. Share a Milkshake with 2 Straws
Buy a large and go sit in a park, on the same bench. Get close and look her in the eye. This way you can have a batido twice as often too! (no I'm not being cheap, just romantic)
4. Buy Some Balloons
They're like a dollar. Write something funny & romantic on them and surprise her in your hostel room or wherever you're staying. At a loss for words, draw a smiley face! This works for guys and girls – everyone likes balloons.
While you're at the store, grab some string or tape to hold them in place
5. Go See a Local Show
Ask around or look in a local directory for a play, show, or some sort of festival you can go see together. Chances are you'll see a lot more culture if you see something local too!
6. Write a Love Poem or Letter
Don't forget the simple things that you used to do way back when! If poetry isn't your flair, write a simple note that will make her blush without having to get all tongue-tied thinking of it on the spot.
7. Book A Couples Spa Treatment
This is a perfect chance to relax together, especially after a long hike or round-the-world flight!
8. Make up a Game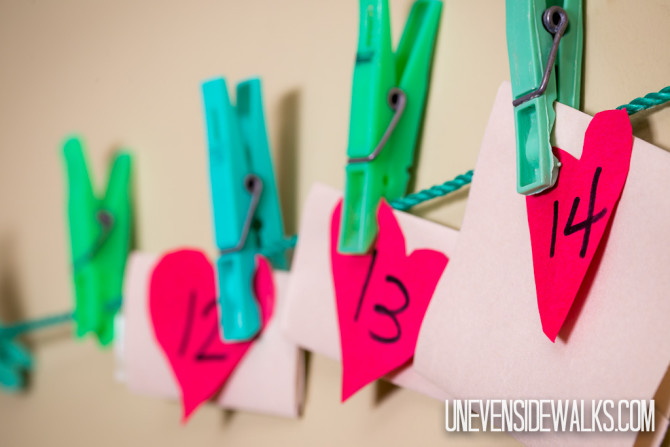 Alyssa made me a cute game for me this Valentine's Day with little heart-shaped envelopes for each day of the week that had a note inside saying something she loved about me and a coupon for things like a massage and breakfast in bed. I like making scavenger hunts for her – similar to the next tip.
9. Go Find a Geocache
If you've read more than 3 articles from my blog, you'll know that I'm a big fan of geocaching all over the world. There's a good chance you'll be able to find one within 20 miles of you right now.
It's a great way to work together with the geocache coordinates and hint to try and find a little treasure box and connect with other travelers who stood in the same spot as you. We just found one in San Jose that was a multi-step cache, and had us running all around the Parque La Paz to put all the pieces together. Alyssa said it was the most fun cache we've found yet!
10. Don't be Afraid to Splurge
Once and awhile it's ok to bust our daily budget and do something special. Pick something that you both like and enjoy yourselves without beating yourself up the entire time thinking about how much it costs.
11. Be Mysterious
Dating was full of surprises and planning for a secret trip or getaway. Keep that up, even if you have a family! Plan a secret excursion or restaurant outing if you're traveling. A simple blindfold-until-we-get-there is pretty effective too!
If you're reading this at home, plan a secret trip and keep the destination under wraps until you're at the airport.
12. Travel To A Romantic Destination
Pick a destination known for romance! Places like Paris, Venice, and Tahiti have made a name for themselves, but look closer for a secluded beach, gondola ride, or hill ridge with a beautiful view at sunset. Check out our romantic camping trip in Costa Rica for our anniversary!
13. Get Romantic Pre-Trip
Planning a trip together is sometimes the most exciting part. Spending time together planning and preparing for your trip can be romantic if you use it to your advantage. If you're going to Costa Rica, enroll in a Spanish class together to learn some new words to use on your vacation. Visit some Thai restaurants if you're planning a big trip to Thailand
14. Love The One You're With
Most importantly, just be content with the one you're with. Love your Valentine with all you've got! In a world where many people change marriages as often as cars, it's important to remember why you chose your loved one to begin with. Always remember that and keep finding new reasons to keep loving him or her.