2 weeks traveling in Costa Rica! Now that's a nice vacation! There is a lot to see and do in Costa Rica, but with careful planning you'll be able to see majority of the highlights on your trip.
Here, we'll show you a sample two week itinerary of the top places we love and always tell our friends to go see when they come visit Costa Rica!
2 Week Itinerary for Traveling in Costa Rica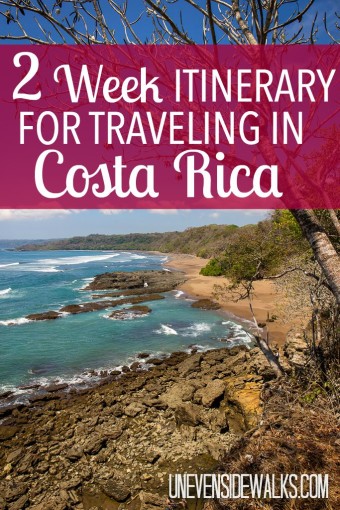 Most people who only have two weeks to travel in Costa Rica usually rent a car if they want to have the freedom to move as fast and as often as they want to maximize their time. It's also great to be able to explore the dirt roads off the beaten path.
But, the good thing is that everything listed here is possible to see by bus too! It's much cheaper, but also slower, especially if you want to see things away from the main tourist attractions. Our first year in Costa Rica we didn't have a car and traveled by bus all around the country.It's very comfortable and safe, so just pick what your budget and time allows for!
If you're still in the planning-stage for your trip, check our tips for arriving at the San Jose international airport too.
Day 1. San Jose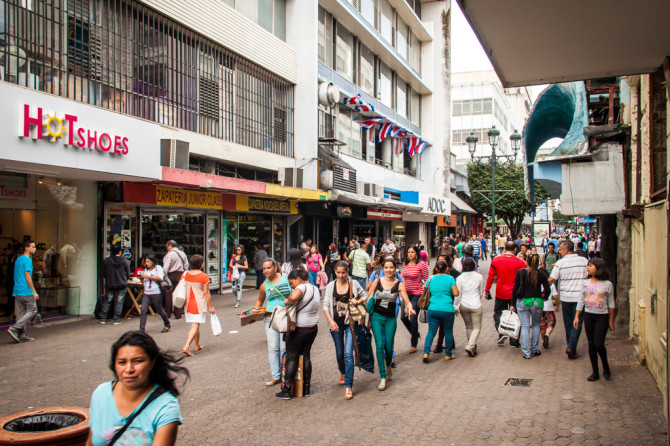 Many people just head straight to the beach when their flight lands. Don't miss the capital city of San Jose! It's a big, busy city, but a great place begin to learn about the "Tico" culture. Don't miss out on the market and fruit stands on the side of the road. It's a good way to start practicing your Spanish!
The local post office is a huge monumental building in the heart of town. The Theater, Museo de Jade (Jade Museum), Mueso de Oro (Gold Museum), and Central Park are other great places to check out as well. For accommodation check out The Backpackers Hostel or the adorable boutique hostel Casa Colón, just outside the crazy downtown.
Don't forget to exchange your money to colónes or use an ATM to get local money, and pick up a phone chip if you brought your unlocked GSM phone along. (Click here for more details on using your cell phone in Costa Rica.) You can find ATMs and phone chips in almost every town, but it's a good thing to find one right away.
Note: Watch out for scammers! Just like all places you travel, be careful with your personal belongings. Be aware of your pockets and don't overly flaunt your iPhones and tablets. We have never been robbed in San Jose, but we can't remind you enough to always be careful and aware of your surroundings.
Day 2. Poás Volcano and La Paz Waterfalls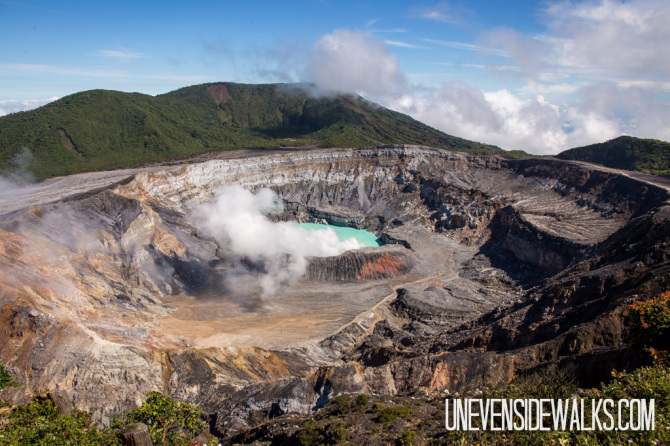 From San Jose, get an early morning start out to the Poás Volcano. The clouds and fog come in before noon so grab some coffee if you're not an early morning person! The drive up the mountain to the volcano is beautiful as it overlooks the central valley and our little coffee-farm town of Grecia. At the volcano there are wide views of both craters and miles of trails to hike around parts of them.
From Poás head to the La Paz Waterfalls which is just a half hour away by car. You can see many beautiful waterfalls as well as lots of animals! The drive between them has rolling green pastures and is one of our favorite drives! The mountains are sometimes covered with clouds and look so mysterious!
Don't forget to get a picture holding a toucan! There are lots of opportunities for close-ups with Costa Rica wildlife here! The butterfly exhibit is amazing! Photographers, bring your macro lens!
Click here to read more about the La Paz Waterfall gardens and park.
Walking around the La Paz Waterfalls nature park will probably take up the rest of your day. There are plenty hotels within 10 miles of the La Paz waterfalls and near Alajuela so you should be able to find a place nearby for the night! There is a really nice resort at the waterfall park, but it might be a bit pricey for most visitors. But if you're on your honeymoon, it might be a good deal!
Optional Detour: If you are more interested in seeing the coffee side of Costa Rica, head over to the Britt Coffee Company near Alajuela for a tour of their plantation and roasting process! It is a very nice tour!
Day 3. Arenal Volcano and La Fortuna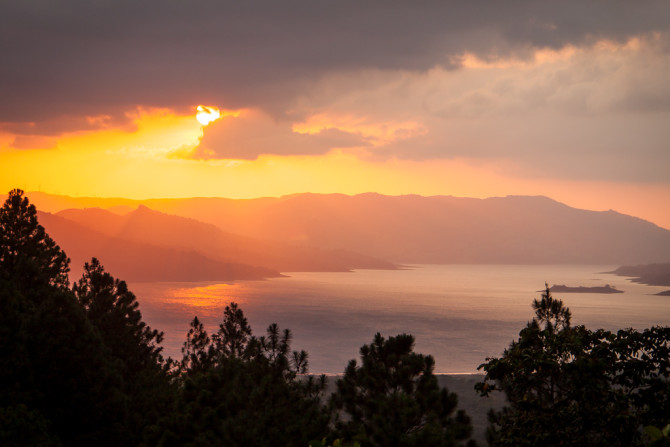 From the La Paz Waterfalls head to La Fortuna de Arenal (about a 3 hour drive). Along the way, you'll pass through some of the most beautiful back roads and country land in Costa Rica. There are plenty of coffee fields as well as greenhouses full of decorative plants and flowers that are exported around the world.
Once in La Fortuna, get settled in your hotel or hostel and check out the town. It's filled with lots of yummy restaurants with both local and American food, and fun little souvenir shops. We always have a nice time just wandering through town. While you're there, stop at the grocery store and pick up some things to make sandwiches for your picnic at the waterfall the following day!
Depending on your schedule, you can either choose to go on an afternoon tour from any number of companies in town or go hike around the volcano. The upper mountain area has been closed for years due to volcanic activity, but there are nice trails around the base. It's the perfect place to catch a beautiful sunset above the lake!
Day 4. La Fortuna Waterfall and Ziplining in Arenal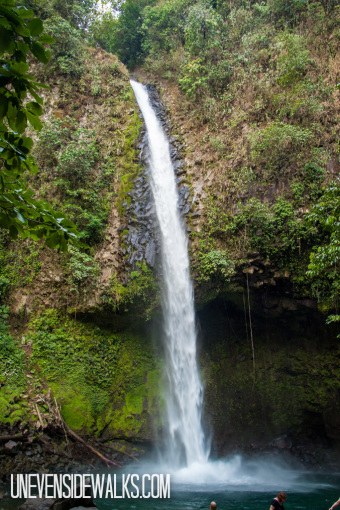 Spend the day swimming in the waterfall pools, exploring the jungle, and enjoying a lunch picnic. It is a nice hike down to the falls, but can be pretty humid so you'll be ready for a swim when you get there!
Take the trail across the creek to check out some old hanging bridges and have a nice walk through the jungle! This is one of our favorite hikes! 
When you are done, check out the super long zip-line with SkyTrek Adventures – over 2 miles long with fantastic views of the volcano! You will see the zip-liners going over you as you hike to the falls. It certainly made me want to go zip-lining!
Day 5. Hotsprings in Arenal
Spend a day at one of the hot spring resorts at the base of the volcano. You can get a day-pass at a resort for around $60 (and up) and enjoy the spas and hot water! Although we haven't done it ourselves, it is on our list for a special occasion because we have heard so many good things about the hot springs! It is always a nice highlight for those who are on a relaxing vacation and really, who isn't!?
If you are a budget spender and backpacker like we are, don't worry – there are some free hot springs you can enjoy and they are just as fun to spend a few hours soaking in. A taxi will take you to the "river hot springs" and bring you back for around $20 if you don't have a car.
Day 6. Arenal to Monteverde
From Arenal, head across the lake to Monteverde where you'll find the incredible cloud forest and more zip-lines! If you have a car, you'll have a few hour drive around the lake on a paved road with beautiful countryside views. If you are car-less, a popular and quicker way across is to take a taxi to the lake, a ferry across, and another taxi on the other side.
The drive will take up a big part of your day, but you'll have time to explore the towns in Monteverde and maybe find a tour or hike to go on along the way.
Day 7. Santa Elena Cloud Forest Reserve in Monteverde
Monteverde is famous for its cloud forest, which is watered from the moisture in the fog and mist rather than raining like the rest of the country. Sometimes the mist is so thick it feels like rain though! The area boasts incredible hikes through the jungles, and has many hanging bridges for the adventurous types. Just don't start swaying!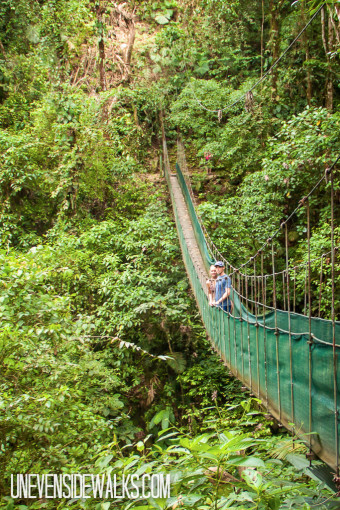 There's so much to see in this area, people often spend a week they love it so much. Pick your level of adventure and get outside to enjoy nature!
Day 8. Quepos and Manuel Antonio
From the Monteverde area head to Quepos and the Manuel Antonio Beach, about a 4 hour drive. Here you'll find beautiful beaches and coves where you can spend the day surfing, parasailing, or just relaxing in the shade, drinking a cool coconut. It can get a little crowded, and locals pass by every 5 minutes asking if you want to buy a necklace or a shaved ice, but there are quiet places to relax as well.
There are surfboards to rent close by on the beach, as well as our favorite restaurant on the sand! It's amazing at sunset! Spend the afternoon learning to surf and enjoying the warm waters of the ocean! You can find any type of tour imaginable here too – kayaking, zip-lining, deep sea fishing, riding horses or ATVs, and birdwatching.
This is a great place to stock up on souvenirs, hammocks, and t-shirts! Head in to Quepos if you want to check out the town, grab groceries, or join in the nightlife scene! There are some cute shops, nice restaurants and bars, and grocery stores – your typical beach town. This is where you'll find the cheaper hostels.
We love staying at Hotel Verde Mar, the closest hotel to the Manuel Antonio National Park that's on the beach, but still has reasonable prices. Don't forget to mention you were recommended by Uneven Sidewalks!
Day 9. Manuel Antonio National Park
Get an early start to the Manuel Antonio National Park to beat the crowds and the heat, as well as get a better view of the animals who are out and about early in the morning. Some animals are only active in the early morning, and some only come out at noon to steal lunch from the tourists!
There are a ton of local nature guides with big telescopes offering guided tours at the park entrance, but in our opinion it's expensive and isn't worth it. However, if you really enjoy nature and want to learn a little more, then it's probably right up your alley. Otherwise, you'll be able to see plenty as you walk along the trail, and can even take a look at what the other tour groups are pointing to in the trees.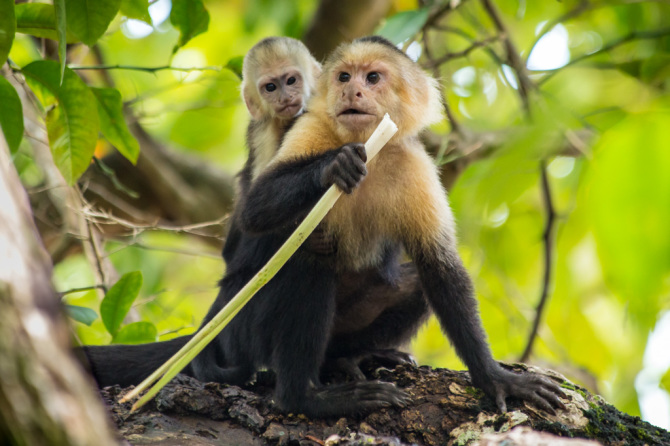 Once you get to the beach, there are hundreds of monkeys and iguanas around to get snap happy with your camera!
Don't forget to bring along water bottles, a lunch, and beach things because this beach is the perfect place to have a picnic, explore the tide pools, and frolic in water. There are no stores or restaurants in the park. This beach is great for families with kids because it is really calm!
If you're looking for more hiking, inside the park there are beautiful trails that lead to a waterfall, a secluded cove, and a panoramic view of the ocean. Click here to read more about the national park.
Day 10. Playa Uvita and Marino Ballena National Park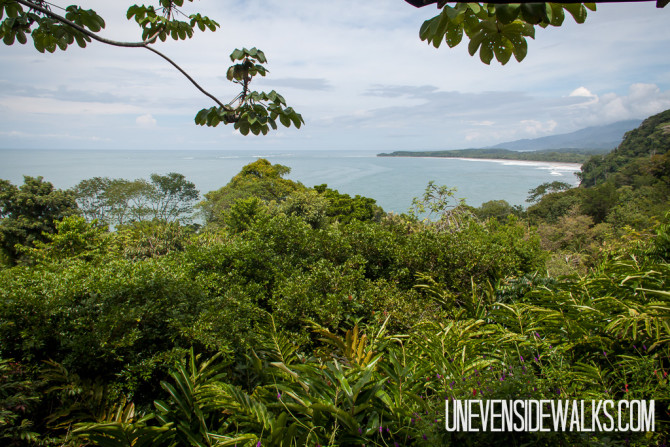 From Manuel Antonio head to Playa Uvita and the Marino Ballena (Marine Whale) National Park, about an hour and a half drive south. Here the waters are crystal clear and you can find some of the most beautiful beach views Costa Rica has to offer! The Marino Ballena National Park is a nice laid-back place to hang out on the beach, as well as do some ocean activities like snorkeling, scuba diving, surfing, you name it!
Be sure to check out the Whale's Tail right away. It's only open during low tide, so you'll need to check the tides and plan to get there just before the low tide. You'll hike out along a sand spit that looks like a whale's tail from the air, but be careful so you don't get caught far away when the tide rises or you'll be swimming back!
This park is known for the great views of the Humpback Whales as they migrate from December to April. It also has the largest coral reef on the Pacific side of Central America! That makes for great snorkeling!
There are a lot of hiking trails in the mountains and along the uncrowded beaches! You can also explore some amazing sea caves near Playa Ventana. It's a blast kayaking to see them! And another reminder – don't miss sunset on the beach!
It's a perfect place to get to see the breathtaking beaches without the crowds and truly enjoy Costa Rica!
Only 3 More Days Left to Fill!
What do you want to see next? Here are 3 options that can point you in a direction to spend the rest of your time in Costa Rica, depending on how many days your trip is.
Option #1 – Manuel Antonio and Southern Beaches
The simple, most relaxing option with the least driving. Stay around the Manuel Antonio and Uvita area to relax and enjoy the rest of your vacation.
You can check out the beaches to the south and even venture all the way down into the Osa Peninsula. This is where you can find the perfect uncrowded jungle paradise!
Option #2 – Nicoya Peninsula and Northern Beaches
Head to the Nicoya Peninsula for some Pacific small town Costa Rican life and stunning beaches to work on your suntan and surfing! The land route through Liberia is the fastest (about a 5 hour drive from Manuel Antonio), and Coco or Tamarindo beach are good close options.
For the adventurers with more time, take the ferry at Puntarenas and drive up the peninsula (or you can take a bus with your surfboard too). Plan at least a few days and make sure your spare tire is aired up for the bumpy dirt roads!
Option #3 – Limón and the North Coast
Head to Puerto Viejo de Limón and check out the Caribbean side of Costa Rica for a different Costa Rican culture! It's about a 5 hour drive from Manuel Antonio to Limón. There's incredible diving here, as well as surfing on a few beaches. Don't miss the Jaguar Rescue Center!
Day 14. Over So Soon!?
Time to head back to San Jose to catch your flight back home. Hopefully by this time you've seen a few of the amazing highlights of Costa Rica that we've come to love! Be sure to come back!
Click here for our tips on zipping through the airport on your way home.
Pura Vida!
Let us know how your trip was! We would love to hear about your experiences in Costa Rica!