Filled with culture, color, and adventure, Peru is one of our favorite travel destinations! Its beautiful countryside tells a story of it's own.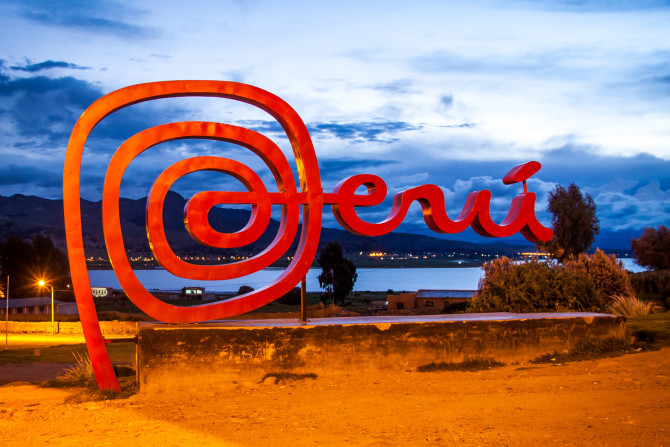 Check out some of the wonders we saw while traveling in Peru! This is our exact itinerary for 2 weeks in Peru. It was pretty short, but we got a great overview of Peru in two weeks!
Click on the map to zoom in and out.
Bolivia- Peru Border crossing
We crossed the border on an overnight bus from Copocabana Bolivia to Cusco Peru. The border crossing is very straight forward. We were glad for that since we had already had a long day and knew our night would be long on the bus as well! 
The Bolivia-Peru Border Crossing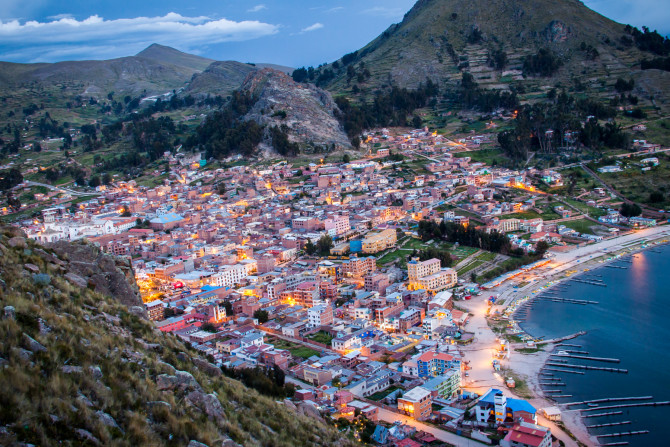 Our last views of Copocabana, Bolivia
Cusco 
We arrived at Cusco in the early morning – maybe too early because we almost lost our bag in a taxi! Here we met up with Alyssa's parents and traveled the rest of our time in Peru with them. It's a fun city filled with lots of colors and amazing doors! The air is thin here so we really felt out of shape!

Ollantaytambo, Pisac, Urubamba (Sacred Valley Tour)
Ollantaytambo is day trip and we highly recommend it! It is a great warm up to the Inca Trail and the Sacred Valley is just breathtaking! We booked this tour with Llama Path and were very happy! We had a fabulous day!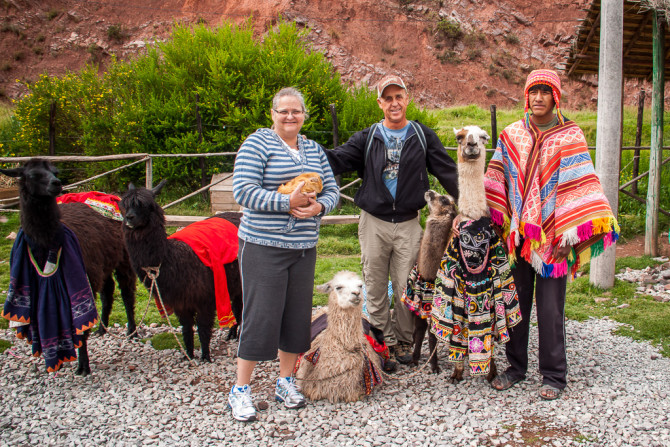 Alyssa's parents enjoying the local culture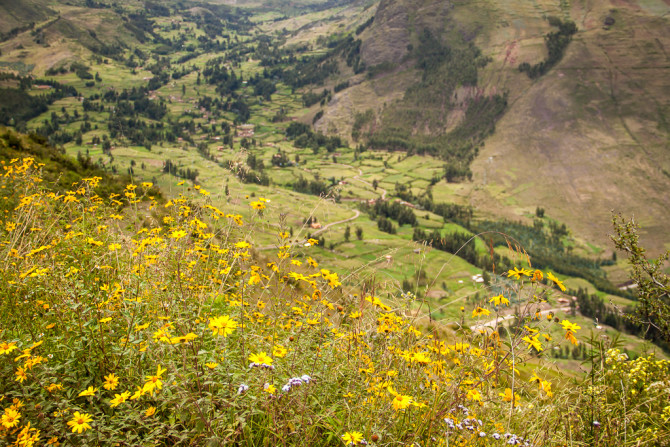 Breathtaking views of the Sacred Valley
Inca Trail (Winya Wayna, Sun Gate)
We booked a 3 day hiking trip with Llama Path Tour Company to do some hiking on the Inca Trail. The Inca Trail is beautiful! Make sure you get a stamp in your passport! We were able to store our luggage at our hostel and take only what we needed with us. We had a great tour guide too!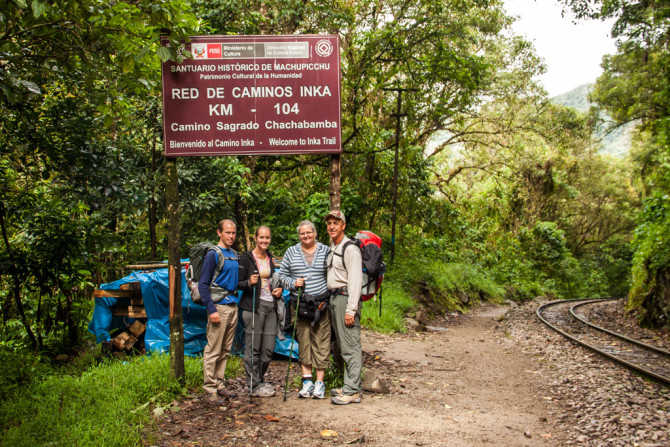 Machu Picchu
It really is a moment stopped in time when you arrive. It's so beautiful! We saw it for the first time when we crested the hill at the Sun Gate. We were all so worried we wouldn't be able to see anything because it was rainy and cloudy but the clouds opened right up and gave us a fabulous view! The best part was, the park was already closed so we got some great pictures with no crowds of people! Such an amazing experience!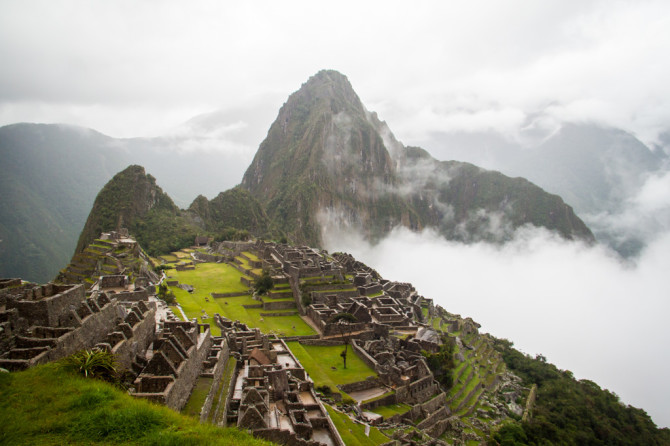 Aguas Calientes
As part of our tour, we spent the night next to the river at Aguas Calientes. We had an amazing hotel and dinner before crashing for the night. A quick stop but we were glad for the rest!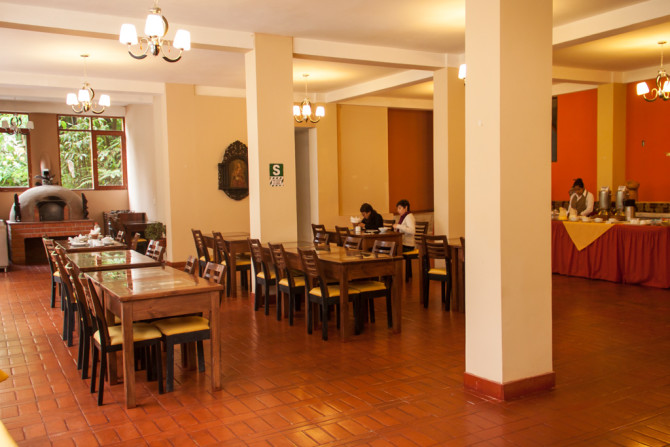 Puno
From Cusco, we took a bus to Puno. We especially wanted to visit the floating islands. We found an adorable hostel and really enjoyed our stay in Puno. It's a small but bustling city! We even got dumped rain on! Perfect place to by some beanies too!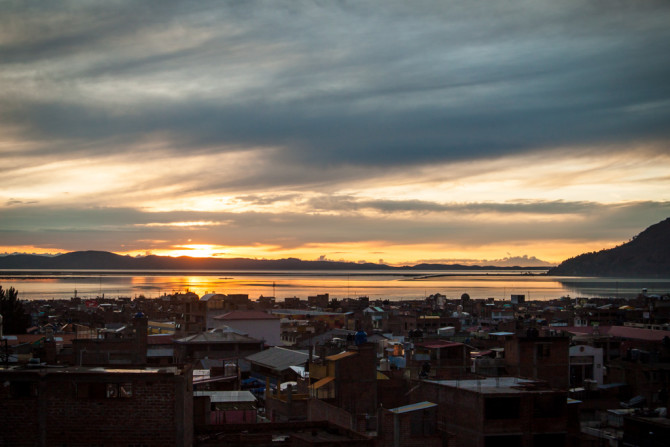 Uros Floating Island
It's worth going. It's just absolutely incredible how these people live. They are so creative in just finding simple ways to live life! Don't miss out on the boat ride, it's really neat!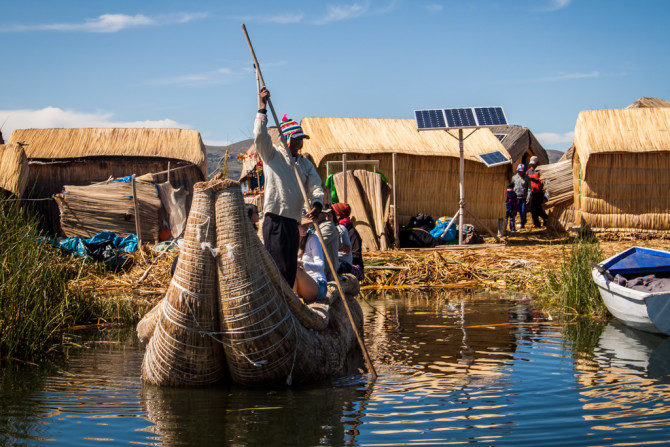 Taquile Island
This island is part of the Uros Floating Island Tour. The views are spectacular. It's a straight up hike to the top but once you are there it's worth it! Views for miles! We had a delicious fish lunch caught straight from Lake Titicaca.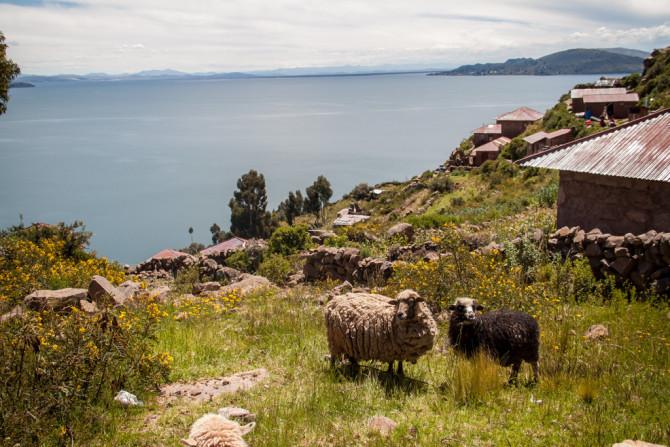 Arequipa
We took a bus from Puno to Arequipa during the day. It got exciting when the bus had to take a detour! Arequipa is a huge city but we made our way over to the central park and stayed near by. The central park is filled with people and plenty to do. Don't miss the Colca Canyon Tour! The views are once in a lifetime.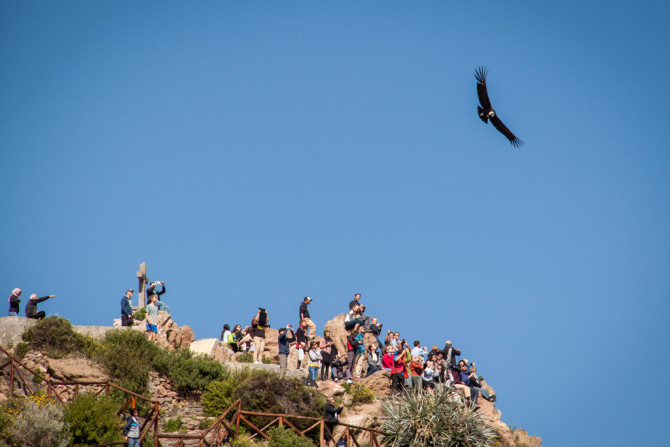 Lima
Lima is even bigger than Arequipa with 10 million people living in the city alone. It is practically it's own country! We flew from Arequipa to Lima. Watch out for those airport taxis, they'll try and get ya! We had a beautiful time in Lima, almost died on the freeways (crazy!), and met some wonderful new friends!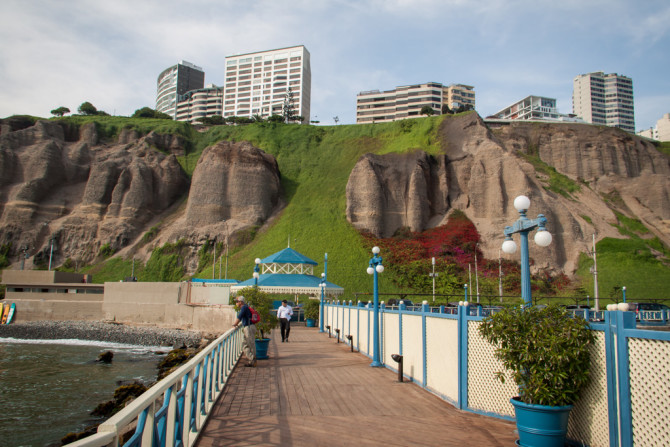 From Lima Peru, we flew to Costa Rica! Check out some of our Costa Rica Travels here!
Hope this 2 week itinerary in Peru helps with your trip planning! There's always so much to see and do but these are the highlights that we really enjoyed! 
Please share your Peru travel experiences in the comments below, I'd love to hear about your travels!