Ever get tired of eating just plain spaghetti at your hostel?
Here's a great roundup of 21 easy dinner ideas for hostel cooking. And a giveaway to get you motivated!
Night after night of noodles and sauce just gets old! I remember being a few days into our trip when we ran into a couple making curry lentil soup. I told them, you can see who has just started their trip and who is 4 months in already! Over time, you start getting creative just to keep those taste buds happy and your body healthy!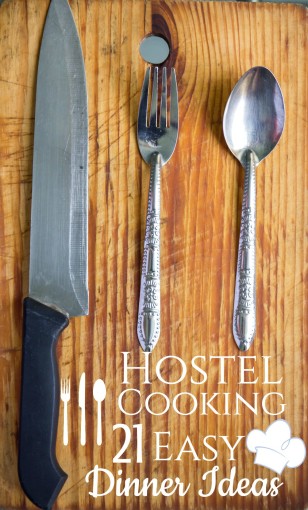 Sadly, this couple making lentil soup was in the kitchen for 3 hours! They finally came out to eat and were hot, sweaty and tired from the cramped kitchen. Maybe they had been enjoying making their masterpiece together, but that doesn't sound like fun to me! There are MUCH EASIER options that are healthy as well!
Keep it simple but make it significant!
Not feeling hungry quite yet? Click here to go directly to the giveaway!
Landon was getting his cooking grove on at a hostel we stayed at in Panama! Steak with sautéed veggies is one of our favorite meals!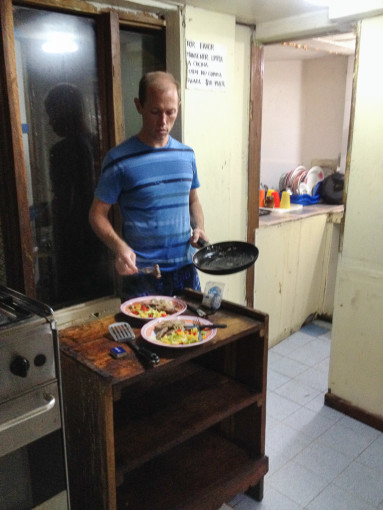 Here's the countdown of 21 great healthy & easy options for a quick hostel meal!
#1. Ramen Noodle Stir-Fry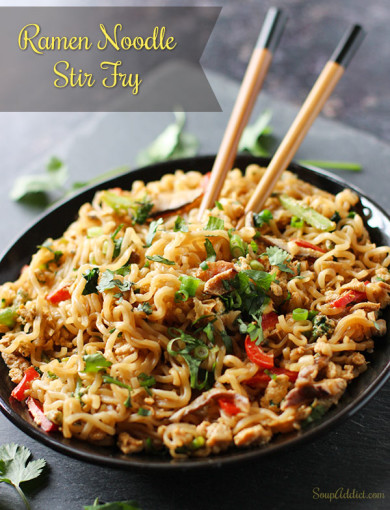 Adding vegetables to the typical top ramen noodle package is great way to get your veggies in! Throw away that questionable flavor pack and add you own goodies! This should only take you about 15-20 minutes! Easy Peasy! Recipe: Soup Addict
#2. Energy-Boosting Breakfast Toasts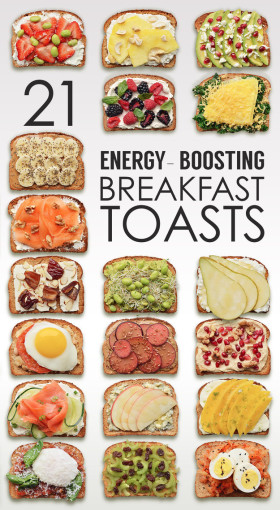 Well, breakfast OR snack. I'm usually in need of an energy booster for an afternoon snack just as much as I am in the morning! These different toast options look so creative and delicious! I'm particularly a fan of the Strawberry & Edamame one! So delicious! Plus all the ingredients are great to snack on by themselves too! It's a win-win! Recipe: BuzzFeed
#3. Spiced Lentils with Yogurt, Almonds, & Mint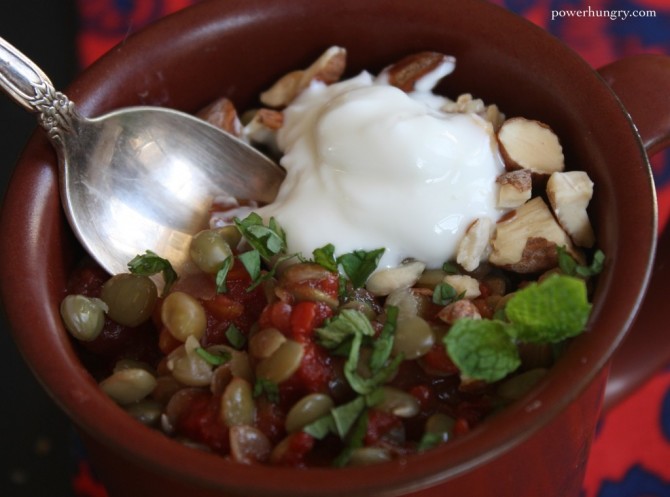 This is a great choice of meal for days when you have really exerted yourself. Packed with protein and flavor, you'll have everyone in the hostel drooling over this meal! Find some type of pita, naan, or garlic bread to go with it! Recipe: Power Hungry
#4. The 5-Ingredient Pasta Salad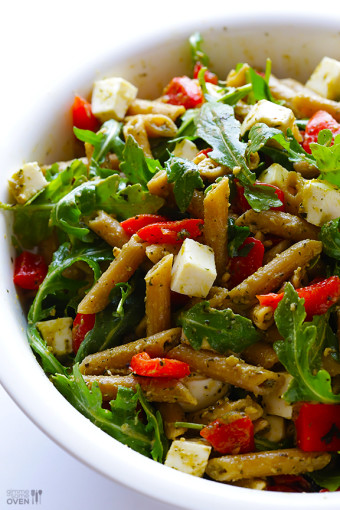 Looking for a light and refreshing option? A lot of hostel kitchens we've been in around the world are just stifling hot! Who wants a hot meal after being in a stuffy kitchen? Better yet, prep this salad at breakfast time, then just add your greens at dinner. Walah! Dinner is served! Recipe: Gimme Some Oven
#5. The 5 Ingredient Black Bean Soup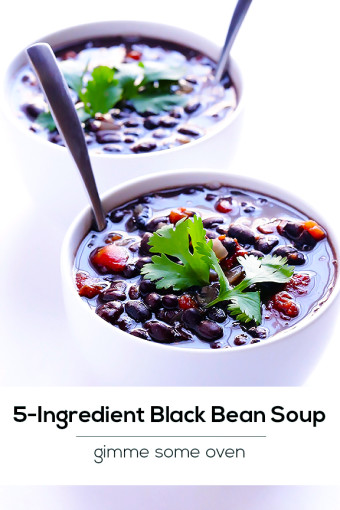 Always remember to check the local groceries and availability for ingredients. You could have a country, like Costa Rica, that specializes in only black beans. This recipe would be perfect for that. Throw a few things together and heat it up. That's the kind of dinner I like! Recipe: Gimme Some Oven
#6. Easy White Chicken Chili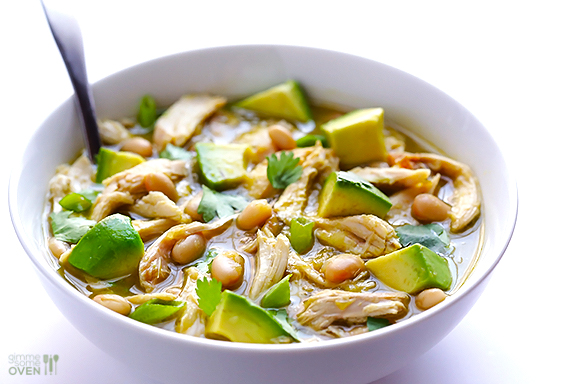 If you don't have access to a stove, you could always buy a pre-cooked chicken and shred it yourself. The options are easy with this type of throw-together meal. Another protein-packed meal that is great for all you adventurous travelers out there! This would be a fun community hostel meal to host with all your other travel buddies! Recipe: Gimme Some Oven
#7. Thai Pumpkin Soup – 5 Ingredients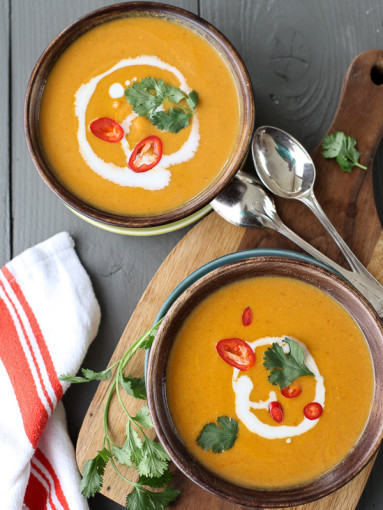 I've never made this soup before and I know that while traveling, pumpkin can be hard to find. But this could be a real treat when you do find some pumpkin. Only 5 ingredients too! Recipe: Foodie Crush
#8. 5 Ingredient Pesto Chicken Stuffed Peppers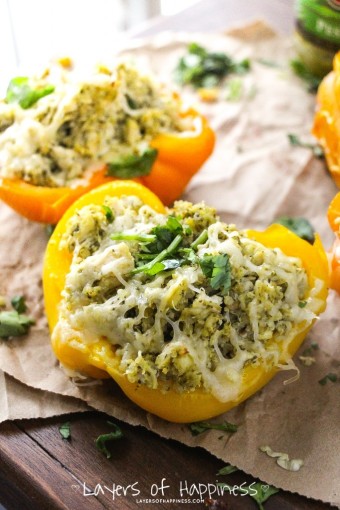 Can you say clean eating!? Yum! These little stuffed peppers look so good! This would be a super fast but fulfilling meal! You would probably even have enough to make this meal twice. Pesto might be a little pricy in the country you're in but that flavor…Mmmm, SO worth it! #pesto Recipe: Layers of Happiness
#9. Spiced Black Bean & Avocado Tacos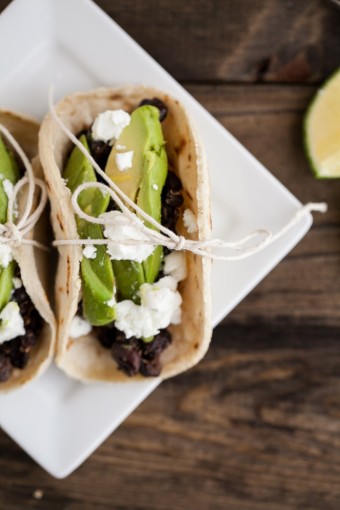 Tacos are one of the easiest hostel meals! Give a little flair to your normal taco and add some avocado, goat cheese, and spiced black beans. It is delicious! Throw some meat in there too if you want an extra boost. This is a great healthy option while traveling and will leave you feeling energized! Recipe: Naturally Ella
#10. Omelette In A Mug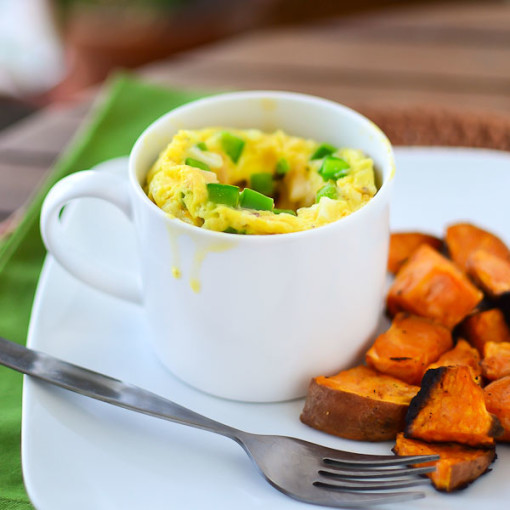 Sometimes your accommodation cooking options are very limited. Take a room that only has a 'fridge and microwave, for instance. No worries, just scramble up some eggs with your favorite veggies in a mug and you'll have a "homemade" great breakfast ready in no time! Recipe: Just Putzing
#11. Spaghetti Carbonara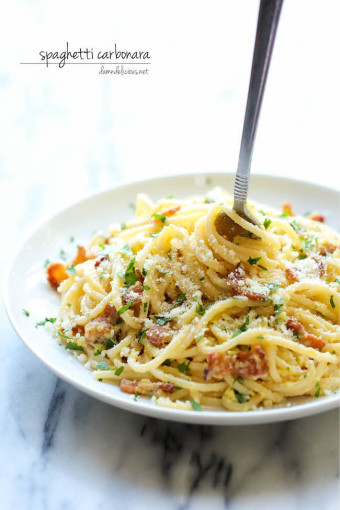 Sounds fancy, right? This is not no ordinary spaghetti, I promised you that okay! Now make this dish and present it to your new friends at your hostel and watch as they are totally wow-ed! Don't make this if you don't want to get cajoled into making every night for the rest of your stay! It's that good! Shh… don't tell them how EASY it was! Recipe: Damn Delicious
#12. 5 Ingredient Steak Hash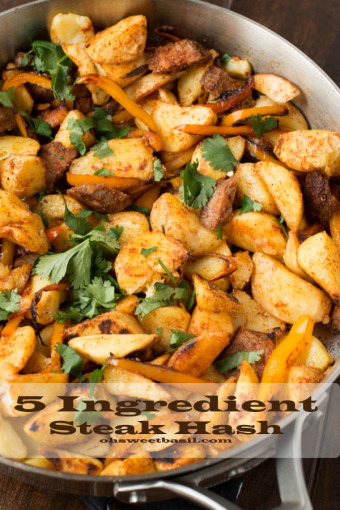 If you are like my husband, you will just want a good steak every once in a while. But if you are like me, you will want a potato on the side too. Well, the perfect combination just showed up! 5 Ingredients and BAM you have some super delicious Steak Hash served up. This is one of our FAVORITE hostel meals! Recipe: Oh Sweet Basil
#13. Hummus Wrap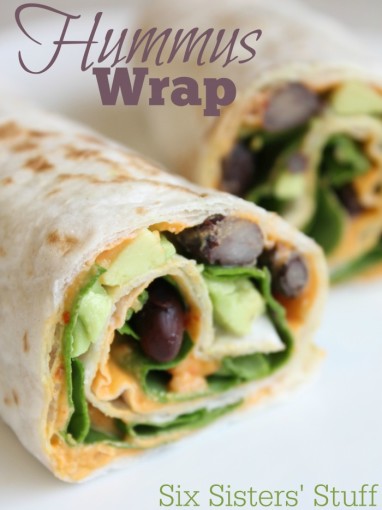 If you know you are going to be at a hostel for a few days to a week and you have a blender around, make some hummus! It's so easy! There are lots of recipes for hummus even without tahini! Use it for snacking with veggies like carrots, cucumber, and celery. Best of all you can use it for making delicious lunch wraps! Multiple-use meal right here, and plus hummus is just addicting. Am I the only one who just loves this stuff? Recipe: Six Sisters' Stuff
#14. Stir Fry Chicken & Vegetables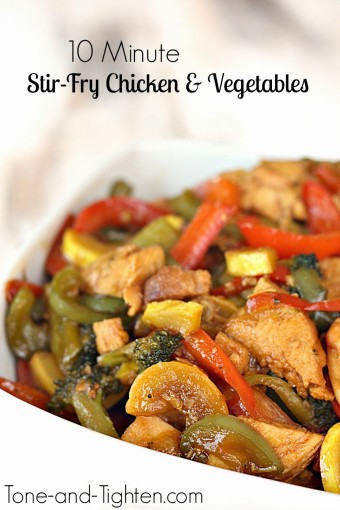 The best part about stir-fry is you can make just about any vegetable work. Take a look at what's available in your area, dice it up, and throw it in! Usually carrots are our go-to vegetable that you find almost anywhere in the world. They are our favorite snack too! Try this Chicken & Veggie Stir Fry for a great healthy dinner! Recipe: Tone & Tighten
#15. English Muffin Veggie Pizzas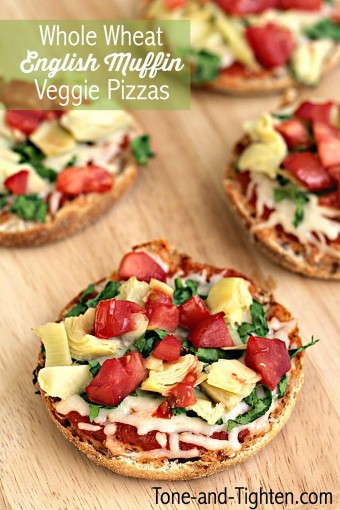 Every college dorm room student even knows this easy dinner hack! This is just one of those Survival 101 type of meals. So easy to make a pizza out of these english muffins! Can't find any english muffins? Try looking for Naan or Pita bread for a similar taste! And of course, whatever toppings your little heart desires, throw them on! Recipe: Tone & Tighten
#16. Teriyaki Chicken with Vegetables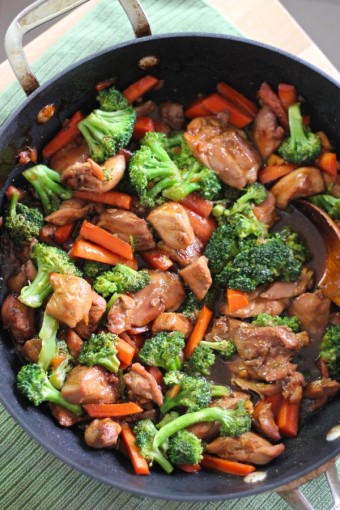 Since we are on a stir-fry roll, here's another one of our favorites! Broccoli is the best in this meal! The teriyaki flavor is delectable! Usually we will make this with rice since it is a little juicy but if you don't have rice that is fine too! Don't forget that one-pan meals like these are so easy and if there are two of you working on it, it gets done really fast! That's our goal now, keep it easy & delicious! Recipe: Eat Good 4 Life
#17. Chicken Caprese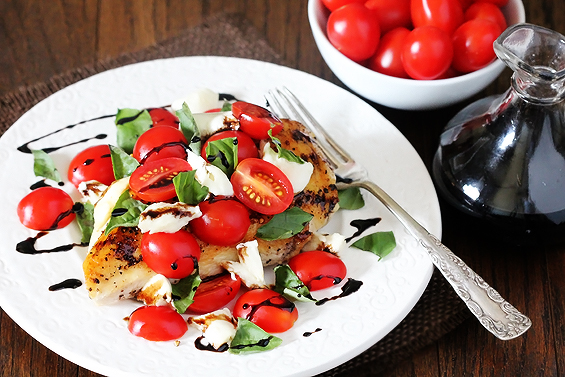 You can't get any easier than Caprese Salad. Adding Chicken to this meal is a great way to get some protein and still enjoy the AH-mazing flavors of Caprese Salad! If mozzarella cheese is expensive where you are, try a local type of cheese that is similar. Usually it can be just as satisfying! Don't be afraid to improvise to use what you have to your advantage! Sometimes the most interesting experiments turn out the best! Recipe: Gimme Some Oven
#18. 5 Ingredient Strawberry Caprese Salad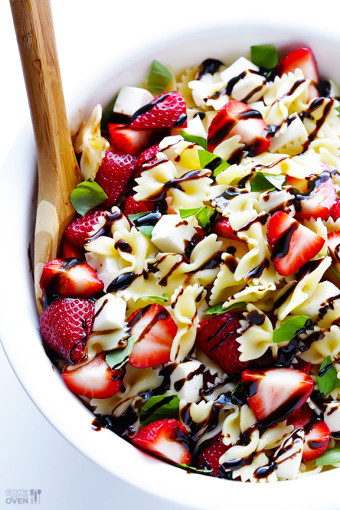 If any of you can drizzle your balsalmic as well as this picture, kudos! It sure looks beautiful! This is another great refreshing salad to have when it's hot out! The combo of pasta with strawberries, basil, and cheese is just mouthwatering! Hopefully strawberries are in your part of the world! If not, just use tomatoes! It will be a great salad no matter what you choose! You can even dice up some chicken if you decide on tomatoes! Recipe: Gimme Some Oven
#19. Quinoa Corn Chowder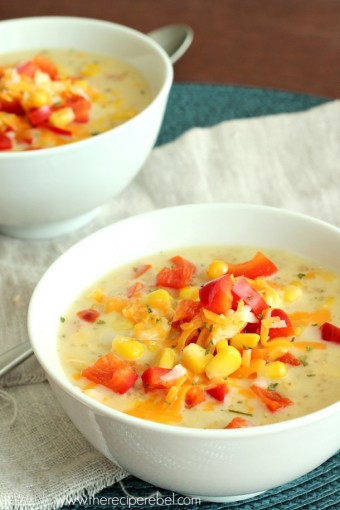 Chowder or anything creamy always grabs my attention. Any chowder lovers out there? Clam chowder… To.Die.For. Yum! Now I haven't actually tried this Corn Chowder but it's on my list because Landon loves quinoa. I'm taking my time adjusting to the flavor so I guess that's why I haven't jumped on this yet. But soon. It keeps looking at me. Can't wait to try it! Recipe: The Recipe Rebel
#20. Vegetables with Sausage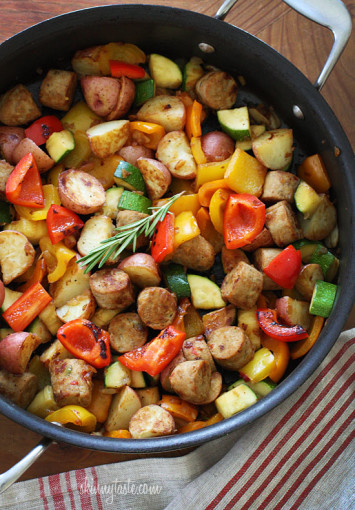 This was our go to meal in Costa Rica. Sausage (basically hot dog) was very typical and since meat prices were so high, we would often use it in our meals. So glad those days are over! BUT, I did my best to make it taste good with what I had. Potatoes, veggies, sausage all mixed up? Now we are talking! Give this easy recipe a try! It's a keeper! Hopefully you can find some real and delicious sausage too! Recipe: Skinny Taste
#21. Healthy Asian Lettuce Wraps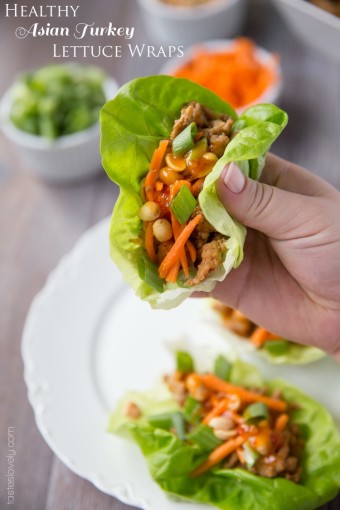 Lettuce wraps are such a fun way to have dinner. It just makes you feel so dainty! Now if the lettuce options are sparse or looking wilty, don't forget you can just eat the filling by itself or put it on rice or steamed vegetables. As delicious as it is in lettuce, I'm aware that not all countries have good lettuce. Add more veggies in the filling and call it a meal! Recipe: Tastes Lovely
And now, TIME FOR OUR GIVEAWAY!
For those of you looking for easy and delicious meals right at your fingertips then this giveaway is perfect for you! At the store and need to see what ingredients to buy? The exclusive BACKPACKER'S CHEF COOKBOOK has it all right in front of you with their awesome digital copy! This cookbook from Roaming Cooking has easy, fast, and great tasting meals all rolled into one! 
There will be 2 lucky winners for a digital copy of the cookbook so be sure to tell your friends! Good luck! 
A special thanks to Jacquie at Roaming Cooking for this awesome giveaway opportunity! Check out Roaming Cooking's latest products on Facebook & Instagram! They have lots of neat travel cooking supplies!
What are some of your favorite hostel meals? Do you ever get in a boring cooking rut? We are always looking for energizing meals, and would love for you to comment below and share with us your favorites!