After 19 hours in the air from Chicago to Thailand we had truly traveled half-way around the world. The time was 12 hours different, and we didn't know when to be awake or asleep. That was some serious jet-lag! Woohoo! We finally made it to Thailand!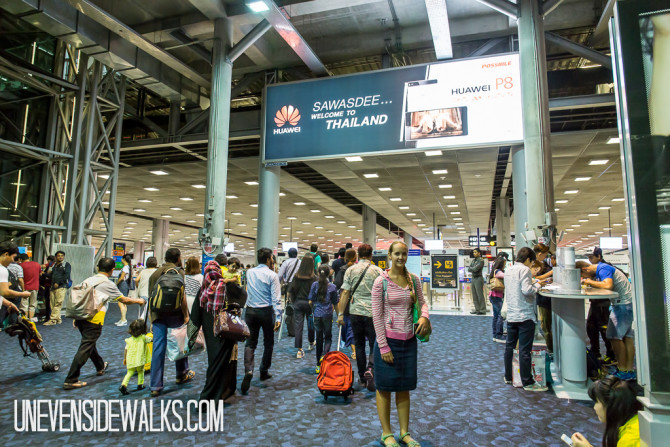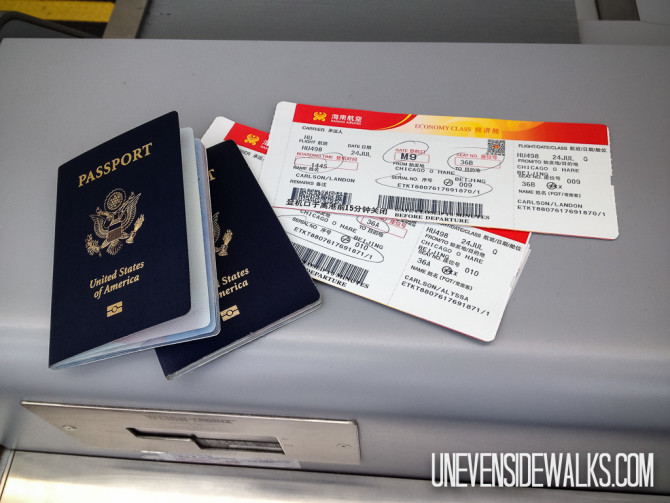 Since we were traveling in the direction the sun sets, we kept up with it for the entire 13 hour flight – it was right outside my window in the same spot the whole time. That's pretty amazing, flying as fast as the sun goes across the earth!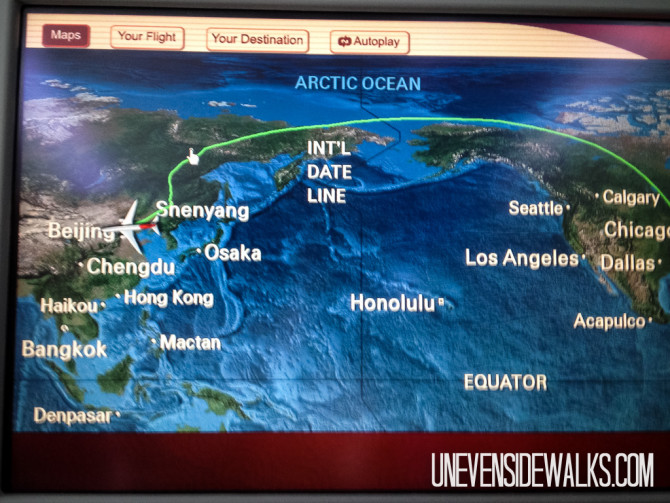 Right now I'm reading a book Two Years Before the Mast about a merchant ship in the 1800's. To go from Boston to California they had to sail all the way around South America and it took them 5-6 months. Today that flight would take less time than someone usually spends going to Costco. And we get a hot meal served right to us. We are definitely spoiled!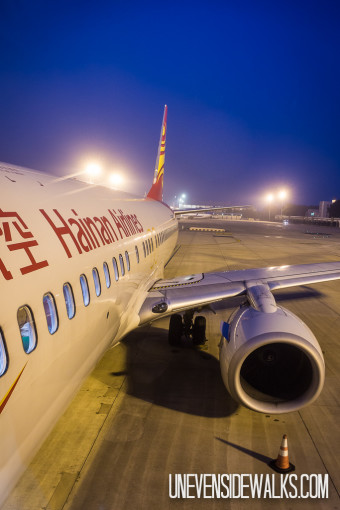 We traveled with Hainan Airlines for the first time, and loved it! They're just as awesome as TACA in Latin America. We also had a short layover in China where we confirmed that Gmail is indeed banned there.
We finally arrived at the Suvarnabhumi (BKK) airport in Thailand at 1am local time, and it looked like the whole city had turned up to go through immigration at the same time as us. It was a zoo!
Walking through the Thailand airport, everyone had to pass by this odd temperature checkpoint so I went around back to see what it was all about. They must have been screening for Ebola and maybe Chikungunya symptoms which are a high fever. They had a FLIR thermal camera set up that measured the temperature of everyone's forehead that walked by it. It displayed this on the screen below as a picture, and you can tell the darker areas are the walls and the lighter areas are people's bodies. If someone had a temperature, it would show up as a red spot on their forehead. Seems pretty fancy to me, but hey, I'm an engineer!
Be sure you don't travel if you have a fever higher than the normal body temperature of 98.6 F or 37 C !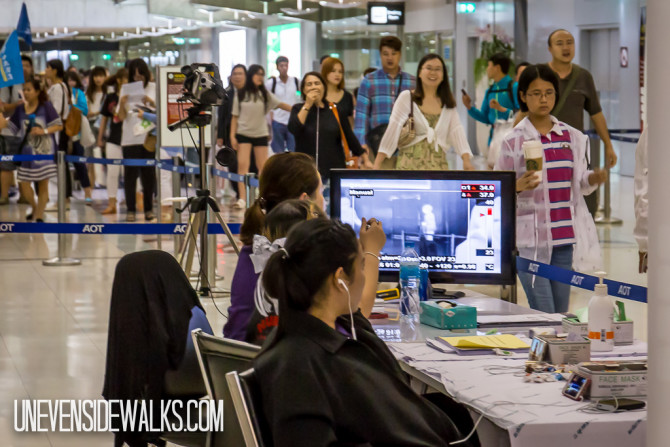 We followed the crowd through the airport maze and wondered where everyone was coming from. We thought this was supposed to be "low season."
We were herded down to the second immigration area which we were told was less busy than the first. Large groups of people were hanging out in all the hallways – maybe waiting for the rest of their tour group. It turned out we didn't need to fill out any visa papers and just got a Visa On Arrival at the immigration booth.
We felt like heading out to explore the city. The problem was, everyone else was asleep, and the only places open were probably not our style or entertainment. So, we took turns sleeping on the benches in the baggage area.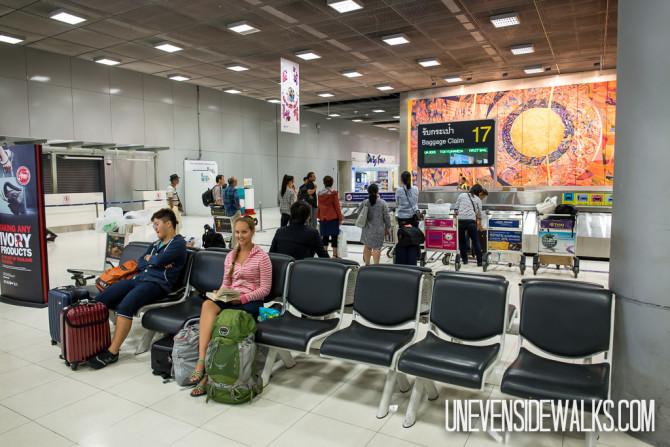 The huge groups of people slowly moved through the area like sheep grazing in a pasture. The group leader would walk on ahead with a little teddy bear on the end of a stick, and everyone seemed to find their way along with all their luggage. 
There's free wi-fi all throughout the airport, which is pretty cool. But, you have to register to use it, and it only lasts 2 hours. Not so cool. However, the lady at the info desk told me a little trick where there's 2 wi-fi names that are similar, and you just use the opposite one of what you used the first time.
We grabbed a few thousand baht from an ATM so we could pay for the train and some food with local currency. They also had phone chips just outside the baggage area, but we forgot to stop there and got one later at the MBK center in downtown.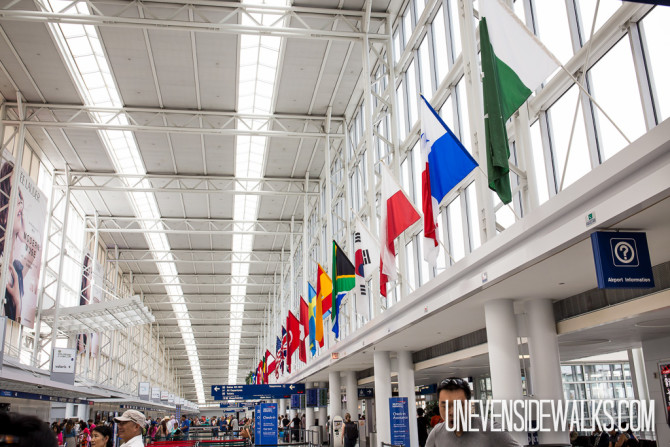 One thing I like about this airport is they don't try to force you to take an expensive taxi or special bus into the city. The Airport Rail Link train is specifically for bringing people from the airport into town. It was super easy to find and has a stop right inside the airport. We paid 45 baht each ($1.30 USD) to go to Phaya Thai – the end of the line, and right in the middle of downtown Bangkok. From the Airport Rail Link you can connect to the MRT and BTS – rail lines that go all over the city.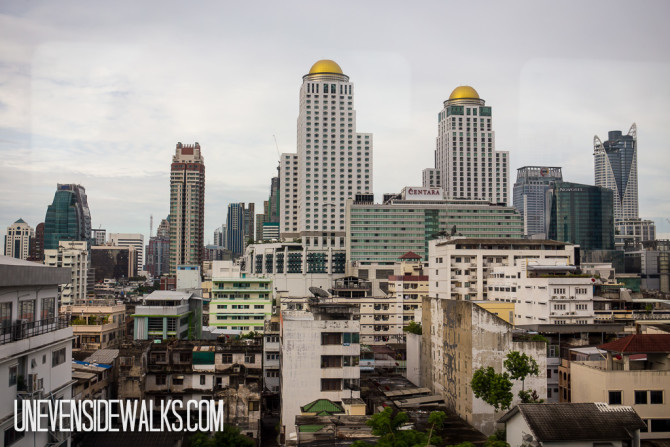 Now to explore what Bangkok has to offer!