In the grapevine of the backpacker's world, we often hear other travelers blacklisting Costa Rica saying they skipped it or only spent a few days here. Why? Isn't it a country with beautiful beaches, adorable monkeys, zip-lining jungles, and volcanos? 
"Costa Rica is too expensive," they say.
Many backpackers choose to not visit Costa Rica because of the daunting stories they hear of the country's expensive reputation. However, there are many ways to get around the high prices and enjoy Costa Rica at budget prices!
Backpacking in Costa Rica on a Budget
We're here to say, Don't miss out on Costa Rica! It's myriad beauties will be forever imprinted on your mind!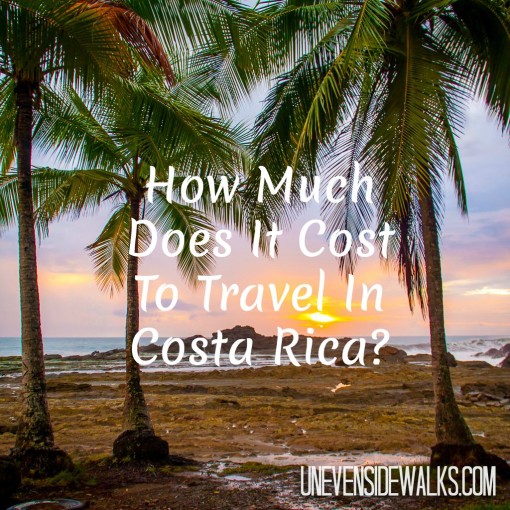 How Much Does It Cost To Travel In Costa Rica?
Here Is Our Example Travel Budget for

1 month

in Costa Rica:
Transportation: $214 (buses, boat, taxi)
Food: $537 (food, restaurants, snacks)
Accommodation: $882 (hostels and camping)
Entertainment: $346 (zip-lining, national parks, entrance fees)
Miscellaneous: $88 (souvenirs, pharmacy, umbrellas, clothing)
TOTAL (for 2 people)= $2,067
DAILY AVERAGE per person: $34
Backpacking in Costa Rica on a shoestring is definitely possible if you watch your daily budget! Everyone spends money differently, but if you always keep your budget in the back of your mind, you'll find a lot of places in Costa Rica that will accommodate it! We keep track of everything we buy with the Trail Wallet iPhone app which makes it super easy to see what we're spending.
Even though it's one of the more expensive countries in Central America, Costa Rica has so much to see, and after all, it is like paradise! You can use these money saving tricks in Costa Rica and any other country to help you spend less and stay longer!
Check out some travel highlights in our 1 week itinerary to get an idea of routes you can take.
Backpacker Budget-Friendly Highlights
Here are some places you must check out! 
Osa Peninsula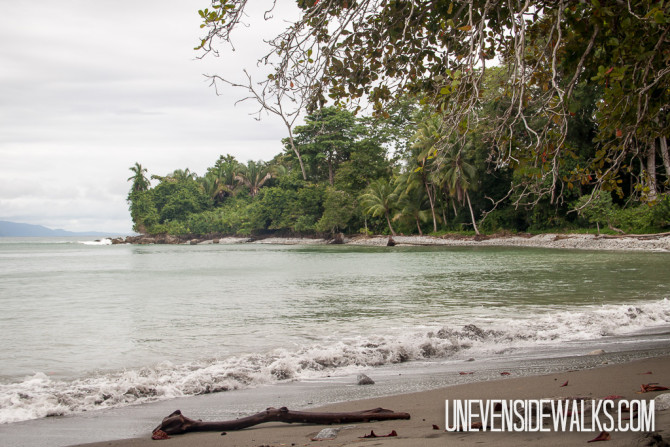 The Osa Peninsula is one of the best places for budget travelers and adventurers! It's definitely off the beaten path and there is lots of hiking and wildlife galore! Many backpackers chose to come here and skip Manuel Antonio but that is totally up to you. Personally, we feel that they are both worth it.
The Osa Peninsula is filled with gorgeous secluded beaches and miles of jungle trails. Here you will find lots of Macaw Parrots flying freely and close-up! The amazing wildlife on this side of Costa Rica really makes the trip worthwhile!
Manuel Antonio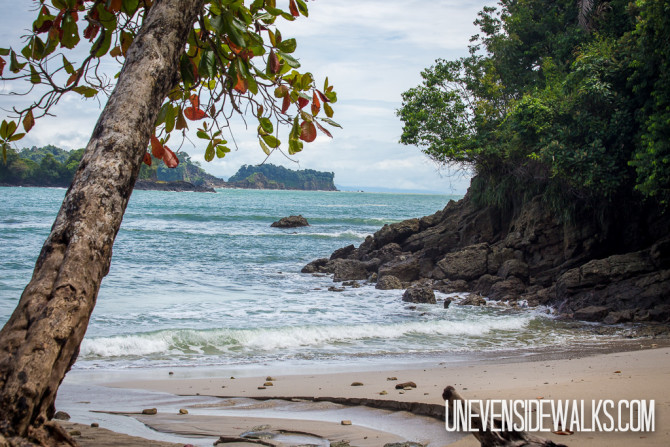 Ask anyone who's been to Costa Rica and they'll tell you, Manuel Antonio is a really sweet place to visit! However, it is not exactly budget friendly right next to the national park. One way to get around that is to stay in the nearby city of Quepos and then take a 20 minute bus into the Manuel Antonio national park. We've stayed at the Backpackers Hostel in Manuel Antonio and the prices are reasonable. You can get a shared dorm for $12 a night or a private room with A/C for $35.
Get an early-morning start to the Manuel Antonio National Park and you will have lots of up-close experiences with the white-faced monkeys. It's absolutely amazing!
Save money and skip out on the tour guide. There are usually so many guides along the trail you can look where they're pointing at in the trees and see quite a bit of wildlife. We also love the hike just past the main beach on the right – it goes up the mountain and gives you a good overall view of both sides of the park. It's very humid, so bring a water bottle be prepared to go for a swim when you are done!
Playa Jacó
Jacó is known for its great waves and party scene. You'll find loads of surfers here checking out the surf and sipping a coconut by the beach. Jaco is known for lots budget accommodations and fun beach hang-outs! Coined the "party city" of Costa Rica, we didn't hang out here too much but know lots of backpackers find cheap accommodation and stay here for weeks to surf.
If you are just wanting a fun place to hang out and live the beach life for a while, Jaco is the place to do it!
La Fortuna and Arenal Volcano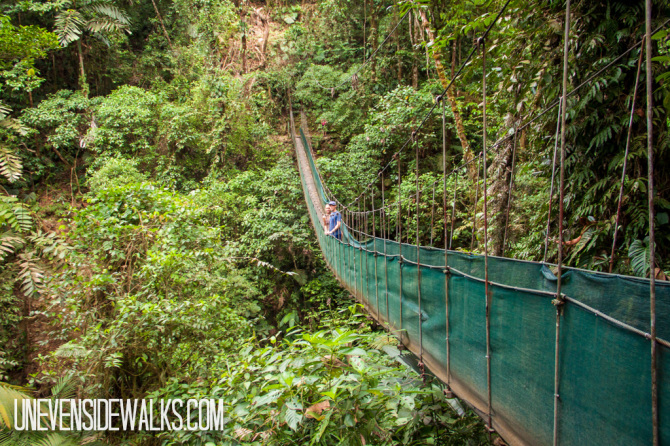 I'm sure you've been itching to go to the beautiful hot springs in Arenal. We were too because it looks incredible! Yes, we'll confirm with you that it's expensive.
So what's the budget option?
The Hot River! There is hot water running down a river that's right next to a fancy hot-springs resort. Ask any local or taxi and they will tell you where it's at. You don't have to pay big bucks to sit in the hot springs. It's totally FREE!
*Note: Some tour guides will try and charge you to take you there on a "tour". Just get a taxi and go yourself. They are just collecting money for a "tour" that is open to anyone.
If you are absolutely just dying to get to the fancy hot springs for some really HOT water, then we recommend just going for the day. You can get a day pass for a little more than $50. If it's your splurge day, then go for it!
Another great swimming option that isn't too expensive is the La Fortuna Waterfall. The entry fee is cheap and it's a beautiful hike down to the base of the waterfall. If you take your lunch it makes for a beautiful picnic and day full of swimming, hiking, and exploring. See if you can find the old hanging bridge about a mile down the trail across the river. Beautiful!
Nicoya Peninsula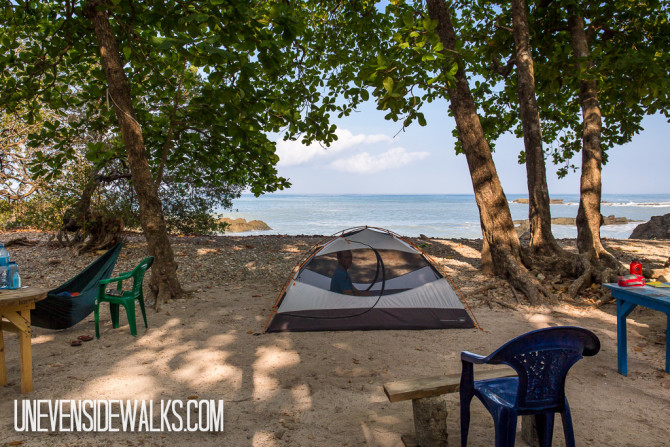 The Nicoya Peninsula is a beautiful secret that not many tourists take the time to visit. There are lots of budget hostels all along the coast making for a great ocean-filled shoestring trip! This can be an even more budgety option if you stick to camping and eating rice and beans. I have to mention it because we were able to shrink our budget on this part of our Costa Rica trip by camping! We only spent about $5 a night to camp. Amazing, right!? Once you start exploring all the beaches along the way, you'll be addicted!
There is public transportation along the peninsula, but the buses are few and far between, but usually stops at all the main towns. If you are feeling adventurous, rent a car and go camping for a week along the coast like we did! There really is no other way to explore the nooks and crannies along the coast on your own without your own transportation. Having the freedom to check out all the dirt roads you want is so much fun!
Good luck planning your trip to Costa Rica! If you have any questions about backpacking in Costa Rica on a shoestring budget, we are happy to help! Send us a message or comment below!
For other great tips on saving money and budget travel visit us on Facebook, Twitter, Instagram, and Pinterest!