Imagine a hammock hanging between two palm trees overlooking the ocean. Now imagine you sitting in that hammock and your very own tent set up right behind you waiting for when the sun goes down to fall asleep in. Does that sound like perfect or what?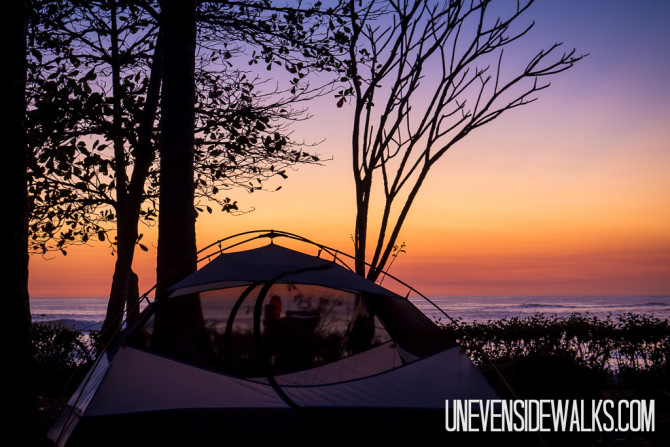 Camping in Costa Rica is as easy as camping in the USA, and way cheaper. Especially along the ocean of the Nicoya Peninsula! We spent 1 week exploring these coastlines, checking out campsites, and cruising down dirt roads. It couldn't have been a better way to celebrate our 6th year wedding anniversary! 
We came from San Jose with our car, so we started our trip from the southern tip of the Nicoya peninsula and worked our way north for a week. If your trip originates in Liberia, you could easily do this trip in reverse from north to south. 
Here's the scoop.
One Week Camping on Costa Rica's Gorgeous Nicoya Coast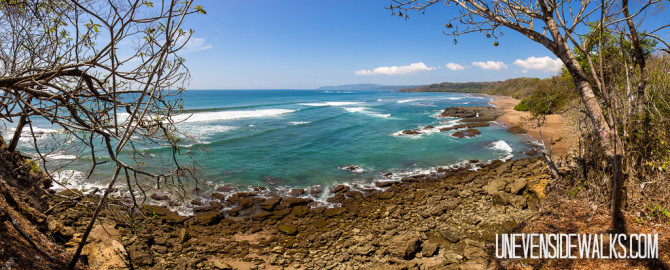 Day 1: Drive from San Jose to Montezuma
The first day we drove from San Jose in the mid-afternoon towards Montezuma. Our plan was to take the ferry from Puntarenas over to the port of Paquera which would have dropped us off close to Montezuma. We missed the ferry by a few minutes and the next one wasn't due for another 3 hours. Drat! So, we decided to drive north and cross over to the peninsula via highway 18 and head south again. The drive was great so if you find yourself in this position, don't contemplate the drive too much. It's beautiful and really not that long compared to the ferry.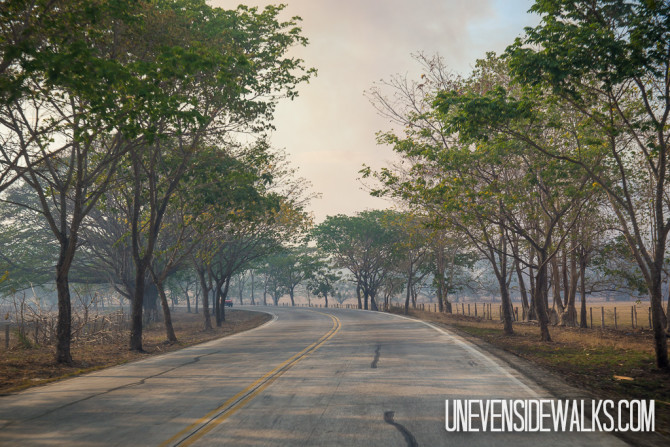 We arrived in Montezuma at dark so we didn't have time to scope out the camping. We went to a camping place on the beach but the man said they no longer are allowed to camp there, so we decided to stay at a hostel. We weren't there long enough to be sure what the camping situation is in Montezuma. The hostel we stayed at was called El Parqueo and was great for being right on the water!
Accomodation: Hostel El Parqueo $10 per person/night
Toilets & Showers? – Yes
Kitchen? – Yes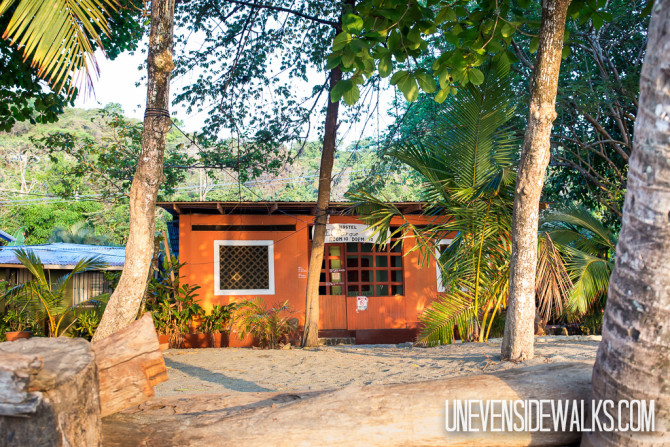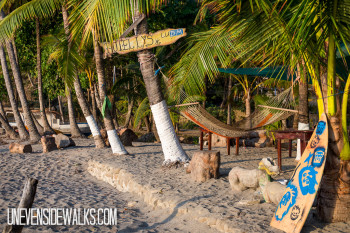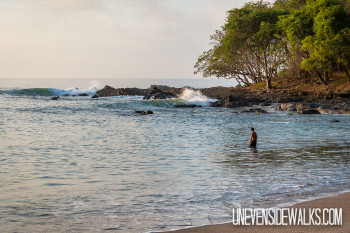 Day 2: Malpaís
The next day, we woke up early and hiked to the Montezuma waterfall nearby. It's a gorgeous hike and the waterfall was a lot bigger than we were expecting! When the water is deep enough, some people even go swimming. We also drove a short distance to the east over to another waterfall where the water pours right into the ocean! (You can walk there too.) It's very rare to find a waterfall like this. We really enjoyed this place which also offered incredible views of the ocean from up high on the cliff! Don't miss the geocache there either!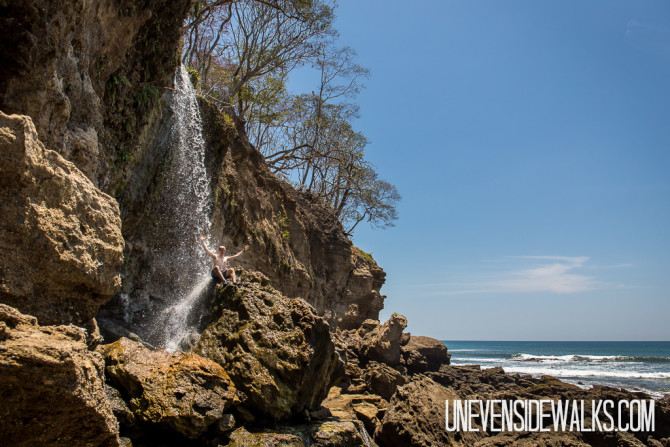 After all our morning adventures, we set off for Malpais. It's not a very long drive and we were there with plenty of time to set up camp, get dinner ready, and see the sunset. This campsite has a kitchen you can use, and the owner is very friendly! We actually heated up our bagged refried beans on the motor of the car so they were nice and warm when we arrived. Delicious tostadas for dinner! The best part about this campsite is it's right on the beach with lots of rocks and tide pools to explore! We really loved this place! 
Campsite: Camping Elimar – 5,000 colones or ~$10 a night
Toilets & Showers? – Yes
Kitchen? – Yes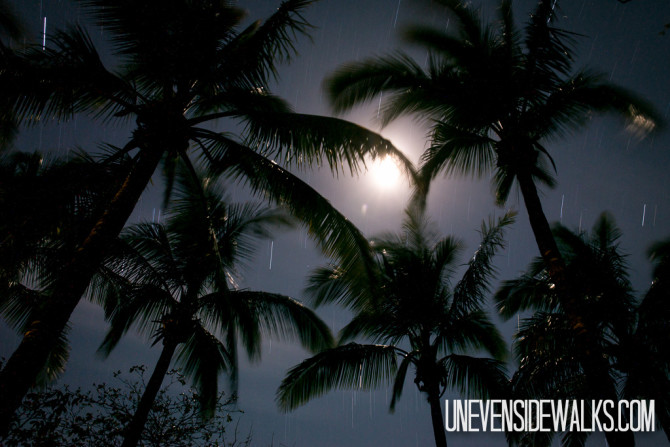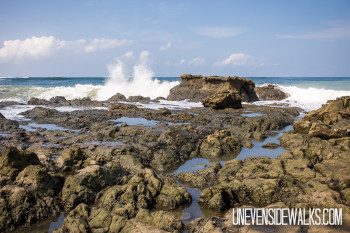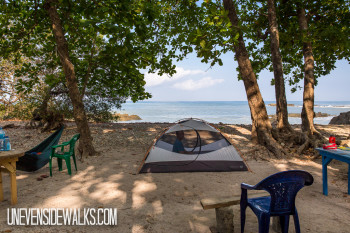 Day 3: Sámara Beach
From Malpaís we had a fun day driving through dirt roads, passing little towns, and taking pictures of amazing scenic beach views! Be sure to stop off in Santa Teresa to see one of the most popular beach/surfing towns along the Nicoya. You can find great lunch options and even hang out at the beach a little while. Once you arrive in Sámara at Camping Cocos, get your tent set up for the night and then head out to find dinner right on the beach! There are so many neat places right on the sand that light up at night!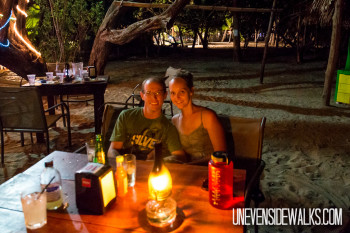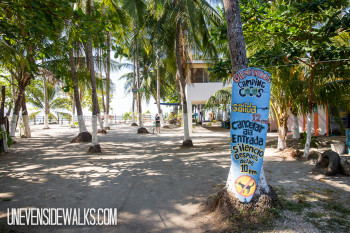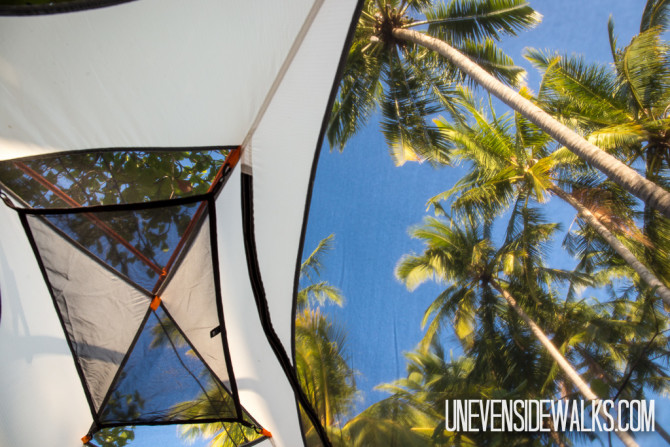 This campsite is pretty close to the beach sand where people are walking by so make sure to keep all your valuables inside the car or on you. It's the best campsite for listening to the waves and waking up with palm trees looming over the top of the tent! It was one of our favorite campsites!
Camping: Camping Cocos – 6,000 colones or ~$12/night
Toliets & Showers? Yes
Kitchen? – No
Day 4: Nosora Beach
Nosora is a much smaller town compared to other places like Santa Teresa. The beach areas have some really cool rock formations with blow holes and tide pools. We came to Nosora and splurged on a reservation at an Airbnb Bed & Breakfast for our 6th wedding anniversary. It was a gorgeous place with stunning views of the ocean! We spent the whole afternoon relaxing by the pool, exploring the ocean beaches and enjoying our anniversary day! The town has a couple of hostels within walking distance of the beach as well.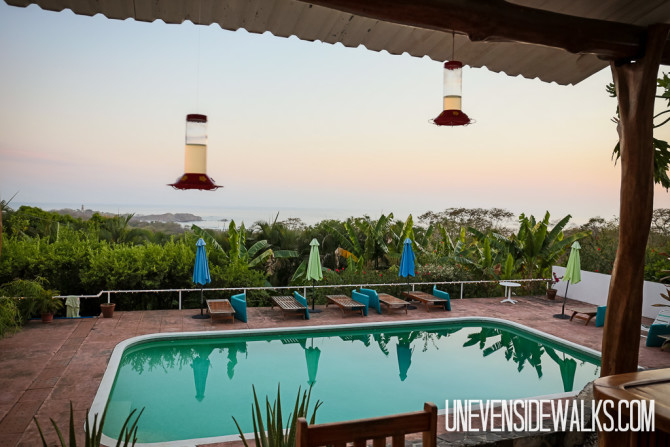 Day 5: Playa Junquillal 
From Nosora we drove to Playa Junquillal and found a beautiful campsite on a cliff overlooking the ocean. Being up on a cliff gave the campsites a stunning panorama view of the whole ocean! Here we saw one of the most beautiful sunsets we'd ever seen! There was a little trail to walk down to the water and we had a really fun time there feeling so relaxed by the beautiful views! This campsite would have been fun to stay at for a few more days if we had the time!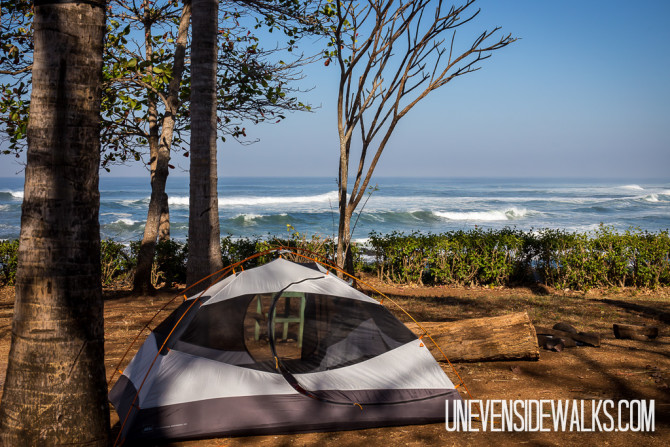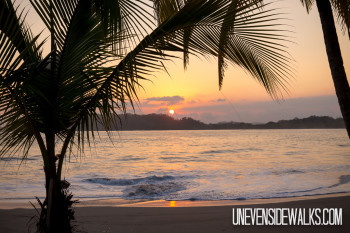 Camping: Los Malinches Campsite – 5,000 colones or ~$10
Toilet & Showers? – Yes
Kitchen? No
Day 6: Playa Potrero
Right along side some of the fanciest resorts in the Nicoya is a camping spot right on the beach! We were thrilled to find this place because of it's close proximity to the water and lack of campsites in this area. It looks like someone's house and it basically is, but there is a huge area on the sand for camping, plenty far away from everyone. It was really a neat spot with tons of trees, nearby restaurants, and an old pier.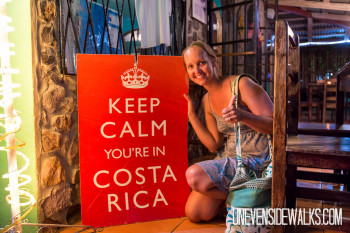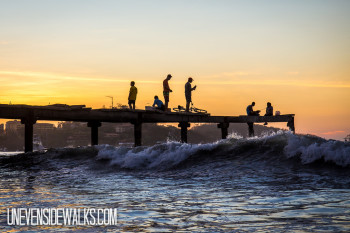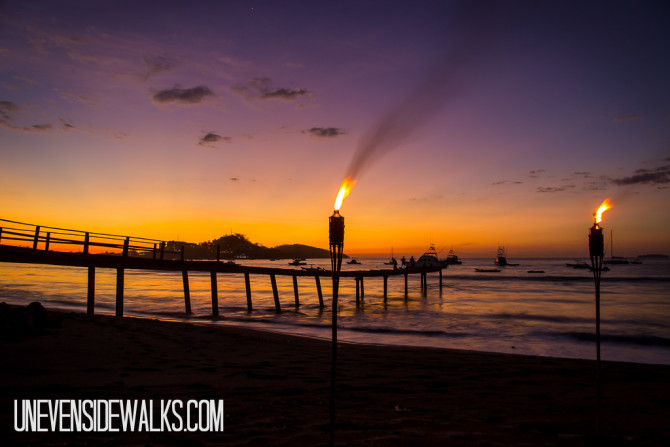 The campsite offers $20 massages right on the beach and we of course all had to get one! It was delightful! We spent the day swimming in the ocean, tanning, and exploring the town around lunchtime. It was a great way to end our week-long camping trip! 
Camping: Camping Potrero – 5,000 colones or ~$10
Toilet & Shower? Yes
Kitchen? – No
Day 7: Back to Liberia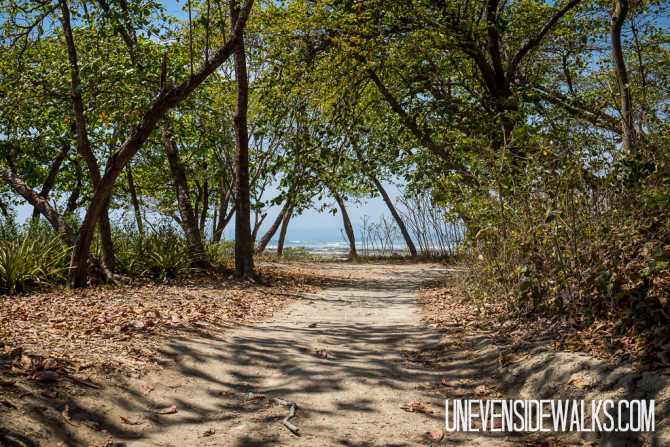 The next day, we headed back to Liberia with a very dusty, dirty car, loads of pictures, and suntans! It was one of the best trips we've ever done in Costa Rica! We can't wait to do an even longer trip next time and see more of the beaches!
Tips for Camping in Costa Rica: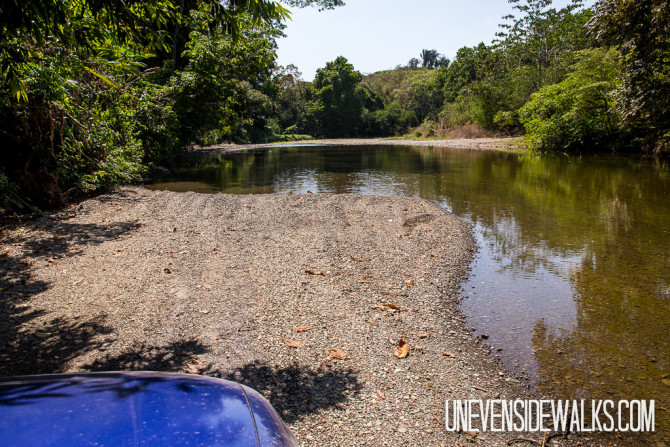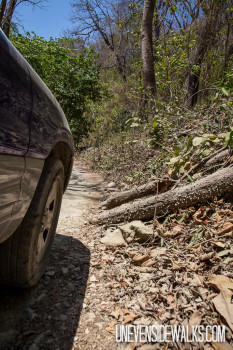 Be careful what time of year you go on this trip. During the rainy season, some of the roads are impossible to pass through because of deep rivers and thick mud. We went in the dry season and still had quite a few rivers to cross! The roads are mostly dirt roads that can get washed out from rain. Just check the weather before you go.
Make sure your rental doesn't have restrictions about driving on the Nicoya. You'll need at least a mini-SUV or larger with 4×4 so you have plenty of clearance. We used a Toyota RAV on this trip and did fine.
Lock all your valuables in the car, not in your tent.
It's easy to get turned around on the dirt roads so make sure you have your offline maps available because sometimes there is no service. We use Pocket Earth on our iPhone.
Bring along an ice chest and some food to cook your own meals. You'll also want some snacks while you're driving along. There is plenty of places to stop and re-stock.
Make sure you have a spare tire. Maybe two… Some of the roads are really rocky! We popped a tire but luckily had a spare. Finding someone to fix our flat in case another went out was a little tricky but just ask around. 
Be prepared for rain. 
Sleeping in a hammock is possible at all of these campsites. We slept in the tent but of friend of ours who joined us slept in a hammock the whole week. 
Fill up with gas whenever you can. You don't want to run out!
Don't forget to have fun!
Love camping? This is a trip you must try someday, it's a blast! Go for 2 weeks if you can, there is so much to see! Camping in Costa Rica is an unforgettable experience!