Choosing the right backpack can be crucial for your trip. The wrong fit, size, or style can really put a damper on how much you enjoy your trip and how easy it is to travel around. If you've ever been searching for a new backpack for traveling or camping, you know how overwhelming it can be! There are so many brands, styles, sizes, and colors, how do you know what to look for? In this post we share what we look for in a backpack and the things that make-it and break-it for us.
A Traveler's Guide to Choosing the Right Backpack: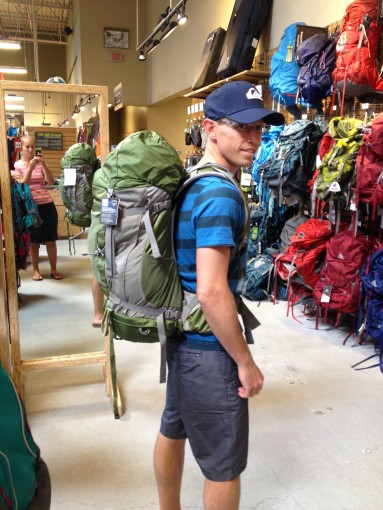 1. Start Researching
There are literally thousands of different backpacks out there and it's important to stay focused or you'll be overwhelmed from the start. Keep in your mind what kind of traveling or hiking you'll be doing with this backpack. This will help you narrow your search down. If you aren't going to be doing much hiking, then a more simple bag without all the bells and whistles and breathable mesh backing will do just fine.
Reading reviews are great to get a general idea of what people like. If a certain bag has good reviews, chances are a lot of people have been using it and really like it. Just make sure it fits your travel plans and budget.
2. How Big of a Backpack Do You Need?
We live by the mantra, the smaller the better. We travel with a single 48-liter backpack for the both of us and totally recommend it! But in general, anywhere from 40 to 60-liters is a nice size. If you pick one with a little extra room, try not to stuff it full!
Keep in your mind what kind of traveling or hiking you'll be doing with this backpack. If you'll be carrying around a tent, go for a 60-liter one. If you'll be staying in nice hotels all the time or won't be bringing a laptop, you can probably drop down to a 40-liter one.
We found that around the 48-liter size some backpacks tend to skimp on the back support frames and turn into a "daypack" style of bag. Be careful of the brand you choose because having a frame is very important!
3. Try on Backpacks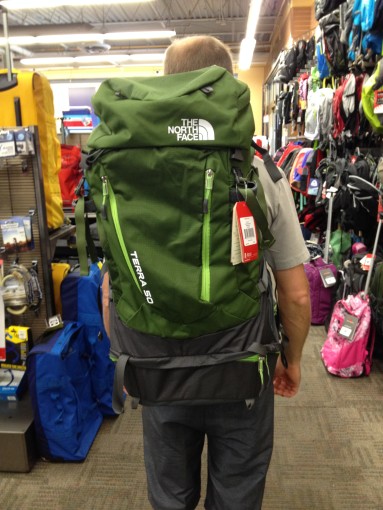 We love shopping at REI because the employees really know their stuff. One of the best things they have to help you pick a backpack are 5 pound beanbags you can put in the pack to try it out as if it were full of stuff (you can use other heavy products in the store if they don't have beanbags). You want to know how the bag is going to feel when it is full. Having an empty bag on your back doesn't give you that idea. Take your time and walk around the store with it on for a few hours. Seriously.
What to Look For In a Backpack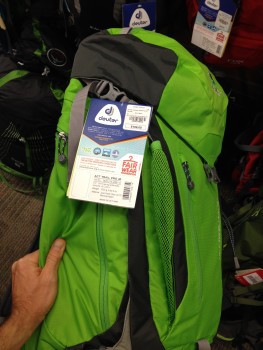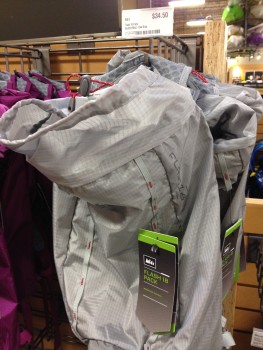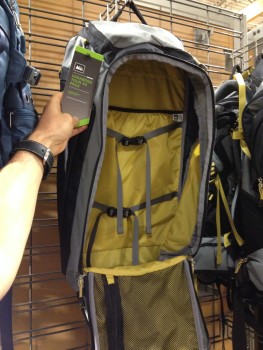 1. Type of Material/Waterproof – the last thing you need is for your bag to rip the first time you yank it off the top of a bus. Be sure the material is sturdy and well-sewn. Some bags claim they're waterproof, but it's best to go for one that has a built-in raincover shell to put on or buy one separately.
2. Size – Many people don't know that backpacks have different sizes – like clothes. Make sure you get one appropriate for you. Check the size on the tag, or look for a small label hidden somewhere on the side of the bag and you will see S/M/L/XL. Also check to see if it's a women's or men's bag.
3. Pockets – Some have many outside pockets with lots of zippers, and some are more closed-up with less access. I'm not a big fan of lots of pockets because people are curious and will sometimes try to open them up for a peek inside! I usually look for a bag with a few small zipper pockets on top, an inside shelf, and water-bottle pockets on the sides.
4. Zippers – You want to try the zippers a few times to make sure they seem sturdy. Also 2 zippers together on the pockets is a great feature so you can lock them together while traveling. Nothing worse than worrying about your pockets spilling open if someone tries to open your bag!
5. Waist Belt – You want to make sure there is enough padding around the hips and that you can tighten the belt enough. If not, you may need another size. Padding is important because this is where most of the weight will be resting. 
6. Back Support Frame – I personally think the back support frame is one of the best features invented. It evenly spreads the weight of all your stuff to the waist belt and shoulder straps and lifts the bag off your back so there's room for airflow. It makes traveling so much more comfortable!
7. Shoulder Straps – The shoulder straps should fit snug and not dig in anywhere uncomfortably. Be sure they're padded and wide enough to be comfortable to wear for a long time. They should have an adjustment on the bottom and also one up top by your neck to pull the load closer to you. A sternum strap that goes between them is really important too.
8. Liter Size – This is literally how many liters of water your backpack could hold if it were filled to the brim. Choose a size that is appropriate for your trip. We use a 48L bag and recommend anywhere from 40 – 60-liters max. It's important to be able to pack light and not regret having a beast of a bag on your back for weeks or months!
9. Cost – Many name-brand backpacks are very pricy, but you definitely get what you pay for! A good travel and hiking backpack can run around $200 (and higher), but be wary of anything for less than $150 unless it's on sale or last year's model. I always shop at REI because they have an amazing money-back guarantee. Their REI brand is very comparable to the name brand backpacks and a lot cheaper too!
A great trick is to check out the REI used gear sales where they sell the things that people have returned for a variety of reasons. Do your research beforehand and know the bag (color, model, size, and styles) you are looking to purchase before going. DON'T SETTLE. Just see if they have the backpack you want and if they do you'll get a smokin' deal on it!
Which Backpack Did We Choose?
At the end of our backpack search, we picked the Osprey Kestrel 48L and an REI Flash 18L daypack that folds up into the Osprey. It was a long search, but we are happy with our choice and glad to be packing light again! We are now both packing in a 48-liter bag, read here how we managed to do it!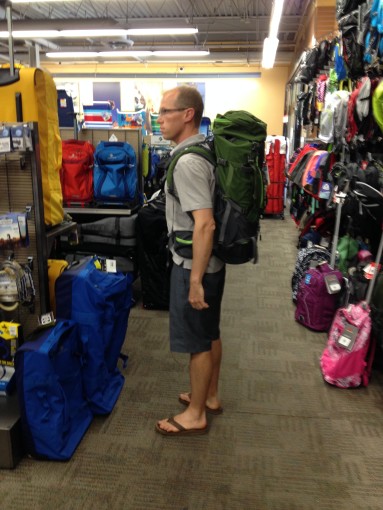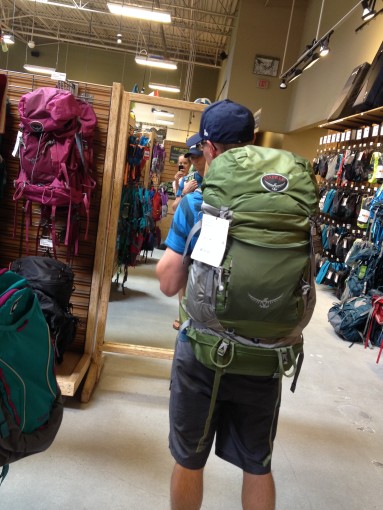 Good luck choosing your new backpack! We know how exhausting it can be but hope these tips helped!
Leave a comment below to let us know what backpack you purchased or currently use!