Bolivia was the 4th country on our 4 month long trip, and we were eager to do some exploring! It was the country we knew the least about, but ended up loving the most.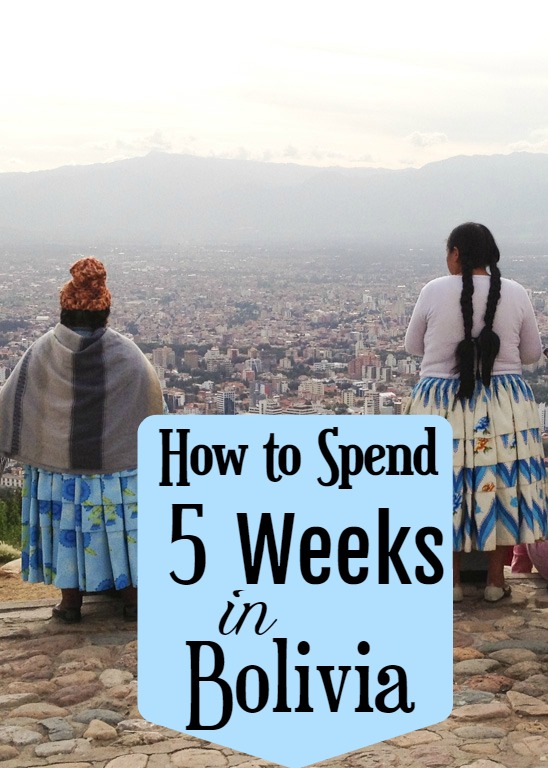 Everyone we talked to loved it and stayed for a month or more – it didn't seem possible since it was tiny compared to Chile or Argentina. 5 weeks later, we hardly scratched the surface of everything there was to see and didn't want to leave. We were going to miss the ladies in their indigenous clothing, the beautiful mountains, the mysteries of Potosí, and most of all, feeling like we were out of breath the whole time! There is nothing like exploring indigenous Bolivia for a few weeks or months!
We just finished rushing through Argentina, and were glad for a chance to slow down a bit and absorb some of the beautiful Bolivian culture.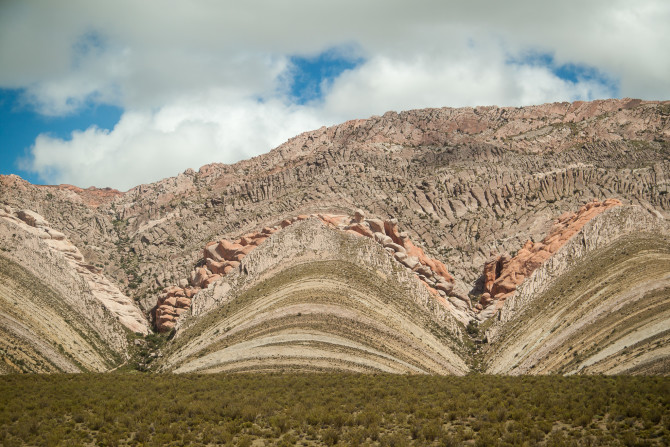 Our 5 Week Bolivia Itinerary:
This map shows our meandering route through Bolivia, starting at Villazón in the south and crossing to Peru in the north. The country is much smaller than Argentina, so we were glad for the much shorter bus rides! A few roads were washed out since it was the wet season, so a few times we flew to the next city to avoid a 15 hour bus ride that could turn into 30-40 hours if the road remained closed!
Quick Itinerary Overview
In the south we crossed over into Bolivia from Argentina at Villazón. We stopped at Tupiza, the first town, and from there we took a tour through the beautiful mountains to the famous Uyuni Salt Flats. Next, we hopped over to Potosí and took a tour of their folklore-filled silver mines. Then, a bus to Sucre, a plane to Santa Cruz, and a plane to Cochabamba.
We lucked-out getting a bus into Villa Tunari, but had to hitchhike back out because all the buses were full! We took a long bus to La Paz, a minibus to Copacabana, and at last a boat to the Islas del Sol.
That's a lot to digest! Each destination is listed separately below.
Quick Bolivia Facts:
~7 Bolivianos to one US dollar
The La Quiaca – Villazon border crossing is pretty striaght forward. Once we got off the bus at La Quiaca we were not too sure where to walk to for the border but using our handy dandy map app we were able to find it only a few blocks away.
The issue we had (luckily before we got to the border) was that we needed American Dollars to cross the border and we had just used all our dollars in Argentina. Argentina is difficult to by dollars from because everyone there wants dollars. We ended up just trading pesos at a HORRIBLE rate to get enough dollars to cross the border.
We had filled out all these Visa application forms we were told we needed online but really they just wanted our money. They took our applications and made a file for us but we had the feeling that they would have just taken our money and been fine with just that.
Just in case, here is the application form you can fill out before you go. Oh, and it's $135 per person for Americans. Click here to read about requirements and entry fees in Bolivia.
Read more about the Argentina-Bolivia border crossing.
We took a bus directly from Villazon to Tupiza (only 15 bolivianos!) after stopping at the ATM a few blocks from the border station. We were nervous about this border town from what we had read so we took a taxi but really walking would have been fine. It was a busy border crossing and a little intense because the culture changes so fast but nothing to be worried about! Tupiza was one of our favorite places! Maybe because we were soaking in the new culture for the first time or because of the charming glow of the red mountains surrounding this town.
We went horseback riding in the desert and then booked our Uyuni Salt Flat tour from here with Torre Tours. We were very pleased with the company we chose. We did a LOT of research finding a company because there are some who are not as professional and it can be dangerous if the driver is not a good driver. We felt like our research really paid off! Click here to read about Torre Tours.
One of the main reasons we went to Bolivia was to check out the Salt Flat tour. We had heard so much about it. We ran into a couple from Germany in Tupiza and asked if they were doing the trip and they mentioned it was a little too hard core for them… We were surprised because we thought that everyone went on that trip! Well to say the least, the trip turned out to be AMAZING! Everyone needs to go on this trip.
Click here to read how we chose our tour guide company and which city to start in.
The landscape coming from Tupiza is incredible! We were two jeeps with 1 cook. It worked out just fine, and everyone in our group was so nice!
The first day is a lot of driving, and many in our group got sick from the altitude. The second day was filled with lots to see, all the lagunas, and sight seeing ruins. The third day was lots of driving too but intermingled with sights so it went rather quickly and was really enjoyable! The fourth day was the salt flats and we woke early to be there for the sunrise. It was so incredible! This time of year (Feburary) had places that were wet as well as places that were dry. Like the best of both worlds!
Obviously, one needs to take precautions towards altitude, my wife did get a little sick, and be prepared for a little roughing it but its not bad at all! In fact we met some very nice people and made some awesome memories! This was really one of the highlights of our time in Bolivia!
Potosí is a old silver mining town and one of the highest cities in the world! The Cerro Rico, the rich mountain, has been producing silver for years! There are tours available to check out one of the few working mines left. These mines use dynamite and human man power to extract most of the silver.
There is a documentary that you can see before hand or in Sucre, there is a restaurant who shows the video called The Devils Miner. It is a bit controversial because there are young children working in the mines. For some, that is the only way they can make money however the working conditions are so bad that many die at a young age.
The old coin museum is a great tour to take to learn more about it and it was actually one of the best tours we had been on! Don't miss Potosí, it is a very interesting place! Take your time climbing the stairs! Also, check out the Koala Den hostel, you can take a taxi from the bus terminal. They provide a really sweet breakfast! 
Sucre
We had a little hard time finding a decent hostel here. We were with another couple who had actually booked a hostel but when they arrived, they denied having any reservations for them… So, hard to know what to do. We ended up finding a place, pretty run down, but had awesome internet! It was right across from the local market, which was the neatest market we visited on our entire trip! Don't miss this one!
We went to the market for breakfast every morning and had an "Api Morado", a hot purple corn drink (sweet), and a fried bread with powdered sugar, kind of like a doughnut. Yummy! All for about .50 cents per person! Not bad! They have a really nice central park and some delicious restaurants.
We also took the tour bus out to the dinosaur park which is pretty neat! We saw a group of tourists who had biked out there. It was a bit far from where we were staying but if you made a whole day out of it, it would be a really fun bike ride!
Santa Cruz
Many tourists we met told us not to bother coming to Santa Cruz. They told us that unless you plan to go to the jungle, there is not much to do in Santa Cruz. We had the time so we decided to go. It was rainy season and we heard that some of the roads were washed out so we decided to fly. It was only a 20 minute flight (about $60 each) and saved us a lot of time! We found a nice hostel in the downtown area and had fun exploring.
There are a few museums and a nice church bell tower with a view of the city. Santa Cruz seems to be the town where the more well-off people live. So it was interesting to see that side of Bolivia after seeing so much poverty. We had some friends we were visiting in Santa Cruz so for us our time was really special and super fun to be with the locals and meet new people!
Cochabamba
Cochabamba is home to the world's largest "Cristo" statue. I know, like I did, you might think that is in Sau Palo, Brazil but Cochabamba is claiming this one to be the largest! We took the tram up to the top although there are stairs, many say they are dangerous. We decided to stick with the safe route. The views are really pretty from up high! Cochabamba is known for its "Eternal Spring", nice weather all year round and we found that to be true!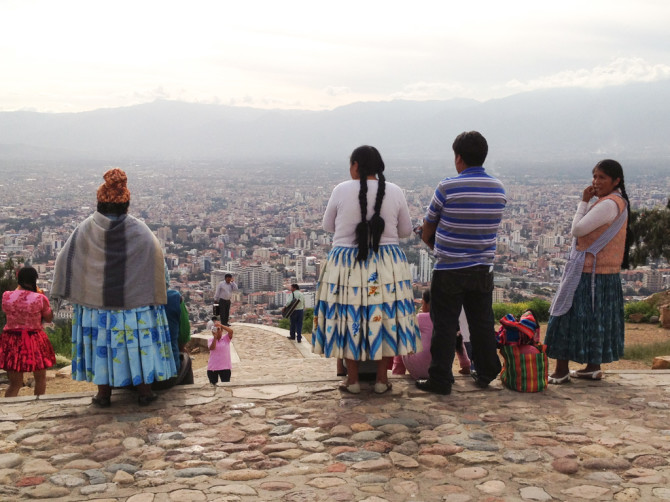 Villa Tunari
A look into the jungle side of Bolivia. Stunning! The trip to Villa Tunari from Cochabamba is beautiful (although a little long for a bus that doesn't stop for the bathroom) The indigenous people of the jungle just add the to overall experience of Villa Tunari. It really is not worth missing out on!
Villa Tunari is known for it's really neat monkey exhibit although there are many neat things to check out such as caves, rivers, and zoos! We tried going to see the caves but their prices seemed a bit high and we were with some locals who did not want to pay that much. It was still worth going out there though because the rivers are beautiful! We instead went to see a local zoo that was just as interesting and fun because some of the animals were free to roam which met more interaction for us! We loved it!
We went back to Cochabamba after visiting Villa Tunari to see some friends and then headed to La Paz! NOTE: don't sit in the front if traveling during the day. No air on the bus and the sun was shining right in the window = HOT!
La Paz
The town built into the cliffs, Literally! We have never seen such a steep town, they even have a public tram system to get people off and on the mountains. The steep streets at high altitude really get you breathing hard! We really enjoyed the Free Walking Tour you can find in the park close to the Onkel Inn Hostel we stayed at. The guides speak English and it gives you a good idea of the town and the mysterious witches market too! We met some great people on this tour and of course did the 180ft. repel down the tallest hotel. You get a discount if you do it through the tour! Fun!
La Paz during the carnaval can be a little crazy, to say the least there were drunks everywhere we looked! Added to that, were the ski masked shoe polishers which gave a general "look over your shoulder" feeling when we were walking around.
Copocabana
Copocabana can be a chilly place! Right on the lake, it's a budget travelers dream come true! We got a full lake view hotel room for $15 a night and it felt like we were splurging! There are all kinds of pizza shops and little restaurants offering the best of the trout from Lake Titicaca. Yum! We LOVED our time here and spent almost 4 days!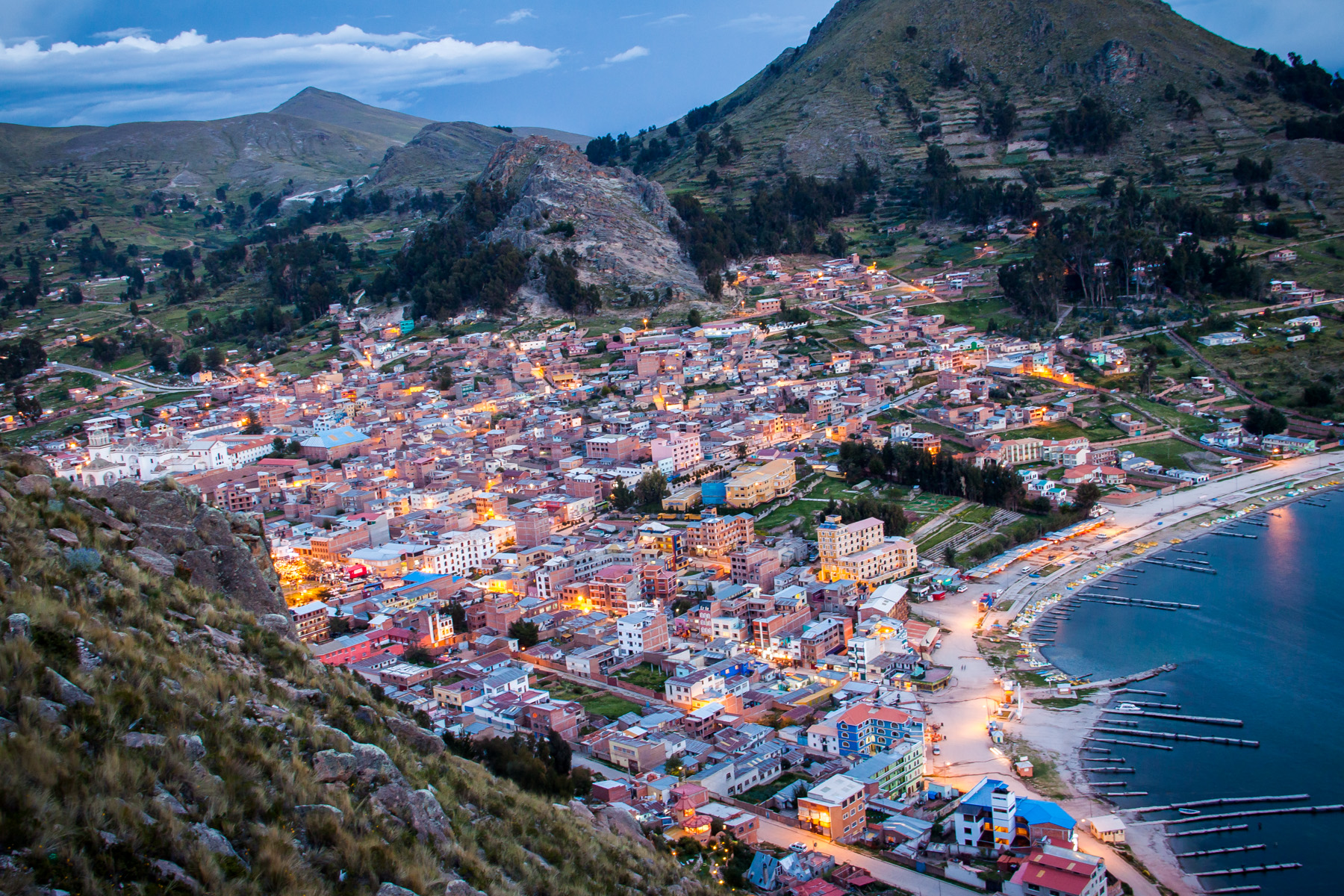 One of the things to do here is to do a day trip out to Isla del Sol. We chose to stay one night so it was more of a 2 day trip for us! Here you can buy lots of souvenirs and spend time on the lake! They rent these hilarious little duck boats you can paddle around in or if you have more money to spend you can take the "traditional" boat out for a spin. The look out point is beautiful! It makes it seem as though Lake Titicaca is an ocean! Most beautiful at sunset!
Things We Would Have Done Differently in Bolivia:
1. Get US dollars at the Bolivia ATM for our visa fee
We paid a bad exchange rate to get US dollars in Salta for our visa fee because we thought we needed the money before we arrived. We should have just crossed the border from Argentina into Bolivia, gotten a stack of US dollars, and then returned for the immigration and visa stuff an hour later.
2. Absorb more of the indigenous culture
The people were so friendly and entertaining to watch! They had so much character and their traditional dresses were so colorful. They lived lives much differently than we are accustomed to, and it would have meant so much more to us if we had gotten to know an indigenous family a bit better.
3. Take a tour of the Potosí mines when they were operational
We took a tour of the mines one of the few days during the year when they were closed up and not working. How disheartening! It was their carnival day, so they were all parading around with their outrageous costumes, blowing up dynamite all over town, but not in the mines.
It was probably for the best. We might have gotten hurt in the mines if they were working, or might have contracted some arsenic lung disease if there was more dust in the air… Either way, it's on the list to check out again when we return.
4. Buy a few sticks of dynamite and use them out in the desert
I bought a stick for a few dollars, but had to give it away as a gift to the miners. If I was thinking straight, I would have bought up a few extra to use out in the salt flats. Imagine the cool videos I could make with my quadcopter!
---
Bolivia Wrap-Up
Our route through Bolivia hit most of the main sights and cities, but there's ten times more to see than what we did and saw. The cities seem to have more of a depth than those in other countries – from the culture and the beliefs that have shaped Bolivia to what it is today. It tied with Chile as our favorite country on our trip!
We hope our itinerary for traveling through Bolivia in 5 weeks is helpful in your planning. Leave a comment below to recommend another great place to visit in Bolivia.
Return to South America Itinerary