Geocaching while we are traveling has showed us a great way to explore a new country or city while traveling. Sometimes the geocaching treasure hunt leads us on long hikes, into unknown places, or finds us fumbling through bushes and piles of rocks, but we're always happy with the goal! There is a fun community of like-minded people looking to share their favorite places around the world with others.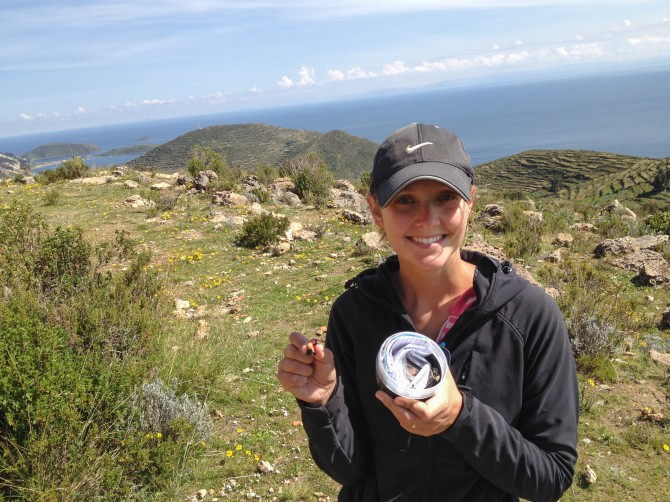 What is a Geocache?
A geocache is something that a fellow geocacher has hidden so other travelers can try to find it with a GPS, like a treasure hunt. Usually it is a little tupperware box or jar with a paper log inside so you can write your name and a little message.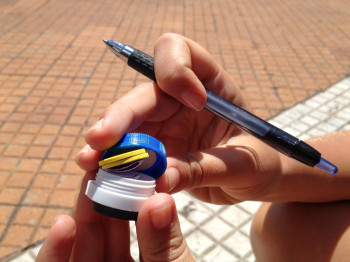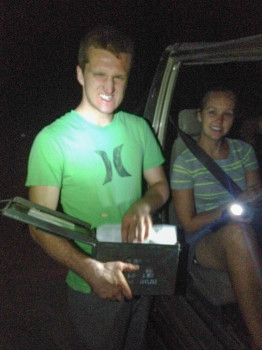 Sometimes they are as tiny as a pencil eraser and other times as big as an ammo box or a 5 gallon bucket. The bigger geocaches often have little trinkets inside for people, and kids, to exchange when they find it.
A person navigates to the geocache using the online GPS coordinates and searches around in the area until he or she finds it. It's important to be secretive about where it is so other people who don't know what's going on don't just take it or throw it away. It's exactly like a treasure hunt!
Geocaches are usually hidden near something fun to see, a prominent landmark in a city, or some neat place where you wouldn't explore otherwise. They are sort of like a local guide saying, "Hey, check this out!"
What is a Travelbug? Fleas?
Nope, it's a little metal tag that someone puts in a geocache, hoping it'll travel around the or country, or even the world, one person at a time.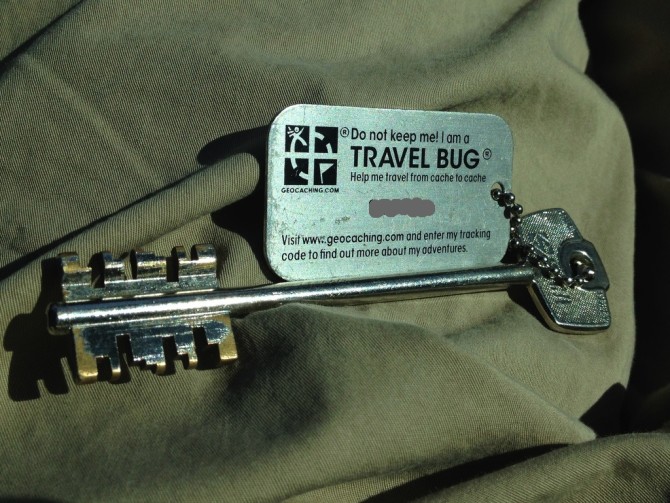 Here's how it works: One geocacher leaves a travelbug in a geocache and logs that he dropped it off there. Then the next geocacher picks it up and takes it with him on his travels and drops it off in another geocache, and logs it there too. Each travelbug has a unique code engraved on it that lets anyone track where it's been by looking online.
People usually attach things to the travel bug to give it more personality. It's a great way to see something you've made travel far and wide!
How to Find a Geocache While Traveling?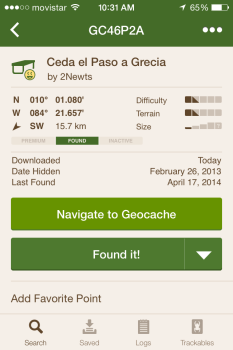 All the geocaches are listed on the geocaching.com website, so that's the first place to visit. You can search for caches in your area and view the GPS coordinates and the details about them. There are quite a few geocaching apps for android and iPhone that simplify the process and allow you to search, navigate, and log your visit all in the same place.
I use the Geocaching app for iPhone and love it! It has everything on my phone I need to find caches – no papers with cache listings and no converting GPS coordinates. I really like that it has an easy to use feature for saving caches for offline viewing. This is super important in South America where we only have access to the internet at our hostel.
I subscribed for the premium membership because it lets me save hundreds of geocaches on my phone at the same time, rather than one at a time, a huge timesaver! I tried a few free apps, but wasn't happy with them because of the limitations to how often you can search and how many you can store for offline viewing. There is a Geocaching Lite app that you can use to test out geocaching before getting committed and buying the full version one.
Scan the QR Code below with your iPhone or Android Smartphone to get started today!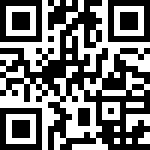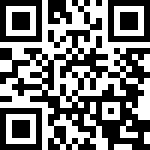 iPhone Geocaching App Android Geocaching App
Why Bother Geocaching While Traveling?
Isn't the Lonely Planet guide book good enough to find cool places?
Sometimes we would arrive to a new city and not have much of an idea of where to go. The guide books often have too much detail about everything to do in a big city and leave us wondering where to start. Other times they only list 5 places to eat and sleep and we have no idea what is nearby to check out.
Geocaches are usually hidden next to a cool place that someone thought was awesome enough to hide a geocache next to. They are a perfect way to wander around and explore a new place with a purpose.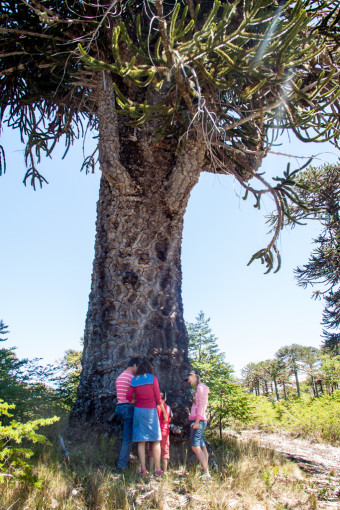 Geocaching With Kids
This is the one of the reasons geocaching got started – for people to go on a fun treasure hunt with their kids and trade trinkets in the geocache box they found. Kids absolutely love going geocaching! There's nothing they'd rather do than dig around in the bushes or rock piles to find a secret little geocache box. Take your kids, or nephews and nieces, out around your neighborhood and see how many geocaches you can find!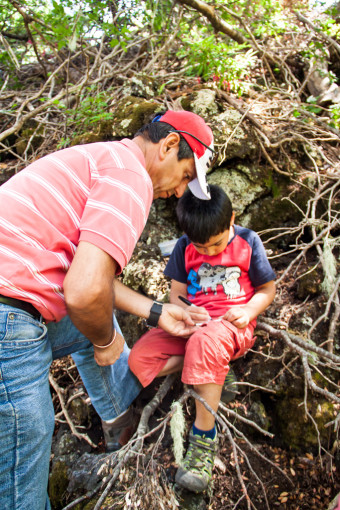 Geocaching Around the World
We have had a blast looking for geocaches on our travels! They give us a sense of greater accomplishment because we've connected with someone through this little box we found. We wrote our name beside hundreds of people who traveled sometimes thousands of miles and searched the same place we did to find a little hidden treasure.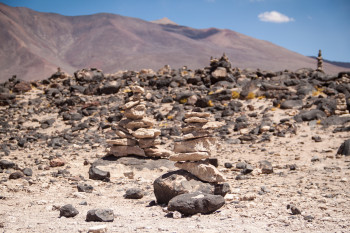 The left picture is the rock piles we had to search through to find a geocache in Bolivia, and the right picture is the view from the from the geocache – the beautiful Laguna Verde on the Uyuni Salt Flat tour.
Some countries have very few caches and they are difficult to get to – these were the more "valuable" ones to us. In San Diego, California there are more geocaches in a square mile than in the entire country of Bolivia. We were always super excited when we found one way out in the middle of nowhere next to some cool lake or rock sculpture.
I would always look on the Geocaching app map a few cities ahead of our travels to see if we could find any along our route. We were usually limited to geocache hunting in the cities we stopped at since the bus routes never stop at geocaches. There are usually a few good finds at popular destinations like Iguazu Falls, Machu Picchu, and Buenos Aires, so we made sure to plan enough time to find them.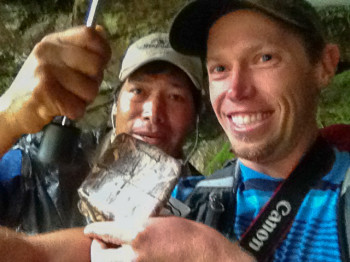 My favorite geocache was on the Inca Trail in Peru, on our way to visit Machu Picchu. It was raining hard as we passed through the Sun Gate, but the clouds lifted enough for us to see the city of Machu Picchu for a brief moment, veiled in the mysterious fog. There was a park guard there wondering what I was looking for in the rain, so I explained what it was to him and told him to keep an eye on it.
What an amazing view of such an amazing place!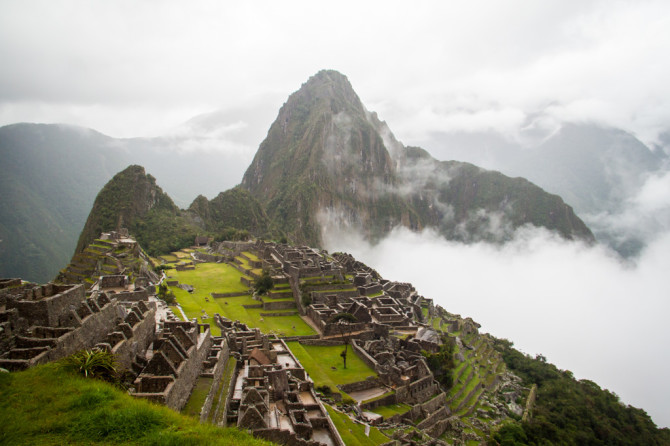 Other Cool Geocaches
It's the best when people get creative with the hiding spot for their geocache. Sometimes the geocache is in a super obvious place but fits in so well, or is camouflaged so well that it's difficult to find.
Other times there's something fun to do or see nearby, like the Tango step lesson in Buenos Aires below.
There are also some geocaches that just require a picture of you at the geocache because it's on protected land, or floods every year like the Uyuni Salt Flats below. Others even have a little puzzle you need to solve to find the cache.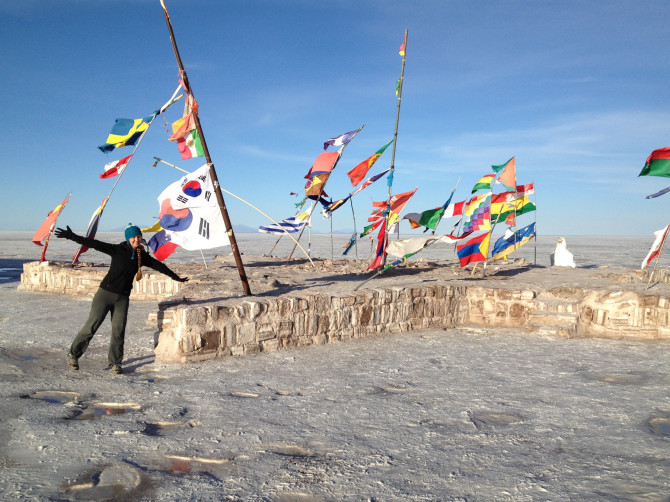 Some are just survey markers at the top of mountains or along trails.
I hope you have fun geocaching on your next trip. It's a great way to explore while traveling!
Leave a comment below if you have a favorite geocaching story!
Geocaching Products
Garmin GPSMAP 64 Worldwide with High-Sensitivity GPS
The Ultimate GPS designed for Geocaching. Comes with pre-loaded geocaches and a color base topography map. You can add waypoints and notes from your computer via the Bluetooth interface.
Garmin eTrex 10 Handheld GPS with Geocaching Bundle
A simpler and cheaper option to get you started. Includes a starter kit for finding and hiding your first geocache. Store new geocache coordinates, notes, and hints with built-in paperless geocaching. Great for kids!
Travel Bugs to Send Around the World
Send your own travel bug off around the world and track their travels with a unique tracing code on each one.
Hide your own "nano-geocache" only 1.5″ long. Also pick up a nano log sheet and a magnet to hide underneath things.
Photo Gallery of More Fun Geocaches