If you get yourself all pumped up and excited for a fun trip to a tropical paradise, the last thing you want to see is grey skies! Bocas Del Toro, Panama is a stunning tropical destination with crystal clear waters, amazing sea life, and plenty of places for relaxation! We learned quick in our travels that even though it's a bummer, it's still possible to enjoy your trip with rain and all!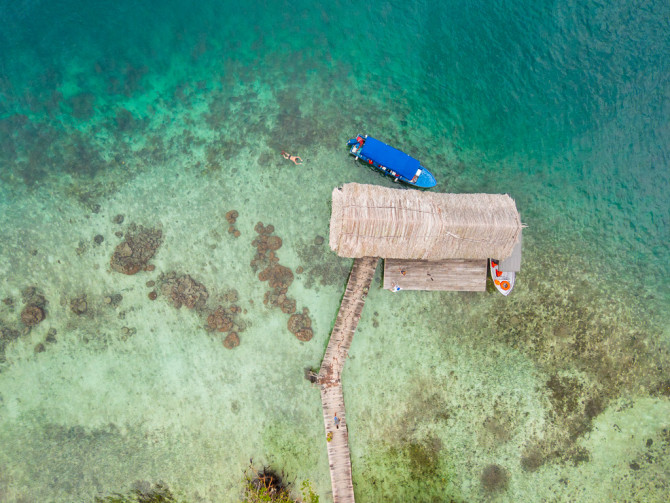 What You Can't Miss at Bocas Del Toro, Panama
The Blue Coconut Restaurant
Our favorite day at Bocas Del Toro was a trip out to The Blue Coconut, a restaurant built right over the water and designed for hanging out all day! It had been rainy the whole day before and we decided to chance it and head out for some fun!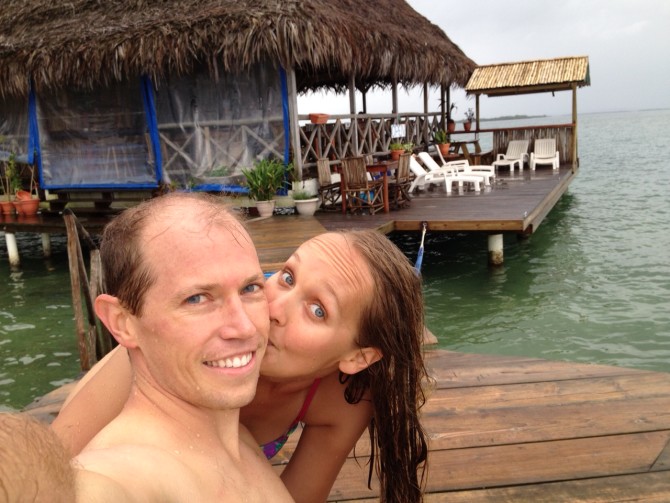 We took our snorkel gear and after a really bumpy taxi-boat ride out, we had fun swimming around looking for fish. The water is so clear and warm that even on a rainy day you feel like staying out forever! Their food is delicious too and by the time you are done snorkeling, you'll have worked up an appetite! They have sunning decks, hammocks, SUP, kayaks, and all sorts of activities! Bring a card game with and plan to hang out all day! It's SO much fun! 
Island Hopping Tour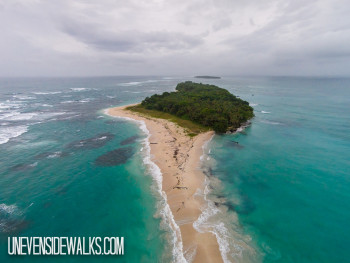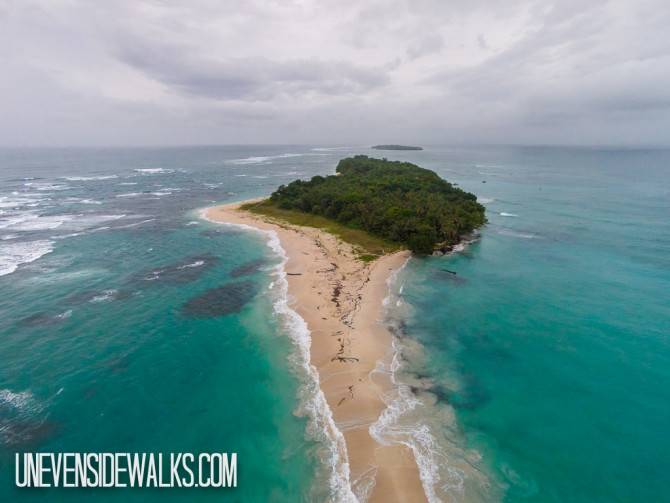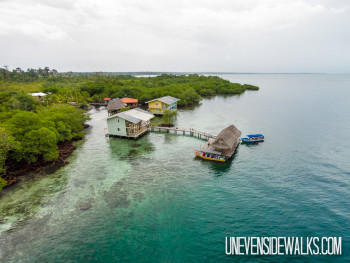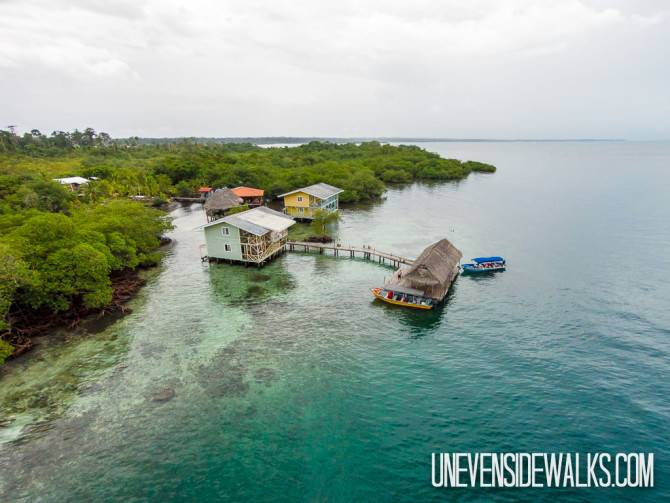 Even if the skies are grey, don't hesitate to head out on an island tour! If you only have a few days, you're better off chancing the rain then not doing anything at all! It's really that beautiful! You can see how grey it was but we still got some pretty good pictures! We had an absolute blast on the Zapatilla Island Tour. The white sand beaches and turquoise water are unbelievable! It's the perfect chance to see dolphins, starfish, sloths, and tons of other sea life! Most of the boats are covered, so if it rains, you won't get too wet! 
Swim At Your Hotel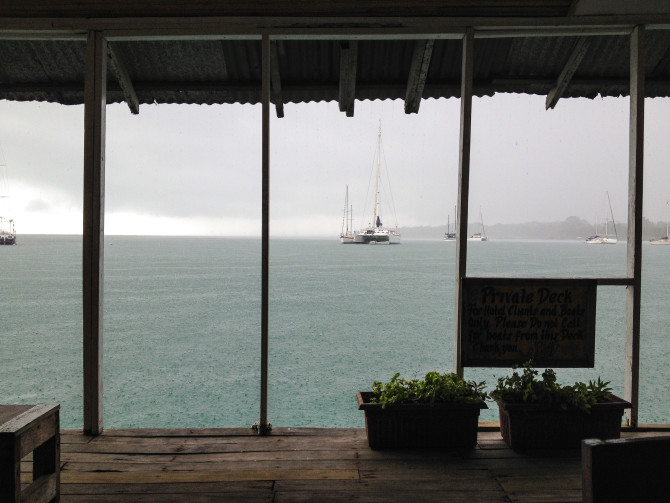 Most of the hotels at Bocas Del Toro are built right on the water with decks for swimming. Just remember how much fun you can have just relaxing on the deck, swimming, cooking, and hanging out meeting new friends at your hotel! When it was raining, it seemed like that's what most everyone did. It's really fun and a few days can be like that but don't forget to venture out! There's plenty to do, even when it's raining! 
Go Geocaching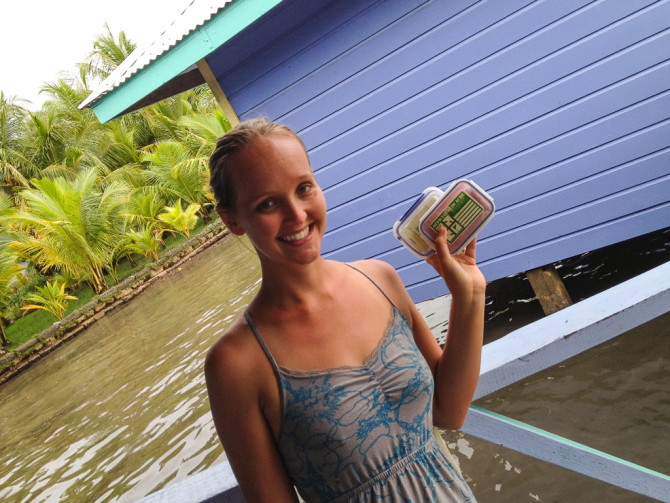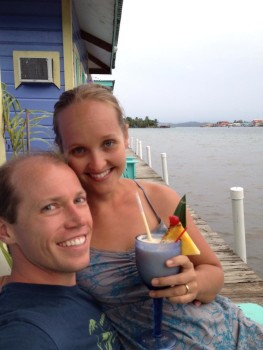 We love geocaching and it's a great motivation to get out and explore a little of the island! There are a few caches around the island and they're pretty easy to get to. One is placed inside a great restaurant so if you plan it well, you can arrive just in time for lunch or dinner! Another favorite of ours was alongside one of the local beaches. It felt like we were the only tourists around! 
Rent Bicycles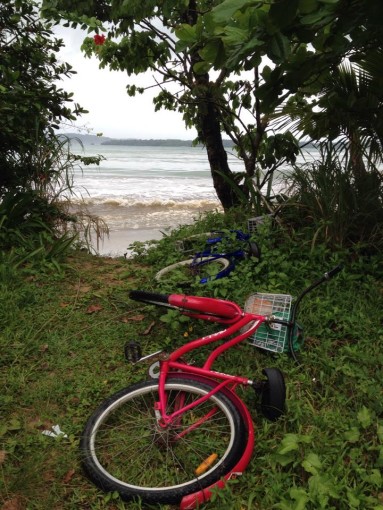 Your jaw will drop open when I tell you that you can rent bikes for only $1 a day! It's super cheap and fun to do when it's raining! Don't take anything that can't get wet and just enjoy a bike ride in the rain! It makes you laugh. I'm serious – Try it! Easily the best way to explore the island is by bike. It's great for getting out of the main town and checking out the beaches. Bring your swimsuit and have fun all day exploring!
Rent a Taxi Boat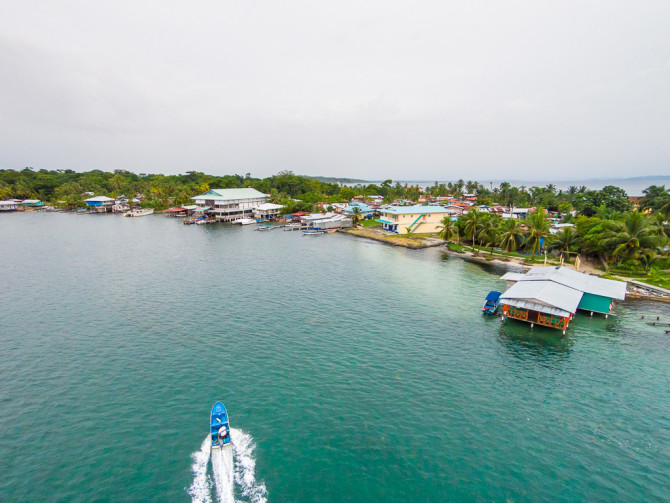 Sometimes it's good to step away from the island and look at it from afar. There's no better way to do this than by taxi boat. Head over to the local taxi boat ramp and just tell them you want to drive around the islands for XX amount of time and he'll take you around giving you time to sit back and take pictures or just enjoy a boat ride! 
Go Scuba Diving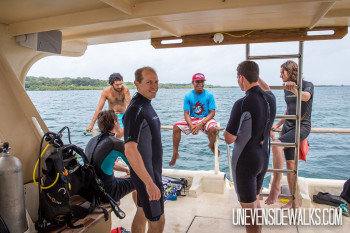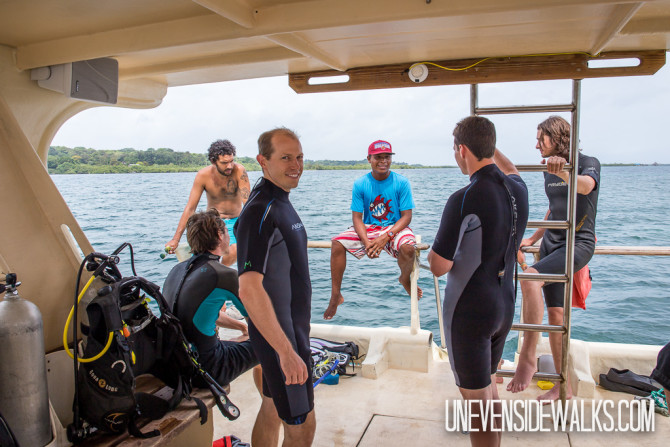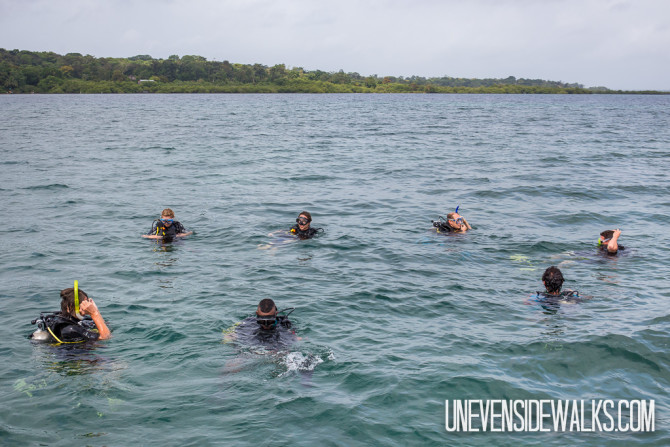 The best part about scuba diving is it's not dependent on the weather above you! If it's raining, there is no better time then to head out on a scuba dive trip! We went on a great trip with La Buga Dive Center even though it was a grey day! The sea life was just brimming in Bocas Del Toro and with water so clear, the visibility was great! La Buga is also a great place to get certified for scuba diving if you are interested. They have tons of classes going on and it's a great way to pass the days if it's really raining!
Take a Yoga Class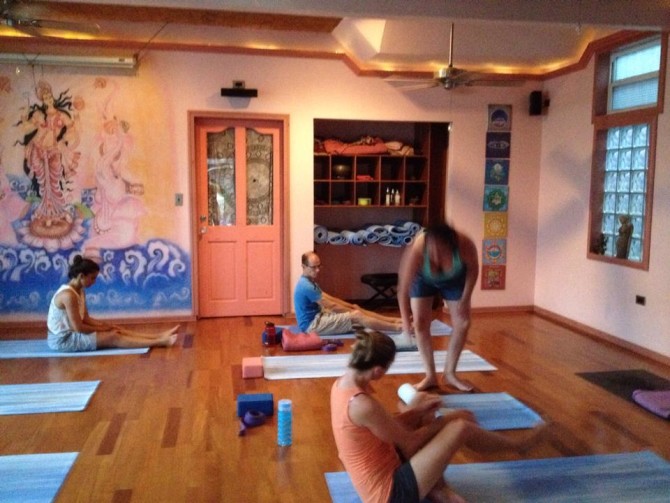 If you are in Bocas Del Toro, it means you either took a looooong bus ride or plane ride to get there. Chances are your body is stiff and uncomfortable. If you run into a rainy afternoon or evening, pop over to Bocas Yoga Studio for a great class to help you get all stretched out and feeling good again! We really enjoyed it and for less than $6, you can't beat it! 
Have you been to Bocas Del Toro when it was rainy? What did you do to still have fun?