If you plan to travel to Costa Rica, you'll need to read this.
I wouldn't want to shatter your dreams of the perfect beach vacation with endless sunsets with the one you love but Costa Rica is expensive! 
What? But this is Central America!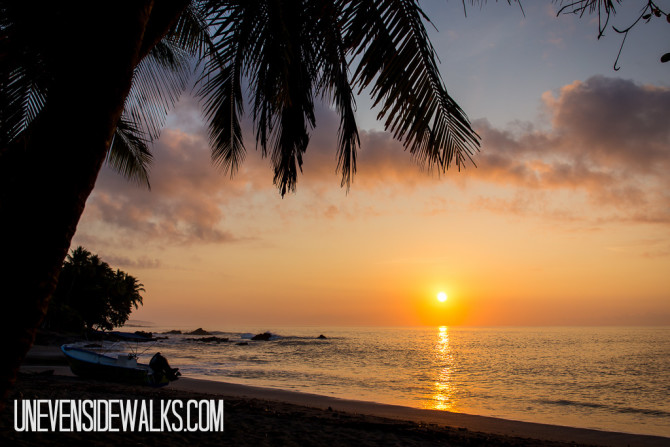 We were just as surprised! Years of Expats flocking to the country and tourism reaching it's all time high in Costa Rica has the prices rocketing upwards. Gone are the days where you can find $2 meals,
It's all just fine as long as you know about it going in. Your pocketbook will be thankful you read these tips!
If you only have one week or two weeks and are on a budget, then these tips will be very helpful. If you are planning to make this your dream vacation, and aren't as worried about budget, then these tips will still be helpful! Everyone budgets differently but knowing these travel hacks can make your journey more enjoyable!
Our goal is to help you lower your costs on your trip to Costa Rica so you can sit back and still enjoy those sunsets without the gaping hole in your wallet.
So How Will You Budget Your Costa Rica Vacation?
Take the Bus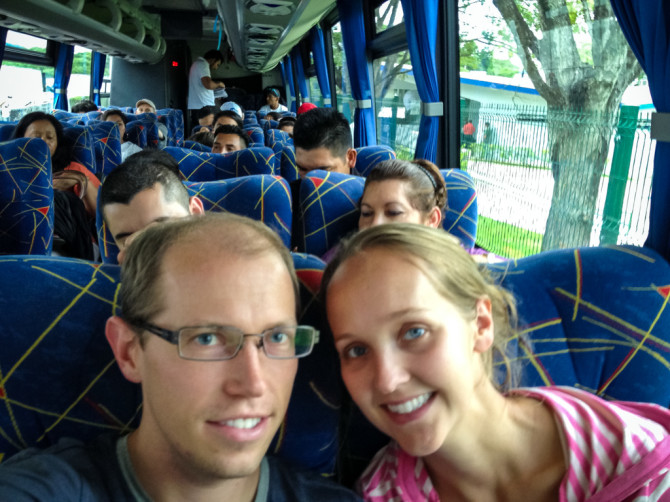 Many people say that it is difficult for backpackers to get around in Costa Rica. If you have more than one week, you can see everything you would want to see by taking public transportation. We always take the bus so we are here to tell you its possible. Those who come for a week, in our opinion, should consider renting a car to get around in a decent timeframe. 
Costa Rica has such a fabulous public bus system and there are hardly any waiting periods to catch a bus. A few transfers are sometimes necessary but locals are always willing to help us find the buses we are looking for. Also, the biggest thing, is the buses are cheap! We can go from San Jose to Quepos for around $14 for the both of us.
 Find Where the Locals Go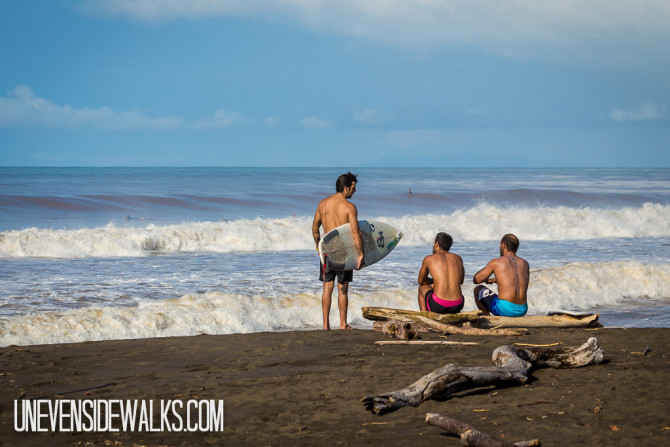 We all know that locals don't pay the same prices as tourists. They live in a beautiful country and can only enjoy it by doing the "insider" travel things! First get an idea of the places you want to see. Check to see what other alternative options you have that might be cheaper. We were able to enjoy free hot springs in the river instead of paying $100 for the Resort Hot Springs. Ask around and you'll be surprised at what you find!
Cook Your Own Meals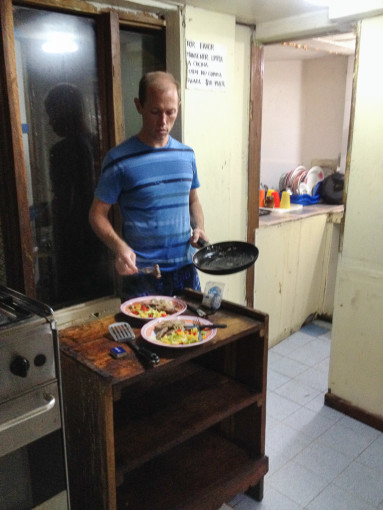 The cost of eating out every meal will be a never ending outflow of money. Especially in Costa Rica, this is where you will want to cook your own meals. You budget will thank you for this when you can buy great healthy meals to cook for significantly cheaper than you would ever be able to buy in a restaurant! If you know you are going to be in an area for a while, head to the grocery store right away so you are stocked up and ready for the following days!
Drink the Tap Water
Costa Rica is not like other Central American countries. They have potable water on tap that is perfectly drinkable. We never had problems in Costa Rica and always drank the tap water! This is a great way to save money because with the heat, you will be going through gallons of water. Make sure you drink enough so you don't find yourself dehydrated! Trust your body, if you feel weird about it the tap water, then buy water at the store.
Just Drink Water!
On vacation we all like to splurge and buy special drinks or alcohol. We don't drink alcohol so we don't have the extra expense of drinking. Many other travelers will tell you it's a huge part of their budget. Honestly, when you are traveling you are exerting your body so much anyways that it really just needs water! Buy some bottles at the grocery store and bring them with you to your meals. Keep track of what you are drinking and plan to have your drink a few times a week so that way you don't forget and have one EVERY day of the week! 
Eat at Sodas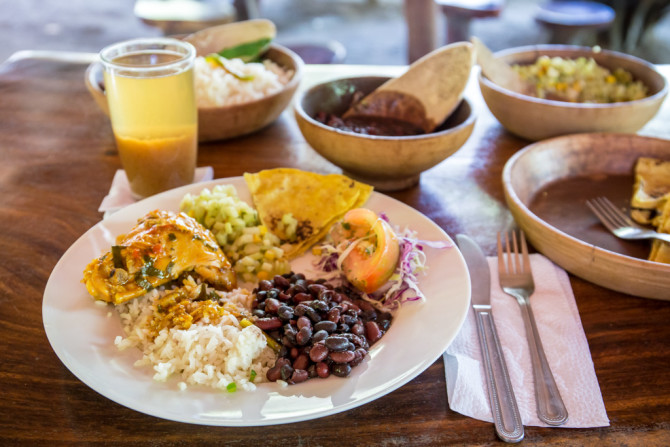 A typical Costa Rican meal is called a "casado" It consists of a large plate filled with white rice, red or black beans, a type of meat (fish, chicken, or steak) small salad, and plantains. You can find a meal like this for around $4-$6 depending on the area you are in. Some of our local friends said they don't casados that are less than $4. So make sure the soda you are eating in that is offering a killer deal, has lots of other customers. That's a good clue that the food is good. Depending on the "soda" the meals were sometimes big enough for us to share and the food was delicious. Another money saver!
Don't Overplan
The more things you have planned, the more money you will spend. I'm not suggesting that you don't visit all the places on your list, just don't be afraid to pick one activity and spend your whole day there. For example, pack a picnic and spend the afternoon at the waterfall you are hiking to. Just taking a picture and leaving can make you feel like you weren't even there! You can enjoy your time rather than rushing off to the next thing. You won't be able to see ALL of Costa Rica in a short amount of time. Make sure your itinerary makes sense.
Stay in Hostels or Camp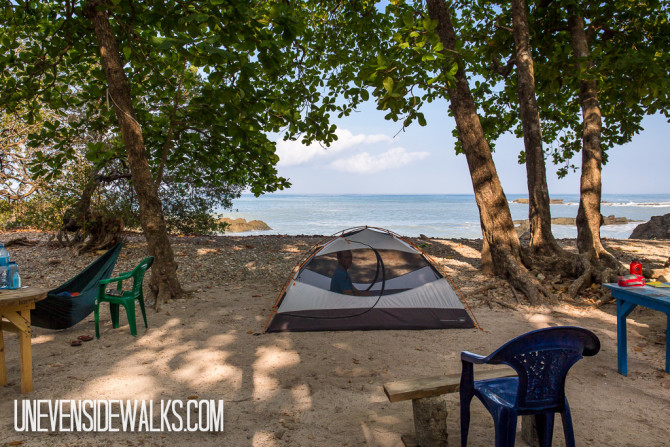 Hostels in Costa Rica range from $10-15 a night for a dorm room. Since accommodation will be one of your biggest expenses don't forget to check out other places such as Airbnb.com or even camping options for cheaper accommodations! We were able to camp for a week spending around $5 a night for a beach front campsite on the Nicoya Peninsula! For our anniversary we booked an amazing beach view hotel for only $60! Whatever your budget may be these are all great options to look into! 
Set a Daily Budget
One of our biggest secrets to traveling on a budget is to set a daily limit. We know that some days are more expensive than others but if we set our goal, we make sure we are within that goal for the day. If it means we don't get an ice cream that day because we are over budget then we hold back. Set a daily budget that is reasonable and try and stay within those means. Check out Trail Wallet for a great budget tracker!
We hope these tips will help you to have a great trip in Costa Rica without worrying so much about the cost!