Our decision to pack together in a single 48-liter backpack was crazy. I'm not going to lie.
How can two people pack in a such a small backpack for our "round-the-world" trip!? We had no idea if it was even possible, but were determined to give it a try!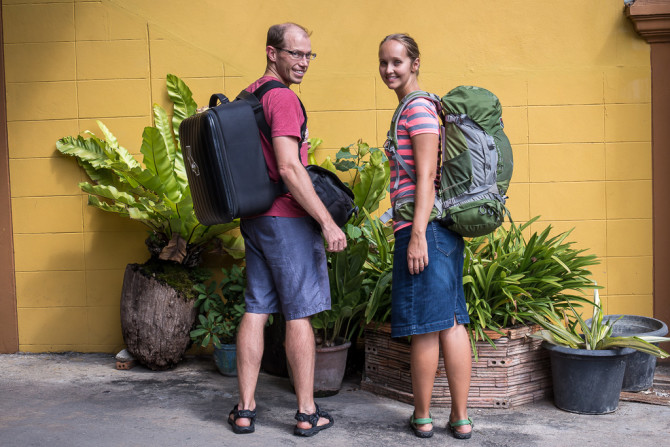 When you've been traveling for a few months you start to find things that you wish you would have done differently – brought different things, left stuff behind, organize differently. We all learn what's comfortable to our style as we travel along. My mind is always looking for ways to be more efficient, and here was a chance to put our experiences to good use!
We would've never thought of packing this light if it wasn't for another backpack that would be joining us on our trip.
My new DJI Phantom Vision 2+ Quadcopter.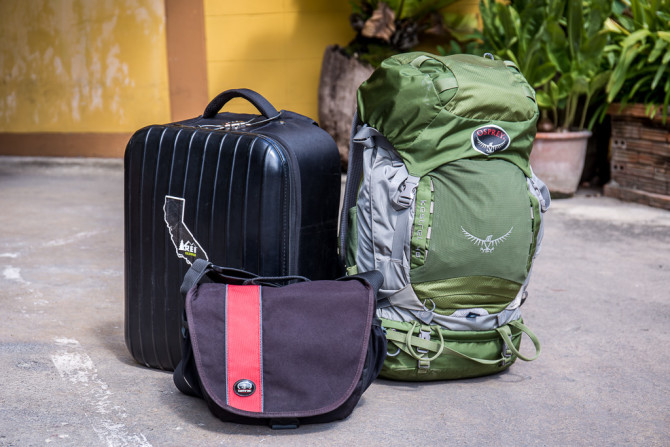 We knew that was going to replace one of our backpacks so we had to condense everything else into one backpack. Once we got started, it became addicting. All our thoughts were geared towards making our backpack as light as we could. Surprisingly, it was easier than we thought.
Final Osprey weigh in = 25lbs!!!
It's a decision we'll never regret!
How We Managed to Pack This Light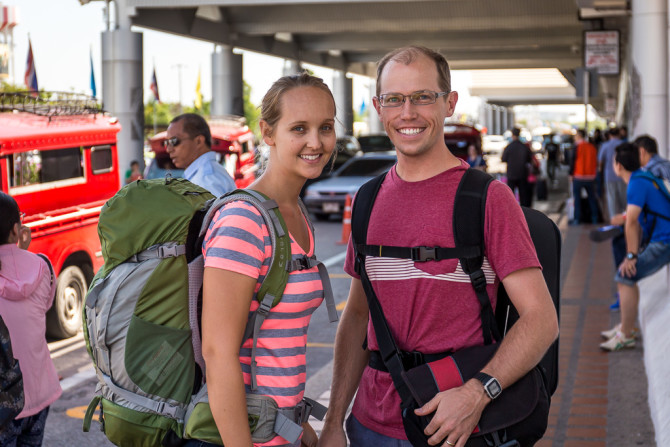 Only One Pair of Shoes
Alyssa wears a cutesy Teva hiking sandal that works great for hiking through the mud and for evenings out too! They are dressy yet tough and ready for hiking without being too clunky. 
I also wear a men's Teva hiking sandal that are great for walking 6 miles around town, going to the beach, and hiking. They stay on well with muddy trails and doesn't get the mud stuck inside. I had worn Keens before but the sand and muck got stuck inside the shoe and was a pain to try and shake out. They look halfway classy, and with a pair of black socks I can hide them pretty well for a nice-ish evening out!
Your specific shoe choices will depend on where you are traveling in the world. Of course, if you know you are going to need warmer boots or business shoes, you need to plan for that. For this particular packing round we were headed to Southeast Asia and knew there would be warm weather in the rainy season so we decided on hiking sandals.
Multi-Purpose Clothes
Multi-function clothes cut out the extras and make for a much lighter pack.
For example, I have a pair of quick-drying board shorts that look like normal shorts. I can ditch the extra swim trunks that would only get used once in a while and wear these for everyday use, hiking, and surfing. They have a waist draw-string on the inside that's invaluable when actually doing water-sports more vigorous than splashing in the pool!
We both travel with zip-off pants which double for shorts when you take the pant legs off. No need to bring both shorts and pants. I picked some with small-ish pockets, so they actually look like nice normal pants when they're zipped up.
Pack Less Clothes
If you didn't weed out enough clothes with the last tip, this is for you! This step is painfully obvious when you see the size of a 48L backpack and start test-runs filling it up. We were still in the "week's worth" mentality, but once we realized that we could manage with just 3 shirts instead of 7 for a full week's worth, then we started making progress. This mentality can be difficult, but simplifies things a lot.
One trick that helped was to remember that we can always buy more clothes on our trip if needed. We didn't bring anything we couldn't part with because we knew we would be likely exchanging them for different ones along the way. We brought a little baggie of laundry soap along and just make sure to wash a shirt or 2 every few nights. It's not so bad once you get in the routine. 
*Top Tip: Be ruthless, leave most of it behind! 
Share a Laptop Charger
The quickest way to lose a pound or more from your pack! One of our biggest decisions to be able to do this was for both of us to make the change to using a Mac computer. I had made the change about a year earlier and loved my MacBook Pro 13″.
We thought about it for a long time, and considered just sharing one laptop and one iPad. But, the MacBook Air 11″ laptop weighs only 2.4 pounds (1 kg), and an iPad with a separate keyboard, a case/stand, and its own charger would weigh nearly that much anyways and be the same size! And it would be a hassle for a blogger work-flow. We were hesitant about needing to share the charger, but each of our laptops last 5-8 hours on a charge, so it's not a problem to work out who's getting a charge.
So, Alyssa got the Air 11″ and we share the charger. It made a lot of sense and is still working out great for us.
As a bonus, she lost the weight of her old clunky Dell with its huge charger and cable. The decision cost us some investment but in the end saved us 3 pounds of extra weight in our backpack and Alyssa got a much-needed upgrade. It was a huge weight saver, and we have no regrets!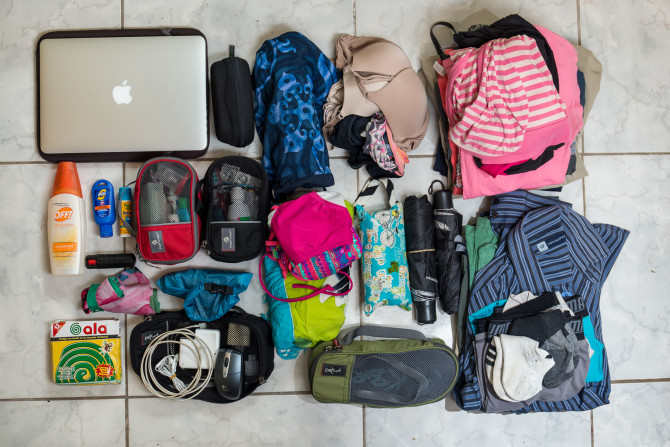 Here's an Idea What's in Our Single 48-Liter Bag For 2 People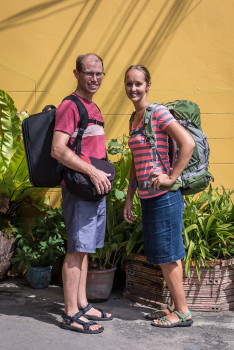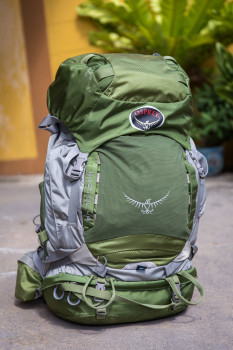 Modify your packing to fit your needs! Everyone has personal things they like to bring or leave behind. Make sure your packing list works for you. We have a lot of electronics with us because we work doing photography and web design during our travels. Although it's extra weight, we make it work for us. I can't imagine how light our packs would be without all the electronics! Maybe just a small daypack!
This list just covers the main things in our bags. Read why we bring what we do and see our complete packing list with everything we bring.
Backpacks:
Osprey Kestrel 48L Backpack (25 pounds)
REI Flash 18 Liter Day Pack (usually empty – weight varies)
 
Clothes:
Landon:
Alyssa:
Electronics:
Miscellaneous:
Additional Bags: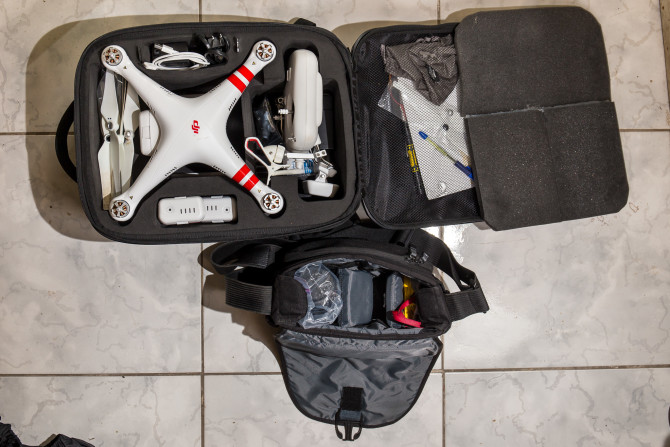 Drone Backpack (12.4 Pounds)
DJI Phantom Vision 2+ Drone
Latest Version Remote Control
4 Batteries
Battery Charger
Camera Bag (6.8 Pounds)
Good luck packing! Let us know where you are headed on your trip! 
Disclosure: We use affiliate links in this post which earn us a small commission if you do your shopping though these links! Using them doesn't cost you a dime extra but helps support this site, after all it isn't free to run! These are products we only recommend because we love them and use them ourselves! In fact, check out other travel products we love and use on the road here!