Thailand's beauty isn't limited to its jungles, temples, and handicrafts. The underwater world is vibrant and full of life too. Thailand boasts some of the best dive sites in the world, and it doesn't disappoint!
Scuba diving in Thailand has been on my bucket list for years, so finally having the chance to dive here was incredible. It beat all my expectations!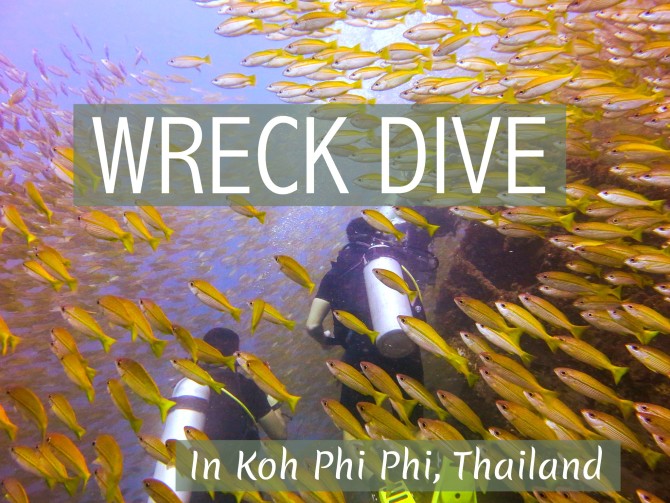 Koh Phi Phi Scuba Diving
What really drew me in at the island of Koh Phi Phi were all the shipwrecks in the area. A few were sunk in battle, some scraped a bit too deeply on a reef and sank, and some were sunk on purpose to be a new fish habitat after they couldn't be used any more.
Around Phi Phi, the closest wreck is the Kled Kaeo, a supply ship from the Thai navy that was just sunk in 2014 after being afloat for over 60 years – a pretty new attraction that's exciting for the area! It acts like an artificial reef and attracts fish as an underwater sanctuary. Looking at it underwater I never would have guessed it was so new. The marine life around it looked like it had been there for 10 years!
Barakuda Dive Centre
There are as many dive shops on this island as there are cats, and that's a lot! It's tough to pick a good one to dive with, but I chose the Barakuda Dive Centre out of them all because the staff was safe, knowledgeable, and easy-going. The shop was well-run and they demonstrated that they had safe diving procedures, which is super important for a deep wreck dive from a boat. And the main requirement – they had regular trips out to the wreck dive!
Somehow I convinced Alyssa to do an exploratory dive with them too! She hasn't ever been all that keen about going scuba diving, but the stars aligned and she realized that diving in the beautiful waters of Thailand doesn't come around all that often. So she jumped at the chance and even wrote about her separate exploratory dive experience here.
I'm glad we chose to dive with the Barakuda Dive Centre because they were really fun to dive with. They're cautious to not impact the reef with their diving, and they cater to preserving the quality of diving for years to come. They also limit the number of people that go on their trips so the boat and dive sites don't get crowded.
One detail that puts the cream on top is they don't make the entire dive group surface when one person runs low on air. They send the heavy-breathers up with an instructor and the rest of the group keeps going – great for slow-breathers like me who always have lots of air left. This was really nice on the deep dive where I had a 45 minute dive at an 84ft (27m) max depth. With the help of the warm water, longer dives are part of what makes diving in Thailand awesome!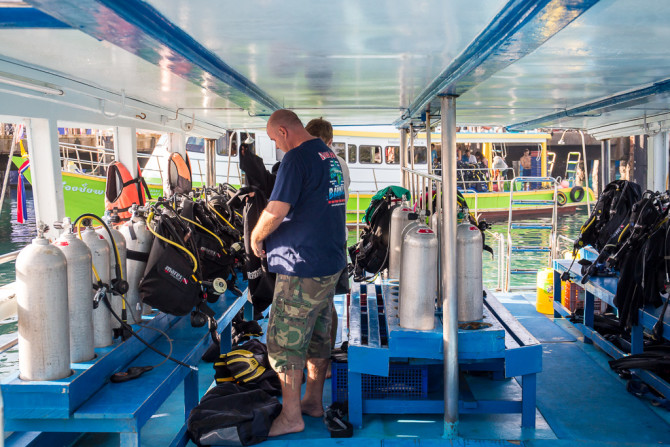 From their dive options, I decided to do the wreck dive and a reef dive. Surprisingly the wreck wasn't very popular, probably because it requires an advanced dive cert which not many people have. A few of us would head to the wreck in a longtail boat (since the rest of the divers in the group were beginners) and meet up with the main group for lunch before going to the second reef dive.
Kled Kaeo Wreck Dive
All wreck dives begin with the same anticipation of cruising up and seeing the tiny little orange buoy bobbing along in the middle of the ocean. The marker that there's something awesome lurking below the surface. I always wonder how they find it every time without driving around in circles. Well, I guess how the found it BEFORE using a GPS!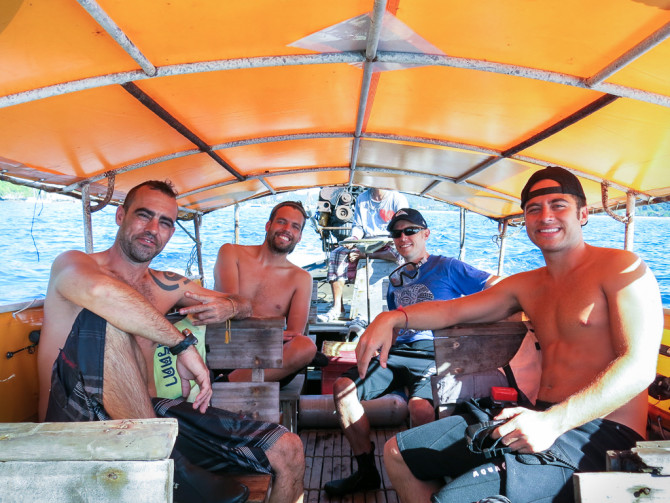 There were only 5 of us in a longtail boat so it was easy to gear up and bail out. We toppled backwards over the side with the grace of a cat falling off an armchair couch! There wasn't much current to swim against, so it was nice and calm as we made our way down the long buoy rope. Soon the ship came into view with a huge swarm of little fish stationed near the helm, looking like they were guarding it.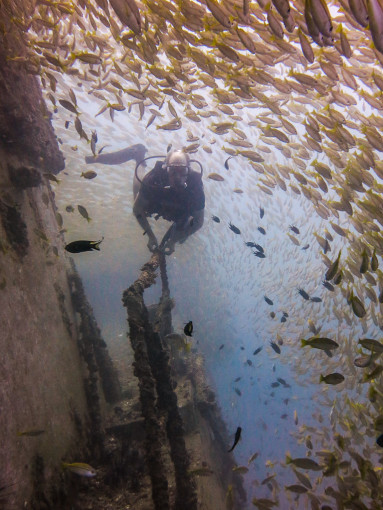 We dropped all the way down to the sand and looked around for the bamboo shark that normally hangs out under the ship. It must have been out looking for breakfast so we missed it, but we saw some tuna and huge pufferfish meandering around instead. Down there we saw my favorite parts of a wreck – the propellor and rudder. They're so huge! This prop was already covered with barnacles – hard to imagine that it had only been underwater for a year and a half!
Looking up from the bottom I was amazed at how many fish there were surrounding this ship. There were millions! A few different groups of yellow runner fish swam past, hardly paying us any attention. THAT'S my favorite part of scuba diving – being just like a fish, and seeing their lives from inside their swimming swarms. I wouldn't say they were treating me like one of their own, but they were totally ignoring us there, as if they were still so excited about their new home.
Inside the Wreck!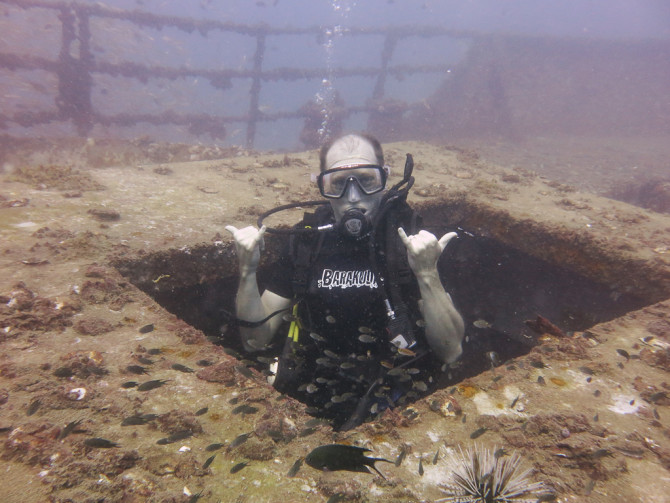 A deep breath brought us up to the top deck and we popped in to check out one of the cargo holds of the ship. An elegant lionfish with flowing black and white "feathers" was watching us from the edge as we dropped into the ship. This is where my heart usually skips a beat as I look into the dark corners of the former cargo hold! The guide had a flashlight so we could look around inside and imagine what it was like back in its heyday. Once our eyes adjusted to the darkness inside, we could see every pinhole of light streaming in from the outside. Even though we were 70 feet below the surface the light seemed as bright as daylight.
We made our way through a passageway and out a door on the side of the ship. Bright daylight again! With millions of yellow fish to greet us! Those skinny doors sure weren't designed for scuba divers!
Above the wheelhouse we saw a few frogfish lurking among the barnacles. They are so still and well camouflaged, they're hard to spot. This time I noticed how their eyes were flat and seemed to reflect light like a cat at night. Weird, the things you notice when you're deep underwater!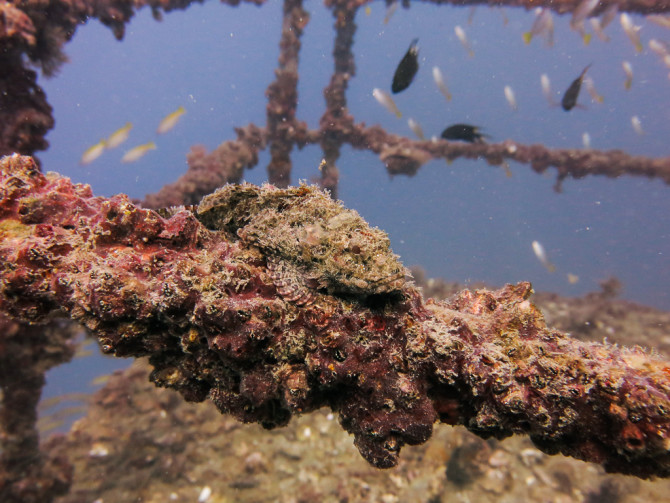 After a long time exploring the ship we headed to the surface along the line, stopping for a 3 minute safety stop of blowing bubble rings at 15ft.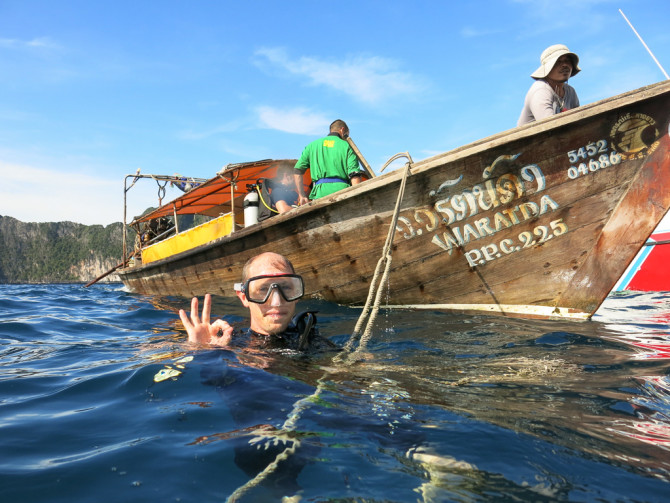 We hopped in the longtail boat and headed over to the Koh Phi Phi Lee island to meet up with the main Barakuda diving group and had lunch on the big dive boat. Alyssa was doing her exploratory dive with this group in shallower water and I was curious how she survived her first dive – a little tense, but still smiling!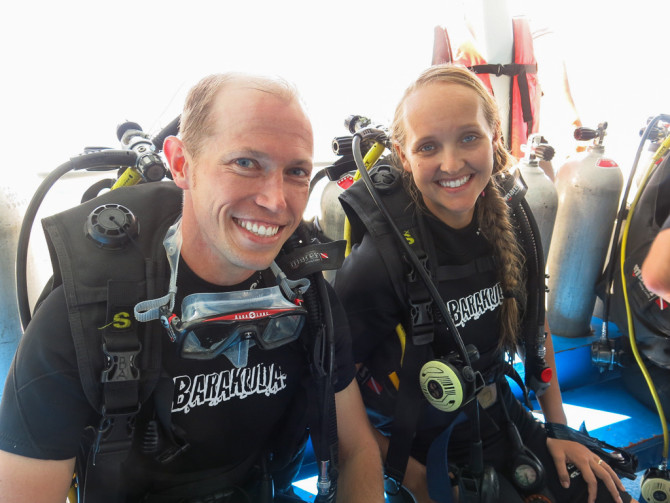 We met the big boat at Maya Bay, along with a hundred other boats on the famous beach there. I ate the Thai food lunch that I had picked out when booking the dive, and some cookies to get the salt out of my taste buds. There was plenty of water, coffee, and hot chocolate to drink during our surface interval as well.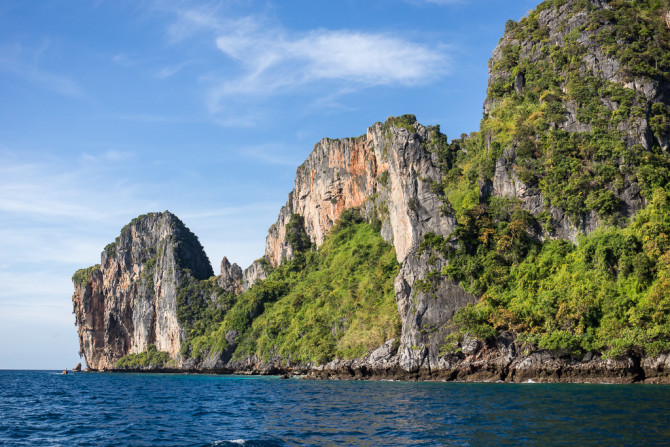 Sharks Prowling At Malong Bay
The second dive of the day was on the reef at Malong Bay, on the west side of the Koh Phi Phi Lee island. They promised lots of colorful fish and sharks, oh my!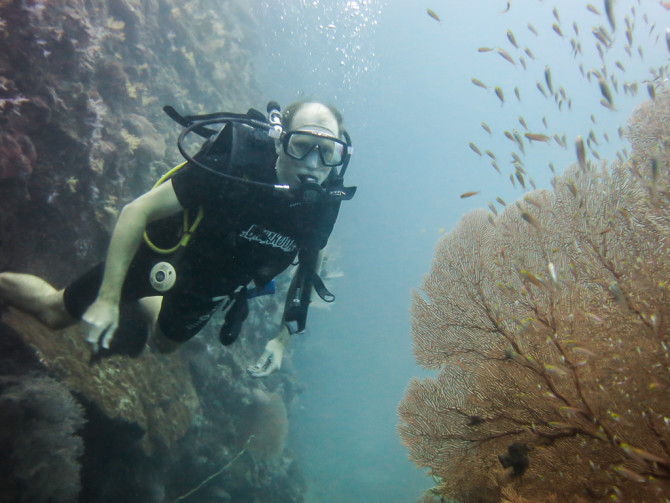 This was a shallower dive right next to the island, and we started out swimming along a sloped reef, looking at all the soft and hard corals up close. There were some green soft corals flowing in the currents that had clownfish scurrying all around inside their tentacles. My favorite fish were the small bright fluorescent blue ones. It's amazing how nature can make such bright colors, especially in the ocean that's filled with so much drabness.
As we kept swimming, the sloped coral turned into a wall with completely different creatures living on it. We peeked in with a flashlight at some shrimps that were standing proud outside their holes. We even spotted a seahorse hanging on just behind a rock. I wish I knew the names of all the fish we saw, there were so many!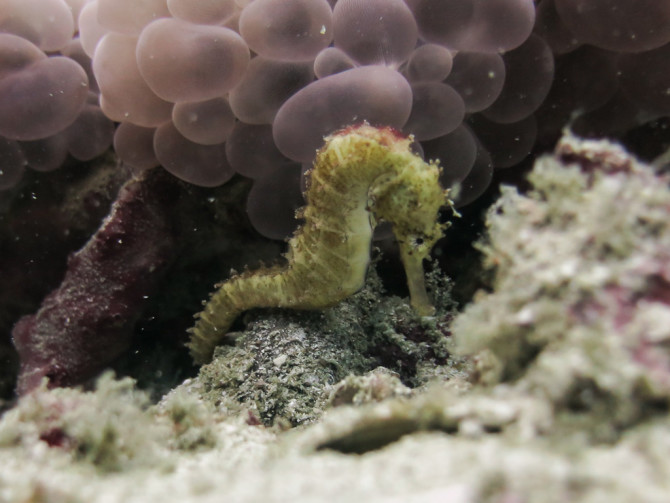 I was surprised by how the razorfish swim with their tails up and heads down! They look just like a feather.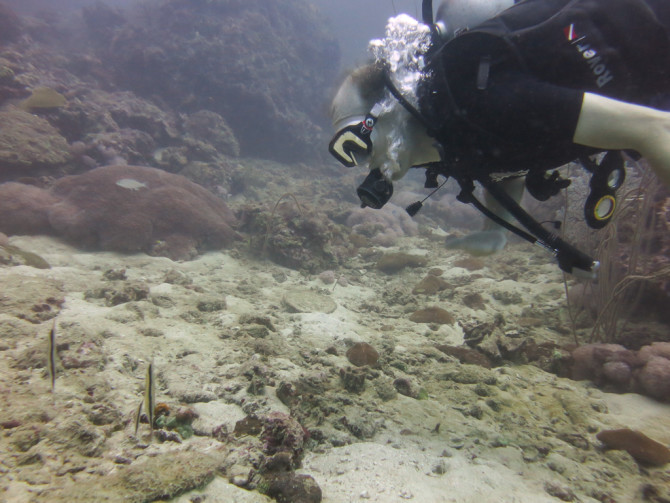 A few times throughout the dive I noticed a shark swim past just beyond our visibility. They didn't pay us any attention, and we kept our eyes peeled. A bit closer to the surface I noticed a few more cruising around, and they were fun to watch! Wow, what a lot to see on one dive! It's hard to take it all in!
I'm super stoked I had the chance to do an awesome wreck dive and see some spectacular underwater life!
Not sure if you want to go scuba diving or not? Check out how Alyssa's first ever exploratory dive went!
You can find more information about the types of dives, fish, conditions, and prices by visiting Phi Phi Barakuda Dive Centre online.
A special thanks to Colin, and all the crew at Phi Phi Barakuda Dive Center for this amazing experience and the great underwater pictures!