Is Machu Picchu on your bucket list? It has every reason to be! Maybe YOU will be the one to figure out how the Incas were able to accomplish such an incredible feat building this mysterious city!
Machu Picchu is one of the world largest attractions and rightly so, it's one of the 7 New Wonders of the World! The journey to get there is exhilarating with views that will leave you breathless!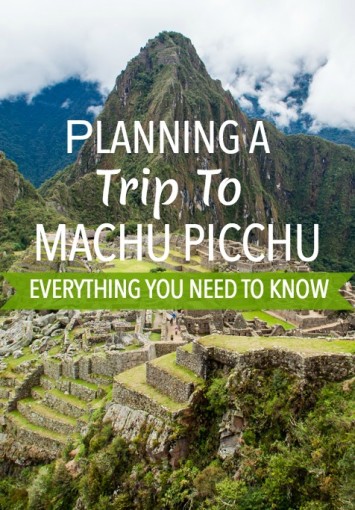 Here are a few tips to help you plan your trip to Machu Picchu! If you don't have a trip planned yet, START TODAY! It's not to be missed!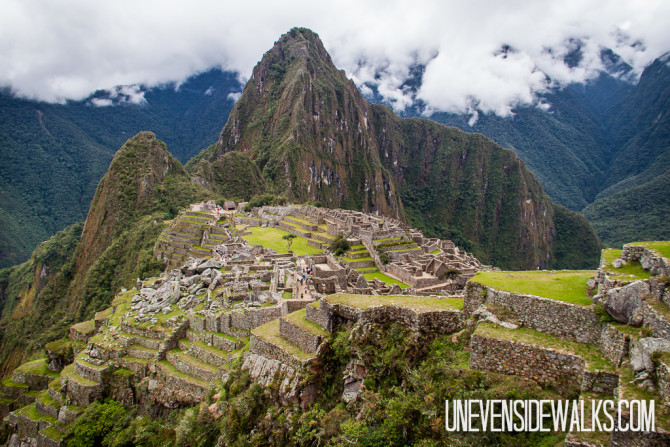 When Should I Plan My Trip to Machu Picchu?
The best time to visit Machu Picchu and hike the Inca Trail is from July-August. This is your best chance for clear skies and good weather. It is also summer time for many foreign countries so you can expect lots of crowds and possibly sold-out entrance permits. Give yourself plenty of time to reserve a permit that works with your schedule.
The official rainy season in Peru is from October-April. We planned our trip in early March and even though it rained on us while we were hiking it didn't ruin our trip. It was a little foggy but the clouds parted right when we crested the Sun Cloud Gate and we had a clear view of the ruins.
It can rain at any given point during the year, so it's hard to say when the "perfect" time is! Machu Picchu is open year-round but it is good to note that the Inca Trail is closed for maintenance the month of February.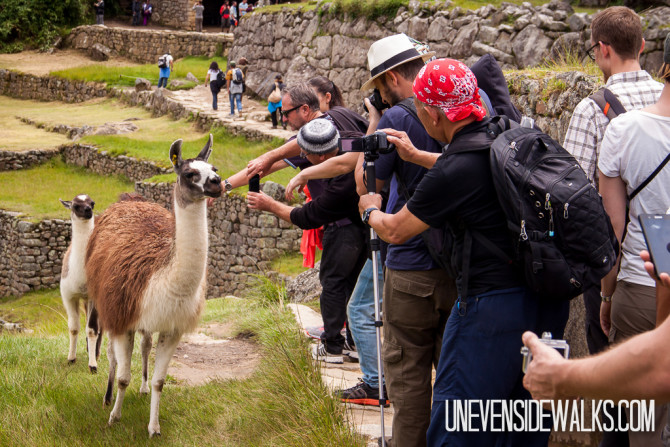 How Many Days to Visit Machu Picchu?
If you are planning to do a 5-day Inca Trail hike and also explore around Cusco, 10 days would be perfect. You'll be able to acclimate to the altitude, explore the city of Cusco, visit the Sacred Valley, hike the Inca Trail, and visit Machu Picchu without feeling too rushed.
Peru is a great place to go on a 2-week vacation or longer! There's lots more to see in southern Peru near Machu Picchu. If you have extra time you can always explore Lake Titicaca and the Floating Islands, Colca Canyon, and Lima. Check out our complete 2 week itinerary in Peru for some ideas!
How Much Does It Cost to Visit Machu Picchu?
It's possible to visit Machu Picchu on your own, you just need to purchase your entrance tickets at least 4 months in advance. Below are some of the prices you can expect to pay for transportation and fees. If you book a tour, all of the fees are usually included in your price. If you don't want to hassle of organizing it all yourself, this is a great option.
$128 for Foreigners
$64 for Peru Nationals
Children under 8 years old don't pay
Children 18 and younger pay student prices of $65 (with card)
Shuttle Bus from Aguas Calientes to Machu Picchu:
Tickets cost about $10 one way. The buses operate from 5:30am to 6:00pm. The lines can be long so consider purchasing tickets the day before in Cusco or at the bus station in Aguas Calientes.
VistaDome (more views from train with skylights) – about $90 each way
Expedition (4 seats facing each other) – about $50-$60 each way
Hiking Tour Prices (All Fees Included)
5 Day / 4 Night (Classic Tour) = $1,070 per person
4 Day / 3 Night = $650 per person
2 Day / 1 Night = $525 per person
(Reflecting Llama Path Tours who we used to book our trip)
*Note: Prices are cheaper if booking for a larger group.
As you can see, planning a trip to Machu Picchu can be pricey, but it's worth every penny! We decided to book through a tour company because we knew we wanted to hike the Inca Trail and thought it would be easier to have a tour company arrange the permits, transportation, accommodation, entrance fees, etc. It was well worth it!
Since we were a group of 4, we were able to save a bit on the cost! We showed up and were able to enjoy the trip without worrying about the details! Check out Llama Path for more tour options and itineraries!
Sample Itinerary for Traveling to Machu Picchu:
Before You Go: Research Tour Companies to hike the Inca Trail. You can choose between a 1 day, 3 day, or 5 day hike. Decide if you want to hike the Inca Trail or just visit Machu Picchu.
Note: You must have a permit to hike the Inca Trail. Arranging your hike through a tour company is a great way to get all those requirements met!
Fly into Cusco, Peru
Allow 2-3 days to acclimate to the altitude and rest from your flight over. This is a great time to explore Cusco and there is plenty to see and do!
During your "acclimation" period, consider planning a trip to the Sacred Valley, especially if you are planning to hike the Inca Trail. This is a great introduction to the types of trails you will be walking on!
If you are on a tour, most of the "getting" to Machu Picchu will be included in your trip. If not, you will want to take the Peru Rail Train from Cusco to Aguas Calientes. 
Take the shuttle bus from Aguas Calientes to Machu Picchu.
Spend the day exploring Machu Picchu. You can learn a lot about the building construction, history, and temples if you have a tour guide to explain it to you. You can also explore it yourself if you prefer to walk at your own pace. 
Spend the night at Aguas Calientes and enjoy the Hot Springs
Take the train back to Cusco.

What to Pack for a Day Trip to Machu Picchu?
Sunscreen
Water
Snacks
Bug spray
Coins for using the bathroom
Passport
Sunglasses
Camera
Good luck planning your trip to Machu Picchu in Peru! It's really a marvelous architectural wonder that will leave you in awe! Feel free to ask us any questions by leaving a comment below!