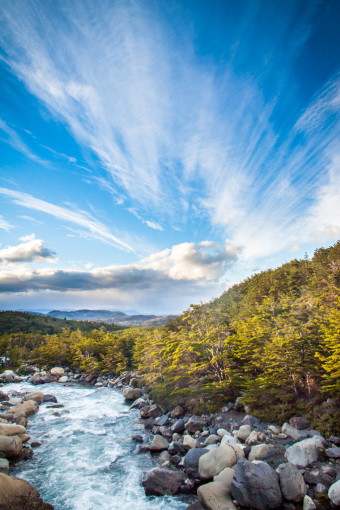 My wife and I just passed our one year milestone of leaving our life in San Diego! Woo-Hoo! We thought the first month went by so slowly, then all of a sudden it's been a whole year of living abroad and traveling!
We went to Dairy Queen to celebrate!
Ice cream is the luxury we choose whenever there's anything remotely special to celebrate, and this called for the Dairy Queen deluxe.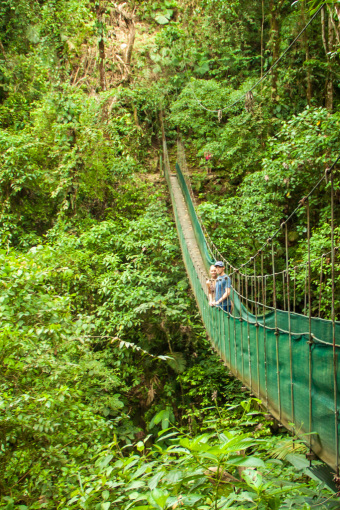 When we left for Costa Rica a year ago, we didn't have much planned, and certainly didn't know what we'd be doing the next month. We didn't have an answer to everybody's questions about how long, what next, and when ya' coming home? We trusted our instincts to figure it out along the way and we're here to tell you that somehow it all worked out. I take that back, it's been amazing living abroad!
Even better, we'll vouch that anyone can do it if they really want to. There's nothing that should hold anyone back who has a similar dream.
We left with a Spanish dictionary, a few friends-of-friends' phone numbers for Costa Rica, a few backpacks jammed full, and a few dollars in the bank. Now, we have just about the same amount of stuff, just a few less Benjamins in the bank.
Now that we've seen a few sights, traveled on a few buses, crossed a few borders, and have been to a few places, we feel like we can give an overview of our life abroad with some experience behind it. We certainly aren't perfect travelers, but our eyes are opened to how big the world is. We've grown accustomed to living out of a backpack. Traveling is our new way of life.
How do I begin to describe our experiences? Since I'm an engineer geek, I like to keep track of our route and budget as we travel. Here is a quick overview of some things we kept track of last year.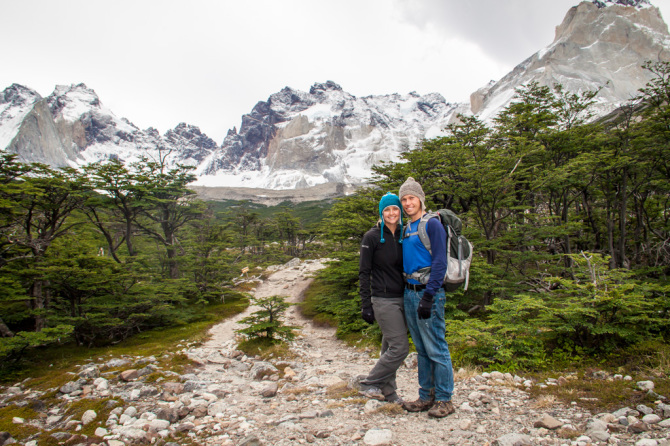 Countries & Cities
Countries Visited: 9 (Costa Rica, Nicaragua, Panama, Chile, Argentina, Uruguay, Bolivia, Peru, USA)
Borders Crossed: 16
Major Cities Visited: 89
Geocaches Found: 77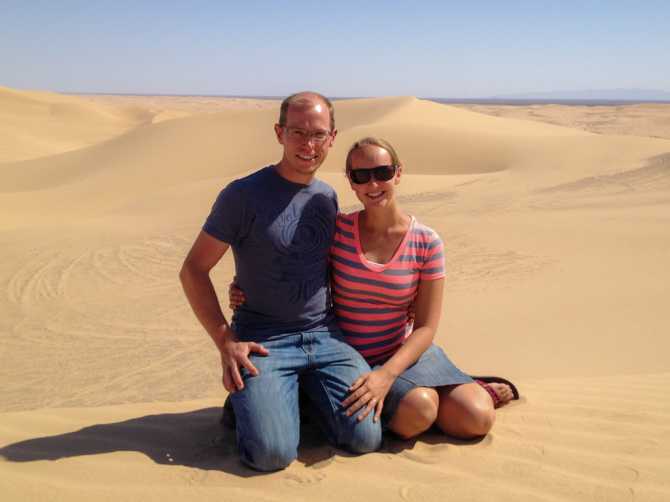 Distance Traveled After One Year Abroad
Total Distance Traveled: 45,751 miles (73,659 km)
Distance on Planes: 15,971 miles
Distance on Bus/Train/Boat/Foot/Etc: 29,780 miles
Number of Planes: 11
Number of Buses: 536
Number of Buses Longer than 8 Hours: 13
Number of Buses Longer than 20 Hours: 3
Number of Boats: 12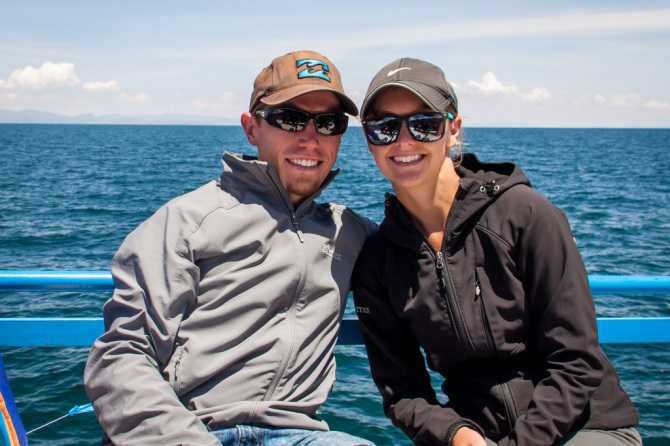 Number of Trains & Subways: 21
Number of Taxis: 26
Total Miles Hitchhiked: 215 miles
Total Miles Walked: 1073 miles
Total Days with a Beard/Goatee: 131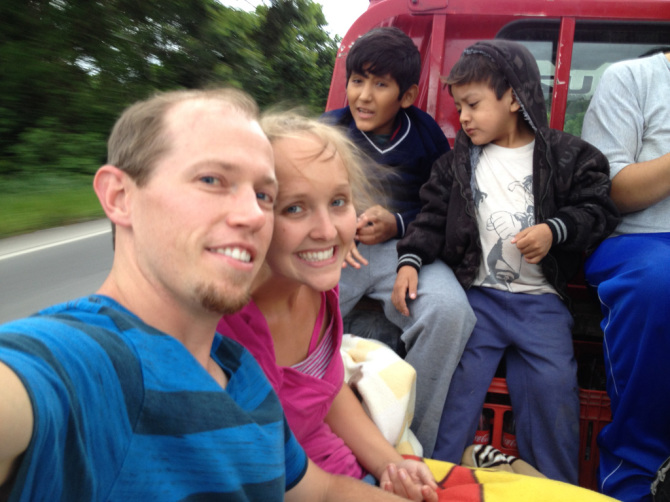 Traveling Costs for One Year Abroad
Total amount spent for one year: $10,553.22 per person (Averaging $28.91/day)
I'm actually impressed at how little we spent for an entire year! The rice and beans paid off! This is a complete total that includes all our flights, hefty visa fees, a few pricey tours, new hiking boots, 2 new laptops, and some "charity" money for meals and things we've bought for other people. Also, traveling in Costa Rica, Chile, and Argentina isn't as cheap as traveling in other South American countries such as Bolivia, Peru and countries in the Middle East.
Visa fees for Chile, Argentina, & Bolivia: $495 per person
We started off in Costa Rica to get our bearings, then left for 4 months to travel in South America. Afterwards, we returned to Costa Rica, where we've spent much of our time since.
Time and amount spent for each country (per person cost)
Slow travel in Costa Rica, Nicaragua, and Panama – 4 months: $9.87/day
Traveling: (4 months)
Chile – 4 weeks: $34.36/day
Argentina – 3 weeks: $35.32/day
Uruguay – almost a week: $31.23/day
Bolivia – 4 weeks: $28.05/day
Peru – 2 weeks: $54.91/day
Costa Rica – 2 weeks: $30.61/day
Visit home to the US – 3 weeks: $5.27/day
Slow travel in Costa Rica and Central America- 3 months +: $9.17/day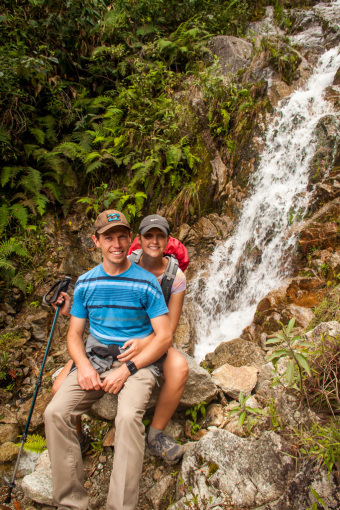 Most of the time we've been in Costa Rica we've worked out some sort of house-sitting job. The rent is cheap, but we always pay our own utilities and stay pretty busy with house upkeep and odds-and ends the owner needs done. And I thought I'd left all my house projects back in California!
A few of the daily costs are higher than others because they include a few tours like the Inca Trail tour in Machu Picchu and the Salt Flat tour in Bolivia.
So, How Do We Pay For it All?
This is a question we get a lot, and is pretty personal, though usually unintentionally. We don't ask people how they pay for their vacations, their new cars, or their big houses. Sadly, 90% of those things are bought on credit. We haven't swiped a credit card in over a year, and always use cash for all our expenses while traveling.
Living abroad is much cheaper than living our normal lives was back in San Diego, as you can see from our country costs above. We saved up for over a year before we left, so we've been able to travel for a while without steady income.
We can travel with a clear mind because we don't have any debt hanging over our heads as we travel. The only thing we use a credit card for is buying flights since we haven't figured out how to buy them with cash yet. We do have a home loan back in San Diego, but that's it!
Since we've left, we started a few online businesses, including this travel blog, and invested in a few companies. People just like you can support this blog by using the ad links on this site and using our links to purchase from online stores such as Amazon.com. It doesn't cost you a dime more, and your purchases are completely anonymous.
First Month Living Abroad
The first few weeks after arriving in Costa Rica were extremely draining! We were traveling with a friend who was very fast-paced in everything he did. He walked fast, traveled fast, ate fast, and taught us everything he knew about living in Costa Rica in just over a week.
We were dead-tired at the end of every day, and thought we were pretty lame since it didn't seem like we were getting a whole lot done or seeing very much. At first we thought we'd picked up a bug or something that was making us tired.
But, one day we mentioned it to some friends of ours, and they said they felt the exact same when they first left the US. They said we were thinking so much more about things that we never had to think about in the US. We had to watch where we stepped in San Jose or we'd fall down a man-sized-hole in the sidewalk. We had to translate everything in our head from Spanish (or gibberish) to English. We had to convert every price to US dollars. We had to be much more aware of our surroundings – our backpack and pockets to be on the lookout for pickpockets. And, we were walking at least 1-4 miles each day. THAT will make anyone tired.
Culture Shock and Reverse Culture Shock
I'm surprised at how immune we've gotten to things that are unheard-of in the States. We don't even blink at crowded buses with zero personal space and breathing room any more. Super busy markets that are like a maze – just hold on Alyssa! Negotiating house repairs in Spanish – a bit cumbersome, but just good practice for our patience. Exchanging money on the blue market in Argentina – a little sketchy when some homeless-looking guy leads you down a long hallway to his cash stash. Going to 5 different stores to find safety pins – quite time-consuming.
A big surprise though, I never thought I'd get un-used to things that are common to every city in the US. Take Walmart, for example. I used to enjoy going there to pick up everything I needed in one trip, which saves a LOT of time by the way. But, when we venture into the big Walmart in San Jose, it feels super overwhelming with so many choices, bright lights, and a whole aisle of cooking oil! I like saving time, but I'm not used to having to pick from 5 packs of shavers that all advertise the same thing. Usually we're lucky to find ONE of what we need on the shelf!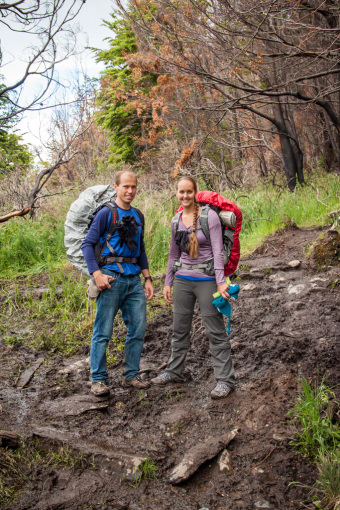 Crazy Experiences Living Abroad
Many things we used to consider crazy are weekly or daily occurrences now, so I need to re-remember what I used to consider crazy. Hearing the name "poison arrow/dart frog" used to bring up images of a frog sneaking up and jumping on my back, licking me as I collapsed to the ground dead. Now, they are just frogs that we see all the time hopping through the jungle – no big deal. Some zoos have an open room of frogs, and then another room of "poisonous" frogs. The frogs are just sitting on the leaves right out in the open or hopping around. They sure don't seem dangerous, but we keep our distance.
The Alligator Surprise
Well, our first crazy experience was just after we arrived in Costa Rica, when we were staying with some friends-of-friends we had just met. Their place is a bit rustic, but we arrived in the evening, so we couldn't see much. In the morning they were excited to show us around their farm and casually mentioned that we could see their alligator in the pond right next to the house. Sure enough, from the kitchen table we could barely make out the eyes of an adult alligator peeking out of the water – not more than 50 feet from their house! We had passed right by the pond on our way to the bathroom the night before, and could have been alligator supper!
The Lost Bag and Taxi Chase in Peru
Our most desperate experience was with a taxi in the wee hours of the morning in Peru. Surprisingly, it showed us that there are still friendly people around the world.
We were half asleep at 3 or 4 in the morning as we crammed into a taxi shared with a few other travelers we met at the bus station. We had just arrived in Cusco on an overnight bus and were bleary-eyed trying to find a hostel for a few hours of decent sleep. We stopped at one a few minutes later and all five or six of us piled out, and tried to pay the driver for a $2 taxi ride with the equivalent of $20 dollar bills. He finally got change from a little store and was on his way.
I was still waking up as we walked into the hostel when I noticed my backpack felt a little light! I looked wide-eyed at Alyssa and she only had her big backpack. Oh no! We had forgotten a little day-bag backpack in the taxi! It was small and black, and must have gotten stuffed into a corner where we didn't see it as we were unloading!
Drat! We had been distracted with the big group in the taxi and the making change for a $20 bill. We had messed up! Now how were we going to find this taxi in a city of a half million people to get our bag back?!
Click here to read the whole story!
Almost Got Stuck in Chile
As we were at the custom's office at the Chile – Argentina border, I couldn't find the little visa paper they had given me when we entered Chile. I always put those little papers with my passport, but it wasn't there. Alyssa had hers, so I knew I had gotten it… My heart skipped a few beats thinking I'd have to stay in Chile on the side of the road with the cold wind whipping at me while everyone else in the bus went on their merry way.
Then I remembered a few receipts I had stuffed into my bag a few days earlier. I crawled through the baggage door of the bus looking for my bag, and pulled out the receipt pile – the paper was there! I thought it was a receipt for a border fee, but it was actually my visa! Good thing I decided to keep those little papers a few days longer!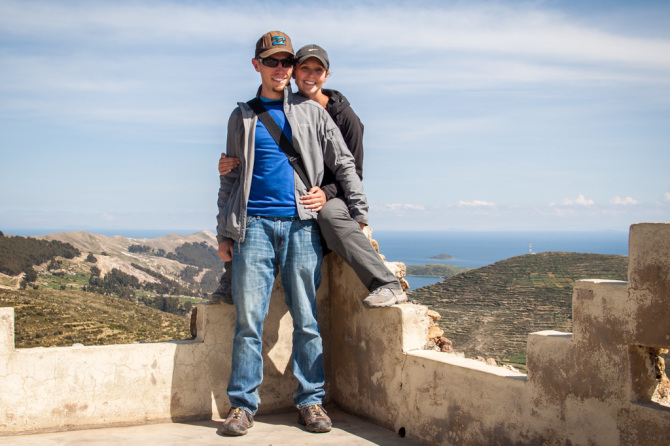 The Taxi Scam – And Our Fight Back!
The most crazy taxi experience ever. I hope I don't top this one any time soon…
We had just arrived at the Lima airport to find a sunny, hot afternoon waiting for us. We were nearing the end or our 2 weeks in Peru and had taken a flight from Arequipa to Lima since the gold miners had evidently closed the bus road due to a strike. I asked the first taxi what he would charge to take us to Miraflores and he said "40" so we hopped in. 40 soles was about $13 and seemed like a decent price for the distance. A half hour later, we arrived at the hostel and paid him 40 soles.
He looked hurt behind his classy black sunglasses and clarified himself from earlier saying his practiced phrase, "No, 40 dollars. Give me 80 soles more."
I looked at him in bewilderment. "40 dollars?" I knew this wasn't a misunderstanding of numbers and exchange rates, it was the first steps into a taxi scam.
Click here to read how we fought back!
Witches' Market
In La Paz, Bolivia, we took a free walking tour around the city and got to see some cool produce, meat, and witches' markets. Yes, an honest to goodness witch market. I was disappointed that they didn't have pointy hats and a cackling laugh, but they each had a tiny store filled with little sachets of powder, figurines, and llama fetuses. Llama fetuses? We were leery too. The guide explained that there was a sacred ritual to sacrifice these dried llamas to Pachamama – Mother Earth before building a house. They had everything you'd need to whip up a magic love potion, cure diseases, and tell your future. That was the first crazy experience of the day in La Paz.
Jumping Off a Building
The tour of La Paz finished at the top of a 20 story hotel that you could rappel off of. That sounded pretty cool, so we watched a few people hop off the edge. One dressed up as bacon-man, another superman, and so on. I was convinced this was pretty awesome and safe, so I decided on the Spider-Man costume.
For the first part of the 150 foot plunge, I could control my own descent with a belay "figure-eight," easy enough. Then, at the middle, they told me to let go and they would lower me the rest of the way down – in a free-fall! They let me drop for a few stories of the hotel, then slowed me down so I didn't splat at the bottom. What a rush!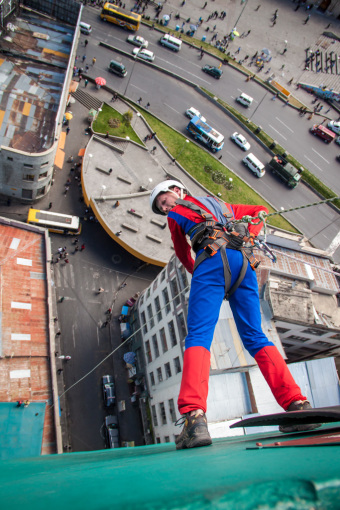 The Stomach Battle
Alyssa picked up some sort of a stomach parasite when we first arrived in Bolivia. It didn't show up until we were on a 5 day Jeep tour of the salt flats. As we climbed into the 14,000 foot elevation level everyone was feeling pretty terrible. The strange food on the tour, the full days of driving on bumpy roads, and the super high altitude made everyone feel sick.
Alyssa wasn't feeling too well after a short stop so she decided to sit up front. A few minutes down the road, she started turning green and yelled Para! to the driver to stop. Not a tree or rock in sight to hide behind, she blew chunks off the side of the road for the rabbits to find later. Just recovering from that, it started coming out the other end! Privacy trees were not on her mind anymore – at least the back of Jeep offered a little separation from everyone else inside. After getting thoroughly cleaned out and having lost a few pounds she was ready for another 5 hours in the Jeep!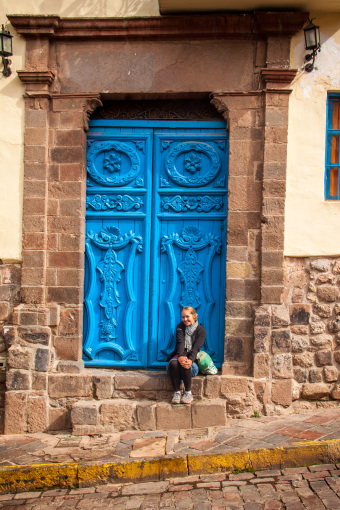 Getting Robbed!
98% of people in the US don't travel to other countries because of the fear of being robbed. That's terrible to live in fear of the unknown! We have NOT BEEN ROBBED A SINGLE TIME! We've been pretty fortunate, and usually error on the side of being overly cautious, but staying alert is the most important part.
In our first year, the worst that's happened is the TSA in the US confiscated a jar of peanut butter from our carry-on luggage because their fancy machine told them it was a bomb. That's the only thing we lost, well, besides some carrots and cheese someone took from a hostel 'fridge once.
We've never felt unsafe, or have had anyone other than a bum ask us for money. Most people are just going about their daily life and pay us no attention at all.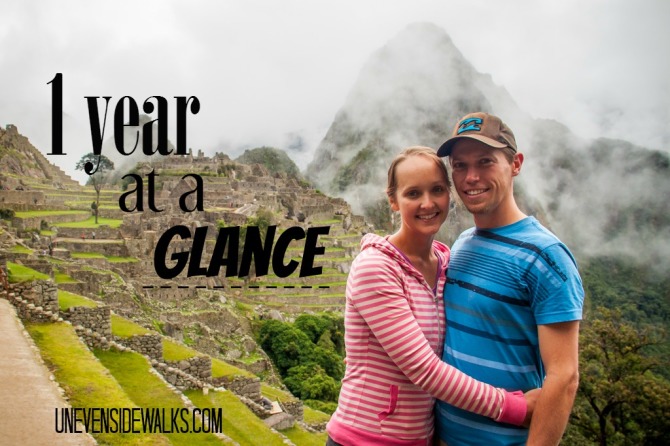 A Few Other Highlights From our Year Abroad
Hiking the "W" at the beautiful Torres del Paine.
Hitchhiking to the Siete Tasas Waterfalls.
Getting dunked under the waterfalls at the magnificent Iguazú .
Costa Rica winning a few World Cup games.
Getting up close to the electric blue icebergs from Perito Moreno glacier
Exploring the picturesque ruins of Machu Picchu
Things We've Learned From a Year of Traveling
Most of the things we've learned are difficult to put a finger on and quantify. We've learned a ton about how to find our way around on buses and travel in different countries, but there's more of an "eye-opening" to different customs and ways of life that I think will change us the most.
One of the most obvious skills we've gotten better at is speaking Spanish. We use it every day and rarely speak English to anyone other than between ourselves. Alyssa and I both had classes in high school, but that doesn't equal being able to speak or understand it. I'll never forget when we just arrived in Chile and I could not for the life of me understand what the guy on the bus was asking me. I couldn't pick out a single word!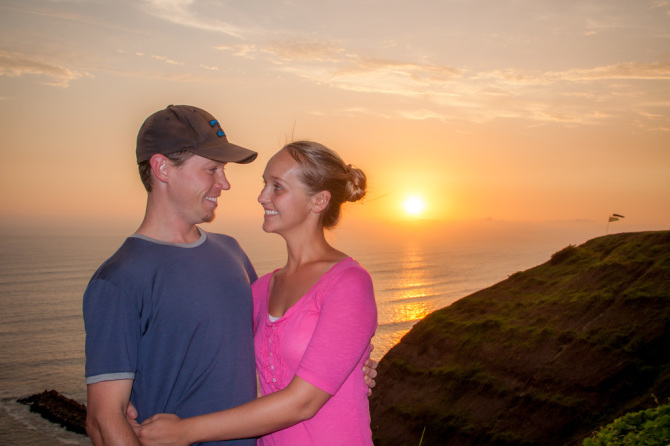 We love our new-found time together as husband and wife. We just passed 5 and a half years of being married, and still work together at the same table in our remote office all day. Read Alyssa's guest post on long term traveling as a married couple.
A not-so-obvious skill is being more observant and learning quickly. We started our trip with not much prior planning, and have had to learn everything about each country and city we've visited. It is a daunting task to re-learn the layout of a city and where to go, what to see, and where to sleep every few days while traveling. It requires a lot of map-reading skills, memory, and insight into the local customs.
We've had to step up our creativity & learning skills for the new business ideas we've explored. Before leaving, our knowledge of making web pages was pretty slim, and now we have created a few, including this blog. There is a lot to learn about designing and running a successful blog, and we're learning more every day!
Got used to bugs. This is pretty self-explanatory since we've spent quite a bit of time in the jungle. We try not to EAT the bugs, but if they're on our food we've gotten used to just bruching them off and eating faster. One night we had a tarantula in our bed, and that was pretty exciting! I'm pretty friendly to spiders… unless they're in my bed.
Time Goes Fast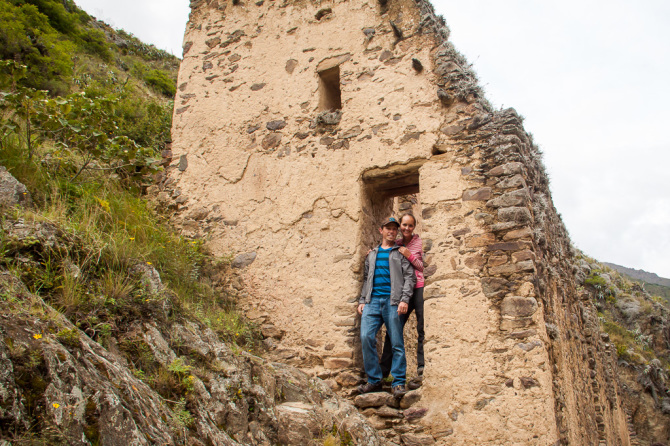 Time goes fast, the same here as in every part of the world. We thought the first 3 and a half years of our marriage flew by when we were living in the US, but the last year has gone by just as fast.
Don't forget to enjoy every day, no matter where you are. This is really difficult for us, because we try to do everything we can, and end up rushing through things that are amazing and beautiful.
I bet the next year will pass by just as quickly.
Thanks for following along on our journey! We'd love to hear your thoughts in the comments below!