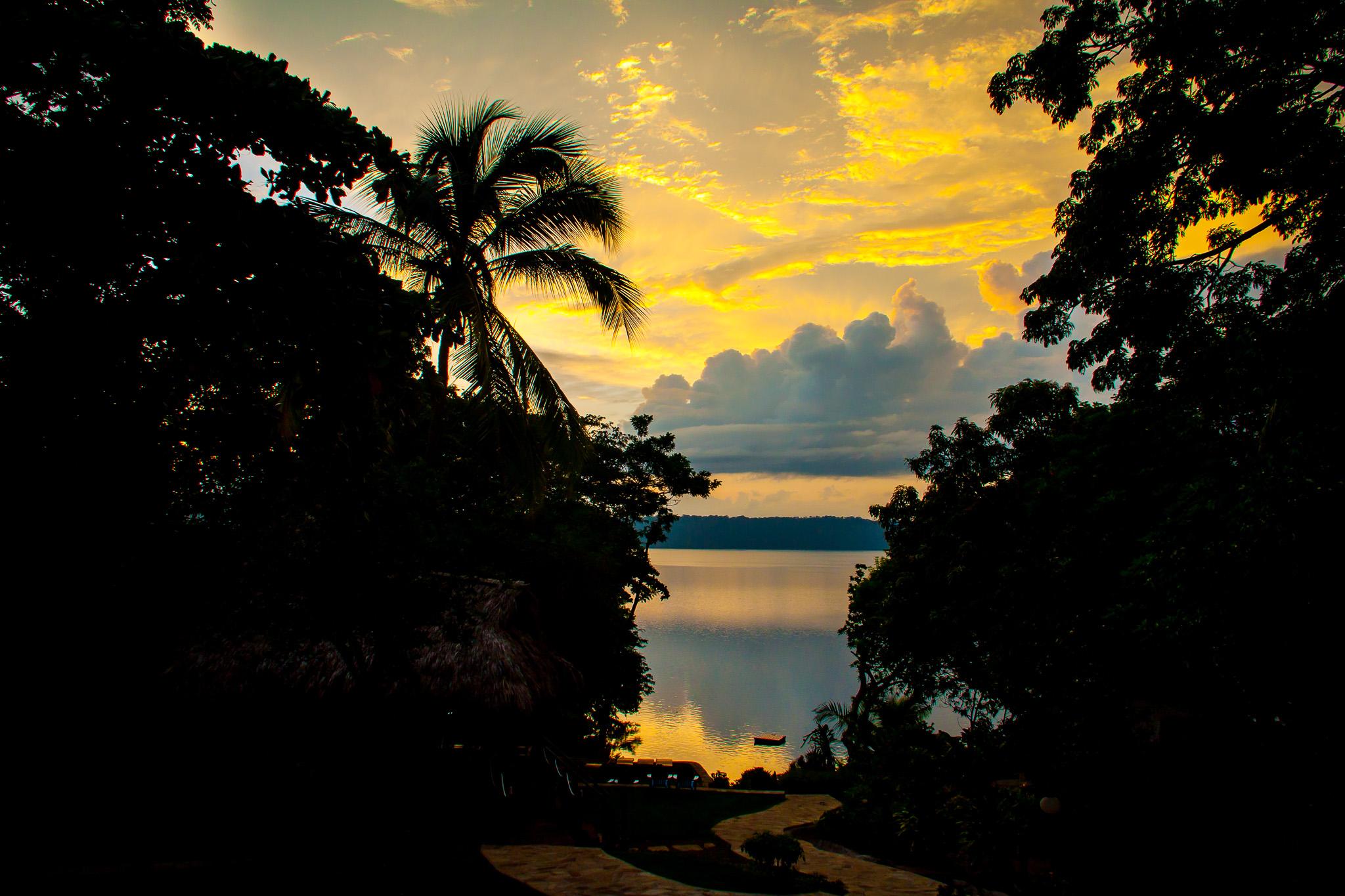 It's a rare treasure to find a warm lake to swim in, even here in Central America where it's usually sweltering hot. If there is a pond that happens to be warm, it is usually covered in moss, mosquitos, and crocodiles. No crowds swimming there. Imagine our surprise when we stumbled upon this gem – a warm, crystal clear lake in a volcano crater heated by natural hot springs! It was incredible to swim in the warm waters of Laguna de Apoyo, the best kept secret in Nicaragua!
My wife and I took kayaks out each morning so we could watch the sunrise and swim in the relaxing water. The volcano so quiet and peaceful. The only thing we could hear were howler monkeys and birds waking up the rest of the forest. It was amazing! The sun rose wickedly early when we were there, but this is definitely one of those bucket-list experiences!
Activities To Do at Laguna de Apoyo
"It's the perfect size to go wakeboarding on!" That was the first thought that ran through my mind when I saw the lake. I looked around and there were no boats at all and it was almost as smooth as glass. I thought we had found a gold mine – warm water and no boats!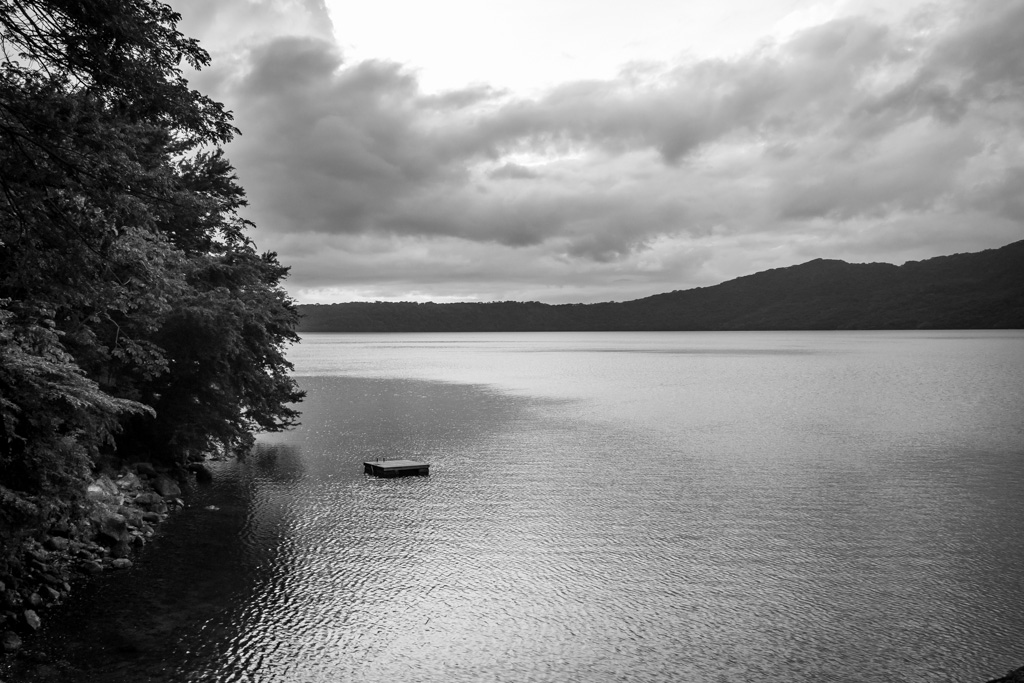 But then I got leery and asked around why there were only kayakers out. Ah, it was declared a nature reserve in 1991. That makes sense. Drat! No wakeboarding after all… At least we could kayak!
After swimming in the lake I changed my mind and decided it was better as a nature preserve than having boats roaring around it all day. It's a closed lake so all the pollution that gets dumped in it stays for hundreds or thousands of years. The water is crystal clear, and clean enough for the locals to drink, so better that it stays that way.
The lake is surrounded on all sides by a tall crater rim that is blanketed with pine trees. There are miles of hiking trails that have hundreds of species of monkeys, birds, and butterflies roaming wild. There are 220 species of butterflies here – I didn't know that many existed! They're even finding new species of animals every year!
The lake is only developed on one side and has plenty of room for swimming, kayaking, sailing, and SCUBA diving. Most people just come and relax by the dark sand beach because it is such a tranquilo place.
Laguna de Apoyo Hot Springs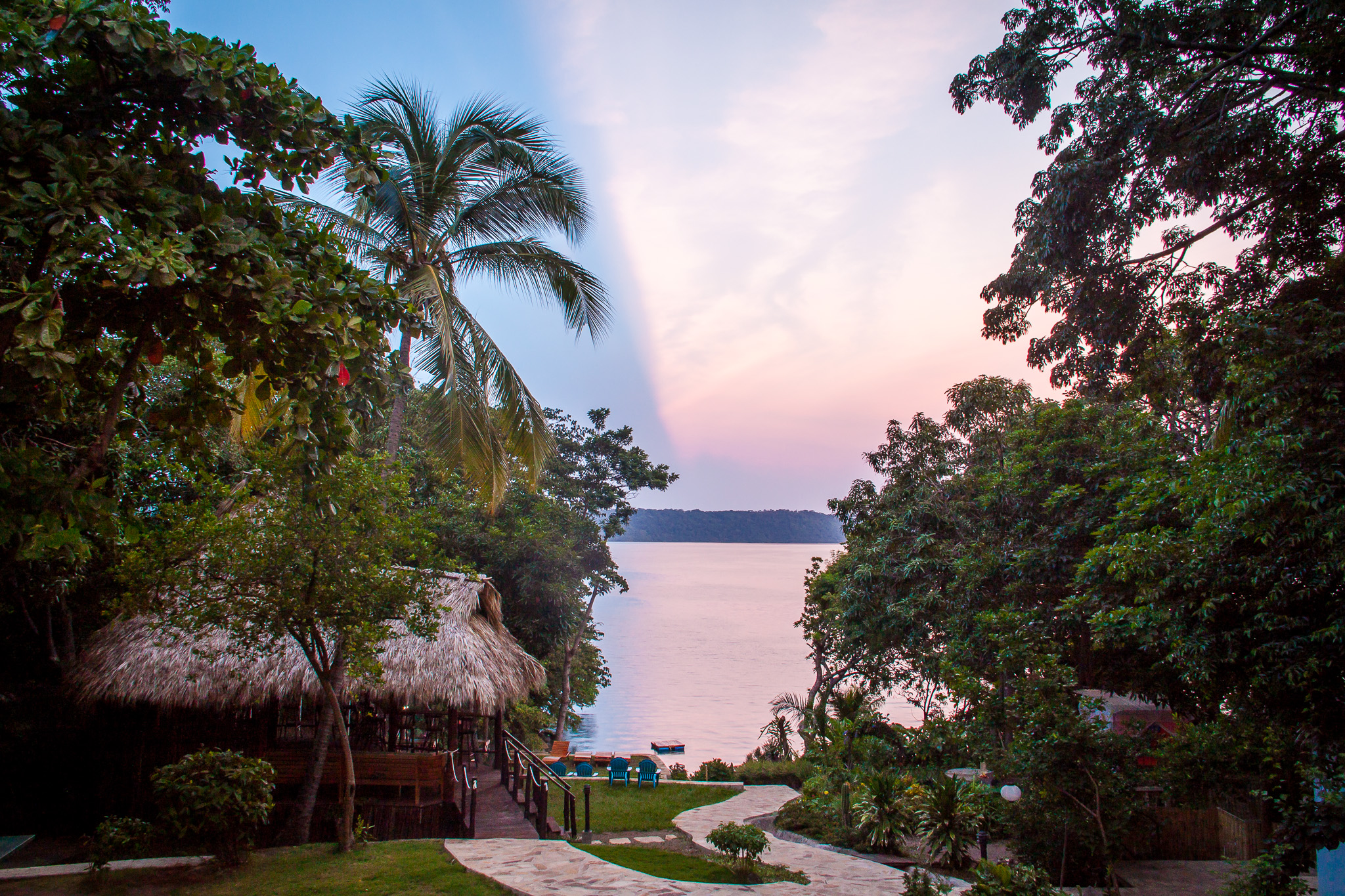 We were tipped off that there were some hot springs nearby, so we kayaked along the coast until the water started getting warmer and warmer until it was too hot to touch! There were little bubbles where the water came out of the superheated thermal vents. It was hotter than a jacuzzi!
The lagoon is nestled in the crater of the inactive Apoyo Volcano. It is 19 square miles big, and around 650 feet deep – more like a lake than a lagoon! It is kept full with rainwater and hot water springs. The volcanic activity creates natural springs of hot water that maintain the lake temperature at a perfect pool temperature year round.
Before coming here, we had been at Ometepe Island in Lake Nicaragua and the water there was chilly and it was really windy. Brrr. We weren't too excited to swim in another cold lake, but we stepped into Laguna de Apoyo and it was amazing!
SCUBA Diving in Laguna de Apoyo
There were a few SCUBA diving companies nearby that offered equipment and guides for diving in Laguna de Apoyo. We didn't have the time to check this out, but it's already on our list of things to do the next time we visit Nicaragua.
Like all crater lakes, it gets deep really quickly. The visibility is easily 50-100 feet, but we couldn't see the bottom it was so deep. We stuck a paddle down 5 feet and could see the tip perfectly.
There were lots of fish when we were kayaking, so snorkeling would be fun too.
Laguna Beach Club Hostel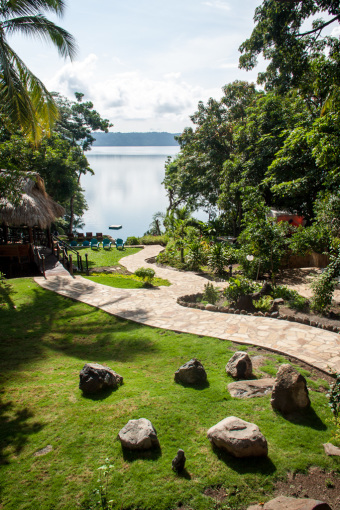 We stayed at a really cool hostel called Laguna Beach Club that was right on the water. Our room overlooked the lake and we were greeted with a beautiful sunrise every morning.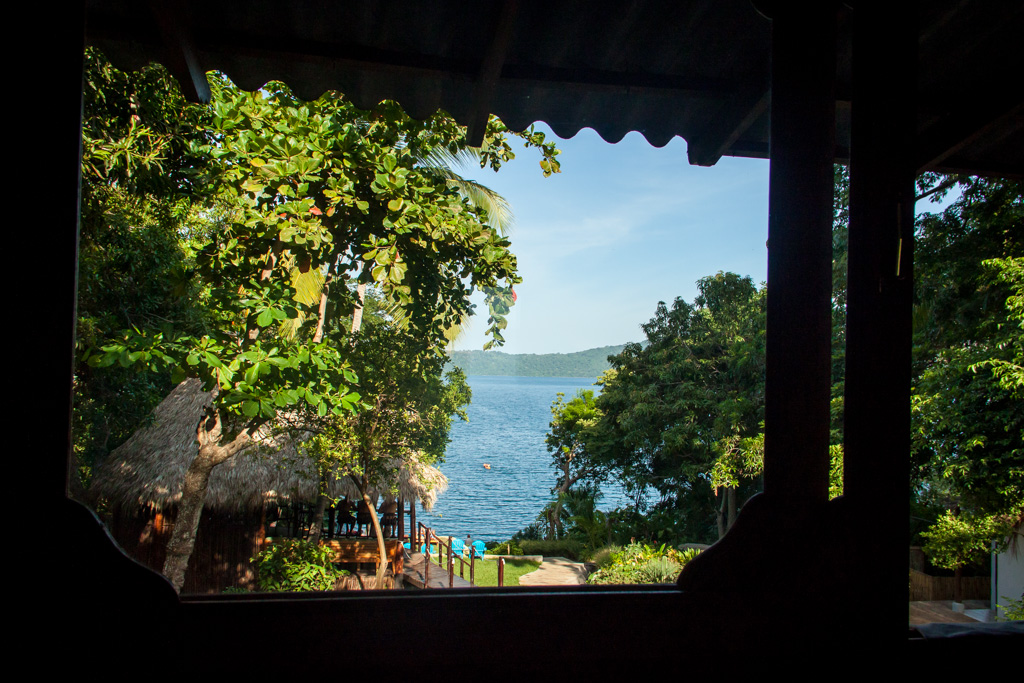 Everyone staying at the hostel has free use of a nice kitchen, kayaks, ping pong, and bocce ball. There are 2 floating wooden decks in the water – great for kids to play on. Hammocks and lounge chairs are all over the place to soak up the sun and relax in. They have a restaurant and bar that has good food and drinks too!
The Laguna Beach Club is the first hostel you come to after heading down the hill into the crater. It's a newer place, and is really clean and comfortable. Click here to visit their website and current prices. They also offer a day-pass to use their facilities and enjoy the beach if you already have a place to stay.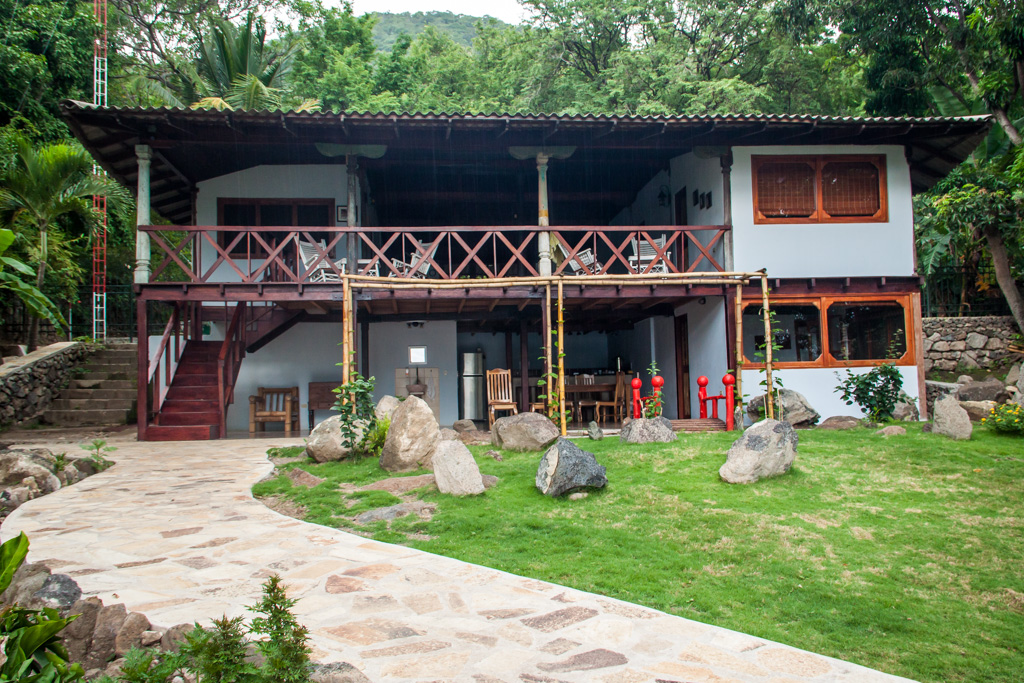 I was not compensated to write this article and it is my own opinion.
Click here for a list of more places to stay around the lake.
Go Visit Laguna de Apoyo!
The beautiful setting, warm water, kayaks to use all the time, and good food made this place feel like a paradise retreat, even though it cost less than a tenth of something similar in Hawaii or the Bahamas. We're definitely going back to visit soon!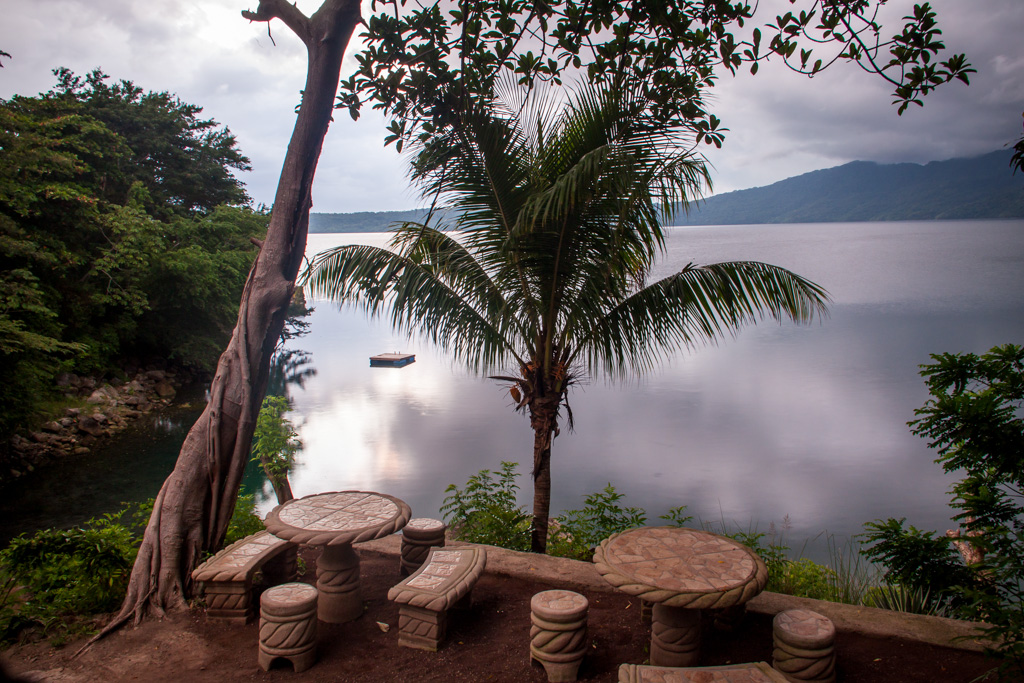 It's only a half hour from Granada, so if you're passing through Nicaragua be sure to take a swim in the warm waters of Laguna de Apoyo!
Leave a comment if you've visited this amazing place!