Nicaragua is by far, one of our most favorite countries in the world. If there is a place we would go back to, Nicaragua would be on the list of choices. If you like exploring and adventure, Nicaragua is a country filled with hidden gems and genuine culture! Compared to its neighbor, Costa Rica, Nicaragua is definitely more rustic and third world but It's not to say that the landscapes and cities don't have their charm because they really do!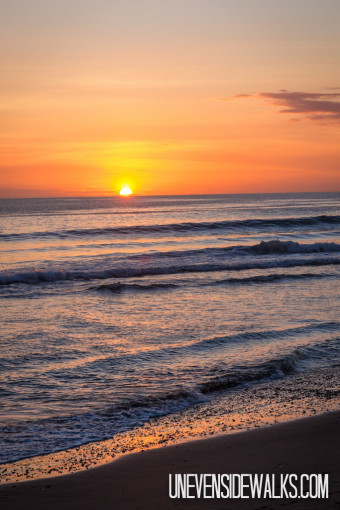 Two Weeks in Nicaragua
Day 1: Arrival to Managua by Plane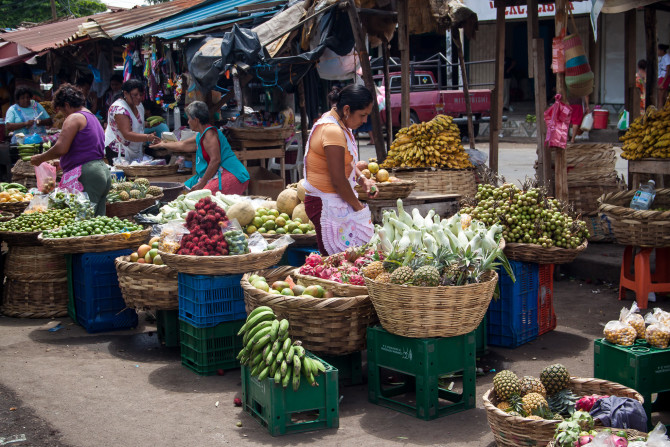 Your first day in Nicaragua is very exciting as you adjust to the country and brush up on your Spanish phrases. From the airport in Managua, make your way over to you hotel and get settled in. There is not a whole lot to do in Managua but take time to see the Old Cathedral, the National Theatre and visit some of the local markets.
Where to Stay in Managua: Maracuya Hostel Managua
Day 2: Travel to León & Explore the City
With your rental car or by local bus (very easy to use but crowded) make your way to Leòn. León is the second largest city in the country after Managua. It used to be the capital of Nicaragua for many years so it holds a lot of history. Have fun exploring old churches and visiting a few museums. This city has a lot of charm. While you are out wandering around, book a day trip out to the León Viejo to see the ruins of the old city and/or book a tour for Volcano Boarding, one of the most popular activities in Nicaragua.
Where to Stay in León: Hostel Colibri
Day 3: Day Trip to Cerro Negro for Volcano Boarding or Visit León Viejo
Nicaragua is known for it's numerous volcanos. You can hike volcanos, ride up them, and even go volcano boarding! This is quite an adventurous sport but imagine being the tourist with the "I boarded down a live volcano" shirt on. Now that will have some stories to go with it! We didn't get a chance to do the boarding but it's on our list for when we go back! If you aren't as into extreme sports, you can book a day trip to the "León Viejo" or the old city ruins which are Nicaragua's only UNESCO Heritage Site. There is lots to see and do around León!
Day 4: Transport to Granada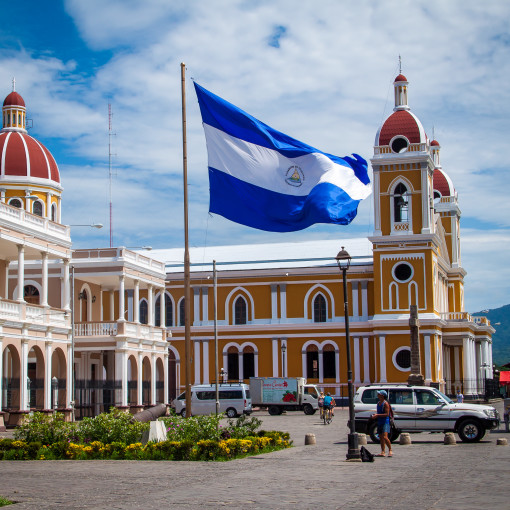 Next, make your way to the city of Granada. An enchanting city with huge looming church buildings and laid back parks. It's easy to fall in love with the charm of Granada. It's often argued one of the most beautiful cities in Nicaragua. It has very picturesque architecture and is close to lots of other day trip attractions. Most of the old buildings around the city have tall ceilings and gorgeous courtyards just inside the doors so don't be afraid to peek your head in and take a look inside some of the open doors!
Where to Stay in Granada: New Century Hostel
Day 5: Explore Granada

Enjoy visiting historical buildings, rustic markets, and hanging out in the central park. Granada is so picturesque with it's brightly colored buildings and old tile roofs. Say "Hola" to some of the locals and have fun shopping for souvenirs! Don't forget to try some of the local food too! You may be able to arrange a half-day trip to see pottery making!
Day 6: Laguna De Apoyo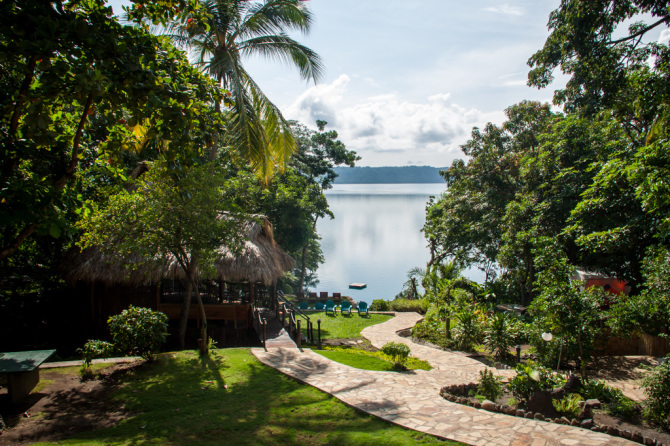 By far, our favorite place in Nicaragua! Just a short bus ride from Granada, Laguna de Apoyo is a great place to relax, have fun on the lake, enjoy a day in the sun, and listen to the monkeys howl. I could spend all week here at the lake! Because the lake is in the crater of a volcano, the water is very warm! If you stay at Laguna Beach Club, you get free access to all their kayaks, SUP, chairs, and tubes! It's a fun, fun day at the lake!
Where to Stay at Laguna de Apoyo: Laguna Beach Club
Day 7: Lake Day at Laguna De Apoyo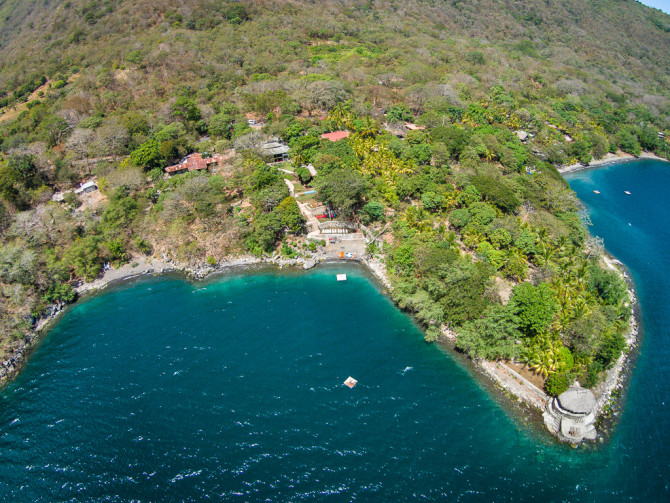 Make sure to wake up as soon as the kayaks are available and head out on the smooth glassy water for a morning ride. Once you get out in the middle of the lake, slip into the water and soak in the quietness of the morning occasionally interrupted by howler monkeys. It's one of the best experiences you'll ever have! So relaxing and fun! The lake water is super clear and some places even offer scuba diving trips!
Day 8: Transort to Ometepe Island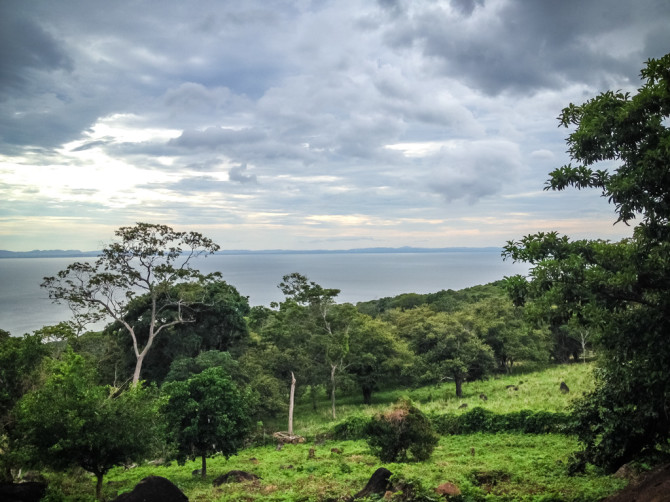 From Laguna de Apoyo, take the bus to the ferry that heads out to Ometepe Island. Once you arrive on the island, you can take the local bus or taxi to your destination or even rent a motorbike. We recommend getting a motorbike as soon as you arrive so it's easier to get around the island on your own. There are lots of hidden places to check out and you can really find some cool places driving around the island. 
Where to Stay on Ometepe Island: El Tesoro Del Pirata
Day 9: Hiking to San Ramón Waterfall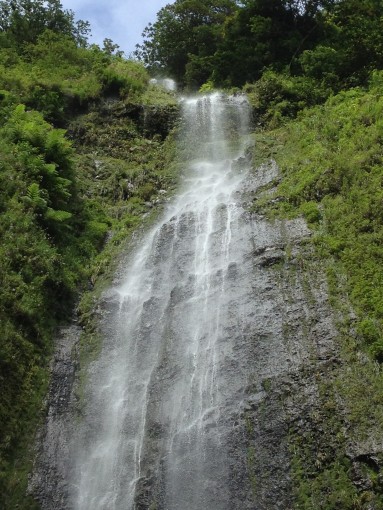 The next day, head out early for a great hike up to the waterfall San Ramón. If you have a motorbike, you can take it all the way to the top where there is a parking lot. It's a bit of a rocky, bumpy ride up but if you are confidant enough, it's no problem. Otherwise, you can park on the bottom and hike up or arrange for a horseback riding tour to the waterfall. From the parking lot, plan about 2 hours to the waterfall and about 3 hours from the bottom. If there has been lots of rain, the waterfall will be gushing. If not, it's still a very beautiful jungle hike! Prepare to sweat!
Day 10: Kayak to Monkey Island
Another fun thing to do on the island is to arrange a kayak trip out to the monkey island. It's a fun half day trip that gets you out on the water and up close to the howler monkeys! Drive over to Merida and rent a kayak for the day. Great way to have some fun and get some exercise! Some of the monkeys can be a little agressive and overprotective of their little island so be careful! 
Day 11: Transport to San Juan Del Sur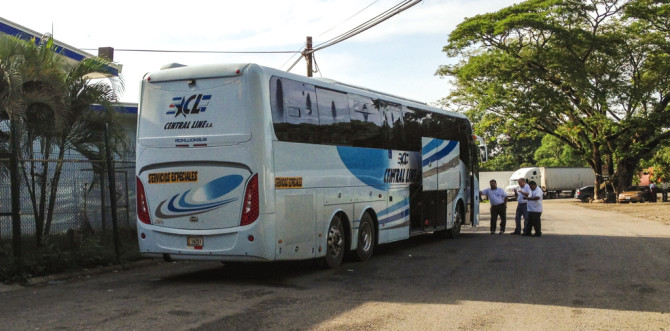 Getting from Ometepe back to mainland on the ferry can be an adventure! Hopefully the waters are calm and it's smooth sailing. Once you get to mainland, you can ask around to find the bus to San Juan Del Sur. There should be buses going by every hour and plenty of taxi guys ready to take you to the bus stop or where ever you want to go. Once you arrive in San Juan Del Sur you'll be nice and tired from your busy day with buses and traveling. 
Where to Stay in San Juan Del Sur: Hotel Maracuya Bed & Breakfast
Day 12: Beach Day at San Juan Del Sur
San Juan Del Sur is a great place to catch some rays, relax, and just enjoy the beach! Rent a surf board and get out in the water for some fun! Make sure you stick around for sunset, it's pretty beautiful! 
Day 13: Explore the Town of San Juan Del Sur
Spend the day exploring the town of San Juan Del Sur. You can start out your morning by hiking to the top of the mountain to see the Mirador del Cristo and some of the best 360° views of SJDS. You can also choose to go horseback riding on the beach, go on a sunset catamaran tour, as well as many other typical beach activities that will help end your trip in Nicaragua with a fun and memorable time at the beach!
Day 14: Departure Time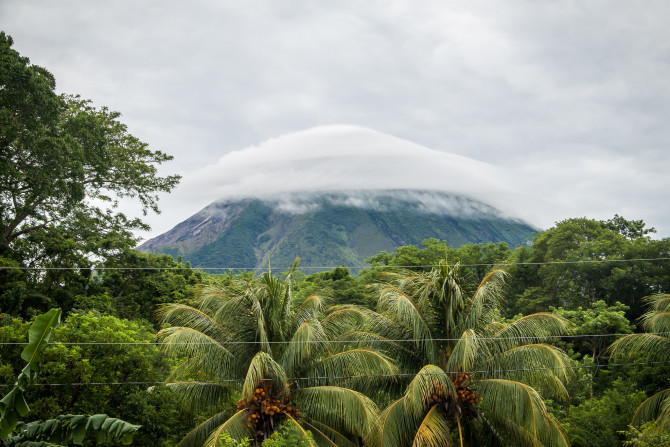 2 weeks goes by fast! Time to head back to Managua to the airport! Plan about 2 hours by car or about 4 hours by bus to get to Managua. Many hotels have pretty cheap shuttle options too that can get you to the airport or bus stop quicker than the local buses. 
We really hope you enjoy Nicaragua as much as we did! Remember to be careful with your belongings but don't let the things you hear about theft and danger keep you from going to Nicaragua. The Nicaragüense people are some of the nicest we have met!
Let us know how your trip goes and as always, feel free to leave us any pre-trip questions in the comments below!