I love making packing lists because it amps me up to get out in the mountains and go hike up some peaks! It's always amazing how light you can make your backpack and have an enjoyable hiking trip when you focus on just the essentials! It's all about planning ahead to anticipate the weather you'll encounter and the food and water you'll need to bring along. Here's my list of what to pack for lightweight Spring and Summer backpacking in the California Sierra Nevada mountains.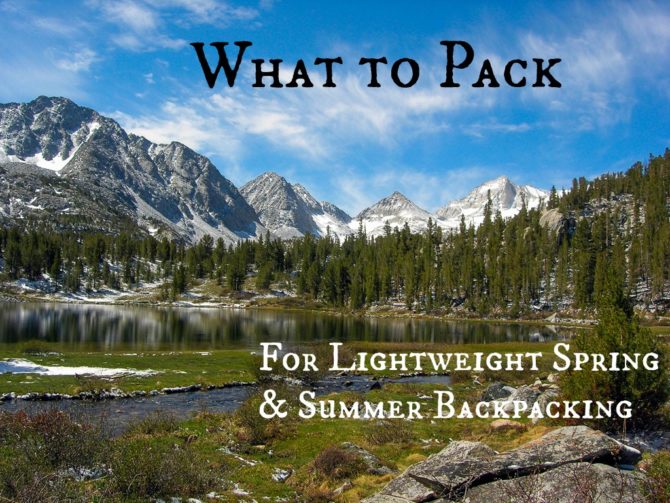 Hiking Essentials for Spring & Summer Backpacking
Backpack
The foundation of everything on a trip. Every seasoned hiker knows that a good backpack is worth its weight in gold. I've had Osprey packs for over 10 years and love them. My favorite right now is the Osprey Exos 48, a minimalist design that weighs in at a mere 2.6 pounds.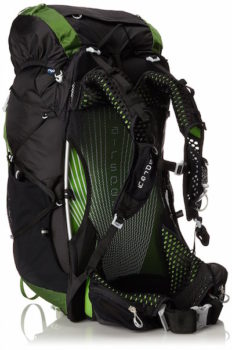 It has an internal aluminum frame and suspension system with padded straps for feeling great on long hikes. The 48 liter size should be fine if you're sharing some gear with friends or don't need to pack big summit jackets. Osprey also offers a larger 58 liter size and a smaller 38 liter one that'll work if you don't need a tent, or even for family day-hikes.
Raincover
Don't let the storms keep you at home or in your tent! The Exos 48 comes with an integrated raincover, but if you're using a different pack, this cover works well and is just a few ounces.
Trekking Poles
Trekking poles are the best way to keep up your hiking momentum and save those knees! You can also use them to ward off small bears and keep your Tyvek tent standing. These Leki trekking poles have all of the features I like: collapsible aluminum poles for easy packing and storage, adjustable lengths for going uphill and downhill, shock absorbing, and interchangeable tips for using on dirt trails or in snow.

Headlamp
I always take my Petzl Zipka headlamp hiking and camping with me. It's small, lightweight, has a sweet retractable strap to put it on your noggin or backpack strap, and always works. Don't bother with a cheaper brand.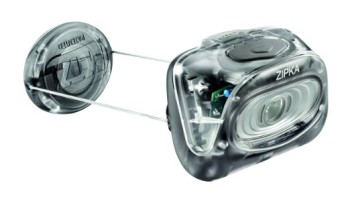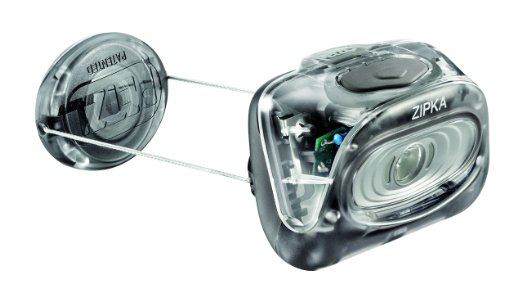 Camera
I love bringing my Canon 6D camera along, but a smaller waterproof one is more versatile for fast hiking. This waterproof one from Olympus is extra rugged so you don't need a case for it, and it even works down to 14 degrees F for winter hikes.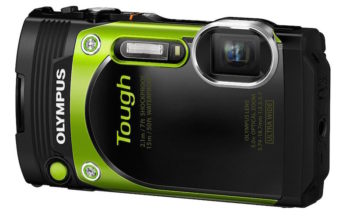 iPhone
It's definitely a smart idea to bring a cell phone along in case of an emergency, even though you might not get service along much of your hiking route. The built-in camera on the iPhone 5S and newer are probably even good enough for all your facebook posts after you get back. I always download the geocaches along the trail beforehand so I can tick them off my list even when there's no cell service.


GPS Satellite Tracker/Locator
Letting friends and family back home know you're safe is always important, especially on long or solo hikes. The Spot GPS tracker/locator/messenger transmits your location to a satellite so your friends can keep tabs on your progress through an online map. It'll even bring out the rescue crew if you press the 911 emergency button!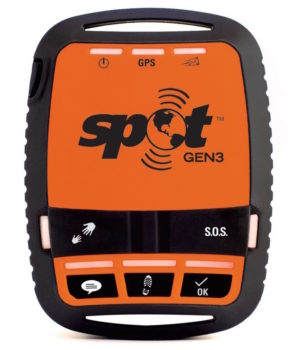 Knife
Always make sure you have a sharp knife along, wherever you go! I love the solid feel of a single blade pocket knife, but sometimes I like a Leatherman multi-tool knife that packs a lot of useful extras for a little more weight.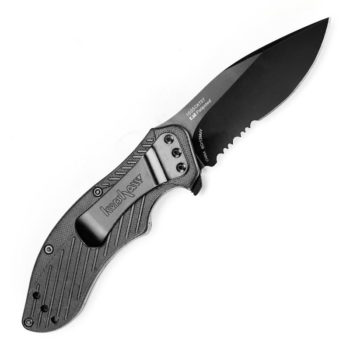 Waterproof Bag
After traveling in rainy weather for a few years, I like organizing my electronics, clothes, and miscellaneous knick-knacks in waterproof bags. This set of 3 gives you a a few sizes and colors to stuff your goodies in!
---
Around the Campsite
Sleeping Bag
I love down sleeping bags for their light weight and awesome packability. The Marmot Hydrogen is rated for +30 degrees Fahrenheit and only weighs just a pound and a half with 800 fill goose down – perfect for spring and summer camping. A slightly warmer option is the Marmot Helium that drops down to +15 F for higher altitudes with colder nights. If you're going to be hiking in really wet climate, opt instead for a synthetic sleeping bag which insulates better when damp than goose down.
Snow is actually really insulating if it's cold enough to stay frozen. My buddy and I slept outside with no tent, just on therm-a-rest pads, when it decided to dump a foot of snow on top of us. I stayed warm all night though in just a +20 F down sleeping bag!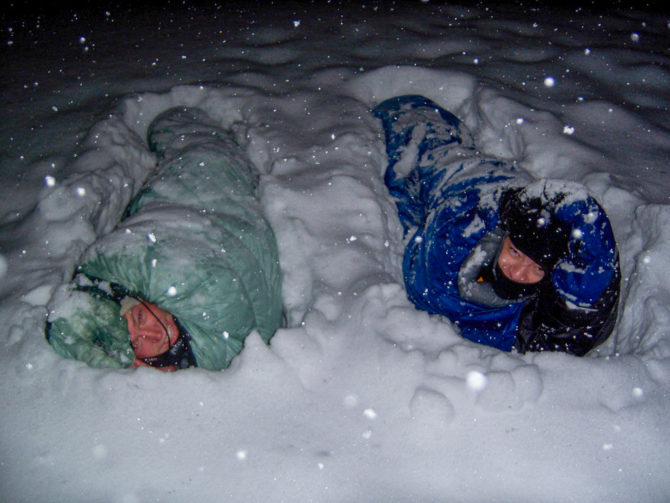 Sleeping Pad
A good sleeping pad is the best way to make sure you get a good night's sleep after a long day of hiking. It's actually more important for insulation from the cold ground than for padding, but this covers both. I always recommend the Therm-a-Rest self-inflating foam/air mattress. I've used it for years and have always slept like a baby with it. It self-inflates for a minute, than you blow a few breaths of air in it to get the firmness just right.
There's also a fold-up foam version that lots of people love because it is lighter and doesn't matter if it gets holes poked in it. It's a bit bulkier, but I haven't used it personally.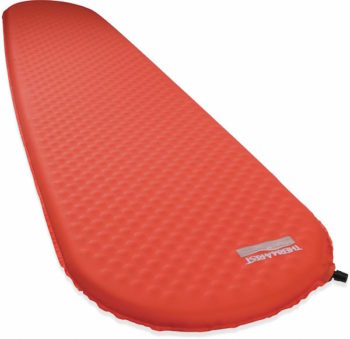 Tent
Tents are like hotels – you don't spend a lot of time in it, so don't buy the most expensive one out there. Then again, you don't want to carry a super heavy one from Walmart either. The MSR Elixr 2-person tent is a lightweight mid-line tent that has an amazing view of the countryside through the mesh walls with the rainfly off. That's why you're camping, right?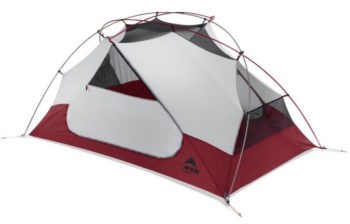 For the lightweight, adventure-types, I'd recommend the Tyvek tent. You can get it down to one pound for a 2-person version. The 4-person model below weighed only 2 pounds.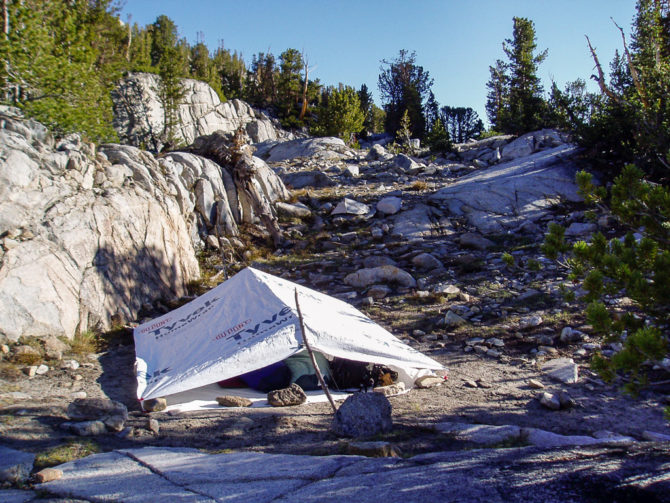 ---
Supper-Time!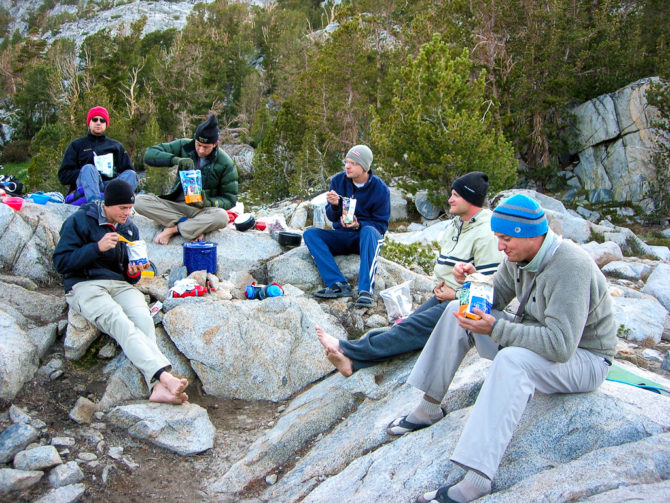 Stove
The Jetboil stove is perfect for hiking because it's easy to use, lightweight, and packs into its 1 liter pot. It is mainly used for boiling water, but that's fine because that's usually the base of most camping meals anyhow. If you're looking to fry up some fish, go for the MSR Whisperlite instead.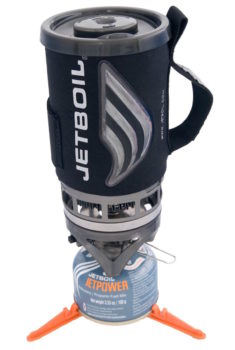 Pot, Pan, Plate, & Cup Cooking Set
I love my MSR camp cooking set and take it with me all the time. Everything packs into the outer pot making it easy to grab what you need for making supper. It includes:
2.5L non-stick pot
1.5L non-stick pot
pot lid
swappable handle
2 deep plates/bowls
2 insulated cups with sip-lids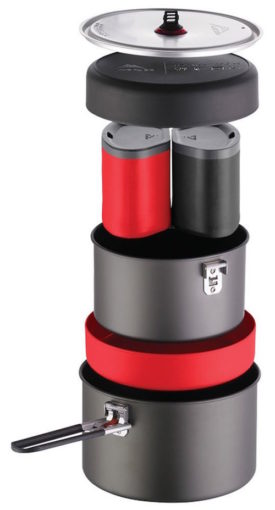 For larger groups or making meals that need extra plates, I also really like this folding plate/bowl/cup set. It brings me back to the days or origami, except these stay put with snaps!
Silverware
I always use plastic spoons so they don't scratch my pots! This double-sided spork set even has a little knife on the side!
Food
There are entire blogs written on food, so I'll just leave it to you to pick the best flavors from Mountain House or Backpacker's Pantry freeze-dried food. Or, just bring a few packs of Rice-a-Roni, Snickers bars, and trail mix and you'll be fine if your friends share.
Bear Can
Some places in the Sierra Nevada mountains in California require using bear canisters to store food in away from your tent overnight. Here's a map of areas where they're required with some useful information about how to use them properly and how to rent them from a ranger station for $3 a day.
Hydration System/Water Bladder
Nalgene water bottles have their place, but having a water bladder with a hose and bite-valve are so much more convenient than digging out a water bottle every half hour. It encourages staying hydrated which is really important at high altitudes. Also, I like having 3 liters with me when there are fewer streams to fill up with later in the season. Most backpacks have a nice pocket to hold the water bladder in place right next to your back where it balances the load best.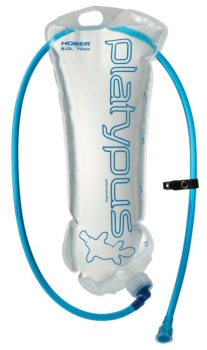 Water Filter/Sterilizer
Nearly all of the water from streams and lakes must be filtered, sterilized, or boiled before drinking. I like the Katadyn hand-pump water filter because it's fast and delivers clear, purified water. Some people like using the SteriPEN UV light to sterilize water because it can be more thorough than a filter, but it takes longer for big groups. Be sure you bring extra batteries along (at least this one takes AA's instead of some funky-shaped ones!).
---
Backpacking Clothing for the Sierras
Hiking Pants
My favorite hiking pants are the Columbia convertible zip-off pants. I love being able to use them as shorts when it's hot and pants when it's cool. The pant legs are also long enough to cover my hiking boots to keep the dirt and bugs out.
Shirts
Lightweight wool shirts are the best for hiking to wick away the sweat and keep cool. I love this icebreaker shirt for hiking because it dries quickly and also keeps me warm when the temperatures drop. The best, most important thing that Icebreaker shirts do is keeping the odor down for weeks at a time!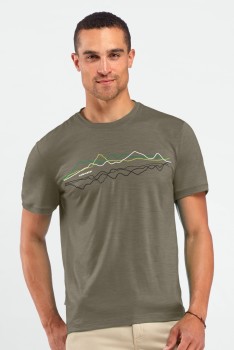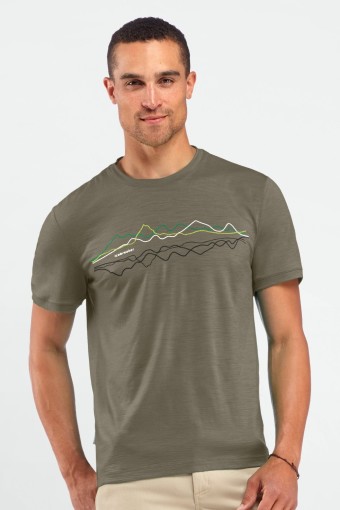 Light Jacket
Softshell jackets are perfect for hiking because they are warm inside, but breathe through a soft outer layer that is wind and water-resistant. They're great to start out with in the chilly mornings, and even withstand a mild rain.
Rain Jacket
Sometimes hiking in the rainy season can get pretty wet, but a good raincoat can keep you going strong! I love my lightweight foldable rain jacket that is thin and light, but still keeps the rain out! These jackets fold up into a pretty small bag which makes it great for packing.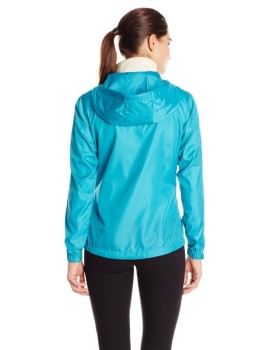 Hiking Boots
Waterproof boots are great to have since there's always a good chance of getting wet or muddy. These Colombia hiking boots have good grip for the slippery rocks that all the trails are made of, and will still feel good at the end of a long day.
SmartWool Socks
Smartwool is my favorite type of sock for long hikes. I haven't had many blisters with these and they are extra soft! If your hiking boots have ankle support, you may want to get the ankle cut size so they are high enough to prevent rubbing around your ankles. You can find lots of different colors for men and women too. I'd bring 2 pairs along. Wear one and keep one clean and dry for when you need it.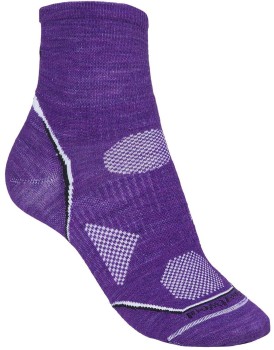 Flip Flops
This seems overrated, but taking off your shoes at the end of the day does wonders for tired feet. Drying out your moist feet is the best way to prevent blisters, and going barefoot doesn't usually last more than 30 seconds. Grab the cheapest, lightest sandals you can find. You can always sit on them if you need a pad for wet or pokey ground.
Underpants
The Men's ExOfficio Boxer Briefs are a great option for hiking that I've used a lot because they're comfortable and quick drying. They're also odor resistant so you'll only need 2 for your hiking trip. Wear one and wash one.
Microfiber Towel
The microfiber towel is a great lightweight option to have since it doesn't take up much space. If you're not big on swimming in ice-cold lakes or bathing on hiking trips, skip this and just use your shirt to dry off if you need to.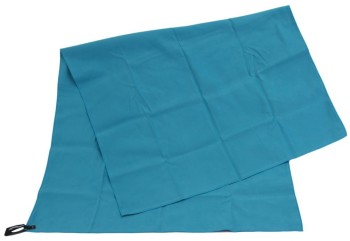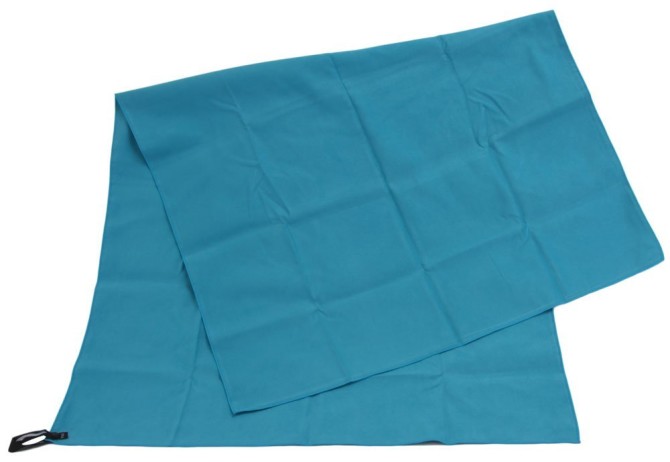 Lightweight Hat
A hat is always a good idea since the sun is much stronger in the mountains at high altitudes and sunscreen alone isn't enough protection!
Gloves
It's a good idea to have a pair of lightweight gloves if the temperature will be below freezing in the mornings. If it's snowing, bring some bigger ones!
Sunglasses
I'm a big fan of Suncloud polarized sunglasses on hiking trips. They're mid-line glasses, so they're good quality but you won't cry when they fall down the hill and get scratched. Polarized lenses are the number one thing I look for because it cuts the glare way down from the bright sun at high altitudes.
---
Toiletries
Sunscreen
A tiny bottle of the non-greasy stuff will keep you from looking like a redneck raccoon at the end of your trip!
Bug Spray
You won't need it for high altitude mountains since it's too cold for mosquitos, but maybe so if you'll be near warm lakes or in a Midwest state like Minnesota. Some people like the DEET-Free kind that uses lemon and eucalyptus. Others like all the DEET they can get – 98%!
TP
A few other things to bring along in your toiletries bag are: toothbrush, toothpaste, deodorant, small roll of toilet paper, chapstick, immodium, ibuprofen for headaches and altitude sickness, tweezers, fingernail clippers, band aids, and mole skin for blisters.
---
Extra Tips For Backpacking Light
Share some heavy items with your hiking partners to reduce everyone's pack weight. Not everyone needs their own water filter, stove, bear can, tent, etc.
Photocopy your guidebook pages instead of bringing the whole book.
Unwrap granola bars and put in the same zip-lock.
Re-use zip-lock baggies to organize food and pack trash out.
Pack less than you think you'll need.
If you're not sure you'll use something, leave it behind.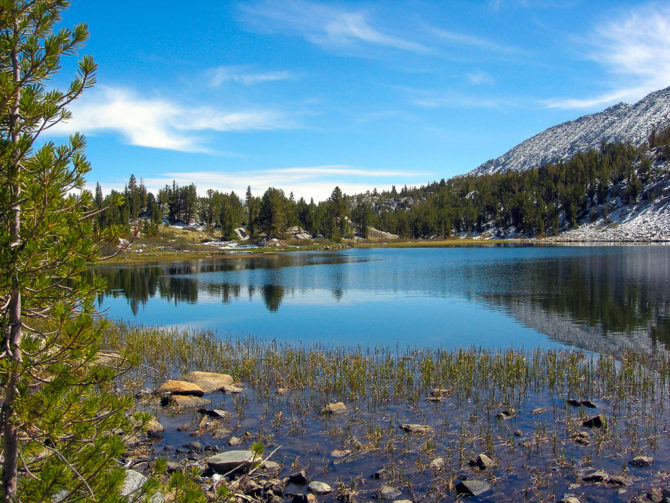 Hiking in the Sierras is the perfect place to get close to nature and listen to yourself think without being bombarded with notifications and emails! Being prepared will make it that much more enjoyable.
Leave a comment below if you have any questions about your own hiking packing list or have a favorite piece of gear to recommend!
One favor in return — if you're buying any gear, it would be a tremendous help if you could buy through any of the links above. It costs you no more, but helps support this website. These are products we only recommend because we love them and use them ourselves! In fact, check out other travel products we love and use on the road here!