During our travels we've met countless people who've had a bag that was literally twice as big as them. When most people are planning for a long-term trip, they immediately head towards the big bags and start packing. It's easy to think that way! Until….you have to actually carry the bag.
It's a sweaty, grumpy, back-breaking task that we decided is not necessary. Keep reading and we'll show you why a lighter carry-on size backpack is better!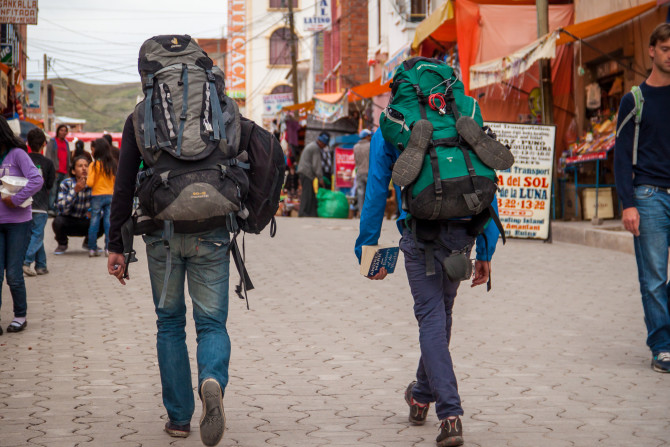 Favorite Big Backpack Stories:
Girl at the top of the stairs throws her bag to the bottom and then drags it on the ground by the shoulder strap out to the waiting taxi.
Three girls traveling with 90-liter bags and four additional handbags each. When it was time to move up in the line they began to kick, roll, and push their bags. One girl just left hers in the middle of the road to finish her paperwork. 
The embarrassed look on a guy's face when Alyssa told him she was traveling in a 36-liter bag, when his 90-liter backpack was over in the corner with the seams bursting and two pairs of shoes hanging off it. Wait, don't all girls carry blowdryers?
On a bus in Nicaragua when the ticket collector charged a couple an extra seat because their bags were taking up the seat next to them. You know, like an extra person…
People with huge bags who don't use the waist belt. Like it's not cool. Like they just have pillows in their behemoth.
So, you get the point.
Talk about burden… and I don't even want to know how long it takes to find anything in a bag that big, not to mention re-packing it!
We Decided Big Backpacks Aren't For Us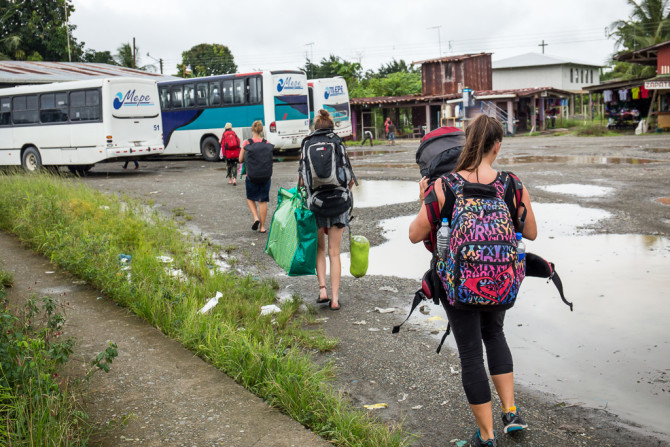 Our Solution? Pack In a Carry-On Sized Backpack
It probably seems hard to imagine condensing everything down to a carry-on sized backpack. You might think, "No, I couldn't, but good for you." But when you are traveling long term, it is one of the best choices you can make!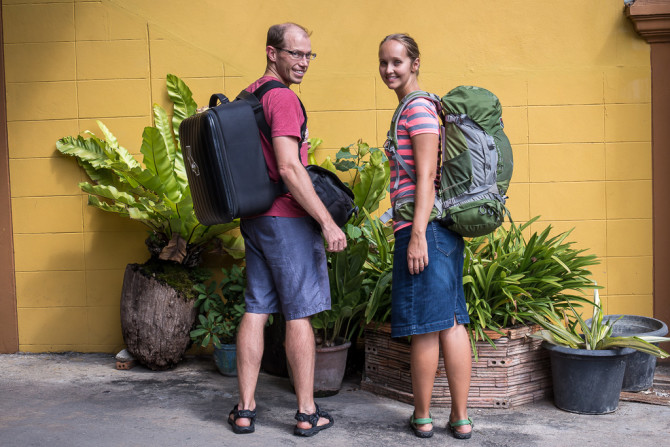 Trust me, once it's all packed it will still seem like a lot of stuff!
We have a DJI quadcopter drone in one backpack, so we pack both of our things in only one 48-liter backpack (an Osprey Kestrel 48)! I'm sure you would think I'm crazy if I told you that we also stuff two laptops, backup hard drives, and chargers in that bag too.
We know that some places and activities require more gear, thicker clothes, and more jackets than others. Planning accordingly for your specific trip is important. That's why we had more stuff in snowy Patagonia than sweltering Thailand. 
It might be impossible to fit a sleeping bag, stove, and tent in a 36-liter backpack. But the idea is the same – bring less than you think you'll need and start with a small backpack for where you're traveling. Otherwise, if you start with the biggest backpack, you'll always fill it up!
The Reasons We Choose To Pack In a Carry-On:
We like being able to keep our bags with us while taking public transportation. Nothing is worse than worrying about people getting on and off the bus/train/boat and taking off with your bag!
Less weight when walking around trying to find a place to stay.
Less hassle to find something, and quick to re-pack.
I don't have to worry about what to wear, just grab what's clean!
We're more inspired to walk than take a taxi because we can handle the weight on our back for a few miles. Then, we can check out the sights as we're walking around town to our next destination.
We don't have to check our bags at the airport. We have all our baggage with us which makes it a breeze getting through the airport! (But sometimes we do check a small daypack with my pocketknife, mace spray, contact lens cleaner solution, and other things that the TSA and security checkpoints don't like.)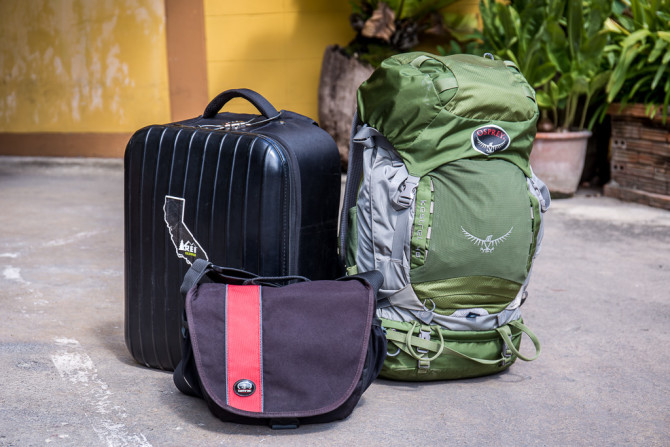 This is the size of our current backpack setup. The Osprey has been a great choice for our light-packing and on-the-go way of traveling. We are loving the back support that our old backpack Dakine just wasn't giving us. If you are in the market for a new backpack, head over and read our tips about choosing the right backpack!
Sure, we get tired of wearing the same clothes and doing laundry so often but we have so much freedom with this size of a bag.
It is a GAME. CHANGER. Once you try it, you'll never go back to being a pack mule with that huge 70 or 90-liter backpack on the back and your trusty daypack on the front. It's just not worth it! Once you start packing light, you'll realize how much stuff you still don't use and learn how to even pack lighter! See our first long term trip packing list compared to our second long term trip. We cut it in half!
So while you might be tempted to buy that huge bag and bring all you can with you, trust us and leave it behind – travel with a carry-on size backpack. Lightweight packing is the name of the game. You will be so glad you did! And remember, if you REALLY do need something, you can most likely purchase it where ever you are headed.
We love connecting with other lightweight backpackers! What are some of your tricks and why do you travel light?